The Gaudio Clariden & Nair are two Swiss-Made triple balanced universal monitors, each with its own unique sound signature. They are priced at €784.65 each ex. VAT. However, they are on presale until June 15th at a discounted price of €653 VAT ex. VAT.
Disclaimer: The Gaudio Clariden & Nair sent to us for this review are samples in exchange for our honest opinion. We thank Gaudio for this opportunity.
To learn more about IEMs features on Headfonics you can click here.
Gaudio hail from Switzerland which still means a lot these days when it comes to the perception of quality craftsmanship. Both the Nair & Clariden represent their debut monitor launch on the global market and they retail for €784.65 each.
The name choices are derived from Gaudio's physical location in the south of Switzerland, namely the Swiss Alps. Both Nair and Clariden are well-known peaks in the southern Swiss Cantons of Grisons, Ur, and Glarus. You can find out more information regarding the naming story right here.
Both have very similar physical properties right down to the driver count. However, the big difference is in the tuning with the Clariden the more intimate and musical of the two and the Nair as their choice for reference listening. As far as I am aware, these are their 'entry-level' models so all being well, we are in for some additional hi-end offerings down the line.
Tech Inside
There is a lot of in-house work being done by Gaudio in bringing these monitors to the market so they are not OEM rebrands by any stretch of the imagination. All engineering is done in-house and assembled in-house.
Though monitors both have a 3 balanced armature driver configuration, there are some slight differences in their specifications. All drivers are sourced and tweaked via Sonion and Knowles.
The Gaudio Nair uses two acoustical paths and is rated at 26Ω whereas the Gaudio Clariden uses 3 acoustical paths and is the easier of the two to drive at 17Ω. I would presume that either a slightly different mix of drivers per monitor is being used or the resistance level is tweaked a little lower to allow for their different sound signatures to come out.
The two monitors do share the same 3-way passive configuration and the same external machining so they operate in a very similar manner.
Unboxing & Accessories
My samples came to me 'naked' as in packages without the official packaging so sadly I have no clue what the packaging will look like. If I get something I will update this feature with the relevant pics.
The supplied accessory lineup is actually very good in terms of what is included. It is not a huge line-up but what is included is tastefully done.
The cable is sourced from Satin Audio, their Hyperion from their Titan Series of cables which is a good aftermarket cable. The tip selection looks like Final E tips to me and houses in a really nice white tips tray which I appreciate. You get 5 sizes, XS, S, M, L, and XL.
The final inclusions are a leather flip case branded with Gaudio and a cleaning brush. I have seen this case many times before in packaging of all shapes and price points from SIMGOT up to DUNU so it is not unique. However, this one seems good quality and quite malleable in the leather quality.
Design
The cutting or milling on the Gaudio Nair and Gaudio Clariden shells are beautiful with clean lines and a smooth silver anodized finish. The only strong visual difference between the two is the moniker and faceplate accents with the Nair using an enamel color and the Clariden using a black and red motif.
Both monitors are made of CNC Aluminum which is a tricky material to cut to such a fine standard. These are on the same level as something like the Rai Penta from Meze just finished a little differently.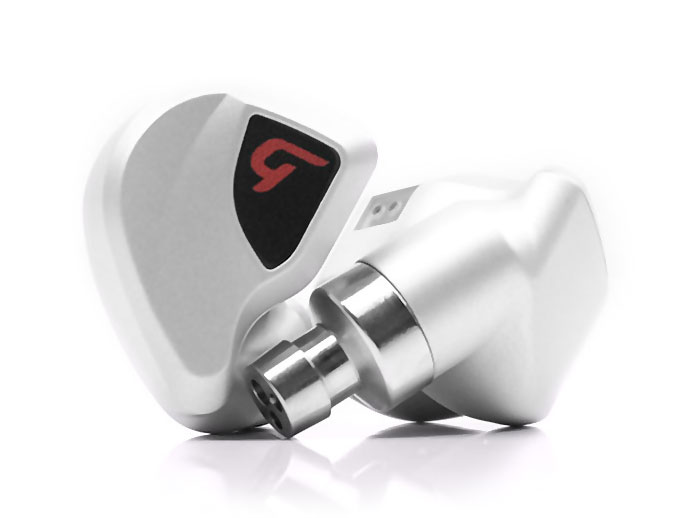 The sizing is on the large but light side but with deep stainless-steel nozzles so the main housing will not be touching your ears if the tip choice is used correctly. Even if they do end up touching the edging is not sharp at all so they are unlikely to be uncomfortable.
Stock Cable
Both the Gaudio Clariden and the Gaudio Nair come supplied with a Satin Audio Hyperion aftermarket cable. I am a big fan of Satin Audio cables because you get a lot of performance for an affordable price. They are almost always built to a really high standard also.
The Hyperion cable is part of Satin Audio's Monster Series of cables that also includes the previously reviewed Medusa. This is a 1.2m 28AWG wire using SP-OCC Pure SPC Type 2 Litz geometry, a nylon damping core and audio grade Cardas Audio Quad Eutectic Solder.
Finishing
The terminations for the Gaudio Nair and Gaudio Clariden are both gold-plated Tellurium Copper (TeCu) 0.78mm 2-pin for the connectors and gold-plated 3.5mm TRS for the jacks.
The cables come with Carbon fiber and gunmetal aluminum alloy for the barrels but the splitter choice is slightly different and does not use Satin Audio's standard SA silver carbon or black carbon designs. The splitter barrels on the Gaudio supplied cables are the same barrels used for the 2-pin connectors and are a lot lighter than the standard highly damped standard SA options.
There is no memory wire on the Hyperion cables so they do have a slight bit of microphone or physical noise travel above the splitter. The PEEK translucent jacket, however, is very pliant and easy to work with so quite low on kinks and tangles.
In The Ear
I love the balance Gaudio has achieved with the design of the two monitors. Since both have the same form factor both there is no difference in their fitting that I can feel in the ear so far.
As mentioned, they seem light for their size but that additional long nozzle works a treat by allowing the tips to do the donkey work for the seal. As a result, they are above average. Not custom levels of isolation but pretty darn close and will give acrylic custom universal contouring a run for their money.
The stability of the two IEMs in the ear with the stock tips is rock solid. There is no sweet spot hunting and zero movements, even with open jaw forming which can often lead to gaps forming in the seal.
Objectives
I spoke to Gaudio and asked them how this shape was chosen and the reason behind it in relation to the type of fitting they wanted to achieve.
The main concern here was to get the angled canal done right and coupled with the deep insertion it wasn't an easy task at all, but in the end, I think we succeeded.

To provide a better fit, we drawn it for having a reduced interaction with the intertragus notch, tragus and concha cymba areas; since we wanted it to sit firmly in the ear, we also paid much attention in designing it to achieve a good coupling with the concha cavum area.

Also, due to the form, it's possible to rotate it for both an easier insertion and better adjustability. People with medium to big ears will have them slip in the ear without problems and stay almost flush to the ear.

People with little ears or particular canal shapes will still be able to wear them, just having to position them a bit more toward the exterior and using the smallest ear-tips provided.
Initial Sound Impressions
(Initial Impressions completed using a Lotoo PAW Gold Touch & FiiO's flagship M15)
Gaudio Clariden
The Clariden seems to follow a more classic U-shaped FR with more of a sub-to-mid emphasis and elevation and a slightly warmer fuller sound signature. This is balanced out with an upper-mids lift and vocal emphasis and a higher-pitching percussion presence. The treble also has some sustain from 7-10k so its forward and sparkling but not out of sync with the rest of the signature.
For me, the Clariden seems to be aiming for the key points in the FR that we tend to pick out very easily on casual listening, namely the low-end, vocals/percussion and clarity beyond.
The extension is stronger on the low-end so this is the more powerful sounding of the two monitors. The lower-mids dip and tuck behind vocals, particularly female vocals which are fairly forward creating a more intimate staging effect and stretching 'front to back' staging effect rather than out super-wide.
The headroom delivered by the upper BA driver is very good on the Clariden with plenty of air but it also introduces a stronger odd-harmonic BA-type texture into the mids timbre. It is a nice contrast actually with the low-end delivering some good warmth and body but also at times it creates more of an ethereal overtone on instrumental and vocal notes above 1k.
Gaudio Nair
The Nair seems the easier of the two for current requirements. It is the louder of the two on both test DAPs by a good 3-4 steps unbalanced. I suspect the SPL on the Nair is a little higher than the Clariden from my initial impressions.
The tuning is indeed more reference as in more linear than the Clariden with a very flat low-end up to 1k before it elevates from 1k onwards. In fact, beyond 2k I honestly do not hear a lot of dips or peaks in the Nair's tuning so it is very consistent sounding.
I honestly prefer the treble on the Nair compared to the Clariden. Neither are peaky, the control is very good but the balance and solidity in the Nair treble are better. It sounds a shade wetter but not rolled off and more solid in its harmonic balance and less ethereal.
That solidity bodes well for a pacey mids delivery which sounds superbly balanced. Yes, vocals, particularly female vocals have a bias but the overtone lacks any harshness or nasty metallic overtones. This is a reference tuning that will favor mids and treble enthusiasts. However, the bass is tight, very tight indeed. It does not sound puny either with some good extension albeit with a BA timbre to it.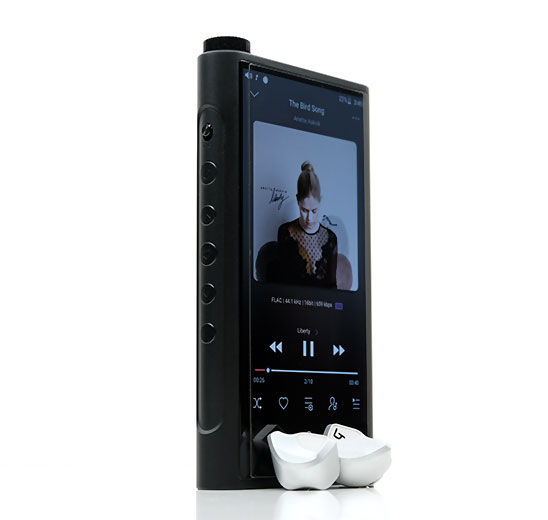 Stay Tuned!
So far, I think both the Nair and Clariden are very nicely tuned. Triple drivers can vary a lot in quality regardless of price but these two have a firm and unique signature that sets each other apart very easily.
Personally, I am in the Nair camp on initial impressions. I like the timbre, particularly on vocals and how the treble comes to the fore without sounding piercing. It is very solid without being strident.
The Clariden will give you more power and does sound like it will be more suited for modern pop and synthy stuff that needs more PRaT and an airy top end. This is a pure preference thing because both have a similar level of technical pedigree.
They also both look great, honestly, the price point to quality here is not bad at all. A good start, so stay tuned for the full review very soon!
Gaudio Clariden & Nair Specifications
Clariden
3 Acoustic paths
3 Way-System
1 Bass Driver, 1 Mid Driver, 1 High Driver
Impedance @1kHz = 17ohm
Impedance average = 25ohm
Nair
2 Acoustic paths
3 Way-System
1 Bass Driver, 1 Mid Driver, 1 High Driver
Impedance @1kHz = 26ohm
Impedance average = 25ohm