The SoundMAGIC HP1000 & Vento P55 v3.0 are two recently released closed-back dynamic driver headphones. They are priced at $269.99 and $99.99 respectively.
Disclaimer: The SoundMAGIC HP1000 & Vento P55 v3.0 were sent to us for the purposes of this review and do not have to be returned. Thank you to the team at SoundMAGIC for giving us this opportunity.
To read more about SoundMAGIC reviews on headfonics click here.
SoundMAGIC's recently released a full-sized flagship, the HP1000, which had made an appearance in our earlier FiiO K5Pro review. So, together with Vento P55 V3, the 3rd rendition of the P55 we are putting together a comprehensive review of both of them in one go.
The Vento features a newly developed driver and a heavily engineered, full stainless steel MIM framework and PVD finishing, strong effort to make it a potential portability king at below $100.
The HP1000, on the other hand, has a similar metallic build and a large 53mm driver under the hood, coming with a new detachable cable design at $270. There are a lot of machining details and the photos will better explain how well they are manufactured.
So, will these cans live up to the fame and performance of their very popular predecessors or performs even better? Read on.
SoundMAGIC
SoundMAGIC has a long history and a handful of successful products including the original P55 and the PL30. Established in 2005, SoundMAGIC has gathered a lot of fame and a strong user base with its international approach, enjoying great popularity thanks to its high cost to performance ratio, solid build quality, and very affordable retail prices.
SoundMAGIC has been consistently delivering products of excellent value, good build quality, and sound with revisions to the same design, consistently putting effort into polishing and engineering their products. Yea, I am a 'fanboi'of sorts!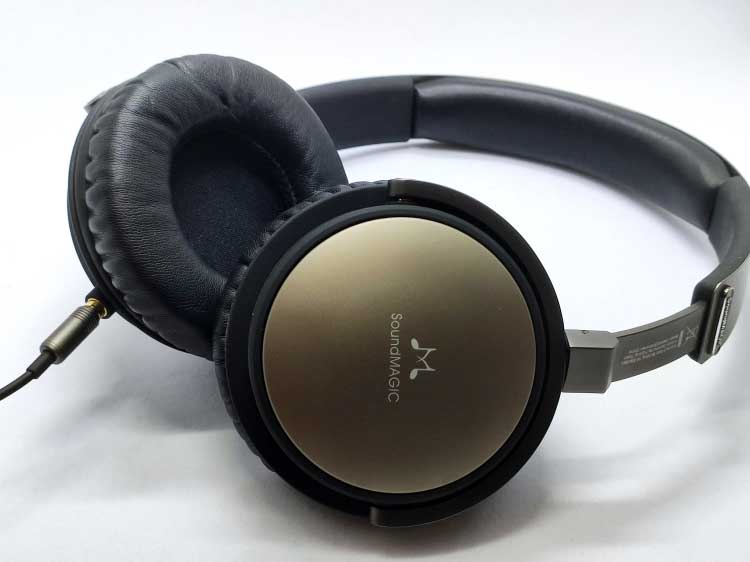 Design
Both the HP1000 and the Vento looks smart also feels smooth and premium to the touch. The chassis combines metallic panels and plastic molded middle frames, all parts are scratch resistant and don't feel plastic at all. Both headphones weigh very light at their size, these are also one of the best built and finishing you can find at the price range.
Headband
SoundMAGIC uses MIM (metal injection molding) to cast the adjustable headbands on both models, fusing seamlessly with the framework.
The rotational hinges allow you to fold these cans flat and are velvety smooth. Nothing shakes or squeaks when you spin it around with little resistance in the hinge. Comparing the Vento and the HP1000 you can see a similar sliding mechanism on the extendable part.
Cups
The feedback when you pull the ear cups from each other is well adjusted so they do not exert excess pressure nor leak. For the P55, it is very convenient to unfold and adjusted into position. The faux leather pads are fitted with memory foams which add good comfort and above-average isolation.
the HP1000 is stretched to a full size circumaural with a 53mm driver inside. It is also furnished by more premium leather material on the ear pads and with sheepskin on the headband.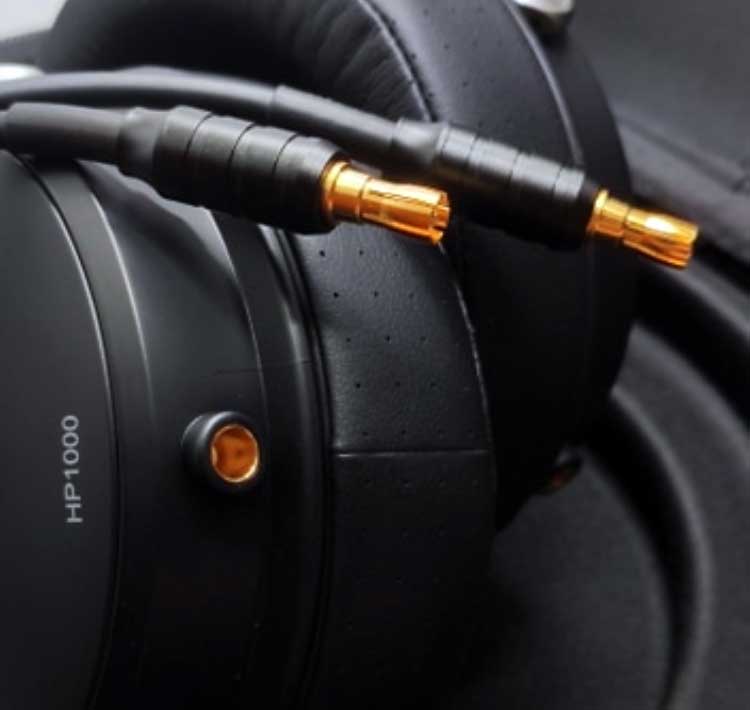 Terminations & Cable
Vento P55 V3
The socket on the Vento makes upgrading easier using a regular 3.5mm connection. You can connect to other cables or build your own 3.5-3.5mm at any length to reshape the sound signature. Replacement/ upgrade cables are very easily accessible and you can detach the cable when storing the headphones.
HP1000
The HP1000 has an unusual connector for the detachable cables and I have never seen these on audio products before. SoundMAGIC stated that the connectors are built to minimize the noise in the signal stream and maximizes the stability of the connection.
There seems to be a lot of effort put in this headphone so far but I wish there could be more aftermarket cables options.
MIC Control on Vento P55 V3.0
The splash resistant mic control on the Vento is similar to what we see on other models from SoundMAGIC, you could control the volume, answering calls with the middle button and stop the call by holding it.
Last but not least, you can navigate to the next or last song by double pressing/ triple pressing the middle button. It performs identically to the E11C's microphones and works smoothly on my phones. You will need to hold the mic near your mouth for the mic to pick up your voice clearly though.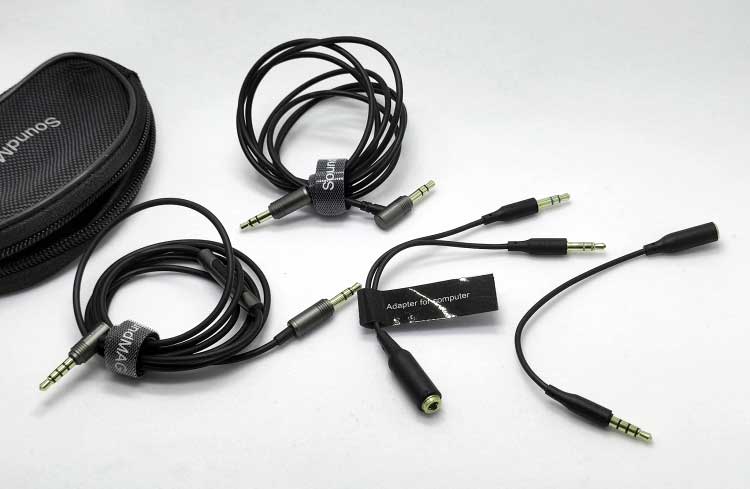 Packaging & Accessories.
Packaging from SoundMAGIC is always neat and professional. Opening up the paper box you will find both headphones sitting in the hard cases which offer excellent protection to the headphones.
In the Vento's box, you will find a small pouch with 4 cables including a mic cable, a normal cable with no mic, a phone adaptor in case the pin configuration on your phone is different and an adaptor with separate Mic/ Audio inputs that allow you to use the Mic with your laptop/ desktop. That means you have two cables you could use with/without a mic in the beginning, always a spare around.
The HP1000 comes with a detachable stock cable, an extender and a 3.5-6.3mm convertor. You can use the small velvet pouch supplied as a secondary carrying option but I am not recommending that unless you use a separate pouch to protect the cables.
Carry Case
The compact portable cases coming with both models are very well manufactured, sleek and practical for travel/ work or to be neatly stored at home. You will notice more premium and smooth fabric on HP1000's carrying case which comes in a dark grey finish.
Meanwhile, the Vento is equipped with a black hard case of similar design, both built to withstand good impact and resistant to splashes. These tough hard cases complete the package and make carrying these headphones around an easier task.
Comfort & Isolation
Portability is king but the fit matters as much. From time to time I travel with my headphones on for 3-5 hours or more and some headphones are a pain to wear and literally give you headaches. If the headphones aren't spreading the weight evenly and press on your ears excessively, it will be an awful experience that may result in pain and discomfort.
The Vento uses skin soft faux leather pads. With its semi on-ear design it adjusts to the shape of my ears firmly. The seal and isolation are decent and there is no discomfort after a movie. It is also quite air-tight and may get moisty on a hot day but at the same time, the seal is good.
The HP1000 earpads are more luxurious, with breathable holes on the leather pad that will keep your ears dry if you sweat and look awesome quality for the price.
As mentioned, both headphones feel very light, allowing you to indulge yourselves in the music, shake your head freely with no extra pressure on your neck, The 3D hinges on the headphones are smooth and allow easy adjustment to different head sizes.
Sound Impressions
Setup
For the upcoming sound impressions, the Vento P55 V3 is paired with various portable sources including the M11PRO, R6Pro, some portable amps, smartphones, and a laptop. The HP1000 is hooked up to portable/ desktop sources as well as DAPs/ Mac to simulate how these cans are likely to be used.
Both headphones are burnt in for at least 50 hours before I put down any impressions and with different genres of music and sources including youtube/ tidal/ other streaming platforms.
Vento P55 V3
On portable outputs with smaller driving power such as a BTR5 and an iPad, the Vento displays a slight V-shape signature with a rich, moderately fast, and relaxing bass of good musicality.
Vocals on the Ventol have a hint of warmth, recessed to a small degree with some sparkle in the upper vocal making an attempt to boost resolution. The Vento is quite boomy and optimized for street use. The tuning compensates ambient noise for clear vocal performance outdoors, with sufficient extension for trending music and rock music to sound non-boxy and quite engaging.
The Vento is very easy to drive loud and I only need 60% vol. on my phones and small DAPs outdoors. The overall presentation is natural, friendly for all music genres on the road and best suits R&B/ Rock that doesn't need too much resolution in the bass.
In quieter places, you can hear the bass bleeding into the vocal and may get honky at times. Equalizing down the sub-bass will make it much more balanced and less vocal-centric. Audiophiles may want more resolving power and extension but the Vento is quite potent at this price and performing well enough on phones or other portable devices outdoors.
Synergy
Pairing with the M11PRO/ R6PRO there are audible differences in dynamics and control with better width and depth. The enhanced power strengthens the V shape signature. The bass rumble is more easily detected and sustained while the bass is punchier and more energized.
For most music, the Vento is not clinical nor sharp. The vocal is not aggressive but rather pronounced so this works best with modern pop with faster electronic instrumental as well as live recordings/ vocal works with fewer instruments in the mix.
Despite having impactful bass and clear vocal outdoors, when you listen to the Vento in a quiet environment with better sources you will still hear limited openness in the treble. The vocal feels laid back with overwhelming lower bass that sometimes bleeds into the vocal part or gets congested. Equalizing options like MSEB options on Hiby players could be a free and handy rescue.
The sound holds up to higher volume levels, exhibiting good control in the bass and does not distort reaching 80-90% vol on my phone.
Comparing the Vento to Meze 99 Neo
The avant-garde designed Meze 99 Neo is the newer rendition to the original 99 classics, with reworked tunings and upgraded earpads also a tough carrying case too. There is some similarity between the Vento and the Neo so I picked it for comparison.
The Neo has more mid-bass intensity than its predecessor the "Classic" Neo. It works well with R&B and has a full, dynamic performance with bass instruments. The Vento has a similar tuning direction, it sacrifices some openness and naturalness adding to the more intense, colored mid-bass.
You will notice the Vento being thicker and more chesty in the lower vocal register while the mid-treble is more pronounced but rolls off faster than the Neo. That being said, the Vento is not as natural, resolving and extended as the Neo, which possesses more resolution and dynamics in its presentation. The Neo also has a faster and more controlled impact in the bass.
However, all is forgiven as SoundMAGIC asks below half the price of the NEO and the design is a lot more portable being able to fold it flat and slide it into your briefcase without a sweat. NEO performs a league better but the Vento will give you better portability and good value for the money.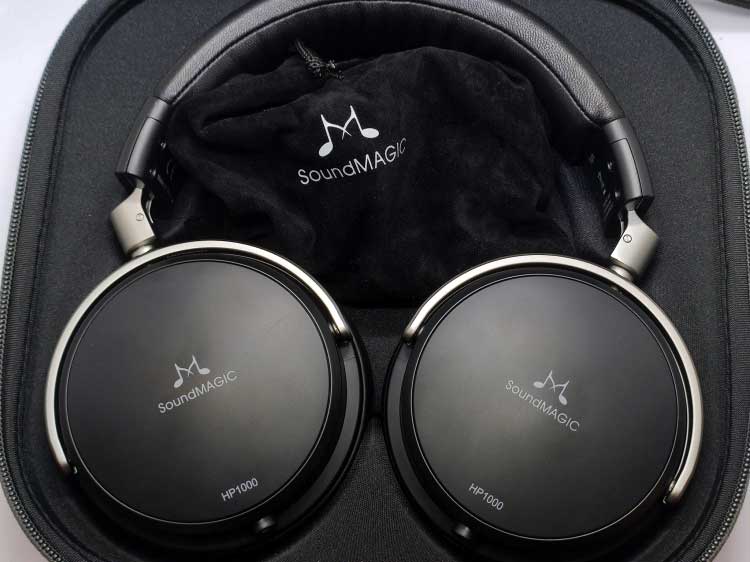 HP1000
The closed HP1000 has the silhouette of an open-back presentation, with a spacious and slightly hollowed tuning that elevates the treble. I was stunned by HP1000's staging when I first put it on the M11Pro, it doesn't sound like a regular closed headphone with more width than the K701 on portable rigs.
Firing up the Polka op. 43 by Johann Strauss II, the explosive start is expansive and you can hear the bass decaying into space clearly. Nothing is overly sharp and there is good energy and control in the bass.
There is great synergy playing Star Wars theme songs on the M11Pro. The HP1000 is fast, with a dynamic bass that steals the show. Everything is light and joyful sounding energetic on the HP1000.
In contrast, any tracks that are supposed to sound fuller in mid-bass are quite altered by the signature on HP1000. The lower register is lacking, making some darker voice sounding overly light-weight while a hump lifting the upper mids further boosts clarity and further stresses the lacking body.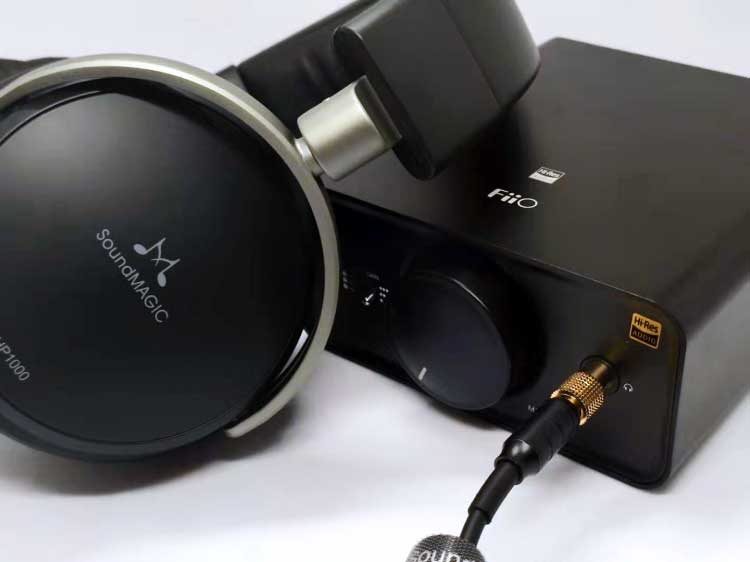 Synergy
The HP1000 is easy to drive loud on phones and DAPs. Pairing with the FiiO K5 Pro the 60Ω rated HP1000 delivers faster and cleaner bass impact, a light touch into the sub-bass domain with firmer mids.
However, you will notice the vocal getting boxier when the hump in the mids is more clear. Equalizing can help to give the tuning better balance to a certain extent but separation is still lacking.
Listening on my Mac I hear better balance with streaming content that boosts the mids especially modern pops and DJ mixes on Spotify.
Overall, the tuning has better synergy with EDM, instrumentals, old pop songs and rocks in the 80s which has fuller mids in the recording and requires less resolution in the upper frequencies to sound euphonic.
It will be a lot more balanced if the vocal is weighted correctly with better articulations in the mid-bass yet the staging is one of its kind which has fun synergy with BGM, gaming, and movies.
Our Verdict
At $99.99 and $269.99, the Vento and HP1000 are good quality for the price. You can see a lot of effort being put into the design with detachable cables and a solidly built headband.
The full-size model HP1000 surprises me with its uncommon tuning that renders space and sound very unlike traditional closed-back headphones. It is far from accurate but it will be a fun and comfortable media headset that doesn't leak in a quiet room.
The Vento, on the other hand, offers impressive quality in and out that makes it into my recommended list for portable cans.
Vento P55 V3 Specifications
Drivers: 40mm, Neodymium Dynamic
Frequency range: 15Hz – 22kHz
DC resistance: 35Ω
Sensitivity: 110dB
Maximum input power: 20mW
Cable length: 1.2m
Connector: 3.5mm angled gold-plated jack plug
Weight: 285g
Microphone
Frequency range: 20Hz – 16kHz
Sensitivity: -42dB at 1kHz
HP1000 Specification
Drivers: 53mm neodymium iron boron magnetic coil
Impedance: 66 ohms
Sensitivity: 120dB
Frequency range: 10-30kHz
Largest input: 100mW
Cable length: 1.2m
Weight: 412g
Connectors: 3.5mm gold plated and proprietary detachable system
SoundMAGIC HP1000 & Vento P55 v3.0
The full-size model HP1000 surprises me with its uncommon tuning that renders space and sound very unlike traditional closed-back headphones. It is far from accurate but it will be a fun and comfortable media headset that doesn't leak in a quiet room.