Disclaimer: The Noble Audio Savant II Wizard sent to us is a sample in exchange for our honest opinion. We thank the team at Noble Audio for giving us this opportunity.
To read more about Noble Audio products we reviewed on Headfonics click here.
So, this dropped in our laps right after CanJam Singapore 2019, the all-new universal Savant II Wizard monitor. There was an element of a pre-launch just before the show but now it is up on the site in its many varied colors and designs and priced at a very competitive $499.
The original Savant in 2015 was priced a little higher I believe at $699 and whilst there is one special edition Savant II, The Wizard X Divine Series at $599, the rest of this unique line-up are all fixed at $499.
Every single one of these Wizard designs is handcrafted at their HQ and even though the designs have batches by lot, the materials used by Noble means there are never two designs the exact same.
The Story
Noble has a very wide range of monitors both custom and universal, complex and hybrid. However, down through the years of speaking to the Wizard and his team, I often come away with the feeling that the dual BA driver build is the one that keeps the Wizard most 'preoccupied' should we say. Almost like a quest for the perfect sounding dual driver monitor.
How so? Well, we have had the Sage, the original Savant, the Noble X (Massdrop) and now we have the Savant II Wizard. Will it end there? I hope not and that's the fun part because each new creation brings in either an excellent improvement on the original or an entirely new tuning.
This keeps things fresh and interesting, responds to feedback and in the case of the Savant II Wizard, a significant upgrade on the Savant original at a much cheaper price. For once a company that reduces a price rather than increases it to sky-high. Nice!
Unboxing
The Noble unboxing experience has been pretty much consistent now for the last year or so using aspects of their collaboration with Massdrop, (circular plastic carry case), combined with aspects from their flagship launches such as the larger black patterned display box.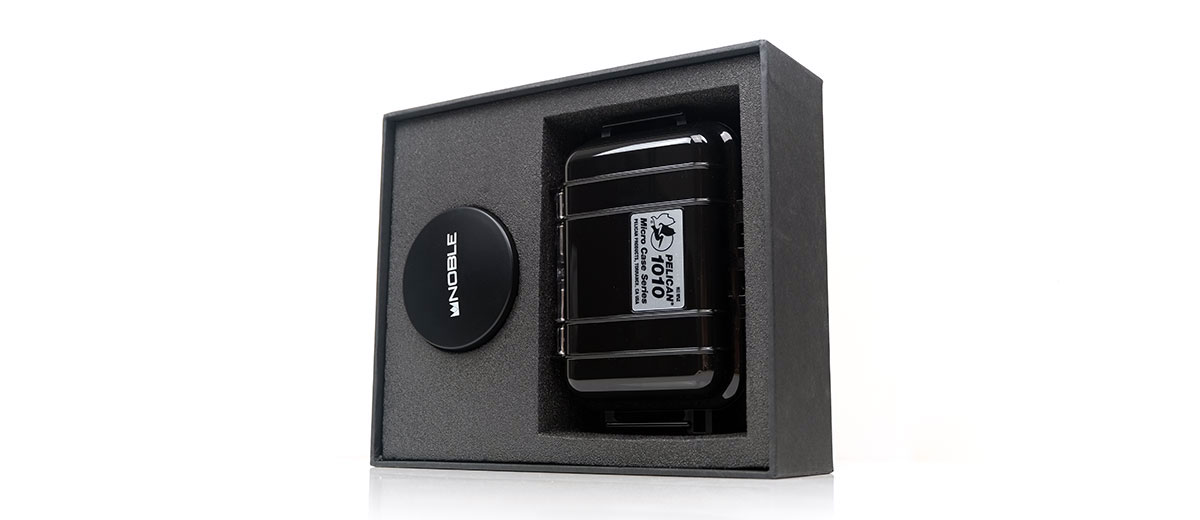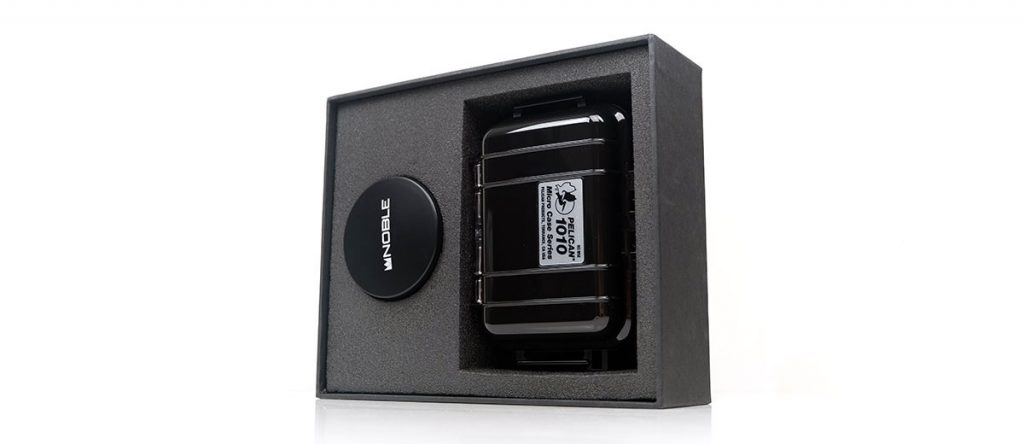 Inside the box opens up for a dual display of carrying options including that small plastic carry case and the more traditional Pelican 1010 weather sealed hard case. I tend to use the larger Pelican for carrying Noble IEMs with me. There is a lot more space for multiple tips, cables, and the Savant II. The small case is nice if you want something more discreet but it is a bit tight for anything other than the cable and IEMs.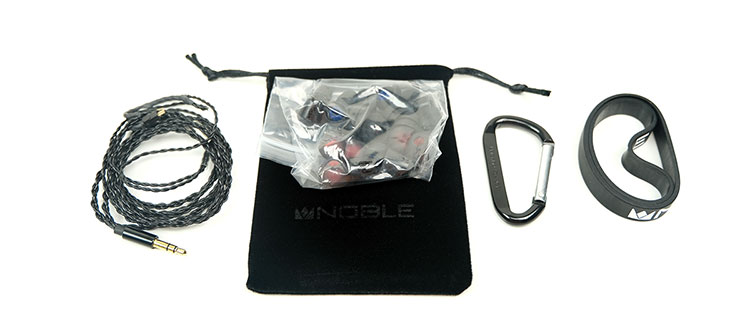 Inside you get plenty of following accessories which is the norm for most Noble Audio monitor packages:
Soft velvet pouch
Stock cable
Carabiner hook, (for attaching to the Pelican 1010 case)
2 branded rubber stacking straps
3 x blue stem single bore silicone tips S/M/L
3 x red stem single bore silicone tips S/M/L
S/M/L dual-flange tips
3 x foam tips S/M/L
1 cleaning brush/pick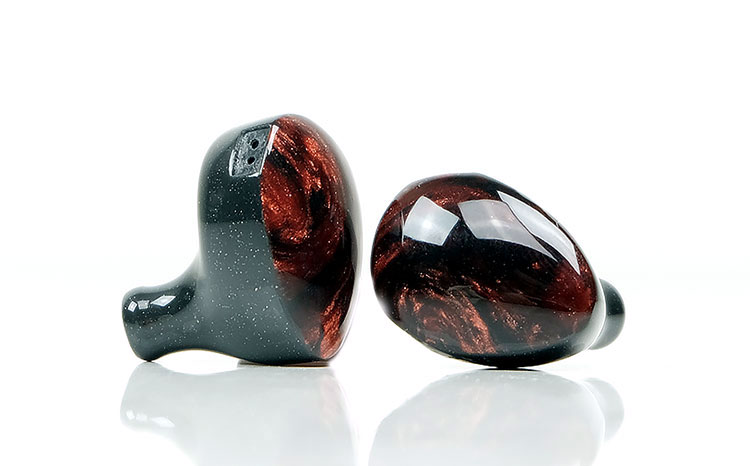 Design
So the designs are by a lot number and this one is number 22 which I picked on right away because I loved the deep-set polished red swirl composite or 'nebula' design. This design really stands out for the pics and I do like my color schemes bold and high contrast. Nothing subtle here but neither does it look garish. The form factor is also quite diminutive, almost pea-sized compared to some of their larger driver builds.
If you are new to Wizard designs they tend to stick to a similar build and quite different from their non-Wizard universal line up. The non-Wizard is a colored aluminum top with a speckled acrylic body. Each model in the range has a similar color and design. The Wizard designs are all acrylic with the unique deep-set materials on the faceplate. The body shell is the same as the aluminum variants, that being a speckled finish hollow acrylic body.
The Wizard designs are also generally a bit smaller and lighter than the aluminum variants though being all acrylic they may not be quite as tough as the standard line.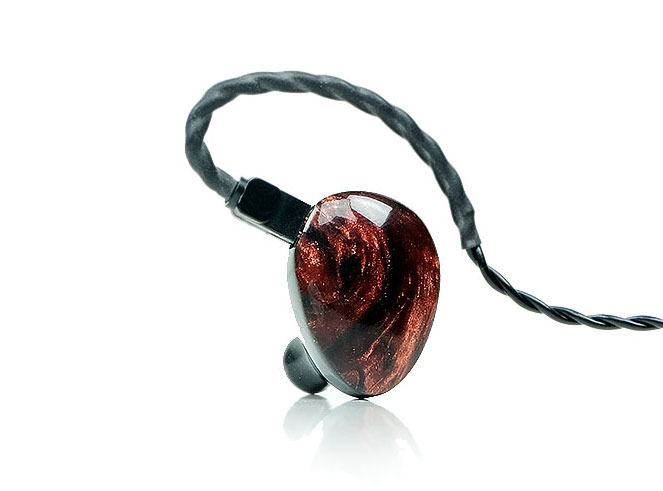 Cable
The Savant II does not use the silver-plated Litz wire from the more expensive Khan. Instead, it is an SPC tinsel 4-wire stock cable. This is a 1.2m wire with a black tight twisted plastic jacket wrap with an ok sonic performance but above average physical handling. You will find zero microphonics on this cable, it is very pliant and also very light.
There is a memory wire finish near the connector sockets but it is very low-profile and also relatively short so you will hardly feel it, even if you wear glasses. Strain relief is also a bit low-profile but honestly, I have never had any build issues with these types of cables so I doubt it will ever fall apart anytime soon.
The barrels are a mix of silver alloy branded small tubes for the Y-Split and a thin straight black aluminum barrel for the 3.5mm TRS jack. The connectors, as always with Noble, are 2-pin 0.78mm. Will we be cable rolling to see how far we can push the Savant II in the main review? You betcha!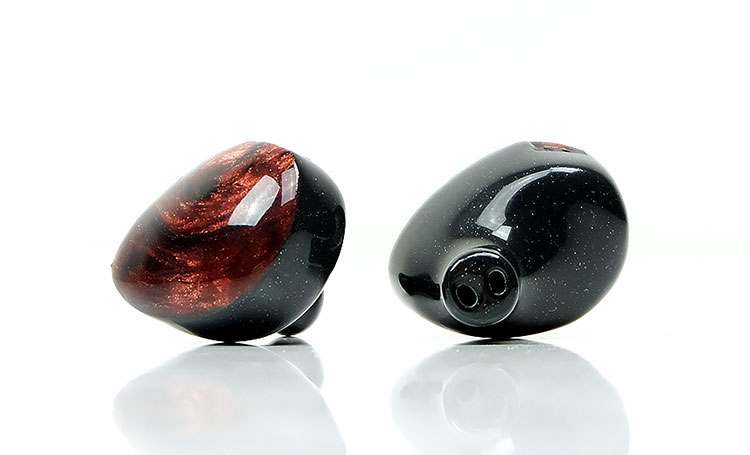 Comfort & Seal
That relatively small form factor and shortish nozzle mean you are likely going to rely more on tips to get the final word in the seal. There have been zeros issues on comfort using thus far due to its very light-weight nature and small size. You hardly feel them in the ear and they sit flush in the ear.
The seal is best with the foam tips from my initial experience though combined with the OFC wire its quite a meaty warm sound. Silicone tips such as the dual flange will insert deeper with some loss of isolation but sounds a little more open and airy thus far.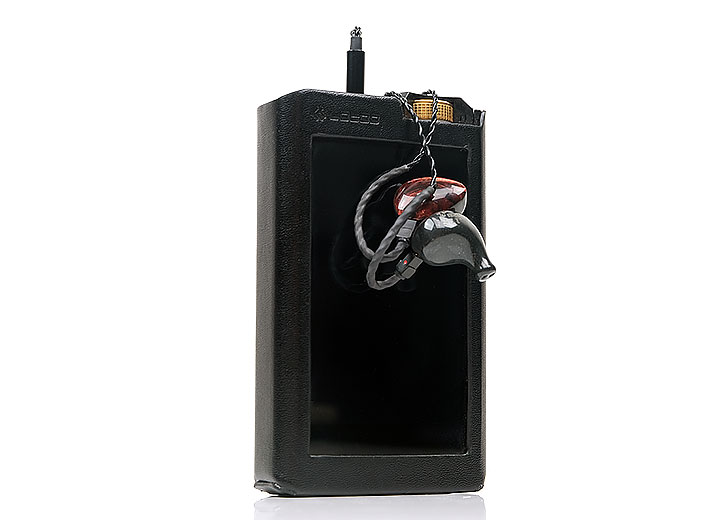 Initial Sound Impressions
(Tested with Lotoo PAW Gold, HiBy R6 Pro, and FLAC 44.1k 16BIT)
Well now, this may be the most impressive 2-driver build to date from Noble and sounds very different indeed from the likes of the Sage. It takes that fairly natural sound from the original Savant and injects a lot more meat and bones that I had found to be so addictive on the cheaper Noble X.
I would say at this early stage you are talking about a u-shaped curve with some sub-to-mid bass emphasis, a slight lift in the lower-mids up into the vocal presence and a fairly relaxed but still quite clear and open sounding treble performance.
The Savant II also has a very pleasing instrumental and vocal even-harmonic bias timbre also with just enough odd-harmonic sparkle to prevent everything sounded overly rounded or smoothed over. Lower-mids instrumental work pulls nicely from the bass response and has a touch of warmth also so it has some excellent texture and body.
Staging is also reasonably open with good depth and width and a level of headroom that you know is on the relaxed side but never sounding dark or shelved down. This is a very smooth performance with some excellent imaging also. Definitely, the Savant II tuning seems to be geared to some very pleasing levels of detail and most importantly, a non-fatiguing long-term listening experience. I think a lot of people will enjoy this type of sound.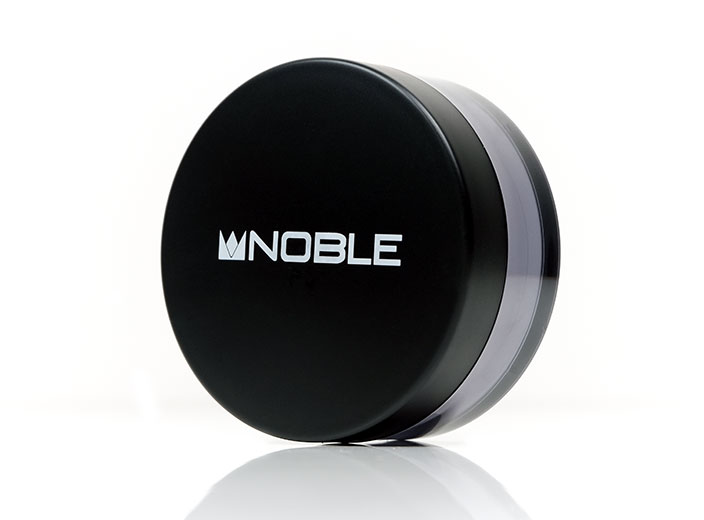 Stay Tuned!
I have to say this dual BA tuning from the Wizard is by far his best work to date on dual-driver designs. It is the kind of sound that is going to appeal to a very wide audience with a very smooth, detailed and natural sound. They are also fairly easy to drive from moderate sources so you do not have to scale up to enjoy them. I suspect pairing and synergy will be super easy with the Savant II Wizard.
Where shall we go with the main review? I would say the cable will get a roll along with the tips. My primary impressions here are written based on the stock cable and foam tips and I do know from experience these combos on Noble IEMs tend to give a fairly warm sound. Throwing in some SPC or silver 8-core might just give me even more staging openness and enhanced top-end clarity. Stay Tuned!
Savant II Wizard Specifications
Unique one-off design.
Sensitive enough for use with smartphones as well as portable amps and DAPs
Hand-assembled, matched and finished with FDA approved hypoallergenic lacquer
Detachable cable with industry standard two-pin configuration (0.78 mm diameter)