Sound Impressions
Summary
The Q1 Mark II is a little more refined and balanced sounding than the older MK1. It still delivers what I would term as a smooth presentation and generally sits more on the musical side of tuning than anything reference or analytical sounding.
Tonally, the Mark II does draw from the AM3a in many respects such as the planted full-sounding but not overly cooked low-end, a neutral to natural instrumental timbre as well as a forward vocal presence.
There is also a slightly emphasized lower treble that adds a bit of percussive snap and contrast before the response drops off a little bit toward the final octave.
The X7 Mark II with the AM3a is always going to deliver a lot more detail than the Q1 Mark II 1 with a similar amping stage so do not think you are getting a budget X7ii performance.
That ES9028PRO is a stunning DAC for resolution whereas the AK chip in the Q1 Mark II is more about musicality. If you enjoy warm to natural-sounding responses with decent body then the Q1 Mark II will give you that.
Balanced
Going balanced is my preferred route and you can tell FiiO made a point of referencing their F-series IEMs with the Q1 Mark II in mind because they do sound excellent paired together.
A few things to note going balanced with the Q1 Mark II. I generally found a snappier bass response as well as a more holographic staging quality with a bit more lower-treble presence and clarity. There was also a slight improvement in instrumental separation leaving more breathing space for vocals to shine.
Synergy
Note the setup used to test the Q1 Mark II with an iPod Touch 6th Gen using the supplied lightning cable. Source tracks were a mix of ALAC, MP3, and Flac (3rd party Flac player).
Although the Q1 Mark II does not come with a short OTG cable it will plug and play just fine with Android platforms that support digital audio as well as MACs and Linux platforms.
For Windows, you will be required to download a driver to make full use of the Q1's decoding capability. It will also pair just nicely with FiiO's own X3iii Linux-based media player using its line out.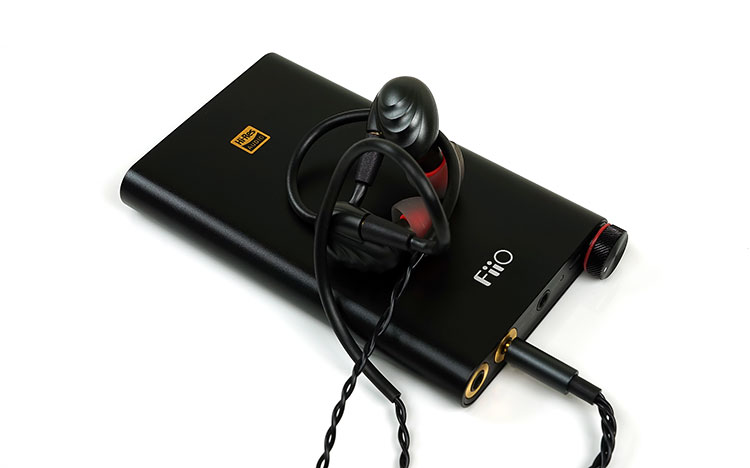 ADC Volume adjustment
Typically analog amps or amps with analog volume controls will have a level of imbalance in their control that digital amps do not have. If you ever worked with the Sony A35 you will be familiar with its steady channel balance and quiet gain control compared to the noisier and awkward balancing of cheaper analog competitors.
FiiO has worked on a hybrid version of their ADC volume control which re-samples the ADC curve to produce a smoother response from zero upwards.
Performance
Does it work? For channel balancing using my most sensitive IEM, the Andromeda, it works very well indeed. Zero left or right bias and a very smooth gain control.
However, noise is not completely absent (balanced output) but then it's always a challenge for amps when they meet the Andromeda, it's a freak of nature. Let's just say it is low with a hint of an audible signal on zero so not completely quiet.
Other very efficient IEMs such as the 5-ohm 111dB Westone W80 were much quieter on the Q1 Mark II in terms of background hiss though there was an audible signal at zero volume.
Regular Efficiency
On normal efficiency entry-level IEMs such as the F9 and the Oriveti BASIC no such issues with noise in either unbalanced or balanced output and a nice black background.
I also got some nice control on the volume on both dynamic driver IEMs with a lengthy gain rise on low volume which I appreciated coming from the more abrupt and aggressive A5.
Higher Impedance
On higher impedance budget IEMs such as the CL750 from RHA, I was quite impressed with the Q1 Mark II's dynamic range and again that smooth pot control eliminated low volume channel bias.
The CL750 generally needs decent amping to be driven optimally so I have always tended to use this on more powerful mid-fi amps such as the Duet whose darker tonality takes the edge off the brighter top-end of the CL750 quite nicely.
The Q1 Mark II doesn't quite have the same dynamic range and resolution but it does deliver a smooth and enjoyable presentation with the CL750 which I did not expect.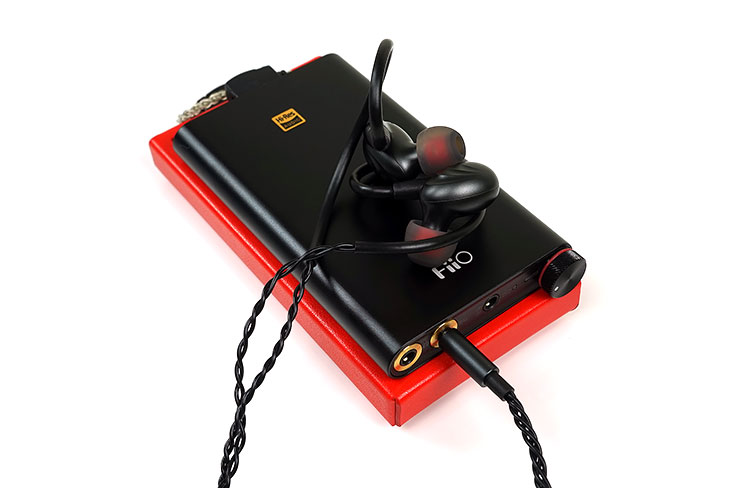 Power
Efficient planar and portable headphones around 32 ohms or less did ok with the Q1 Mark II. Mind you most of them do need to be used in high mode to get the most out of the Q Mark II's generally weaker amp output if not using balanced.
Hifiman Edition X V2
That full-bodied sound paired quite well with the likes of the Hifiman Edition X V2. It is not the most resolving and perhaps a bit behind in dynamics compared to high-end sources and DAPs but I can't fault the tonal response and generally easy-going nature of the Q1. The only thing missing is the lower treble body which tends to get a bit brittle on the V2.
Audeze SINE
Audeze's very efficient portable SINE headphones didn't perform too badly either. Again, that level of resolution and general detail in note texture wasn't as prominent as I would normally look for on more resolving platforms so do temper expectations.
What I was looking for was a tinny sound or loss of dynamic range and thankfully the SINE/Q! Mark II did not suffer from those pitfalls in poor amping. I would also suggest avoiding the bass boost on headphones (and IEMs for that matter) that are already full sounding as it tends to just give it a bit too much bass bloom, particularly the SINE.
Meze 99 Neo
One killer pairing with the Q1 Mark II was the Meze 99 Neo. I say that in deference to its genre suitability which I tend to find favoring modern RnB, pop, and EDM. It is a super easy-to-drive headphone.
The Q1 Mark II on low gain had no issues driving it. That full-bodied signature of the Q1 Mark II paired very well with the low-end bias of the Neo to deliver some nice swagger with the likes of Clairy Browne and We are Twin.
Select Comparisons
Sonic Infinity Encore mDSD
$99
Technical
The mDSD is one of the best value USB sticks out there that will work on iOS, Android, and USB-DAC out from most platforms. At $99 it will decode up to 32-bit/384kHz PCM and native DSD 256 much like the Q1 Mark 2 with its more than capable Sabre ESS 9010K2M DAC chip.
The mDSD amp stage is lower at 40mW into 32 Ohms compared to the Q1 Mark II's unbalanced output at 75mW into 32 ohms and the even healthier 220wW from the balanced output.
The mDSD lacks a line-in, balanced output, bass, and gain options but it does offer SPDIF output with the 3.5mm jack dualing as a digital output which some might find rather handy.
Sound
Those expecting a clean Sabre sound will be disappointed for whilst the mDSD is more linear generally than the Q1 Mark II it's not a sterile or flat sound.
The top end is smooth with perhaps less emphasis on the lower treble than the Q1 but it is more extended with a bit more sparkle. The low-end is not quite as elevated, perhaps a little more linear than the Q1 fuller more impactful low-end.
Mids on the mDSD are also a little more linear with vocals less forward sounding than the Q1 but there is not much in it.
Staging on the Q1 and the mDSD both have decent depth though I suspect people will be drawn to the planted heavier low-end of the Q1 Mark II which has more mid-bass warmth. Both have similar levels of sub-bass presence once you dig beyond that mid-bass impact.
NuPrime uDSD
$179
Technical
The uDSD is a little more transportable than portable and does not operate under its own power requiring instead a 5v USB current. Unlike the Q1 Mark II, it cannot be mated with smartphones or other DAPs. It competes with the Q Mark II as a DAC/Amp connected to a computer.
Like the other compared products it also sports an ES9010K2M Sabre DAC chip so decoding capabilities are the exact same up to DSD256. The uDSD has a rated power output of 140mW into 32-ohms. That is more powerful than the Q1 unbalanced but lower than the 220mW into 32-ohms balanced output.
What it does have in its favor is its ability to output an analog dual RCA line-out as well as coaxial output. The RCA outputs offer a reasonably decent 2Vrms (DAC out) on a fixed line level signal. The coaxial output includes an impressive DSD via DoP up to DSD 11.2MHz output.
Sound
The dynamics on the uDSD are sensational. This is a high-energy energy snappy solid-state sound. It may not have that smooth warm to natural and frankly more forgiving sound of the Q1 Mark II but its more aggressive and lively presentation is a little more engaging.
Where are the differences? The Q1 Mark II has a bit more bass quantity, particularly in mid-bass warmth but the bass texture and definition of the uDSD is a little better. For me, the uDSD is a little more accurate.
The instrumental timbre on the uDSD is a touch more neutral than the richer body of the Q1 Mark II. Vocals are also a little more forward on the Q1 Mark II compared to the uDSD. Both avoid sibilance nicely though the uDSD has a more forward and energetic treble response. Of the two you could argue the uDSD is a touch brighter as a result.
Staging-wise wise the Q1 mark II favors depth over the uDSD which has more of a bias to width and height much in keeping with the iBasso D14 which has a similar Sabre DAC implementation.
iBasso D14
$229
Technical
The D14 likely would be a level up from the Q1 Mark II and with a price tag to match. However, stylistically it's old school and a lot bigger and blockier than the Q1. Takes me back to the gold old days of stacking with a worn-out Cowon S7. Score 1 for modernity and FiiO.
Like the mDSD, the D14 has a Sabre32 ES9018K2M packed inside capable of decoding up to 32bit/384kHz PCM and native DSD256. So far so good for the Q1 Mark II in terms of decoding competitiveness. Score draw.
Both have a line out, both can charge via USB, both can operate on OTG, lightning to iOS as well, and connect with computers for USB-DAC duties. The D14 though has SPDIF input so it can accept a wider range of sources such as AK DAPs than possible with the Q1. Away team advantage.
The D14 will give you above 20 hours as an amp and around 10-13 hours using the DAC which is broadly in line with the Q1 Mark II's smaller battery's performance. Split decision.
The big D14 advantage is the power which is rated at 400mW into 32-ohms compared to the Q1 Mark II's max balanced output of 220mW into 32-ohms. Technical knock-out but in the mandatory re-match the Q1 Mark II is substantially quieter than the D14 with IEMs.
Sound
With the F9 in low gain, you have tons of wiggle room for microvolume control with excellent channel balance and an even rise in gain. The Q1 Mark II has a slightly superior channel balance and a very similar level of volume control.
Noise on the D14 is higher though with sensitive IEMs though both are impeccable with FiiO's own F9 which for me is the sweet spot. Both do well with dynamic driver IEMs.
The D14 delivers a more open and slightly cleaner sound with a lighter quick-paced presentation than the smooth and full-bodied sound of the Q1. The staging on the D14 emphasizes height and width whereas the Q1 Mark II delivers a bit more in depth.
The Q1 tends to shoot more for the mid-bass emphasis with a full-sounding vocal delivery. The D14 is tighter in the low end, a bit more defined, and delivers a far more open and airy sound.
Vocals are a little more refined on the D14, perhaps a shade less body in exchange for more accuracy. Both have a smooth treble response, however, the D14 has a bit more sparkle and definitely more headroom.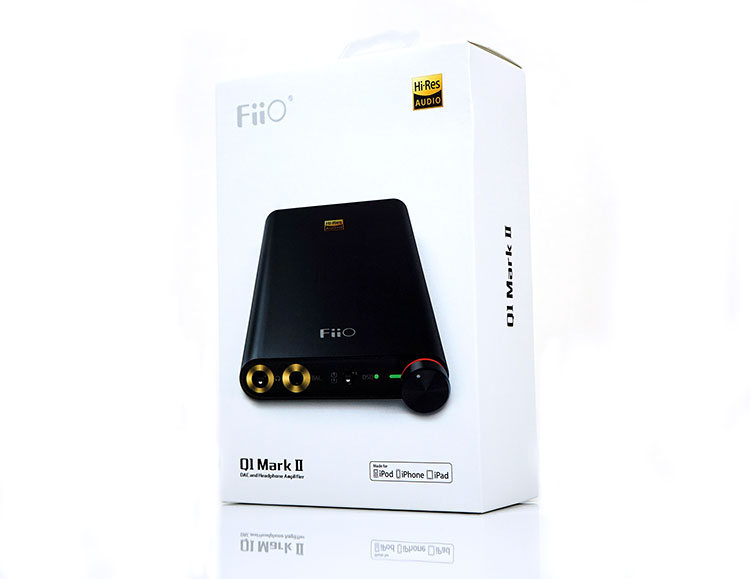 Our Verdict
The FiiO Q1 Mark II is a clever evolution from the original. In comes a more refined design that mates better with smartphones and DAPs and also a more versatile range of power settings with balanced and unbalanced options.
The power is not huge but it's more than enough for most IEMs which is exactly the target market that FiiO should be capturing with the Q1 Mark II.
It retains and enhances that versatility that marked it out as being a very worthwhile purchase as your first upgrade from "stock whatever" in your phone box. You still get line out, OTG, and USB-DAC but now you can add in MFi for iOS and DSD playback capability.
I struggled to find a pairing that could beat the Q1 Mark II at this price range. I was starting to bring in higher priced units such as the D14 from iBasso to get a feel if this can do business.
It is not that far off which shows you just how far we have come in terms of bang for buck in the last year or two. Balanced output and native DSD at a sub $100 price point. Lucky, lucky budget audiophiles!
FiiO Q1 Mark II Technical Specifications
General
Model
Q1 Mark II/ FQ1222
Color
Black
Weight
About 101g
Dimensions
About 99mm x 59mm x 12.5mm
Audio Input
Micro USB/3.5 mm Jack
Headphone Output
3.5 mm stereo jack
Balance Headphone Output
Supported (2.5mm balanced headphone jack)
Recommended Headphone Impedance
16~100Ω(PO)

16~150Ω(BAL)

Bass Boost
0/5.4dB
Channel Imbalance
0.2 dB
Power Input
DC5V 2A recommended
Battery Capacity
1800mAh
Charge Time
≤4h
Battery Life
>20h(AUX IN)

>10h(USB IN)

USB DAC
Up to 384kHz/32bit supported
DSD Support
DSD64/128/256
Line output specifications
THD+N
<0.003% (1 kHz/10kΩ)
SNR
≥110 dB (A-weighted)
Frequency Response
6 Hz~80 kHz(-3dB)
Channel Separation
>90 dB (1 kHz)
Headphone out specifications (3.5mm headphone out jack)
Output Power 1
≥112 mW(16Ω / THD+N<1%)
Output Impedance
<1.2Ω (32Ω loaded)
Output Power 2
≥75mW(32Ω /THD+N<1%)
Channel Separation
≥79 dB (1 kHz,AUX IN)
Output Power 3
≥11 mW(300Ω / THD+N<1%)
THD+N
<0.002% (1 kHz, AUX IN)
<0.003% (1 kHz, USB IN)
Frequency Response
5 Hz~55 kHz(-3dB)
Peak Output Voltage
>4.4 Vp-p
SNR
≥116 dB (A-weighted, AUX IN)
≥109 dB (A-weighted, USB IN)
Max. Output Current
150mA (For reference)
Gain
-2.5dB (G=L)
3.2dB (G=H)
Max Input Level
3.4V
Balanced headphone out specifications (2.5mm TRRS headphone out jack)
Output Power 1
≥240 mW(16Ω / THD+N<1%)
Output Impedance
<2Ω (32Ω loaded)
Output Power 2
≥220 mW(32Ω /THD+N<1%)
Channel Separation
≥93 dB (1 kHz,AUX IN)
Output Power 3
≥45 mW(300Ω / THD+N<1%)
THD+N
<0.002% (1 kHz, AUX IN)
≤ 0.003% (1 kHz, USB IN)
Frequency Response
6 Hz~80kHz(-3dB)
Peak Output Voltage
>7.4 Vp-p
SNR
≥115 dB (A-weighted, AUX IN)
≥109 dB (A-weighted, USB IN)
Max. Output Current
150 mA (For reference)
Gain
3.2dB (G=L)
9.1dB (G=H)
Max Input Level
3.4V