The Empire Ears Valkyrie is the company's co-debut triple-driver hybrid electrostatic monitor featuring their proprietary EIVEC technology. It is priced from $1599.
Disclaimer: The Empire Ears Valkyrie was sent to us in exchange for our honest opinion in this review. Many thanks to Empire Ears for giving us this opportunity.
You can read about previous Empire Ears products reviewed on Headfonics here.
The hybrid electrostatic monitor fun continues for 2019 with the launch of Empire Ear's Valkyrie and this one just arrived a few days ago. Now, this is their debut, or should I say, co-debut since their flagship Wraith dropped at the same time and it also has a few electrostatic drivers stuffed in there as well.
There is a substantial price difference between the two and the Wraith only comes in a universal format whereas the Valkyrie comes in both universal and custom versions. The one we have here is the custom version, "da best version".
The custom Valkyrie will set you back $1599 and upwards depending on the custom options you choose and sits just behind the flagship Legend X in their X Series product range. The Wraith, as an FYI, is priced at a cool $3499 and is the flagship of Empire Ear's universal EP Series line-up.
Tech Inside
Empire Ears love a good acronym and do have some funky titles for a lot of the tech they use inside their monitors. The Valkyrie is no different in that regard and comes stuffed with Weapon IX, synX crossover and their new proprietary EIVEC technology. Sounds advanced so let's break it down a bit.
Configuration
At a very simplistic level, the Valkyrie has 3 drivers inside which is quite minimalist sounding compared to more complex options such as the 8-driver e-stats Wavaya Octa and the 7-driver Jomo Audio Trinity. That being said, driver count is a long-debunked measure of sound quality.
The driver pick is 'one of each', so it is Empire Ear's Weapon IX subwoofer, a single full-range BA for the mids and one Sonion electrostatic driver using EE's EIVEC technology for the highs. All of this is controlled with EE's existing 4-way synX crossover network.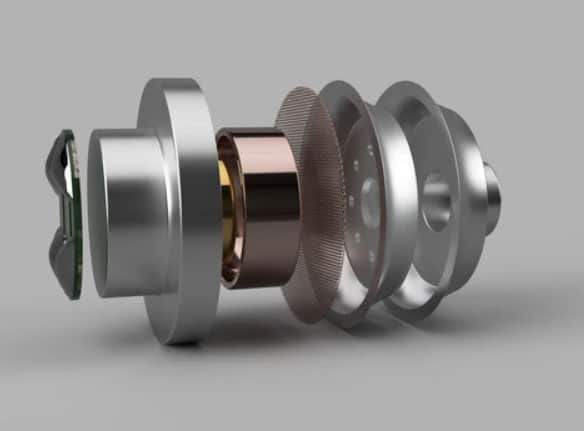 Weapon IX
The Weapon IX inside the Valkyrie is a 9mm proprietary rare-earth magnet infused dynamic driver. This driver has been used before in multiple configurations in their Nemesis, Vantage and flagship Legend X. Technically, EE refers to it as a Weapon IX (W9) driver, the 9 being the size as in 9mm.
The defining characteristic in the design of the Weapon IX driver is how the woofer is enclosed in a tuned bass-reflex system. It has a front-firing port and rear-firing vent to reduce distortion and enhance frequency extension. This is different from traditional DD designs that rely more on internal shell enclosures for volume and can often end up being fairly inefficient.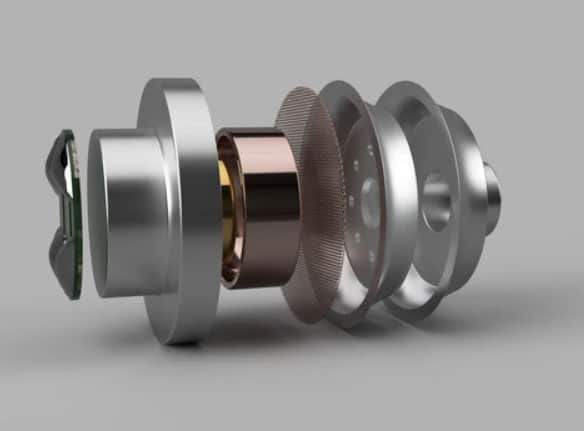 EIVEC
EIVEC stands for Empire Intelligent Variable Electrostatic Control and it is designed in work in tandem with their synX crossover network. You can consider it as a measure of additional control on the EST driver through electronics components and how it works in tandem with the other drivers.
Now there is only a single electrostatic driver inside the Valkyrie so I suspect the real genius of this system lies with how it works inside the Wraith and its quad-electrostatic driver configuration. However, it is present in the Valkyrie. Its main job is to ensure that the EST driver works optimally across a potentially vast 4kHz-100kHz range without upsetting the harmonic balance with the BA and Weapon IX drivers.
Unboxing
Since I last reviewed an Empire Ears monitor, the Phantom, it seems the packaging and physical presentation has had a bit of an upgrade. Yes, it is an all-black ensemble, such is the way of things in audio the days, but it's tight as in slick, pro, compact and all those other useful words to describe a modern branded retail box.
Certainly, it is a much more "together" looking than the original Phantom which was going in the Valkyrie direction but more of a bundle than a purposeful layout. The box is much smaller (hooray from the EE logistics manager and bean counters) than before with flip lid and a contoured and cut-out protective foam layer on the inside for most of the accessories and hard case.
On the inside of the top lid you get an assortment of guides, stickers, and serial numbers and nestling on top of the cutaway for the cleaning tool a small thank you card.
Accessories
The accessories list is minus the Aegis dust bags from the Phantom and also the larger Pelican 1010 case. Instead, you have a smaller durable round screw aluminum case that is printed with the EE branded wings and a text engraving of your choice. You also get a small cleaning tool and a satin cleaning cloth.
The threaded aluminum case has slightly less space to work with than the weather-sealed Aegis cases of before but they are bloody solid, and I mean practically bombproof. Apparently it is also weatherproof and it does look fairly tight when the lid is screwed shut. It is a shade on the heavy side though so I am not 100% sure I would be using it on tight Kg limits for travel.
Design
Of course, being a custom monitor you can create your own design but after much discussion, we decided to go with Empire ear's Signature Galaxy plates and a complementary translucent orchid shell. I have seen this combination before so it is not unique, others have it but damn, it looks so good in real life. It also is a doozy to take pictures of also with some much pop on that front plate.
The design is finished with Empire Ear's "E" logos though you can choose wings or your own artwork depending on how crazy you want it to be. Being a triple driver allows for a slightly smaller form factor compared to the Phantom which is a little bit bigger than the Valkyrie in real life.
The Valkyrie also does away with the horn nozzle design so its tri-bore structure goes right to the tips of the main shell. I would advise holding onto the cleaning brush for this one to prevent the bores from becoming clogged. The dynamic driver venting is also very subtle with 3 tiny holes at the top of the main shell in a triangular formation.
Cable
The Valkyrie comes with the excellent Effect Audio Premium Series Eros II cable worth $279.90 alone. This is a 26AWG UPOCC Litz copper/UPOCC silver hybrid cable wrapped in EA's UltraFlexi translucent jacket so you can see that nice blend of silver and copper wire in its tight braided twist.
The barrels and splitters are a mix of old and new for me with a lightweight black aluminum branded splitter and adjustable chin cinch as well as the older carbon fiber printed and chrome alloy jacks.
Those jacks are customizable also so you can choose 3.5m TRS or 2.5mm TRRS depending on your preferences. The connectors are not customizable as the Valkyrie design is a recessed socket 0.78mm 2-pin design. That means the chrome barrel EA branded connectors are 2-pin only.
The microphonics on this cable are non-existent, as you would expect from any good aftermarket cable. It is also pretty darn soft or pliant, fairly lightweight and next to no memory retention so you will not have any kinks or tangles.
In The Ear
A couple of things to note. You will pick up on some dynamic driver flex when you stick them in your ear. Just the one flex, sounds like a small pop, and after that nothing. Empire Ears are pretty upfront about the flex due to pressure changes in the ear but in case you are disturbed by it, this will happen only the once when you insert in your ear. There is no fault in your monitor.
The Valkyrie, being slightly smaller than the Phantom will feel the snugger of the two in the ear. It also sits a little flusher to the outer ear whereas the Phantom, at least for me, sat out a bit more. The bass port venting isn't too bad actually, I have had more porous dynamic driver enclosures. However, the Phantom's all BA design and lack of vent does offer superior isolation.
Initial Sound Impressions
(Initial impressions were done with the Lotoo PAW Gold Touch and Cayin N6ii/A01 motherboard combo and stock Eros II cable)
Out of the box, the custom Valkyrie has a solid harmonic balance with a slight fade in the upper treble elevation to take the heat out of that electrostatic driver. Having said that the treble is just beautiful on the Valkyrie. I got no problems with how much headroom it is producing.
Often, I find these new hybrids to either sound like a classical electrostatic headphone with a very clean and forward treble or a little on the wetter smoother side but still very articulated. The custom Valkyrie falls on the latter rather than the former. That means you get some excellent detail, extension and plenty of headroom but not quite the forwardness to upset the generally smooth timbre of the Valkyrie.
The tuning is more on the W-shaped side than V-shaped and there is plenty of sub-bass as you would expect from the Weapon X sub-bass woofer tuning. What I am finding though is a fair degree of emphasis on the 1-4k range which balances out that sub-bass delivery quite nicely.
The Valkyrie is a fair old contrast to the Phantom which had a rising mid-bass to lower-mids warmth and presence. The Valkyrie cuts into the lower-mids a lot more with a fairly linear drop from 100Hz to 800Hz.
Vocals are also a bit more pushed and forward for me than the Phantom, especially if they are pitching above 1k where the Valkyrie has a bit of elevation. Combined with some seriously potent sub-bass quality the staging delivers excellent depth and a wide soundstage with vocals to the fore and instruments tucked in behind and out wide.
Stay Tuned!
The Valkyrie has a very likable tuning right out of the box and should appeal to those who like a bit of power in their low-end as well as a vocal delivery that doesn't sound veiled or pushed back.
It has a very nice harmonic balance with more of a nuanced electrostatic driver tuning that adds enough headroom and clarity but without any hardness creeping into percussion and higher pitching vocal timbre. No sibilance yet for me and that is important.
I will be keen to see how it performs with electrostatic competitors in the same price range such as the Shozy/AAW POLA39 and Wavaya's Octa, both of which have very different driver configurations. We still have a few months left of 2019 for some more electrostatic models to be slipped into the comparison section also so stay tuned!
Valkyrie Specifications
3 Proprietary Drivers, Tribrid Design
1 W9 Subwoofer, 1 Mid, 1 EST High
EIVEC – Empire Intelligent Variable Electrostatic Control
4-Way synX Crossover System
A.R.C. Resonance Mitigation Technology
Impedance: 3 ohms @ 1kHz
Frequency Response: 4 Hz – 100kHz
Sensitivity: 96dB @ 1kHz, 1mW
26AWG UPOCC Litz Copper/UPOCC Silver Hybrid Cable, Handcrafted by Effect Audio