Disclaimer: The DUNU DK-4001 sent to us is a sample in exchange for our honest opinion. We thank the team at DUNU for giving us this opportunity.
To read more about DUNU products we reviewed on Headfonics, click here.
DUNU products have appeared quite regularly on our site for reviews. However, for me personally, this is the first time I have ever touched, heard, unboxed and reviewed a DUNU product. Breaking new ground so to speak, so yeah, a noob when it comes to their gear but excited nevertheless.
Truth be told, the ever-energetic Kevin from DUNU was so confident in their new releases that he was adamant that I personally had to hear their new DK-4001 monitor along with their new Hulk aftermarket cable. A convincing chap indeed with a both their DK-4001 and their Hulk cable arriving at our office a few weeks later. Nice!
Tech Inside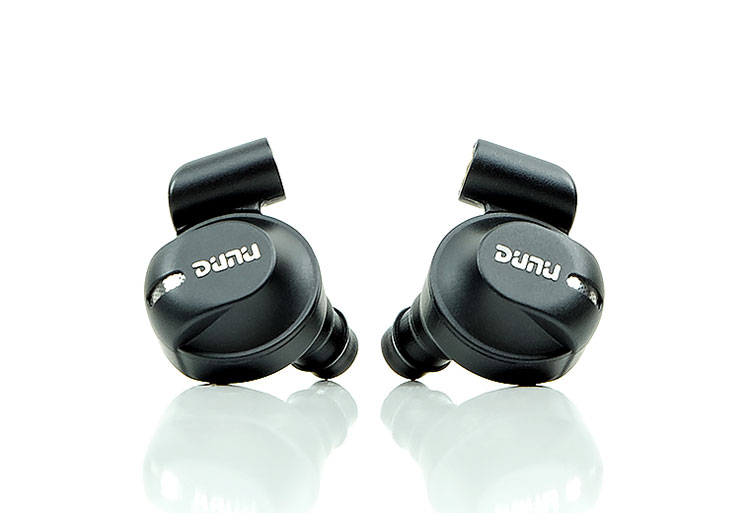 DK-4001
The DK-4001 is universal hybrid monitor priced at $899. This is also DUNU's flagship model and from what I can tell, had one heck of a journey from the original 2015 release schedule to actually making it to the retail shelf in its final form in 2019.
I am told that the DK-4001 was originally supposed to be launched alongside the DK-3001, (2015). However, DUNU felt the DK-4001 tuning and design needed to be substantially higher in quality compared to the DK-3001. Now I have not heard the DK-3001, you can chime in and tell me all about it. I will, however, be comparing this to quite a few universal monitors or similar hybrid design and pricing just to see how good it is regardless of any DK-3001 contextual positioning.
The DK-4001 consists of a single 13mm beryllium coated dynamic driver and 2 x dual-tweeter Knowles SWFK-31736 for the highs and ultra-highs using a 2-way crossover. The DK-4001 is rated at 32Ω with an SPL of 112dB so it should be fairly easy to drive but at the same time just about avoid the hissing pitfalls more sensitive armature driver designs can often succumb to.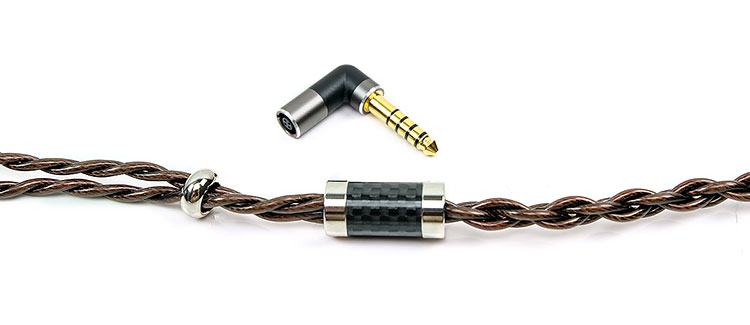 Hulk Cable
The $299 Hulk cable mirrors the design of the DK-4001 stock cable with the excellent interchangeable connector plug system but also a much heavier gauge of OCC copper Litz Type-2 wire at a whopping 22AWG. The braiding is done by hand using a translucent PVC jacket and terminated with 0.78mm connectors (you can buy MMCX) and of course the plug system on the other end.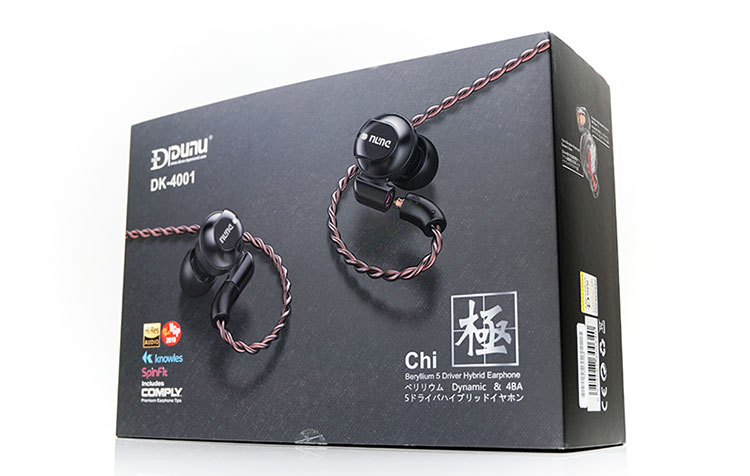 Unboxing & Accessories
DK-4001
Both the cable and DK-4001 share the same branding and packaging characteristics by the looks of it with charcoal colored packing using DUNU branding to the fore and the name of the product in multiple languages as well as a decent pic of it on the front. Looks pretty professional on the outside with a similar route take on the very impression internal layout.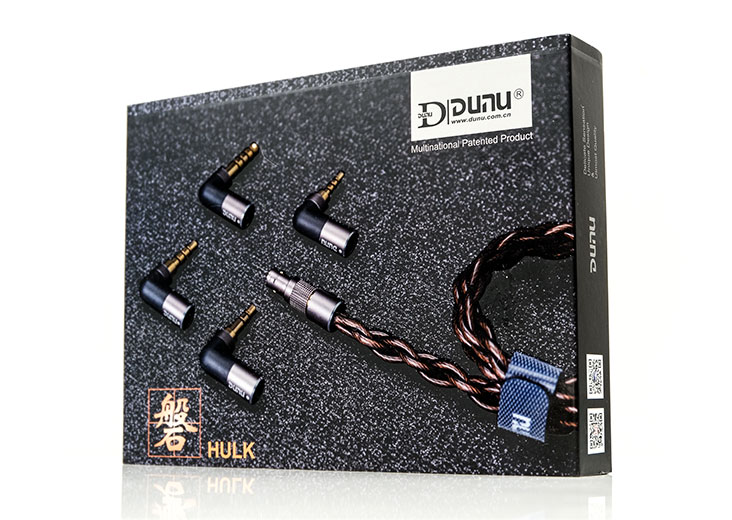 The DK-4001 comes absolutely loaded with accessories and the size of its retail box is much bigger to accommodate everything. It is also very nicely laid out into two layers so you pretty much see everything you are getting right away.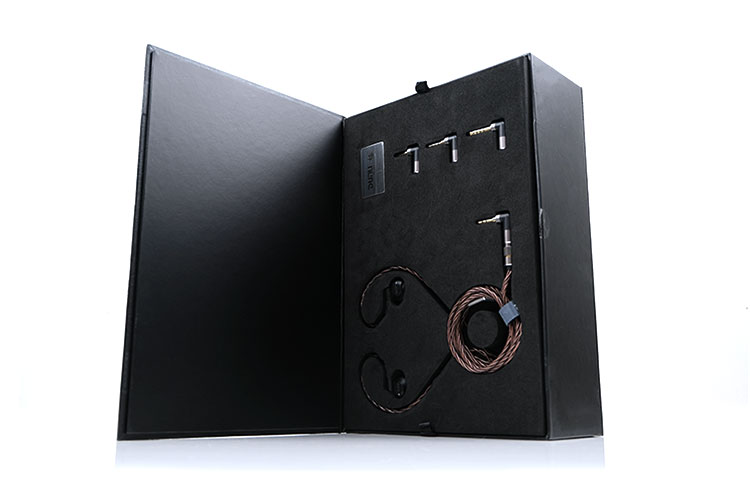 Cable
The top level holds the cable, DK-4001 drivers and 4 interconnection plugs for the cable. The ones included are 2.5mm, 3.5mm (balanced and unbalanced) and 4.4mm gold-plated TRS and TRRS jacks. They actually look pretty solid and out of the box are dead easy to connect to the stock cable.
I believe Dita's version is a threaded interconnect system whereas this is a simple slide and lock of the cable and plug using a small indent on the cable side as a guide. DUNU do supply a small guide on how to do that in the box but you will get the hang of it in seconds.
The second layer of the box contains a nice leather carry case with some decent space as well as the tips, cleaning brush, quarter jack, and airline converter. I think that makes about 5 different connections for one cable alone, pretty handy stuff.
Tips
The tip selection is excellent with a very wide mix of SpinFits, color-coded single bore silicone tips, translucent single-bore silicone alternatives and a bag of Comply Foam tips. All, bar the Comply (medium T-500 single pair), come in small, medium and large with some variations on the bore opening and stem width. DUNU has supplied a small 6 tip tray holder, which hardly seems adequate for the number of tips you get, but it does show the different measurements of the tips.
Carry Case
My only critique is the case. Not so much the quality which is great. This is a good quality lambskin leather material with a magnetic latch which holds its seal well. But rather the critique is on the size. It is a little too small to pack all those accessories inside. Open up that top lid and pretty much everything will fall out. Slide in the tip tray and you just have enough room for the cable and drivers and not much else. You will need to store most things in another container when on the move.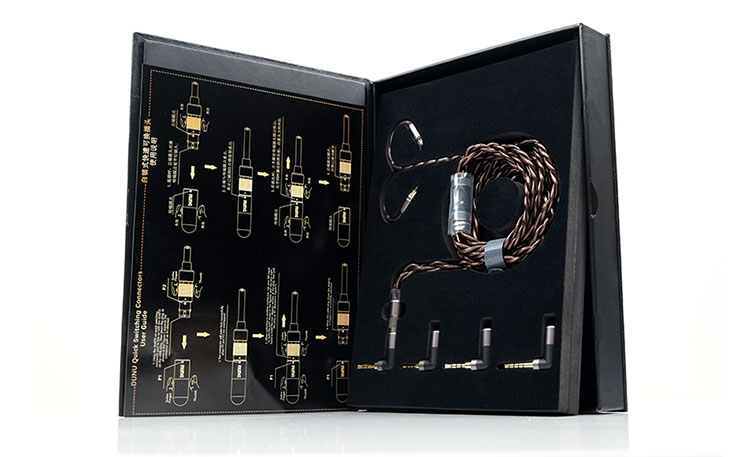 Hulk
Just the one tray for the Hulk and it is laid out quite similarly to the top foam tray of the DK-4001. To the left, you have 4connector plugs; 2.5mm, 3.5mm (balanced and unbalanced), and 4.4mm. To the right, you have the 'chunky monkey' that is the Hulk cable. The Y-Split barrel on the Hulk is also protected with a bit of clingfilm so it stays shiny during transport. Not as lavish perhaps as the DK-4001 package but it does not really need to be.
Critique time again but I can't help feel that this package really needs a small case or pouch. Those three interconnects could get lost in daily use with the cable if you like changing things around.
Resting on the top you have a short guide on how to use the interconnect system.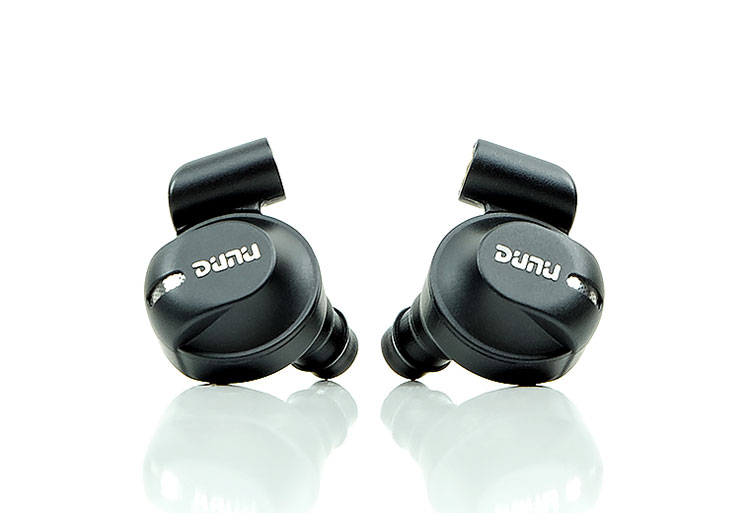 Design
DK-4001 Impressions
The DK-4001 doesn't use a custom universal acrylic build. Instead, this is a matte-black zirconium liquid alloy shaped into somewhat of a more traditional form factor on initial impressions. The stem to the rear that sticks out on the pic is the MMCX connection port for the cable.
This is a styling I have seen before when looking from afar and up close the finishing is quite excellent with zero imperfections and a very smooth surface to the touch. The little silver gauze on the front of the faceplate is to allow the dynamic driver to properly vent. The nozzle is of medium length and angled slightly upwards so the idea of the fitting is over the ear and down and then insert the stem up and into your ear to get the seal.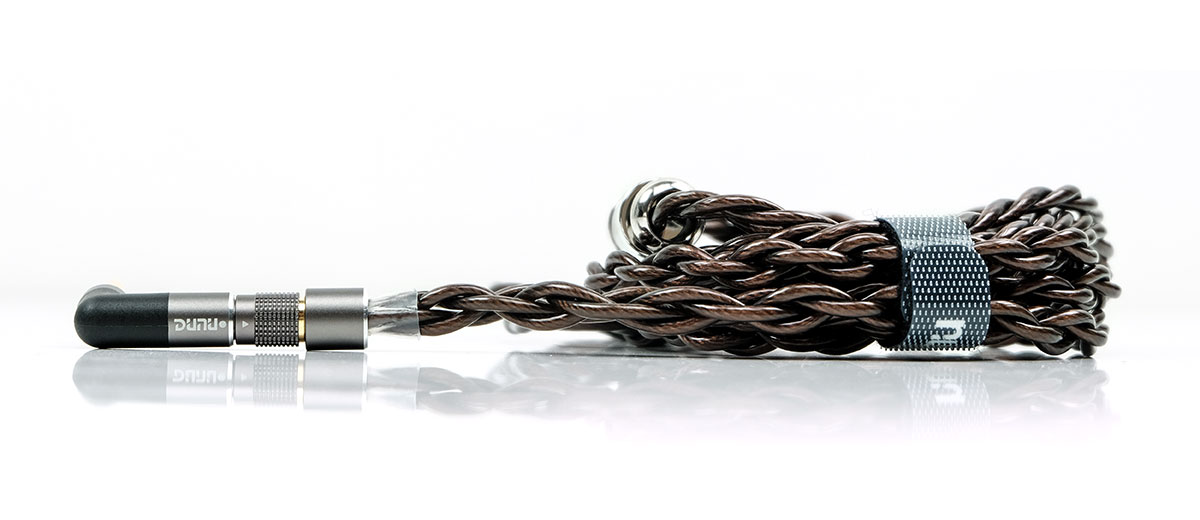 Hulk Impressions
This is a beast of a cable and I can see why DUNU decided to call it the Hulk. I have not worked with a cable this big since the Whiplash Twag V4 22.5AWG and ALO Audio's SXC 8. It certainly does feel weighty but at this moment in time, it does not feel cumbersome in terms of handling.
Certainly, the stock DK-4001 cable is going to feel lighter in terms of handling and using around the ear but neither suffers from any annoying microphonics and the Hulk is quite pliant for a big cable.
The Hulk uses those traditional chrome-finished aluminum alloy and carbon fiber printed Y=Split barrels popular with the likes of Effect Audio. It is not the smallest but given this is a 22AWG cable I am not wholly surprised. It does look very pretty though with that dark brown copper cable tone under the translucent jack and offset by the silver chin cinch and barrels.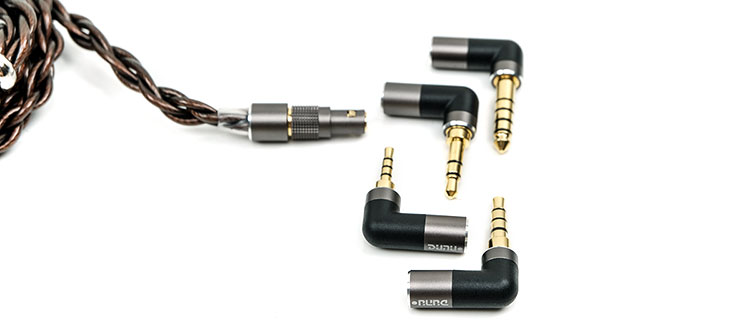 Like the stock cable of the DK-4001, you get those nice high-quality connectors (4) and like the stock cable you should find it pretty easy to connect and disconnect them to the Hulk jack port. once connected it is quite a long barrel from tip to strain relief but thankfully right-angled so it does not stick out too far from whatever source you are using. This is the exact same route also for the small stock cable of the DK-4001.
Comfort & Fit
I do not have an issue with DK-4001 comfort once I got the right fitting tips. The right fitting tips thus far is a slight challenge. The largest translucent single bore silicone tips did get me the best in terms of seal and comfort but the isolation is just average with them. Still, they are the most secure of the supplied tips for my ears. The Spinfits felt a little too small or loose for me.
The medium size Comply T-500's offer better seal and isolation and feel just as secure but again, the DK-4001 isolation is just average overall. I presume that bass vent also breaks the level of isolation you can get with the DK-4001. I will try some bigger tips of my own just to see if I can drop the isolations further in the main review.
Initial Sound Impressions
(Tested with DX220/AMP1 MKII, HiBy R6 Pro and Sony 1z using stock and Hulk cable)
Control
I am surprised with the DK-4001 out of the box. I was expecting an omnipotent classic DD bass presence, perhaps even quite dominant but that does not seem to be the case here. It hard, deep, and has that classic DD decay sounding very natural indeed but its tuning seems more discreet so it stays the heck out of the way when not called on. That gives the DK-4001 low-end an "oh I didn't see that coming" level of dynamic range when called upon which I like. I remember the Fidue A91 Sirius had that same effect on me when I first heard it.
Lower-mids
I am also not hearing a huge amount of warmth in the mid-bass using the DX220 and somewhat nicer levels of body and warmth from the Sony 1Z. There does seem to be a dip right up to to the lower-mids so instrumental presence is a touch further back in the mix and the timbre is not too thick or rich sounding. I would say fairly neutral with good separation but can be tweaked with source synergy.
Vocals
Vocals seem forward around 1-3k. I am a vocal fan so this could be fun. Still, it is not a massively thick or rich voicing so whilst both male and most female vocals are forward in their stage positioning the timbre is still relatively neutral thus far and that is with the supplied foam tips. It is a little leaner with the translucent tips and once again, a little richer with a source change form the DX220 to the Sony 1z.
Treble
Treble is energetic, plenty of sparkle around 6-8k but there is a little dip in the upper mids to lower treble transition around 4-5k which may be where the crossover point from the dynamic driver to the BA's for that 6-8k elevation.
Interestingly, I am not hearing a huge amount of forwardness beyond 7-8k, in fact, a gentle roll-off maybe there. It does mean that the DK-4001 does not send those shivering odd-harmonic overtones down into its instrumental timbre so an airy tall sound but not a sharp or wincing sound to be heard at all.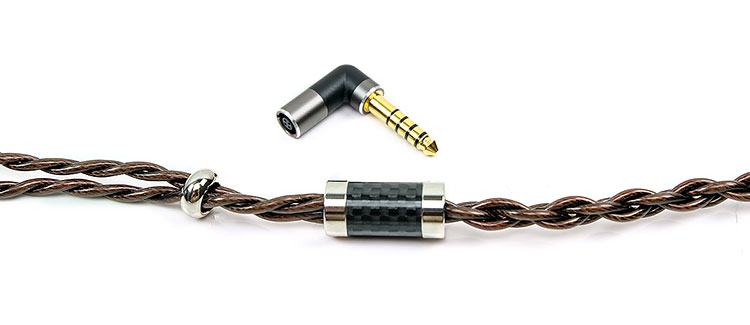 Hulk Effect
Another unexpected initial impression when paired with the DK-4001. Thus far I am hearing is a tighter low-end, slightly less sub-bass presence if anything but just as much extension and perhaps a bit more snap. Mids seems more fleshed out, a little better in texture and the top-end that bit smoother but not less extended.
I was expecting this to be a lot heavier on the low-end but like, say the Ares II P8-wire from EA, this seems a very balanced sounding cable to my ear and it also brings the DK-4001 along with it.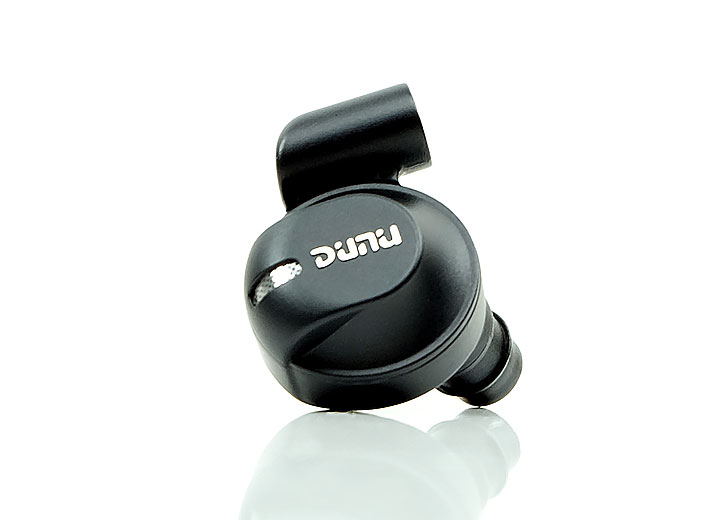 Stay Tuned!
OK, so the DK-4001 and the Hulk have surprised me thus far. Lovely build quality, tons of accessories and a well laid put physical presentation no doubt.
This is a very mature sounding hybrid monitor with bass that reaches deep, classic DD sound and level of decay but otherwise nothing in your face or showing a lot of mid-bass bloom. Vocals are forward but not thick sounding and the treble is clean, airy but not imbued with too much sting or naughty sharp overtones.
The Hulk cable evens things out a bit more, sounding a little more neutral than the stock, ups the dynamic range so the DK-4001 sounds snappier with better separation and generally delivers a nice balanced sound with this pairing.
I still need to play around with the tips and fitting on the DK-4001. Maybe just to grab a touch more isolation and see what happens. The Hulk with the DK-4001 does require some adjustment on the stem positioning to get a good fit, it is a big cable. I don't have much love for the DX220 combo using AMP1 MK2 as my source for the DK-4001. However, the Sony 1Z's punchier low-end and slightly warmer signature rocking my boat between these two.
Stay Tuned!
DUNU DK-4001 Specifications
Driver: beryllium diaphragm dynamic driver and 4 Knowles balanced armature
Impedance: 32Ω
SPL: 112 dB @ 1kHz
Frequency Response: 5Hz-40k Hz
THD: < 0.5% @ 1kHz
Connector: MMCX expansion pin
Cable: OCC Copper wire
Cable length: 1.2m
Net weight: 13g
HULK Specifications
Structure: Litz type 2
Wire diameter:22AWG
Material: OCC Copper wire
Plug: Self-locking quick detachable plug
Cable: 4 strands hand weave
Cablelengthen:1.2m
Connector: MMCX/2pin 0.78mm