Today, we review the dCS Lina Master Clock, which is a standalone Grade 1 dual-crystal oscillator system that minimizes jitter in digital audio. It is priced at £6,750.
Disclaimer: We received this sample on a long-term loan in exchange for our honest opinion. Headfonics is an independent website with no affiliate links or status. We appreciate the support provided by dCS.
Click here to learn more about dCS products covered previously on Headfonics.
Please remember that this article adheres to our most recent scoring guidelines, which can be found here.
dCS Lina Master Clock
If a Rossini Clock is out of your budget then the dCS Lina Master Clock will give you something quite special for less money. 
Pros
Brings the Lina Network DAC to the next level
Simple to operate
Cons
Lack of onboard display information
Stock BNC cables not 'endgame'
We have touched a little on the difference the dCS Lina Master Clock brings to the performance of the rest of the stack in both the Lina Headphone amplifier and Lina Network DAC reviews we published recently.
However, we have yet to focus on the Clock as a device in its own right and to tell you the truth, this is my first dedicated Clock review though what it does in principle has a high degree of overlap with many of the features of products we have reviewed before, i.e. reduce jitter.
To say though that this is all the Lina Master Clock does would be a massive understatement. dCS fans will rave about the performance enhancements the uber-expensive £9,450 Rossini Clock brings to their TOTL product range so churning out an alternative as part of the Lina system at 30% less should cause a ripple or two.
Bear in mind, this is a standalone clock, it does not have to be tied to the Lina modular system though that is its ideal home.
If you have a Bartok or another dCS dual BNC digital decoding device that accepts clocks it will work with that also. It may even be compatible with 3rd party systems equipped with dual BNC though definitely try before you buy.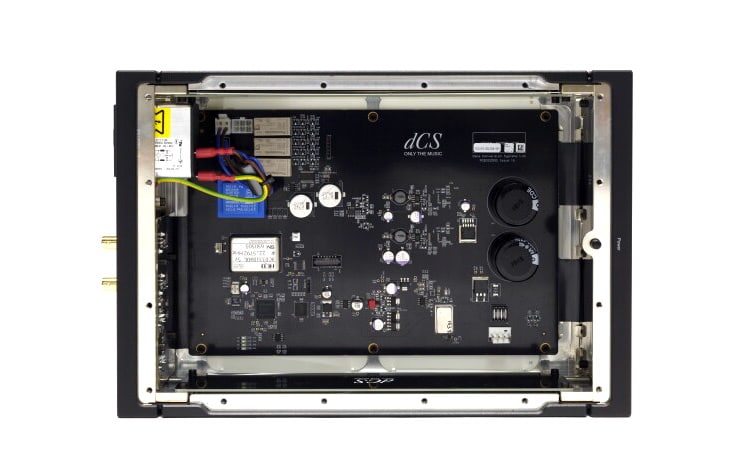 Tech Highlights
Clocking
The dCS Lina Master Clock is essentially about timing or what Hegel has referred to as "rhythm' in an audio component's output.
This timing is both in the immediate sense of directly controlling jitter when a digital signal is being delivered to the analog conversion stage of a DAC and over the longer term by nullifying the potential for drift.
Either way, it brings a level of time stability that is not possible without it and is an essential layer in digital audio both on a consumer and on a professional audio level. Just about every digital audio device has a clock inside which plays a significant role in the audible performance of that device.
Particular examples include a DAP such as the iBasso DX320 or the Lina Network DAC itself. You normally will see clock implementation through the use of branded crystal oscillators such as Accusilicon.
And these are genuine crystals, usually made of quartz, and are picked by size for their very precise and stable vibrational effect at desirable frequencies. The Lina Master Clock has two of them, one is oven controlled and the second one is voltage controlled and slaved to the oven-controlled version.
These two crystals run at 22.5792MHz and 24.576MHz respectively and are direct multiples of 44.1k and 48k. They can be used to accurately synthesize the 44.1k and 48k Word Clock signals that the Lina Clock outputs without the use of asynchronous sample rate conversion which causes jitter.
This stability thus allows a Clock to deliver a fixed reference frequency that slave clocks or DACs such as the Lina Network DAC's internal clock system can lock onto consistently.
Why External?
There are a lot of reasons why an external clock is a preferred choice for dCS. On a commercial level being able to sell it as a standalone device gives it an appeal beyond the Lina modular system for those with other DACs that use a dual BNC clocking system, for example, the Bartok.
From an engineering point of view, there is less constraint in the available physical space allowing you to realize a preferred circuit or topology design fully.
And finally, perhaps most importantly, it frees the Clocking design from potential interference and noise from other electrical operations that could be running alongside it such as the DAC itself.
Design
Given that the Lina Master Clock is part of the main Lina modular system it's no surprise that it takes on a similar design language but is even more discreet in appearance given the lack of dials and displays.
You get the same heavy-duty visually minimalist shoebox shape and dimensions and a machined aluminum chassis finished with matte black minimalist low-profile panels both front and rear. No surprise either to find out it also weighs roughly the same as the other two units at 7kg.
dCS has again ditched traditional pillar stabilizer pads and gone with a curved long body design with the feet discreetly positioned at each internal corner. It keeps everything very steady and at the same time keeps the smooth design floor completely uninterrupted.
Stacked with the DAC and headphone amplifier it is a very harmonious aesthetic and is fairly stable also if you are going for a triple deck.
If you do want to stack dCS advise placing the Lina Master Clock in the middle with the headphone amplifier at the bottom and the DAC at the top. My own personal preference is side by side though on the rack that's two beside each other and one on the shelf below due to size constraints.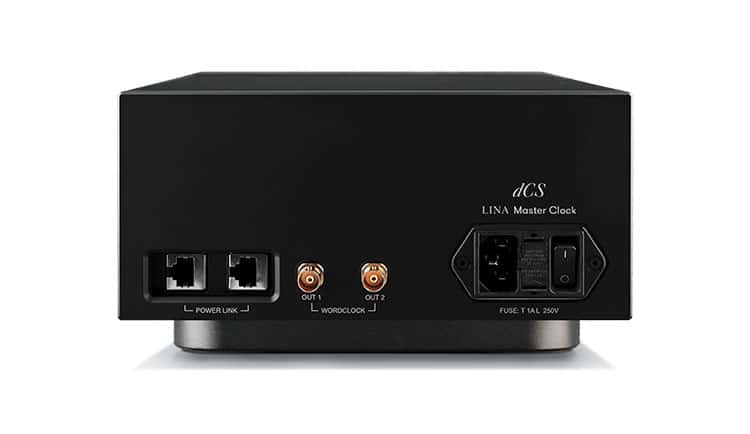 I/O
The dCS Lina Master Clock I/O is all housed on the rear panel and is very simple in its layout. In a similar fashion to the amplifier and DAC you have a set of 2 RJ45 connectors for the system power link service and then beside it the dual 75Ω BNC for world clock functionality.
Just to note, it is a requirement to have both BNC connected for the Clock to work and to take full advantage of the capability of the clocking performance. Each BNC output has its own reference frequency, so one is 44.1kHz and the second is 48kHz.
Connecting both gives you the auto option from the Lina Network DAC as fully explained below.
Controls
There is really nothing in terms of interaction with the Lina Master Clock save for the single LED light in the middle to indicate it is powered up or in sleep mode through a strong or dimmed white color.
You also get a single power button discreetly positioned just under the main front panel and an AC power switch at the rear. There is an additional layer of controls for the Lina Master Clock via the Lina Network DAC using the Power Link RJ45 cable system.
These are some additional interactions via the Lina Network DAC menu, (and the Bartok) to recognize the Lina Master Clock input, (World Clock W1, W2, and Auto). dCS does recommend, however, that you keep the World Clock out setting to auto, (World Clock), which will automatically pick the right kHz setting during audio playback.
Packaging & Accessories
The dCS Lina Master Clock packaging is packed with the same sense of grandeur as its modular siblings. That means a huge attractively designed retail box with loads of protective foam packaging and the various accessories packages above and below.
You get the same rich aroma of leather from the manual envelope alongside two stock BNC cables and two short RJ45 power link adaptors. The final is a 3-prong power cable which is much the same cable as you get with the DAC and headphone amplifier.
Just to note, the BNC cables seem a degree or two better than the versions that come with the Chord Electronics Hugo M Scaler with these being manufactured from ultra-pure Silver-plated OFC copper.
Now I do happen to have a set of Wave High Fidelity Storm Reference series BNC cables that were a massive upgrade on the stock Chord cables but do come at a fair old additional cost, (£1,495.00).
If you want to read up if they made any difference to the Lina Master Clock's performance or not you can check out our Synergy section on page 2 of this review.
Click on page 2 below to read how the Lina Master Clock performed with various DACs.