We review the new dCS Lina Network DAC, which is a high-end modular streamer and digital-to-analog converter based on the famous Ring DAC design. It is priced at £11750.
Disclaimer: We received this sample on a long-term loan in exchange for our honest opinion. Headfonics is an independent website with no affiliate links or status. We appreciate the opportunity provided by dCS.
Click here to learn more about dCS products covered previously on Headfonics.
Please remember that this article adheres to our most recent scoring guidelines, which can be found here.
dCS Lina Network DAC Review
The dCS Lina Network DAC is an outstandingly detailed and natural-sounding decoder with a ton of useful features and a very modern supporting app bringing the best of the internet and network right to your fingertips. 
Pros
Incredibly resolving DAC
Wide Range of Voltage output levels
Excellent integration with dCS Mosaic
Cons
I²S
No out of the box wireless
Hot after our dCS Lina Headphone Amplifier review last month we now have what many consider to be the heartbeat of this high-end modular stack, the Lina Network DAC.
Coming in at £11750 it's not for the faint of heart budget-wise but is a little cheaper than the amp-free Bartok DAC version in terms of pricing. There is also some overlap on paper with the Bartok including a very familiar in-house DAC design and OS layer.
There is also a similar level of remote integration using dCS's excellent Mosaic app.
Like the Bartok, this is not just a standard desktop DAC either. The Lina Network DAC offers LAN enthusiasts the ability to stream using a wide range of services. Perhaps significantly, it is compatible with the new Lina Master Clock which is as game-changing for me as the Hugo M Scaler was for the performance of the Chord TT2.
Tech Highlights
Ring DAC
It is probably no surprise that the Lina Network DAC uses the company's in-house and highly-rated Ring DAC implementation. Every single digital conversion system dCS has in the market right now uses one version or another of this design.
dCS does not use off-the-shelf delta-sigma DAC blocks or chipsets such as Sabre, AKM, or Cirrus Logic. Rather, they use a network of FPGAs (Field Programmable Gate Arrays) preloaded to execute dCS proprietary software that does all the digital filtering and digital-to-analog conversion.
For those coming from the likes of Chord, or perhaps even ladder-based frameworks such as R2R, the proposition here is relatively similar at a high level with its resistor and match-based mechanism.
However, where it differs in managing its current source is via dCS's 'thermometer coded' DAC architecture. This design effectively decorrelates errors from the audio signal via a mapper (mathematical rules) pattern and converts them into white noise thus effectively reducing distortion to a very low level.
Differentiation
Since our Bartok reviews the Ring DAC has had an upgrade with the new hardware modified APEX version launched on their summit units such as the Rossini earlier this year, and the Bartok itself getting a software "2.0" upgrade on its mapper.
The primary difference between 2.0 and the original is in how the data is presented for conversion with the 2.0 version set at 5.644 or 6.14MHz and the Lina Network DAC version, or Map 2 in the Bartok set at a lower 2.822 or 3.07MHz.
As far as I am aware, the Lina Network DAC uses the original Ring DAC configuration with the Mapper V1.0 rather than the Bartok 2.0 firmware. Perhaps this is a more significant way of differentiating between the two DAC implementations and shifting the more expensive Bartok to a slightly higher plane.
The second point of differentiation is the physical implementation. The Lina Network DAC housing is far narrower than the Bartok yet it must accommodate essentially the same board. To that end, dCS essentially folded the board with key components on the sides of the housing with ribbon connectors rather than a more spatially demanding original flat design.
Decoding
Obsolescence planned or otherwise is a moot point with the Lina Network DAC's firmware upgradeability. That may also be a relief to those scratching their head at the decoding specifications also because like the original Bartok this configuration has somewhat of a low ceiling for decoding.
The Lina Network DAC top-level decoding rate, (USB), is set at 32BIT/384kHz PCM with a native capability of a maximum of DSD128 including DSDX2 upsampling. So, no native DSD256/512 or PCM 768kHz though, like the Bartok, you do get native rendering and unfolding of MQA which plenty of audiophiles will welcome.
The Lina Network DAC will also accept digital signals via AES at up to 32BIT/384kHz, coaxial to 192k, and optical to its maximum 96k rate. Analog output is a user-selectable variable line out at 0.2, 0.6, and 2V or a more excitable 6V depending on your preferences.
I remember speaking to dCS in the original Bartok testing process on why the lack of DSD512 and they mentioned that it came down to commercial demand with DSD512 usage levels too low to justify the development currently. However, since the Ring DAC is upgradeable then if the demand is there, dCS can bring in DSD256 and beyond.
Network Streaming
Aside from the classics and something dCS is a big supporter of is network-based streaming capability, hence the name, Lina Network DAC.
Like the Bartok, the Lina will accept an incoming signal via an RJ45 port, (ethernet) opening up a wide range of services either locally, (UPnP or NAS), or via the internet, through media servers such as Roon, for which the Lina Network DAC is Roon Ready.
It can also directly interface your TIDAL, Qobuz, or Spotify Connect services as well as take advantage of any Apple Airplay system you happen to be running.
Importantly, the Lina Network DAC's firmware can be upgraded via dCS Mosaic as well as the software acting as that all-important remote control for media serving or device settings saving you the bother of physical exercise. Lovely.
Master Clock Connectivity
Last but not least, is the ability for the Lina Network DAC to integrate with the new Lina Master Clock. dCS has pitched this as optional and of course, you do not need to buy it. However, as you will see in our review, it is very hard to ignore it and what it can do, especially in relation to the performance of the DAC.
Essentially, the Master Clock hammers down on jitter, (and distortion), via dual crystal oscillators on the incoming digital signal before sending it onto the DAC for conversion to its analog form.
More than, when connected, its effect on the quality of the output sound is, in my opinion, quite transformative. It is not subtle, nuanced, or anything of that nature but immediately noticeable.
Design
Aesthetics
It is no surprise that the Lina Network DAC takes on the exact same classy design language as the Lina headphone amplifier which is no surprise since they are part of a triple modular system designed to neatly stack or sit side by side.
That means a relatively narrow but deep body, with a discreet or minimalistic 'shoe box' form factor and the same robust machined aluminum chassis as the amplifier. Only this time, the front panel is a rather reflective glass panel finish than the matte minimalism of the matching amplifier.
Housed in the middle is the all-important LCD display which is a bit bigger and more legible from wider angles than the narrower Bartok interface. All I/O is housed on the rear panel in a very clean and well-organized fashion and the power-up button is in the same discreet position as the amplifier's equivalent, just under the front panel.
The stabilizing system underneath is the same attractive design as the amplifier creating an illusion of separation between all 3 units when stacked, (or the rack floor if singular).
Instead of flat feet or the traditional pillar stabilizer design, it is a curved long body design with the feet discreetly positioned at each internal corner. It keeps everything very steady and at the same time keeps the smooth design floor completely uninterrupted.
Stacking or Not?
The weight difference is minimal between the DAC and the amp with the Lina Network DAC weighing in at 7.4kg compared to the amplifier's 7.5kg. Both have some heft but on their own, they are no match for the 16+ kilo Bartok.
Together, they are meaty, and whilst they look awesome stacked I would have some reservations on the type of rack you need with such high downward pressure on a narrow surface area. My personal take is they seem more comfortable when aligned side by side rather than on top of each other.
I/O
Everything outside of I²S is pretty much available on the backend of the Lina Network DAC. You get both balanced 3-pin XLR and unbalanced dual RCA analog outputs and a wide range of digital inputs.
You get no less than 3 SPDIF ports including coaxial, BNC, and optical, 2 AES, USB-B, and USB-A ports, and the dual BNC at the base specifically to connect to the Lina Master Clock. At the very far right a single RJ45 input for network-based streaming and another dual RJ45 socket at the bottom left for the Power Link system.
One small tip, and purely optional is you can slap a travel router on the end of that RJ45 and hook it up in client mode to turn the Lina Network DAC into a wireless receiver. For around $50 a good TP-Link travel hub will do that for you if it is compatible and if your modem is too far away or lacks a spare RJ45 output.
Aesthetically I do have to say also the spacing and finishing on the back of the Lina Network DAC are fantastic. Quite often, modular back panels can be cramped or messy in their organization making cable management a bit of pain.
Not so with the Lina Network DAC interface. It's as clean as a whistle, beautifully gold-plated where it is needed, and with very clear labeling.
Controls
Because it is a DAC there is a bit more to control here and for those coming from the Bartok, there will be a high degree of familiarity with that manual control system.
However, this time, dCS has opted for a more discreet touch-based system compared to the older Bartok mechanical button array. I presume removing the physical articulation will lengthen the functional lifespan of the buttons themselves if you intend to keep this system around for a long time.
I must point out that by touchscreen I mean the 4 lights you see in the above picture are touch sensitive allowing you to navigate in a linear manner through the options presented on the screen rather than the entire screen itself.
There is only one such physical button which is the same power-up switch as the Lina Headphone Amplifier situated on the underside of the front panel and you are only going to press that once or twice a session.
Navigation
Instead of labels you now have icons above each touch-sensitive button. As an old UI consultant, I do have apprehensions about using icons over text labels, they are never as immediately intuitive both in terms of action recognition and anticipatory workflow.
However, dCS seems to have limited the navigational path of the Lina Network DAC touchscreen operation to keep it relatively simple and quick to learn. The OS itself is not hugely different either from the Bartok in terms of category options.
The navigational drill down seems to be only 2 deep with sub-menus on the second layer presenting no more than 4-5 options which you can cycle through without bringing up any additional screens. Left-to-right navigation is also fairly minimal.
One of the negative points from the Bartok system is gone also. If you linger too long on a Bartok menu feature it defaults back to the main screen meaning you have to navigate back if you have not completed any changes. With the Lina Network DAC OS, it stays there until you decide to go back out which feels much less hurried.
Options
And what options do you exactly have? Quite a lot actually. Features include source switching, Master Clock enabling, AES controls, line-out voltage levels, and even a test signal feature.
You also have plenty of sound shaping options. Everything from a range of PCM and DSD filters, upsampling in DSD/DXD mode as well as a very effective Crossfeed option, one you are likely to want to use.
You also have a USB Audio Class selector which is fairly unique since most DACs do not bother with differentiating between the two classes.
Typically, modern DACs are set at USB Class 2 which maximizes the potential sample rates up to DSD128 and 384kS/s. However, the Lina Network DAC can connect to older legacy devices for Class 1 handshakes which peak at 96kS/s.
This OS also offers a buffer switch. This reduces the default inherent data buffer delay the DAC uses to detect changes in sample rates and clocking adjustments in audio. Why reduce this useful delay? Usually for video and media purposes such as watching movies on your PC or TV. Without it, the Lina will show some audible, (and visual,) sync lag on media.
Finally, the four icons on the home screen are also quick access options including a source selector and a crossfeed activator with a secondary crossfeed mode selector, (3rd icon). The final one to the far right is your drill-down main menu system for deeper levels of configuration.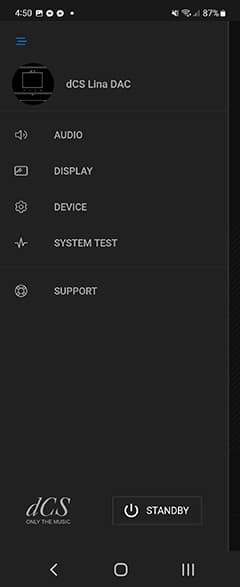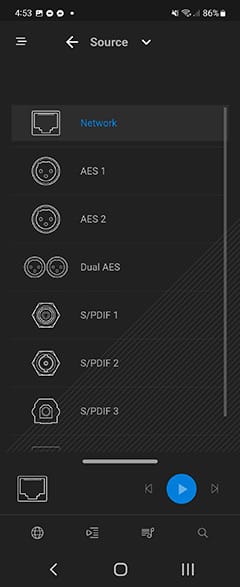 dCS Mosaic
I consider the Mosaic app a must-have for the Bartok over the last few years and so also now for the Lina Network DAC. It is available for both Android and iOS users alike but both the device and the Lina Network DAC must be on the same network to detect each other.
It gives you everything I listed above in one handy remote-control-like system on your phone or tablet as well as direct access to streaming services such as TIDAL and Qobuz and the ability to upgrade the firmware on the DAC as and when required.
The interface is very clean and easy to understand. In fact, I would argue using the app will give you a much faster 'education' on what you can do in terms of options for the Lina Network DAC than the manual finger tapping at the actual unit screen itself.
Also, the reaction time of the Lina Network DAC to your selection via Mosaic is very fast, with almost no lag at all on my network for a number of weeks now.
Packaging & Accessories
There is not a huge amount to add here in terms of packaging over the Lina Headphone amplifier experience because it is almost the exact same excellent unboxing experience. You can read up in more detail on what comes packed in here.
What I do want to add is the slightly stronger accessory line-up over what came with the amplifier including a set of balanced 3-pin XLR cables which ideally I would have liked to have also seen included in the amplifier package. For the price, I do think the addition of a USB cable would not have gone amiss either with the Lina Network DAC accessory line-up.
Finally, you also get a wonderfully leathery smelly pouch that contains the user manual and some collateral on the dCS community as well as Spotify Premium.
Click on page 2 below for sound impressions and pairings