Today, we review the Meze Audio 109 PRO which is a new 50mm dynamic driver open-back headphone finished in a walnut wood enclosure. It is priced at €799.
Disclaimer: This is a sample sent to us in exchange for our honest opinion. Headfonics is an independent website with no affiliate links or status. We thank Meze for their support.
To learn more about Meze Audio products previously featured on Headfonics you can click here.
Note, that this article follows our latest scoring guidelines which you can read up on here.
Meze Audio 109 PRO
With the Meze 109 PRO, I hope that the company continues on this path and tosses another warm, fun, and bassy sound for us who enjoy musicality over neutrality. This is a great option for those who enjoy anything vocalist centered.
Pros
Beautiful design
Musical and fun tuning
Sparkling yet fatigue free treble
Cons
Caliper pressure a little too high
Meze Audio's 109 PRO has taken off and already landed on our little blue planet! For just $799, these new open-back headphones seem to be quite popular in the audiophile world already.
Personally, I've kind of been waiting for this type of headphone for some time, so to finally get what I wanted is sort of a blessing to me. I love musicality, I like fun.
As a reviewer, I am not allowed to have a bias in tone and texture when reviewing, of course. However, for preference needs, warm and fun, wooly and thick, bassy and softly engaging are the traits that I look for in my own personal rig setups.
At long last, we have an upper-mid tier that checks a lot of boxes for me and on my own personal level. Meze's older models such as the 99 Classics and the 99 Neo were known for light fun and engaging reasons, but I've never listened to any of the newer and more expensive models from this company.
I can relay the chatter on other audio forums though, in that this new 109 PRO is quite unique in the lineup for being the only truly warm and tonally the most musical model they've come out with.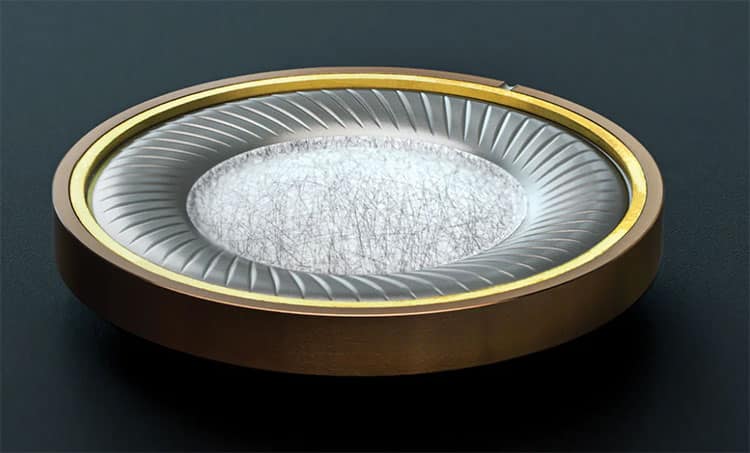 Tech Highlights
The Meze 109 PRO is an open-back circumaural headphone that utilizes a 50mm dynamic driver encased in a CNC-machined aluminum frame.
The driver itself is composed of a dual-composite w-shaped diaphragm dome encased in that CNC-machined aluminum frame with a copper-zinc alloy stabilizer. The dual composite is a combination of a Beryllium-coated polymer and a cellulose-carbon fiber composite.
The lightweight carbon fiber is introduced to enhance high-frequency clarity and detail and reduce the potential for distortion. It is also perceived by Meze as being more durable than traditional dynamic driver diaphragm materials.
The beryllium is applied as a PVD layer around the carbon fiber dome to ensure it remains stiff and durable but at the same time light enough not to interfere with the driver excursions and suppress unwanted resonance.
On paper, the 109 PRO is rated at 40 ohms and 112dB so, in theory, it should not be too hard to drive but you can find out how that worked out in our synergy impressions on page 2 of this review.
Design
The 109 PRO aesthetics are gorgeous and right up my alley. This is a heady mix of black walnut wood, zinc, manganese steel, and vegan leather all shaped in a classic Meze design language that is not too far away from being a cross between the older Classics and the newer Empyrean/Elite visual.
The color scheming is subtle but inviting with a warmish tonal mix of those wood and cups and a black arching frame with matching leather straps. The gold motifs on the headband and strap positioner and the pivot on the outer cup just give it a bit of extra pop and this is where the Empyrean comes to mind the most.
The Meze 109 PRO uses a self-adjusting strap system to help with caliper pressure being alleviated on the user's head and ears. Moreover, the velour pads are extremely soft. Above them sits a flat yet soft headband that is very pliable.
Being an open-back headphone, some weight is reduced on the earcup end of the spectrum, considering it is lacking a full back plate enclosure.
Comfort & Isolation
I have found that the caliper pressure is more than I would feel comfortable using for long durations of time.
While the headphones are plenty comfortable in the earpad area, I think the strap and headband above your head that controls the pressure levels the headphone will use to adhere to your ear area is just a bit too heavy. I find this a little bit of a problem also that the earcups offer just a small amount of swivel up and down, and left and right.
Yes, I can say that the headphones are generally comfortable but after an hour or so, I do have a small amount of soreness on my outer ears.
This headphone weighs 375g, which means it is bordering on the smaller planar headphone models out there in weight factor. I would not find this so much of a problem at all if the caliper pressure wasn't as tight as it was.
Stock Cable
The 109 PRO uses a standard 3.5mm dual earcup termination with leads that are angled into the headphones and also recessed in placement.
This leads to better protection of the cable leads if you drop the headphone or anything bumps into it, the sockets are recessed a bit and cover the cable ends nicely enough to feel safer about things not snapping off at the stem pole area of the terminations.
On the flip side, the stock cable is also terminated in a standard 3.5mm typing, also using a rubber type of material for the cable sleeve.
The 109 PRO comes with two stock cables, both of similar design but tweaked in terms of length to differentiate their usage with a supplied adapter for desktop amplifier connectivity.
The first is a 1.5m cable finished with a soft black TPE jacket and terminated with a 3.5mm single-ended jack. The second is much the same only longer at 3m for home or desktop audio use. I presume filled with OCC copper wire though as to what gauge or geometry I am unsure.
Meze has thrown in a 6.35mm conversion plug that you can use with both depending on your needs. The connectors are 3.5mm mono plugs similar to the ones HIFIMAN uses on the likes of their Edition XS. The one thing missing in the 109 PRO package is a balanced alternative in 4.4mm Pentaconn or XLR.
Packaging and Accessories
The Meze 109 PRO comes with a fantastic unboxing experience. The exterior box is very nice quality, with nice thick cardboard but also invokes a sense of high-class styling when the light hits the text the right way.
Inside, a custom cutout area for the headphones and the carrying case to rest. Inside that, the carry case is also quite lovely.
Outside of that, you get a standard ¼ adapter and the stock cable which is terminated in a 3.5mm adapter. And lastly, a spare/longer 3.5mm terminated cable that is 3 meters in length. For $799, I am now just happy as can be these days that a carrying case is even included.
Sound Impressions
Bass
Ok, so as mentioned, this 109 PRO is generally on the warm and musical side. Yet, the stock sound signature on the low end is very linear sounding and a bit lean on mobile sources. However, this feels like one of the smoothest dynamic driver bass experiences I've heard in years.
An exaggerated bass elevation or a lovely fun exaggeration occurs when you run the 109 PRO off a powerful amplifier with a lot of voltage output, and also crank up the bass EQ a fair bit.
The 109 PRO is fantastically responsive and can become whatever you want it to be, well, up to a certain point. If you like linear and smooth bass, it has it in stock form.
If you want closer to increase it to bass head levels of quantity, you can achieve that too with the right EQ system. Hopefully, you are choosing something like HiBy's MSEB as the key source of your software experience.
The 109 PRO bass's texture and tone are thick, weighted, and deep-reaching. This is not a neutral headphone if you set the EQ the right way.
Stock bass without any EQ added is still on the thick side, so hopefully, you enjoy that type of tonality. I do because it gets even thicker as you roll up the bass dials on your EQ sets if you are so inclined to even add any.
Bass hits moderately hard, so I'd rate this as a moderately engaging low-end in regard to slam effect and physicality potential. It is not soft on impact; it is not painfully wince-worthy either. Mildly engaging is the right word, at least in my brain.
Midrange
The 109 PRO is forward sounding around 2-4k, reminding me of an Audio Technica model from yesteryear. If you are into light Jazz and standards and well, anything slow-paced with vocals, you'll really enjoy this set.
It is a giga-chill set, great for kicking back with some wine and enjoying the warmth of older standards and vinyl-ish recordings.
Placement is well into the forward realm, again bordering on the "very forward" sound placement for the midrange. If you want a very engaging vocal experience that feels upfront and lively, this is also a great set for you to pick up.
The Meze 109 PRO mids around 1-2k are a bit lackluster and feel like something is missing. This is especially noticeable in modern digital recordings, and less so in the older recordings from the 40s, 50s, and 60s that were carbon copy vinyl transfers without any alterations.
The digital era of music does sound like there is an entire wide area just missing in the lower midrange. Some EQ fixes are required to improve that, but I was unsuccessful in completely rectifying it. Does it invoke a $799 tier sound in purity factor? Yes but it does feel like it is lacking energy in the top side of the midrange.
Click on page 2 below to continue reading our sound impressions, pairings, and our select comparisons