dCS Bartok Sound Impressions
Summary
The performance of the Bartok is nothing short of breathtaking. It is probably the most natural-sounding and detailed amp/DAC combo I have reviewed to date.
To define the timbre as neutral to natural is a complete understatement. The level of dynamic range combined with a huge dollop of textural and spatial detail coming at you from all angles is just unreal.
Practically all of our tested headphones sounded not only optimal but also life-like in their performances on the dCS Bartok. There is no hint of artificiality, forced brightness, or thinning out of instrumental timbre to etch out space. It makes a mockery out of any perception solid-state amp energy will come at a price of sounding cold and clinical.
I do feel a slight fade in the treble presence of the Bartok output compared to other Class A amps such as the Formula S Xi Audio which are slightly brighter and it is definitely not as 'clean' as the Hugo TT2 rapid-fire delivery. This tuning may draw you more to the bass-to-mids performance of most pairings where the sound is particularly powerful.
With something like the Susvara the Bartok sounded incredibly smooth and clear with huge levels of resolution and a superb black background that just draws you right into whatever you are listening to. HeDD Audio's HeDDphones subterranean bass tuning was perhaps the most addictive with an unbelievable synergy with the Bartok's full-bodied low-end tuning.
I have always felt the Xi Audio Formula S was as good as it gets for delivering a tonally balanced signature in a solid-state headphone amp. The Bartok so far beats it handily by delivering that balanced tonality but with a lot more perceived power, richness, and brilliant dynamic range.
Timbre
However, I want to dispel the notion that you will get 'a perfect sound' with the Bartok. This might sound misleading as in "oh no it is not perfect". It is to me, but in the sense that audio recordings are never perfect either and the Bartok can pick up on that in a very pleasing way.
When I was doing the comparison work on the Bartok the one thing I came away with was how distilled the sound can be from other DAC/amps. Almost too refined in their timbre, too perfect in a strange way.
For example, vocals can be raspy or sound pure, breathing techniques might be strong and to the fore, pop filters on mics might not be just right with lots of natural sibilance, producers might leave the recordings as tremendously raw or leave a lot of live audience participation in the mix.
Every track has a nuanced signature and quite often every producer has a well-known approach, for example, Bob Rock when he took Metallica's Black album from the previous producer Fleming Rasmussen. He transformed the 'Justice' sound from a drier smallish mix with almost no bass timbre into a deeper, wetter richer tone and brought a lot of power and depth back into their sound.
In a way, the Bartok is doing exactly that with most of the tracks I sent to it. Getting away from that sterile clean perfect sound and giving you something raw, dense, rich, and powerful.
If a track has reverb, you are going to hear it in all its glory, if a vocal is guttural and chesty you are going to easily pick that textured sound out with a good set of headphones. Everything that is raw in the recording, comes out raw sounding with the Bartok as both source and amp.
Staging
The Bartok experience is all about depth and width and more importantly generating excellent power from that depth. The low-end power is incredible, to be honest, and not just right at the lowest reaches but seeping up into the mids it carries that power and density with it if paired to the right headphones.
Despite the Bartok offering excellent headroom and a wonderfully black background, I would not consider this to be an ethereal airy staging experience. Unlike our tested competing amps, the Bartok does not really push the treble that far forward and you can hear that difference side by side. It is less dominant more coherent especially for percussion in recordings.
Cymbals and high hats have tons of texture and weight but its even-harmonic weight as opposed to odd-harmonic overtones that shine brighter so they are pleasing sounding rather than crisp and shimmering in tone.
The office Studio 6 SET actually sounds a little bit airier and a shade brighter from the upper mids onwards on the HeDD Studio HeDDphones but that is not to say the Bartok is relaxed or dark but rather it feels neutral in quantity and positioning.
Crossfeed
There is a distinct change in the presentation with the crossfeed option turned on and to be honest, I prefer it on rather than off. With it off, you do get a more separated sound but for vocals performances, it almost seems as if you have a duet such is the force of the left/right stereo separation, especially with the balanced output and headphones that excel in imaging such as the Abyss Diana Phi.
It might seem more energetic and vivid but also a little artificial in terms of the listening field with vocals cast out too wide for me. In summary, it does not feel quite as natural as it does with the crosstalk option applied.
With the crosstalk option on the vocals become more centered and instruments fill the wider aspects of the staging as they should for a more realistic staging presentation. Combine that with Bartok's natural timbre and you get a very 'real' sound, one closer to a speaker-like experience also.
Synergy
Noise
The noise floor on the Bartok is insanely low for such a big beast of a desktop amplifier. Normally Class A can deliver a bit too much noise to efficient monitors, especially at 1.4W into low loads. Not the Bartok, not least until we started using the Campfire Audio Solaris SE did we detect any hint of background hiss.
For example, a 64 Audio U4SE pairing delivered a pitch-black background with the Bartok and that is rated at just 12Ω and a fairly sensitive 116dB SPL rating. The channel balanced at -80dB upwards was impeccable. Now mind you, you do have to set the gain level down to -30dB to get enough control on current but the volume was beautifully controlled all the way up.
Based on this, something like the oBravo Ra C-Cu and Audeze's LCDi4 are tailor-made for the Bartok and do deliver some very black backgrounds and plenty of current and voltage to play with.
Power
Headphones will vary but almost all of the ones we tested have plenty of headroom depending on the gain setting and output mode of the Bartok. This included the Abyss Headphones Diana Phi, HeDD Audio HeDDphones, Hifiman's Susvara, and Meze's Empyrean.
Balanced
Both the Abyss Diana Phi and the Susvara do need a gain setting of 0 to maximize current but otherwise, the dynamic range was truly world-class using the Bartok's balanced output mode.
The Phi honestly sounded phenomenal and one of the best desktop headphone amp pairings I have heard to date. It sounds incredibly rich and smooth with any concerns about its treble dominance creeping in right out of the window.
The Susvara demanded a little bit more but again, higher than -20dB and it started to get really loud. Dynamic range was excellent on the Susvara but like the HE6 you go even further for power tapped into the Chord TTOBY power amp and it will sound immense.
Single-ended
The HeDDphones will run just fine from its stock sing-ended 6.35mm cable but if you have a mini-XLR 4-pin XLR terminated balanced cable it will sound a bit tighter with superior channel separation paired to the Bartok's more powerful balanced output. I actually loved the synergy of the HeDDphones and how the Bartok teased out that bass response. It sounded incredibly physical and deep, just as it should do.
The Empyrean was probably the easiest of the headphones for power demands and you can drop the gain setting by 10dB from the highest setting without suffering any loss in current control. In terms of synergy, the vocal richness of the Bartok was like bees to honey for the Empyrean which excels in drawing out heavily textured vocal performances.
I also have to give props to how it teased out the Empyrean low-end beautifully, even with the leather pads which tend to be more neutral compared to the Velour. Not just a wall of sound but with crazy definition and layer but with a lick of natural warmth to wet the note edges to prevent them sounding too clinical.
Streaming Performance
Technically, the Bartok is not wireless out of the box but given its ability to accept an ethernet connection you can hook it up to a wireless modem or part of a LAN. Combine that with the dCS Mosaic streaming control platform and you do have a very modern and world-class lossless streaming system.
Now our main modem is a bugger as its outside and about 5m away through 2-3 doors. Creating a LAN connection would require me to route a cable via the window outside and back into the foyer where the main modem is.
Not ideal so, hooking a small travel router in client mode at the back of the Bartok for a wireless experience is very convenient if not 100% optimal for audio performance. It also allows me to connect mass storage and serve as a UPnP media drive.
dCS Mosaic Internet Streaming
The Mosaic app does offer 4 streaming platforms: TIDAL, Qobuz, Spotify, and Deezer. Sadly, no Amazon Music HD or Apple Music. The level of integration and complexity of each service inside dCS Mosaic does differ.
Spotify
On the least side is Spotify which can allow you to resume playback inside the Mosaic framework but for browsing and selecting it promotes you to open up the Spotify app before allowing you to dive back into Mosaic once playback resumes. It is a little on the clunky side compared to how TIDAL works with Mosaic.
TIDAL
TIDAL is far superior via Mosaic, both in terms of audio quality with full MQA compatibility, (Bartok will show MQA on the screen and stream bit-perfect), as well as in-app integration and volume control. You do get a fair boost in dynamic range performance making Spotify Premium playback sound compressed and boring on the Bartok.
It is not a complete home win. You do not get the full TIDAL app experience and it is much more list-based for navigation but it does highlight the key areas such as Masters and Rising which makes finding the quality MQA files a lot easier.
I do not have Qobuz or Deezer HiFi accounts to mention their level of quality but they do seem to have a level of integration with password and username prompts inside Mosaic.
Internet Radio
I love Internet Radio, especially since emigrating 12 years ago. I get a slice of life back home direct and the Mosaic presentation does not disappoint. Whilst not as fully featured as a dedicated Internet Radio app such as Tuned In, the Mosaic version is very easy to navigate with filters for location and gender and categories such as that all-important high-quality list.
Do not expect HiFi, it is radio so the average transmission is 128k up to 320k and fairly compressed but it is oh so good finding my local station and getting news updates.
Podcasts
I honestly did not think I would be interested in the Podcast category via Mosaic but surprisingly I found it quite good.
It is helped by the very easy UI and navigation, which although list-based, does have some good organization via location, language, and genre. It also has an up to date Coronavirus 19 podcast listing which, if that is your bag, is very informative.
Performance is fast, as fast as your internet will allow and with very little play or pause lag. It is compressed at around 192k MP3 but since its mostly spoken it will not cause much of an issue with a decent midrange performing IEM or headphone.
Do you need a Bartok to get this feature? No, not at all, its overkill to be frank but it is a nice little bonus in case you want a rest from pure audio via Mosaic.
LAN Streaming
I have setup Media servers before but never directly from a wireless modem so it did take a while to figure it out. Turns out it was a bit easier than I imagined it would be but only if you understand how to set up your own router first and for some that might not be so straightforward.
Luckily my TP-Link modem which I was using for wireless delivery also has a USB port for mass storage which can be configured as a media server and served down the pipe via the ethernet connection to the Bartok. It is not high tech compared to a dedicated NAS but it can be seamlessly controlled via dCS Mosaic's built-in UPnP service.
You do need a server either on your NAS solution or PC to allow the UPnP service to pick on any media files and deliver them to the Bartok, (ethernet or wireless). In this instance, I used dCS's recommended MinimServer UPnP server but you can use anyone you are familiar with and the dCS Mosaic UPnP service will find it.
From there you can easily drill down and play audio and it will send it in a bit-perfect format to the Bartok. In case you wondering what bitrate the Bartok LCD screen will display all the info and it should match what is being displayed on the dCS Mosaic playback screen.
BubbleUPnP
UPnP is not the preserve of the desktop either. Users of BubbleUPnP via Android will be pleased to know that the Bartok will pop up as a local renderer to playback anything stored on your smartphone. You can also use BubbleUPnP to act as a bridge between your media server, (Serviio), on your NAS, or hard drive via a PC and the Bartok as the renderer for audio playback.
And it does work quite well with. There is a 4-second delay on my setup for a FLAC 16BIT/44.1K file to buffer and load which might bug some but thereafter playback and pause is around 1 second and fairly fast.
Foobar2000
You are also not limited to using dCS Mosaic, particularly if you fancy working the Bartok through your existing software. I was able to pick up the Bartok quite easily and stream directly from my PC using Foobar2000 though performance-wise I felt it was not 100%.
One of the key recurring issues with this setup was the slight lag in stopping and starting tracks as well as the occasional reset with Foobar2000 losing connection with the Bartok. Playback when working was fine, especially with lossless files with excellent dynamic range and detail shining through.
Select Comparisons
Chord Electronics Hugo TT2
$5,495.00
Technical
This is the closest I have to the Bartok, at least budget-wise but also in terms of 'doing their own thing'. The TT2 is similar in terms of being a bespoke DAC and an integrated preamp and headphone amplifier.
It is also pitched to the high-end and, and like the Bartok, it can be expanded within a wider audio Chord audio eco-system. Modules such as the Hugo M Scaler and the TToby neatly stack above and below with connections aplenty for both headphones and traditional HiFi use.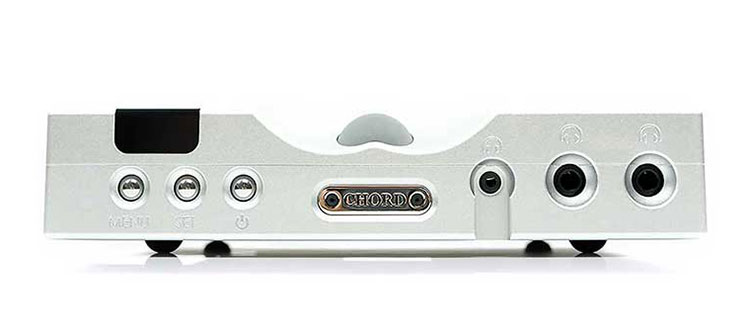 WTA
Both stars of the show are the built-in DACs, which are not delta-sigma though very different from each other in their approach. The Hugo TT2 focuses on the tap limitation of delta-sigma blocks and hugely expands with their in-house FPGA focused engineering to expand those '100s' tap marker into nearly 100k taps using a Xilinx Artix 7 FPGA processor.
The processor allows for a much more complex level of filtering with no less than 86x 208MHz cores running in parallel. This allows the TT2 DAC to deliver an advanced 16FS WTA 1 filter with a ceiling of 98,304 taps.
Ring DAC
The Ring DAC is a discrete DAC that combines the proprietary FPGA control board with a DAC board using linking upgradeable software. The main purpose of the control board is to reduce noise, properly noise shapes the stream, and ensures the clocking is ultra-precise, i.e. do away with digital jitter before moving it to the digital audio conversion board.
The DAC uses dCS's own proprietary mapping algorithm to take the sampled audio from the control side or decorrelates it from the signal thereby rendering mute any parts performance shift that can come from resistor-based topologies. In theory, the Ring DAC performance will not shift or denigrate over time as some ladder DACs can do.
Decoding
The Hugo TT2 does have an edge here in pure numbers with a decoding ceiling of DSD512 and PCM 32BIT/768kHz compared to DSD128 and PCM 24BIT/384kHz on the Ring DAC. Of course, how relevant that is depends on what you have on file and the Bartok is firmware upgradeable for decoding so that may not be fixed in stone for dCS.
The Bartok does have built-in upsampling capability via dCS Mosaic whereas the TT2 can be stacked with the M Scaler for a much more comprehensive upsampling capability. Unfair says you? A separate device yes but combined both are still around $5 less than the Bartok so there is that to think about.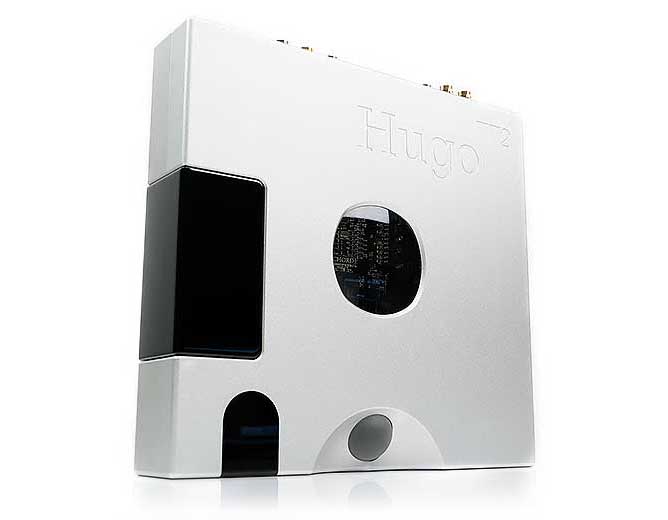 Amplification
Both have competitive amplification outputs though, once again, different approaches. The Bartok primarily operates in the Class A domain though pushes into a Class AB operation sub 150mW with both unbalanced and balanced topologies.
Chord does not a huge amount about the topology of their amp design but we do know that is also a preamp and headphone amplifier with balanced outputs for pre-amping but unbalanced only for headphone output. We also know it also uses a discreet output stage between the DAC and filter and before the amplifier to reduce potential distortion.
The TT2 offers a wider range of unbalanced outputs at 3.5mm and two 6.35mm sockets compared to the balanced 4-pin XLR and a single 6.35mm unbalanced output of the Bartok.
The TT2 offers a flexible voltage supply of 288 mW RMS into a 300Ω load right up to 2.7W into 32Ω on the high-end unbalanced. The Bartok has a similar peaking rating of 2.7W but eases off on the voltage for lighter loads at 1.4W into 32Ω opting instead to maximize current demand. That 2.7W comes into play at a higher 66Ω level and levels out at a more powerful 600mW into 300Ω balanced.
Tuning
For this comparison, I wanted to initially test a high-end current-intensive modern headphone, the Hedd Audio HeDDphones (review coming soon). At 87dB SPL and just 48Ω, it certainly fits the bill.
For the TT2 I also hooked up the M Scaler for some upsampling comparisons as I consider it vastly superior to the stock TT2 sound. Considering both Chord units together are still a bit cheaper than the Bartok this is fair game.
HeDD Audio HeDDphones
With the HeDDphones what you want to hear is that signature subterranean bass it is capable of. Both units perform do brilliantly in terms of pulling out an excellent low-end extension from this pairing.
However, the stock TT2 sounds more neutral to my ear in terms of quantity and forwardness. Not that the Bartok is a bass machine it just so happens the HeDDphones forte is incredible bass and that is where you hear a big difference between these two.
The Bartok sounds richer, slightly warmer, and more natural-sounding in its bass timbre, and well, to be honest, that liquid tone extends throughout the curve. More than that the dynamic range on the Bartok is that bit more convincing. Spatial cues leap out at you, the staging is more complex yet at the same time, it holds onto that wonderfully natural tone not once sounding artificial in its delivery.
The TT2 on the other hand is the cleaner, lighter in delivery, and perhaps a 'faster sound' with very precise placement. You could make an argument that is the more linear of the two in terms of how it sounds with the HeDDphones with a neutral to slightly warm tone throughout the mids and into the treble. It is prim and proper with nothing out of place.
Yet, it lacks the 'drive' or PRaT of the more physical and punchy Bartok sound. The Bartok/HeDDphones just fleshes things out a bit more, offering more body throughout. Vocals have more authority, bass guitar plucks have tons of wonderful sustain or body without a hint of smear.
M Scaler Added
Now throw in the M Scaler and the gap tightens up. The M Scaler makes the stock TT2 sound rather muted and flat by comparison. The upsampling delivers a much more vivid performance particularly with vocals that come further forward in presence, close to how the Bartok positions them.
Certainly, in terms of dynamic range and engagement, it is much closer to the Bartok. However, the overall tone doesn't change and that may be to the Bartok's advantage. The TT2 is still a cleaner, pacier tone and a little lighter in body compared to the Bartok with the Heddphones.
The Bartok still has more 'character' in its timbre, and by that, I mean nuanced detail such as vocal breathing techniques, lisps, or short intakes. All have a bit more definition on the Bartok like you are standing in front of a live performance.
The TT2 seems to erase some of those vocal 'quirks' in favor of that perfect studio delivery and in doing so takes a little bit of 'soul' and realism out of the same sound.
Xi Audio Formula S
$3499
Technical
The Formula S is a pure analog amplifier so it will be compared directly to the Bartok amplifier using the Ring DAC pre-amp output (2V setting). That will mean both amps being serviced by the same DAC allowing for a fairly tight comparison.
The Formula S is a single-ended Class A fully discreet BJT amplification design and though weighty at nearly 5KG, it is quite a bit smaller and lighter compared to the 16kg Bartok. It does lack the dual mono balanced architecture option of the Bartok, however, the numbers are very good in terms of output power from the Formula S.
The Formula S is capable of a single-ended output rating of 2.1 watts into 46 ohms which is a competitive rating compared to the balanced output peak rating of 2.7W into 66Ω from the Bartok. In fact, it may be more powerful given the sliding scale of the Bartok once you drop down to 32Ω loads given dCS's preference for current priority overvoltage.
Distortion levels, however, are better on the Bartok at THD+N of 0.00025% compared to 0.0006% from the Formula S. As also the tested noise floor with up to a 6dB difference with the official spec of the Formula S at 110dB and the Bartok at 116dB (3rd party tested, A-weighted).
Of course, the supporting DAC will have a big influence on the Formula S performance but with the Ring DAC supplying both amp stages for this review it should stay fairly true to their numbers.
Tuning
For this pairing, I went with the Abyss Headphones Diana Phi as the Formula S tuning is referenced with Abyss headphones specifically in mind. Since both amps have excellent power and current draw the Diana Phi is also suited considering its SPL is a low 91dB.
Set at 2V the dB output of the variable pre-amp is fairly high at around 10dB for some headroom on the Formula S analog pot but your preferences may vary. The 6V line level voltage setting from the Bartok is more explosive sounding but you get less headroom and possibly more prone to distortion so 2V would be the norm here.
Dynamic Range
The star of the show in this contest is not so much the amp contest but the Ring DAC. With the Formula S connected to the Ring DAC the dynamic range and resolving capability takes a huge jump up from my competing DACs such as the Chord Qutest which was my previous source in conjunction with the Hugo M Sampler.
The Diana Phi sounded brim-full of detail, punchy and expansive sounding. And yet, the amps do paint the final picture in terms of timbre and you can hear a difference between these two Class A amps.
Timbre
The Formula S timbre is lighter but sweeter sounding and not as precise or dry as the TT2 amp stage. It has a slight inclination to draw you towards the upper mids and treble and of the two amps, it is airier and cleaner sounding with more treble forwardness.
The Bartok is deeper, richer, and more natural-sounding or at least a denser presentation compared to the Formula S. You get drawn more to the bass and mids with a firm fundamental and a more rounded overtone that carries that weight into instrumental and vocal notes.
The treble is just slightly faded on the Diana Phi and that might suit a lot of people wondering what is the most natural pairing with the sometimes fussy Abyss creation. You get less of shimmer on percussion and more of a liquid attack with the better body.
It might not seem as energetic as the Formula S pairing but it also might be less fatiguing. The Formula S/Diana Phi pairing can be a shade lean at times through the upper mids and treble offering more of an ethereal vibe to the Bartok amp's earthier tone.
ALO Audio Studio 6
$3900
Technical
Perhaps a bit left of field in terms of the pitch but nevertheless one heck of an amplifier. The Studio 6 is a Class-A single-ended triode (SET) circuit design. This is a single-ended handmade amplifier. This contrasts sharply with the Class A discreet balanced and unbalanced design of the Bartok's amplification output.
The stock Studio 6 uses a 6SN7 input tube, two 6V6 output tubes, two OB2 gas regulators, and a 5AR4 rectifier. The stock JJ 6V6 tubes on my unit have been switched out for NOS JAN Philips 6V6GT's which offer a fairly balanced tone.
Though it is balanced it has 3 dual RCA inputs and a very unique 4×6.35mm outputs all independent of each other rather than sharing the same output power supply. It sort of makes this amp the reviewer comparisons dream at times.
The Bartok only has two headphone outputs, however, it does also offer pre-amping line out capability whereas the Studio 6 is a pure headphone amplifier despite its multiple analog inputs and outputs.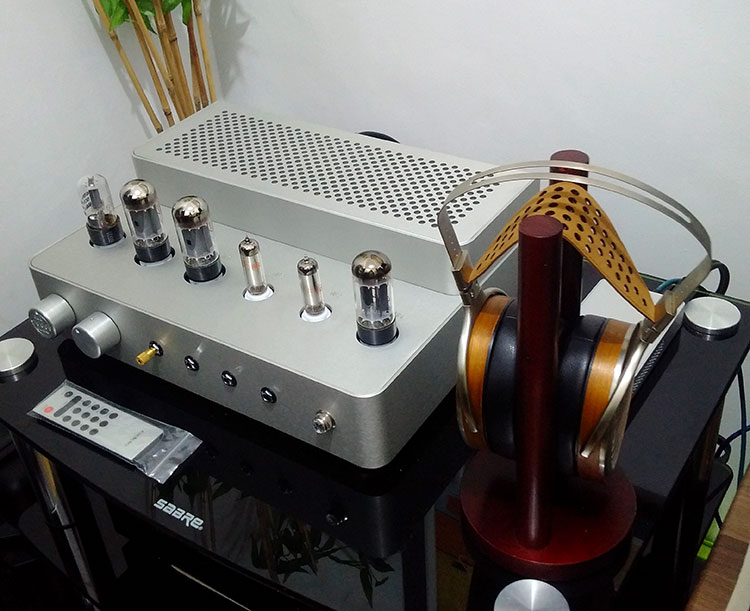 Performance
The Studio-Six was designed more for voltage than current performance and as such is more optimal for mid to high sensitivity headphones such as my trust 120Ω AKG K501. It has less of an optimal current demand performance for demanding low-impedance headphones so SPL ceilings are more challenging than for the Bartok.
At 300Ω, the single-ended output of the ALO Audio is much more competitive at 500mW compared to the Bartok output in its balanced configuration at 600mW. It does drop, much like the Bartok, once you lower the load so at 32Ω it comes out at about 1W which is a little weaker than the 1.4W capability of the Bartok (balanced).
Do expect the Studio 6 to be noisier, however, that is the nature of SET which much more distortion, albeit a pleasing type of even harmonic distortion. THD+N from the Studio 6 is way behind at 0.26% with minimal loads and SNR is also approximately 20dB lower.
Tuning
For this we went with the classic AKG K501 which has is fairly voltage hungry at 120Ω as well as an inefficient 89dB SPL. It needs lots of everything to sound optimal but cleverly disguises it by sounding overly mid-centric when underpowered. It doesn't sound terrible but you do not realize what you are missing from this smooth performer until you give it a lot more voltage.
With the Studio 6, I gave it the same setup as the Formula S with a 2V line out from the Bartok Ring line level to equalize the DAC side of the test. This is the first time I have heard the Studio 6 with the Ring DAC and it sounds super smooth, airy, and very resolving. The Philips tubes also give it a turn of pace and much better than the stock JJ 6V6 pairing.
Timbre
I have always enjoyed pairing this with the thicker punchier ALO Audio CDM DAC line out and whilst I would still class the CDM coloration as warm and juicy and a lot of analog fun the level of resolution and separation it can offer from that old Wolfson delta-sigma chipset is not on the level of the Bartok Ring DAC.
In terms of amplification difference, there are a few between these two big amps. The Studio 6 is more in line with the Formula S with a sweet analog timbre and an airy staging quality.
The Bartok is meatier, more power, and a shade more intimate. It is also the more precise performer with a much blacker background. It is also a little more resolving in terms of how it fleshes out that texture and yes, denser sound compared to the Studio 6.
Vocals
Vocal resolution on the Bartok is incredible, especially in terms of mouth formation. I mentioned it before on the TT2 comparison but the realism in how a singer technically sings is uncanny in terms of understanding how you can almost pick out their breathing techniques.
What I did notice, however, is the width of the Studio 6 staging. It felt wider compared to the Bartok amp stage, particularly for vocals. Now, this might give you an initial wow factor but listen carefully and you will find that it comes with a slight loss of instrumental presence and separation.
Vocals out wide and forward diminished the presence a little of instruments behind whereas the Bartok pulled it in and organized the imaging a bit better, no doubt benefitting from that black background. I suspect the richer timbre of the Bartok amp help up better also for lower register notes to make their presence felt.
Our Verdict
The dCS Bartok is probably the best sounding integrated DAC and headphone amplifier I have reviewed to date in the 10 years we have been operating this website. That is some statement but I will not future proof it because, well, the Bartok is modular, it is firmware upgradeable, and has plenty of legs in it to go on for a few years more and still stay relevant.
The Ring DAC may well be the star of the show but the Class A amp is no slouch either. Right now, the Bartok delivers a rich and powerful sounding component with a smooth delivery and tons of dynamic range with just about every headphone I tested it with.
Where other systems refine and distill to give you that perfect sound, the Bartok opts to give the rawest most realistic sound possible. Throw in all the mod cons of networked streaming, save for BT and built-in WiFi, and a very useable free app, and it is perfectly poised to cope with the digital streaming era.
Yes, the Bartok is huge, weighty, and oh so very expensive. However, it is likely all you could ever need for a high-end headphone setup and honestly, it could well be all downhill from here unless there is a Bartok 2 in the pipeline. Please do not do that dCS, stick to the firmware upgrades and people will appreciate this beautiful example of engineering a lot more in the long run.
dCS Bartok Specifications
Type: Upsampling Network DAC with Headphone Amplifier
Colour: Silver or Black
Dimensions: 444mm / 17.5" x 430mm / 17.0" x 115mm / 4.6". Allow extra depth for cable connectors.
Weight: 16.7kg / 36.8lbs
DAC: dCS proprietary Ring DAC™ topology
Power Supply: Factory set to either 100, 115/120, 220 or 230/240V AC 50/60Hz
Power Consumption: 30 Watts typical / 50 Watts maximum
Software Updates: Download and update functionality available via Bartók App
Local Control: dCS Bartók app for unit configuration and playback. RS232 interface (controlled by a 3rd party automation system). dCS Universal IR remote control is available as an optional extra.
Analog Outputs
Output levels: 0.2, 0.6, 2 or 6V rms for full-scale input, set in the menu.
Balanced outputs: 1 stereo pair on 2x 3-pin XLR male connectors.
Output impedance is 3Ω, the maximum load is 600Ω (10k-100kΩ is recommended).
Unbalanced outputs: 1 stereo pair on 2x RCA phono connectors. Output impedance is 52Ω, the maximum load is 600Ω (10k-100kΩ is recommended).
Headphone Outputs
1 x 4-way male XLR connector, 1 unbalanced pair on 1 x 6.35mm (1/4") 3-pole jack.
1.4W rms into 33Ω per channel
0.15W rms into 300Ω per channel
Output gain levels: 0, -10, -20, -30dB, set in the menu.
Digital Inputs
2x AES/EBU on 3-pin female XLR connectors accepting PCM at up to 24 bit 192kS/s or DSD/128 in DoP format individually and PCM at up to 384kS/s, DSD/64 & DSD/128 in DoP format or dCS-encrypted DSD combined.
2x SPDIF, PCM at up to 24 bit 192kS/s or DSD/64 in DoP format.
SPDIF optical on a Toslink connector will accept PCM at up to 24 bit 96kS/s
BNC connectors PCM at up to 24 bit 192kS/s or DSD/64 in DoP format.
Dual-RCA unbalanced output
Supports Apple AirPlay at 44.1 or 48kS/s
Network Loop Out connector on a second RJ45 connector
USB 2.0 interface on a B-type connector operating in Asynchronous mode, will accept up to 24 bit PCM at up to 384kS/s plus DSD/64 & DSD/128 in DoP format.
USB- OTG capable up to 24 bit 384kS/s plus DSD/64
Codec Formats
FLAC, WAV & AIFF at up to 24 bit 384kS/s native sample rate
DSD/64 & DSD/128 in DFF/DSF format
WMA, ALAC, MP3, AAC & OGG