The Custom Art FIBAE 7 is a 7 balanced armature driver flagship custom monitor design featuring the company's innovative FIBAE technology. Pricing starts at €1,100.
Disclaimer: The Custom Art FIBAE 7 sent to us is a sample in exchange for our honest opinion. We thank the team at Custom Art for giving us this opportunity.
To read more about Custom Art products we reviewed on Headfonics click here.
Note, this review follows our new scoring guidelines for 2020 which you can read up on here.
Custom Art FIBAE 7
Ah, no doubt the FIBAE 7 is Custom Art's best creation to date. It is still quite the CA house sound but it is more complex sounding now, more mature and refined. The magical sauce is how the F7 images so well for a soundstage that is not hugely expensive. It keeps things very clear but also very smooth and engaging at the same time.
Last year was a hallmark year for Custom Art with its 7th-anniversary celebration. To celebrate, (apart from copious amounts of alcohol), the team launched a few special edition monitors, one of which was the FIBAE 7.
CA are describing FIBAE 7 as their co-flagship custom monitor. This new release sits alongside their long-standing Harmony 8.2 which we reviewed back in late 2016 and by all accounts, still selling well today in 2020. The twist is the 7-driver config to match the 7th year of doing business as well as being tied to the every growing FIBAE line-up.
What I am really pleased about is how Custom Art has bucked the trend a little in terms of pricing and not raised it to absurd levels which has been a tendency of late by many a company. Back in 2016, the 8-driver Harmony 8.2 was launched for just €1100. The FIBAE 7 today, 4 years later, is priced the exact same price. Nice!
Tech Inside
What makes the FIBAE 7 stand out, quite apart from its performance level, is the use of FIBAE technology as well as being Custom Art's most technically demanding driver configuration to date for a FIBAE monitor.
FIBAE™ Technology
FIBAE™ stands for Flat Impedance Balanced Armature Earphone. This is a patent-pending design Custom Art developed back in 2016 and since then has rolled out FIBAE 1, 2 and 3 monitors with the tech at the heart of each monitor.
Flat Impedance
In summary, FIBAE promises to deliver flat impedance and phase via a series of specially designed balanced armatures to negate the problem of output impedance dependency.
Why is that important? Basically, every headphone jack as an output impedance rating that affects the tonality of your IEM to some degree. Manufacturers have taken strides to reduce this as a factor in their DAPs and amps with a sub 1Ω impedance being almost the norm.
Inductive To Resistive
However, this is not always the case. Some can range well over 1-ohm such as the original HiBy Music R6 at 10Ω and many balanced outputs come close to 2-ohms. The FIBAE pitch changes balanced armature designs from inductive to resistive in order to cancel out impedance mismatching and delivers an optimal sound no matter what jack you plug your IEM into.
Configuration
The FIBAE 7 configuration is a little bit unique. This is an all-BA design with a dual sub-low, single low-mid, dual mid-high, single proprietary high, single proprietary super high. It is rare to see that specific attention in the configuration to certain aspects of the FR.
In fact, some companies, whom I shall not name, let the drivers almost "free roam" up to the highs with fewer specifics for the mids compared to the FIBAE 7. That has a very interesting impact on the presentation as described below in our initial impressions.
The Process
Online Store
The store has not changed a whole lot since the last CA review we did about a year ago. It may not be quite as complex as the 64 Audio Store but it does have more realistic pictures and some interesting choices.
Using the store is really easy wand you do have plenty of flexibility in choosing what you want. You can customize each individual earpiece (left or right) in terms of shell, nozzle, and faceplate. You can also put your own custom artwork and text onto your creation.
As ever, I want off the menu so the pictures of our review sample are by special request and you can contact CA via email or Facebook to request for that if nothing suits using the designer.
Options
Using the CA store process you are offered up to 19 different shell and tip designs. That does mean some new designs have been introduced since last year as there was only 13 back then.
After that, you have a huge choice of up to 45 different plate designs which is another increase of 6 new choices. These range from translucent acrylic colors, to exotic woods such as amaranth as well as more modernistic tones such as carbon fiber and aluminum.
Note, Custom Art is not offering a silicone option with the FIBAE 7 but you can order it in a universal format and still have pretty much all of the design options open to you.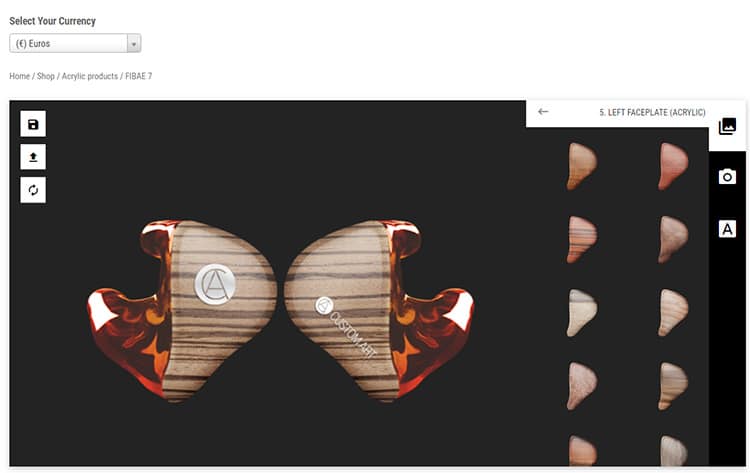 Pricing
The starting price of FIBAE 7 is €1100. Of course, these are custom designs so you have a little interaction with the pricing as you go along and pick out your custom design. Just remember the more you add the more you pay.
I calculated that each option cost roughly around €13 – €25 and only the basic clear shell will keep it pegged at €1100. For example, amber-colored shells, Zebrano plates, and the free logo will set you back around an additional €100 on the base price. That does include their superior Null Audio Arete stock cable also.
To be honest I find the FIBAE 7 pricing to be more than reasonable, even for the premium plates. I have seen some other stores add 100's of dollars to the price for similar plates and designs so kudos to Custom Art for keeping prices reasonably affordable.
Add-ons
Other options to the right of the screen include the cable type and here we have some big changes from last year with the introduction of a new detachable aftermarket Null Audio Arete cable and no more recessed socket options. You can still add a mic and remote module for an additional €25 which brings the total for this design to around €1225.
Packaging & Accessories
If there is one weakness in the Custom Art presentation it is the whole retail packaging. This is not unique to FIBAE 7. In fact, pretty much every Custom Art monitor comes in the exact same packaging with the same accessories stretching back to 2015 when we first started reviewing them.
The black mini-shoebox, Peli 1010 hard case, and small blue soft zipper case are more functional than wow. I still love the little "Hi" support and FAQ guide pamphlet inside the Pelican container that has shades of Apple when they were more creative than today's corporate nonsense.
The one new accessory with the FIBAE 7, however, is the new Null Audio Arete cable which you can read more about in our cable impressions. It's a solid upgrade on their older stock cables.
Accessories
Aside from the new cable, you also get the Peli 1010 and zipper case, a wax pick tool and a drying pellet as well as your obligatory warranty card. If you happen to buy the universal version you will also receive some ear tips in varying sizes but it does mention exactly what type of tips they are. I presume silicone and, in the case of the sound signature of the FIBAE 7, I think something silicone or hybrid might be ideal.
Null Audio Arete OCC Copper cable
Carton box
Peli 1010 case
Zipper case
Wax pick tool
Drying pellet
Warranty card
Ear tips in 4 sizes (universal fit only)
Click On Page 2 below for Design and Sound impressions