Meet The FIBAE 7
Design
Custom Art is one of the most innovative custom monitor design teams I have reviewed to date. Every single one of their designs brings something entirely new to the table, not done by competing firms.
The FIBAE 7 design here is something that caught my eye, and yes, it is slightly off the custom design tool menu on their website. You will have to contact Custom Art directly to order a design like this.
The core color is their transparent black shell so not terribly adventurous there. Rather, it is the integrated handcrafted faceplate that caught my eye. Now originally, CA launched a green version of this and then I noticed a red version also. Given our colors are orange and black, I asked for a version to match our brand. Eh Voila! C'est ici!
It looks much better than my pics in real life with that quasi Inca style patterning of black arcs with a glow of orange behind. I do wish it would glow in the dark, that would be awesome.
Finishing
As always, the finishing is flawless on this FIBAE 7 with the CA logos neatly stamped on the side to let the design shine. I put them side by side with the F1, 2, and 4 and honestly the consistency in shape and sizing of the shells is remarkably good.
Because there are no switches or dynamic driver ports on the FIBAE 7 you will not find any breaks in the flow of the shells or design. Even the flush 2-pin ports are super clean in their finishing. That can often be a messy area on custom designs. I also can't find any bubbles or imperfections on the shell or faceplate either.
The nozzle also has this slight bulge at the bottom which I really like on custom monitors. Some are narrower relying on the main neck of the nozzle to seal along the canal like my A18 from 64 Audio.
The bulge feels more like what a tip is designed to do by placing additional pressure on a small area of the canal to create a good seal. I guess if there are any inaccuracies on the nozzle the bulging tip will mitigate that.
Comfort & Fit
In summary, perfect. The fit is a perfect balance of pressure and comfort being neither too relaxed or short, deep and tight. I am not detecting any gaps forming in either open or relaxed jaw mode either so the seal is excellent. Put it this way, I cannot tell if my aircon is on or not and it plays havoc with my measuring mic at 50-60Hz.
Of course, this comes down to the quality of the ear impressions you send to Custom Art. Please make sure your audiologist follows their supplied instructions for taking an impression. I use digital STL files as does CA once they have done the initial molds so when one is done, new ones after should fit in the same manner.
Just a note on the new cable fit from my initial impressions. The memory wire on the FIBAE 7 cable is very soft and just hangs over the ear without any discomfort or pressure. You cannot mold it but its natural shape shouldn't give any fit issues.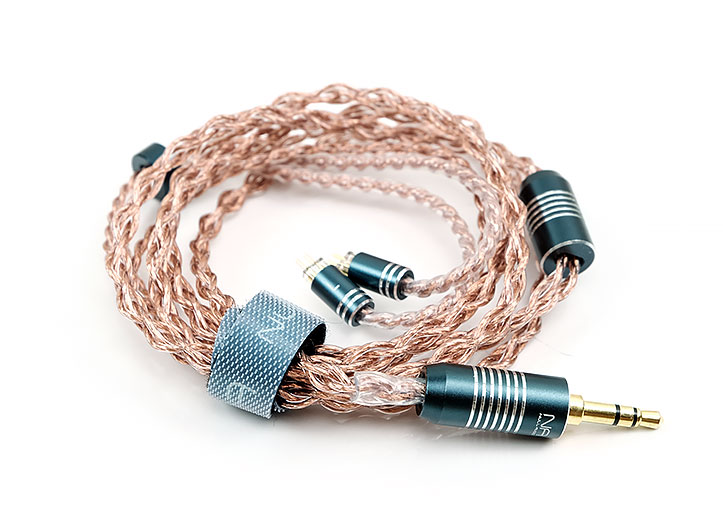 Cable & Connectors
The FIBAE 7 comes with a big cable upgrade over the previous FIBAE range. The previous cables were 'meh' but the inclusion of a 1.2M Null Arete MKIV with customized blue barrels (Piotr loves blue)are a huge upgrade. I believe CA tested quite a few and felt the use of copper was a much better fit than the use of silver in achieving the sound signature they wanted from the FIBAE 7.
The Null Arete is a 4-wire OCC copper wire with casted 7N copper conductors using a total of 48 strands per wire and 192 strands per cable. The wire is wrapped in a translucent quad-braided TPE jacket and terminated with electroplated customized blue NA plug barrels, splitters and 2-pin connectors.
Strain relief and memory jackets are also fairly lightweight and pliable as is the entire cable really. This is also a zero-noise cable or microphonic free build quality with low noise even beyond the splitter.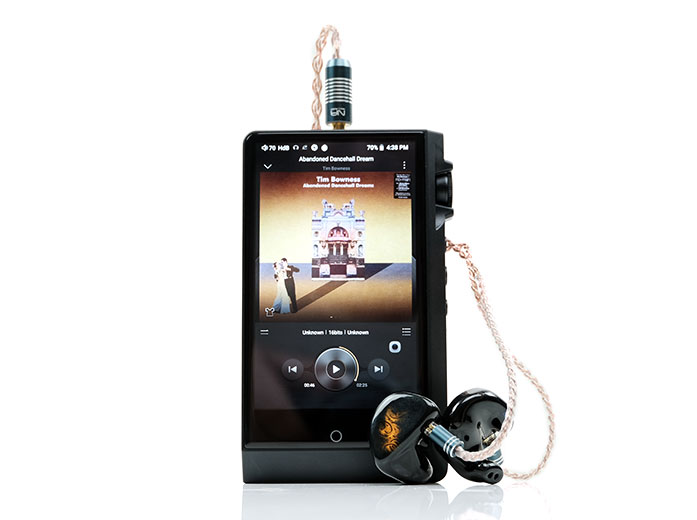 Sound Impressions
Summary
The FIBAE 7 has something very special about its signature and quite different from their previous creations. Piotr asked me a few times what I thought of them and I know when he does that then he has something up his sleeve in terms of tuning.
Let start with the basics, this is a balanced sound signature and by balanced I mean something with more than a whiff of the Harman target response curve. The F7 has a nice blend of a slightly bumped mid-bass warmth, forward and rich sounding upper vocal pitching and a very nicely tuned treble curve that I think is a bit better than the Harmony 8.2 equivalent.
This is the kind of signature that adapts well to a wide range of musical genres. There is enough of a rounded tone on the timbre to sound clear yet wet enough to sound harsh or lean. What I do like is that smooth bass to mids transition that allows the lower-mids instrumental notes such as guitar chords to sound full, textured and powerful.
The magic in the FIBAE 7, however, for me is the ability to sound airy with fantastic separation in those mids without any force treble parlor tricks.
I have heard cleaner and brighter treble signatures such as the qdc Anole V6 and the Andromeda and the F7 is for sure not a bright sound. However, congested it is not. In fact, it can deliver some wonderfully complex performances that sound incredibly engaging.
Staging
One of the very first things that grabbed me was the F7 imaging. With the FIBAE 7, it is immediately clear just how good the imaging performance is. It is perhaps the key point for me in FIBAE 7's technical resume.
Now the soundstage is not huge, it is good but not cavernous in either direction. It is what the FIBAE 7 does with the space that makes it special for me. The imaging is accurate, pinpoint and paints a very deep 'back to front' soundstage that allows you to pick up every nuanced spatial cue.
Throw in a very fast, tight transient response, excellent bass layering and that forward vocal and you get a very immersive performance for this price point.
Bass
Yes, it is BA timbre but a cute tuning that is no way boring or dry. The FR on the low-end is very balanced and linear which is a good start. You get a little mid-bass emphasis for warmth and above-average low-end extension and some very good layering.
It is not as full-on or as heavy as the F4 but it is tighter and punchier for me with a better lower-mids transition. You get less of a lower-mids dip that really helps with firming up lower-register instrumental notes. There is also a little bit of decay in that dual sub configuration that's quite different to the 'yesteryear' small BA drivers.
Mids
Those lower-mids are excellent on the F7, they really are. The lack of suck-out is minimal from the mid-bass to around 1k which is a common tuning approach to keep the bass from bleeding and create a sense of space on the stage for vocals to sound clear. The F7 doesn't go as all out in the lower-mids cut but instead pushes forward the 1-4k range slowly but significantly.
As a result, instruments are full-bodied with a good fundamental and more PRaT than what I was expecting from a BA timbre low-end. Vocals, (mixed voice and head) also sound big and beautiful with gorgeous texture and very little sibilance other than what is naturally there.
Male lower-register vocals are little more subdued and rounded in their texture. Especially chesty baritone and some tenor but the F7 has enough air and space to cope so they do sound clear rather than veiled.
Treble
Treble is slightly deprecated or second fiddle to the upper mids but it is more balanced and airier for my money than the Harmony 8.2 with a steady line to about 7-8k before it starts fading away.
It does not sound forced or peaky but the energy and sparkle are a shade lower than something like the qdc Anole 6 and much wetter sounding than the clean highs of the Andromeda.
You get enough odd-harmonic injection into percussion to give it a natural overtone without it biting too much and coloring percussion heavily. That means percussion is there but it doesn't drown out the vocal delivery with splashy hard notes.
The detail from the top firing drivers is excellent and without anything forced from the top-end, you get it all in a non-fatiguing manner which I do like.
Click On Page 3 below for Synergy & Comparisons