For the fifth time in a row, the annual CanJam Europe took place in Germany. However, the event moved from North Rhine-Westphalia to Berlin. This is a curious decision because not only was Essen a less expensive city but also does Germany have by far the highest population density in the West.
The old venue was also easily reachable from France, Belgium, Luxemburg, or the Netherlands. I went by car and sadly only had the weekend off. This meant I spent 15 hours driving on the famous Autobahn to get 10 hours out of the headphone show. Call me crazy, but most would argue that wouldn't be worth it.
Nonetheless, this year's CanJam Europe took place in the 'how' Berlin hotel which calls itself a music & lifestyle hotel. In the evening, the bar was crowded and live music was playing. The show itself was separated into different rooms and also the end of a hallway.
The noise floor was problematic to demo open design headphones, especially in the afternoon. But there is no easy solution to that. Just keep that in mind if you ever intend to go to a hifi show and you want to try out anything other than the Sennheiser HE-1, which understandably got its own showroom for which you needed an appointment.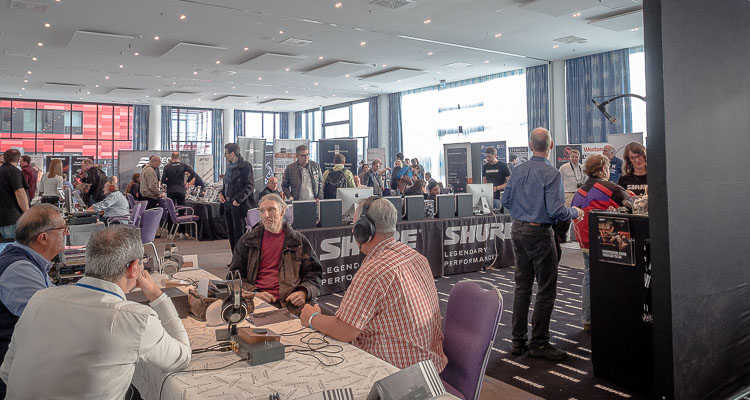 Exhibitors
Speaking about exhibitors, CanJam Europe clashed with three other major headphone shows on the same weekend in Tokyo, Beijing, and Guangzhou. Since Asia provides a far stronger purchasing power – especially in the headphone sector – Berlin lacked the presence of many international brands.
Of those that were there, many of them were only represented by distributors or dealers who often were not able to correctly answer my detailed questions or in one occasion even struggled to get any signal out of the source without my help. "We just got the device this morning so we are not yet sure how it works" is not an excuse potential customers want to hear.
Luckily, Germany itself features some strong and important companies like Sennheiser, Beyerdynamic, and Ultrasone to name a few. Unfortunately, the strongest two local IEM brands were completely missing: InEar (famous for their StageDiver and ProPhile series) and Vision Ears.
LB-acoustics
The strongest newcomer on the show was LB-acoustics with the MySphere 3.1. This is a small team consisting of former AKG employees that took on the project to create a spiritual successor of the AKG K1000. Personally, I did not feel like this is what the market needs right now but fortunately, the hifi market does not work that way.
At 3.200 € excl. tax this is anything but competitive pricing, yet it definitely was very popular on the first big showing. I found the sound to be enjoyably linear with an inevitable bass roll-off. The headband design is unique as it looks and feels like a reversed laurel wreath. Again, this is not something I think the market absolutely asked for, but it seemed to work for many.
My issues were with the stiff padding on the ear pads. Unlike the original K1000, the MySphere 3.1 want to lay on your ears. However, the padding's mesh was designed to withstand regular washing but that made it quite scratchy and rough.
It will be interesting to see how the product does in the long run and if it can withstand the competition of conventional headphone designs – or even near-field monitors – as it tries to challenge both categories at the same time.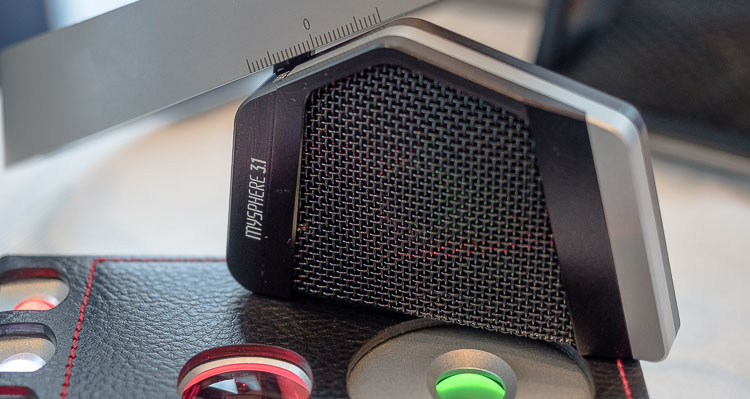 Sennheiser
HD 660 S
Another hot spot was at Sennheiser's booth. They just recently announced the HD 660 S and this newer version of the infamous 6xx series impressed me a lot. While the sound signature remains fairly close to the HD 650, the new driver that was taken over from the HD 700 is supposed to make a big difference.
Do keep in mind that show impressions can be deceiving, but the speed and attack were much better than how I remember my old HD 650 or 600. Most importantly, distortion has been minimized, especially in the bass which is great news if you plan to use an equalizer or the great software by Sonarworks – who also had a booth at CanJam.
I would have to do an A/B comparison to confirm, but right now I do believe that due to the faster speed the HD 660 S sounds less bassy and warm than the HD 650. That would not only place it neatly between the 600 and 650 but possibly even replace both in the long run. Expect previous versions to slowly disappear from shelves.
IE 800 S
Sennheiser also updated the IE 800 S. Their in-ear flagship has a slightly refined tuning. If I remember the original version correctly, the bass and midrange did not change much but the treble is a bit darker now.
Overall, I felt the sound is quite warm but less fatiguing. The new cable also feels much softer and hopefully it is freed from the stiffening that plagued early versions of the IE 800. Unfortunately, the price jumped from 699 to 999 € but you will get two balanced cables in the box for that. I mean it's our own fault, we keep asking for balanced cables so we have to pay for it, right?
and more
Sennheiser also upgraded the HDVD 800 amp to HDV 820. Its design now matches the HD 800 S better and of course that with another price increase to 2.400 €. If you found the 24-192 DAC limiting, you can now enjoy 32bit and 256x CD quality from DSD playback.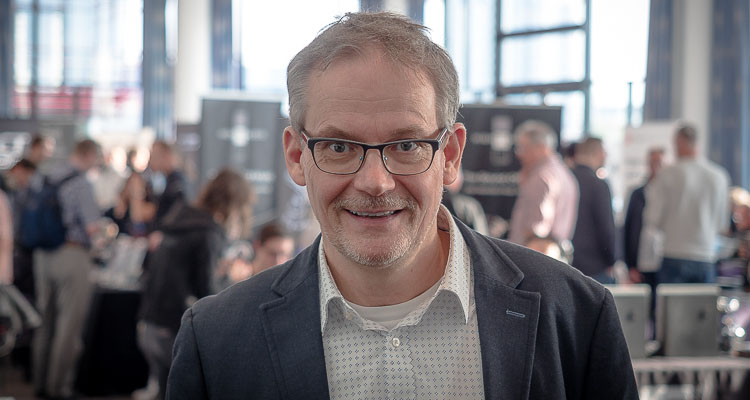 I got to meet Axel Grell, who is famous as a hifi product designer and contributed to the original Orpheus, the HD 650, the HD 800 and of course the newer products. I managed to squeeze some hot information out of him and all I can say now is that if you've been waiting for something specific, the year is not over yet! I suggest you don't empty your wallet quite yet.
Beyerdynamic
Aventho Wireless and MIY App
Beyerdynamic's latest releases were all about Bluetooth.
Their star of the show were the newly released Aventho Wireless on-ear headphones. Bluetooth without active noise canceling might be a tough sell at 450 €, but the features of the Aventho are mostly about the accompanying MIY app. This app is very similar to the Mimi hearing test and music apps that are in the App Store.
Their programmer was also available at the show and he has a history with the amazing 3D monitoring company called KLANG Technologies – I wanted to write a feature about Klang a long time ago, maybe now is a good time.
Anyway, what the app does is it creates a personal profile for each ear separately that can be stored into the headphone for all connections to use. You set it up on your smartphone once and then the data is stored in the Aventho. The app advertises to adjust to personal hearing. I think there is a lot more potential available here than Beyerdynamic currently use it for.
For one, the app is steered toward hearing loss. It only ranges from 250 Hz to 8 kHz and that is only a very limited frequency range for audiophiles. Second, it would be highly appreciated if there were an equalizer with presets like studio-flat.
The bass is very strong on the Aventho and I would have liked to tame it within the Sound ID but that does not seem to be possible at this point – only the results of the hearing test are stored so you can't quite make the headphones sound fully transparent.
It should also be very easy to implement a decent signal tone generator and sinus sweeps for hardcore users but the usability is still very basic at this point. The Aventho do not use any other DSP, btw, and they sound absolutely identical when driven from an analog source.
Finally, the app does have another neat feature and it knows what volume you are listening to audio and for how long. It will warn you when you've been listening for too long at too high volume as to prevent hearing damage. Again, I am not 100% sure how the app functions, but unless it uses the R128 algorithm to analyze every audio track while playing, I doubt it can differentiate between music with lower volume and modern compressed music.
Xelento Wireless
Nonetheless, I would have liked to see the last feature work with their other Bluetooth product, the Xelento Wireless, but unfortunately, that is not the case. Even though I couldn't track my listening volume, I really enjoyed the short hands-on time with the Xelento.
The bass is slightly boosted but the midrange and treble had me hooked. This is definitely an IEM I would like to spend more time with. As with the Aventho, the Xelento does not use any EQ correction and sounds the same in passive mode once the battery died. On that day, I preferred it over the Sennheiser IE 800 S.
Audeze
LCD-MX4
The show was lacking some interesting new announcements like the Acoustic Research AR-H1 or Hifiman Sundara. Unfortunately, CanJam Europe has never been the priority for international announcements. However, Audeze were well-represented by their local dealer Audio Next and allowed me to audition the truly remarkable LCD-MX4.
There were rumors beforehand that Audeze would release a significantly cheaper LCD-4 for professionals. These expectations were not met as the MX4 is still very expensive at 3.600 €, but it sounds amazing nonetheless.
Tonally, I preferred the more linear Sonoma Model One right next to it, but the overall package is more attractive with the Audeze. Their LCD-2C were not shown as I eavesdropped on a conversation and heard that these headphones are not to be released in Europe. Sorry, what!?
LCD-i4
I got to try the Audeze LCD-i4. I am not a fan of the iSine 20 as I think their tonality needs more refinement, but the LCD-i4 do a very good job at coming close to the original LCD series. Nothing in the frequency response managed to distract me.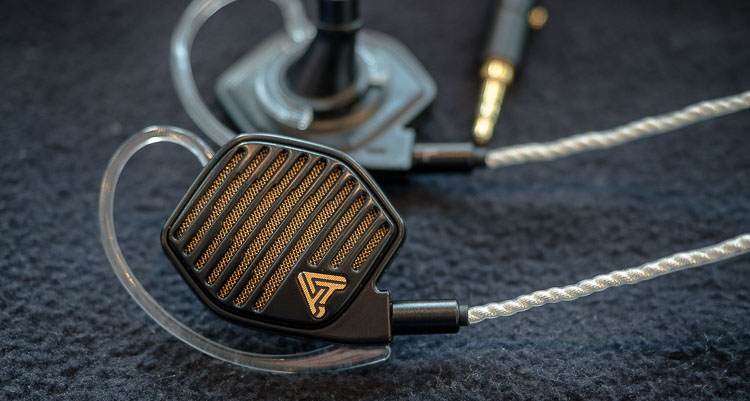 I am still not a fan of the fully open design and I think its use is extremely limited so at the asking price of 3.000 € I'd probably rather grab the LCD-3 and go for a nice trip and fly to CanJam Singapore. Still, I find it very impressive that Audeze actually managed to pass down the house sound to a miniature model.
Click on page 2 below for Ultrasone, Audio Technica, Shure, Meier, Chord, Cardas, MrSpeakers, Effect Audio and Sonarworks