Ultrasone
I used to joke about the crazy prices of the Ultrasone Edition series. But actually, the company was only five years ahead of the competition. By now, almost every booth featured a ridiculously priced product and Ultrasone was anything but shocking this time around – even at 1.800 and 2.500 €.
On the contrary, you can tell Ultrasone has a lot of experience with manufacturing and they don't just tack on exquisite materials but they almost perfected their form. The Edition 8 Ex's sonic performance was not to my liking, though: strong bass, very recessed mids, sharp treble.
Well, Ultrasone targets customers that usually don't like headphones so they need something unique. It seems to work out for them, but for me as a hardcore headphone fan with a preference for neutral sound, it didn't quite work out. The Edition 15 Ex sounded much better in comparison. They're still warm and bassy, but they have a lot more homogeneity and smoother treble. It's still not a headphone I would add to my personal collection, though.
For the first time, they also presented a 24-192 DAC/amp in a miniature form for compatibility for iOS, Android and PC, called the Naos. It will be interesting to see if more devices follow and if the company might even start manufacturing amps.
Audio-Technica
I finally had the chance to check out Audio-Technica's well-received ATH-MSR7. There are a Bluetooth and an ANC version as well. Oddly enough you have to choose either but can't have both. That's a rare occasion and I suggest you wait until Audio-Technica figure out how to implement both into a single pair of headphones.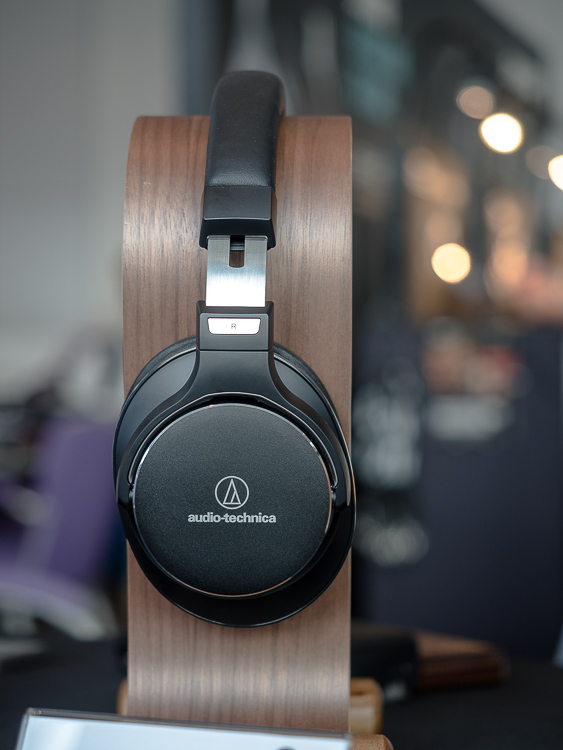 Nonetheless, this is a surprisingly well-tuned product with finally more high-fidelity tuning than the much pricier competition. It's not flawless as I think the treble occasionally had too much sparkle and also the ear pads could be softer. The bigger version MSR9 was far less impressive. Bloaty bass recessed mids, … you know, just another consumer-oriented headphone on an oversaturated market.
Shure
Shure once again had the best booth. Not only was it in the center of the biggest room and large in size, but you can tell Shure has a lot of experience. For one, the team was fresh, motivated and uniformly dressed, but they were also the only company to hand out freebies in form of rebranded sugared coffee. That was reason enough for me to revisit their line-up because surprisingly the only new addition was a Bluetooth cable with MMCX connections, sold separately for 100 or together with the SE215 for 150 €.
KSE 1500
I guess releasing new IEMs doesn't even make so much sense because their current line-up is still solid and Shure is not trying to sell snake oil or unicorn powder and market it as hifi research. Their top model, the KSE 1500 didn't have much reach yet but it definitely is a great contender for a top spot on any TOTL IEM list.
I had the impression that the proprietary amp unit secretly uses an EQ correction to achieve the sound but meanwhile Shure already falsified my concerns. The tuning is not perfectly neutral but it does sound fresh without sibilance as the treble extension is emphasized in a W-signature. The DAC handles up to 24-96 kHz and the whole package costs a mere 3.000 €, cough.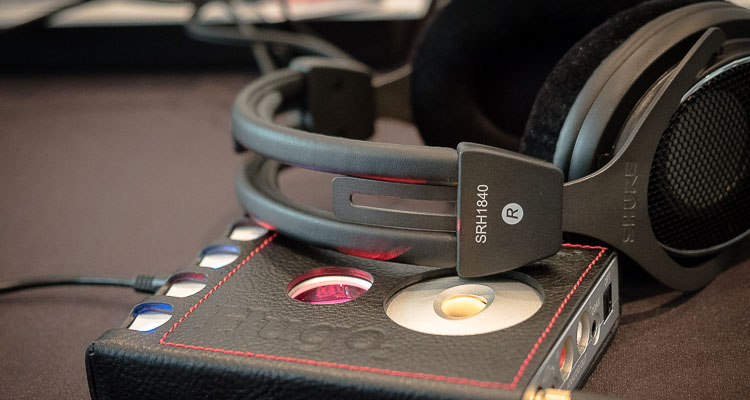 SRH-1840
Revisiting their headphones, I really enjoyed the SRH-1840 which to date is still their flagship headphone. Tonally I found it to be very accurate. Perhaps there is a minor treble peak and some early bass roll-off, but considering the comfort and relatively low price of 450 €, I think these are underrated upper mid-fi headphones.
Meier-Audio
Corda Soul
Even though Jan Meier still has a homepage in pre-AOL design (with a T-Online URL – come on, get with the times already!), the Corda amps have always been worth reporting on. In my early hifi days, I bought the Corda Jazz amp with great analog crossfeed and low output impedance for my beloved HD 600.
I actually wrote a review long ago that I never sent in to be published. Since then, I always remember Jan Meier as the guy with great analog amps. But this time he came up with something new and he showed a prototype of the Corda Soul. It's a balanced head-amp with a DSP system that uses hard switches. What it does is basically a very limited version of audio software like JRiver or Roon that tries to make DSP improvements accessible for people that are too old to learn how to use a Mac.
You have options for crossfeed (this time they are programmed in DSP), your two default DA impulse response filters, very limited access to an equalizer via four knobs that you can multiply and divide from another and a "notch filter". I am not sure if Jan came up with that term but it's simply a very narrow -6 dB EQ correction which you can position via another knob (to remove those sibilant resonant peaks of T1 and HD800, for example).
So in the end, the Corda Soul looks like the interior of a Boeing cockpit yet its functions are quite limited in respect to DSP possibilities. You also need to study the device well (and learn which position of the knob is for which frequency range) and carefully read trusted headphone measurements or use a sine sweep to locate the peaks.
Personally, I think the RME ADI-2 Pro (also shown at the show but already reviewed a long time ago so not featured again) does much more and it's far easier to use thanks to the display. The Soul will use 64 bit and I was told it will sound much better than my current setup – something that I would rather judge myself, though. The Soul only has a 4-pin XLR balanced output. The left output is the same with 120 ohms output impedance.
ROOM's
There was almost no table showing off high-end headphones that did not present them on either a Sieveking Omega or a ROOM's headphone stand.
For long have the stands by ROOM's been a favorite in German forums and I also easily prefer them because they don't apply pressure on the pads. I was always hesitant to buy one myself because quite frankly they don't come cheap and the FS-Pro usually costs 120 €.
But upon closer inspection, the build quality is absolutely perfect and the company thought of so many details and only uses top materials that I finally gave in and took one home for myself. I doubt the stand will show any wear even in many years. They are also available in all kinds of woods. As a German, my favorite version is black metal.
Quickies
As I mentioned in the introduction, my time at the show was very limited. I already knew that when I arrived so I decided to go for quality over quantity. I probably missed a new product or didn't cover something that would have been worth it. But I'm only one person and I do this voluntary, so please bear with me.
Chord
Chord Electronics was at the show too, of course. I've already been using the Hugo 2 for a while now and I feared testing the Poly was too troublesome on a show. The table was constantly crowded and people were lining up to demo the Dave. I was fortunate enough to have spent some time with Dave (or how I call it: the Submarine) already. Very impressive sound but we wouldn't expect anything less from Chord.
Hörluchs
With InEar GmbH and Vision Ears absent, a newcomer called Hörluchs took the spot. Their booth was friendly and welcoming and even though I promised to stop by, I didn't find the time to do so.
I am already familiar with what was shown there, though, as I checked out their line-up at a local dealer some time ago. Personally, I can say that I have a different understanding of linearity with in-ear systems and all of their monitors have a close characteristic. The prices are quite ambitious too.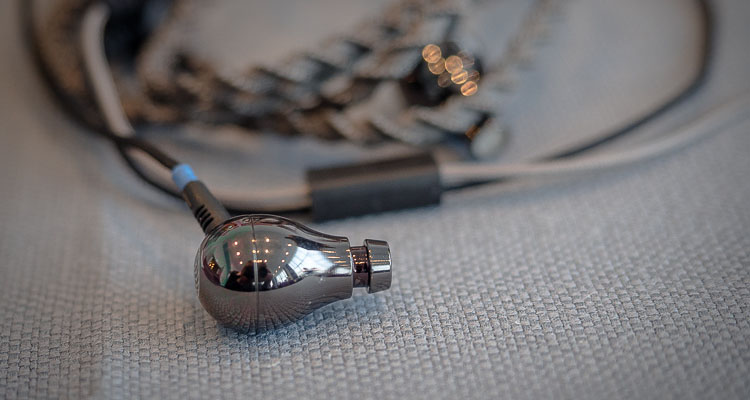 Cardas
I am not a talkative person and occasionally a good salesman will see me as an easy victim. So I was talked into trying the Cardas A8 30th Anniversary. No doubt the build quality is excellent and the cable is fancy. The heavy bronze material feels nice in the hands and the smooth surface is comfortable to wear. But the sound is not all that impressive. Bass is much too strong and the midrange is a bit dull as it lacks presence around 2 kHz. At 6 kHz the Cardas had zero pressure and it peaked at 8.8 kHz. I am not a fan despite the fancy looks.
MrSpeakers
I love the MrSpeakers Æon (closed) and I was shaking with excitement when I saw the open version at the show. But something did not seem right. It sounded warm and bassy with a duller midrange when I plugged it into my own source. I compared with the closed version on the spot and unless the exhibited demo was a dud, something went wrong in the design.
What I heard was definitely not linear. I double-checked the connections and searched for a filter on the inside of the cups, but I couldn't find an issue. I also noticed the small laser-engraved AEON logo on the cups are not symmetrically aligned on both sides. It looks really weird if you are a perfectionist. I guess MrSpeakers did not fully escape the DIY realm yet.
Sonarworks
I spotted Sonarworks and I think their software is good. They measure headphones and provide unique compensations for every single pair. I like their target curve even though I personally prefer very slight changes to their flat-preset, for example, a little bit less sub-bass, but I definitely recommend to check out their EQ corrections. Just search them online and you should find their live demo with an explanation.
Effect Audio
Last year, Labkable did a surprise showing at CanJam Europe and this year the spot was taken by Effect Audio. Germany is a very conservative market in regards to cable sound and charging 300 to 2.000 € for an upgrade cable is probably a very tough sell in this country. At the very least, I do believe people underestimate the effect of a cable's impedance which can have tremendous effects on a sensitive earphone like the Andromeda or VE8.
Personally, I am also very wary of claiming easily improved dynamics or faster speed through a cable alone so I am not the one you want to provide with a cable for review. I am very pleased with their presence at the show, though, and I also took the chance to demo the 14BA Empire Ears Arthur. The Arthur is very warm but smooth sounding. I really liked the treble but I located some unevenness in the midrange that eventually threw me off.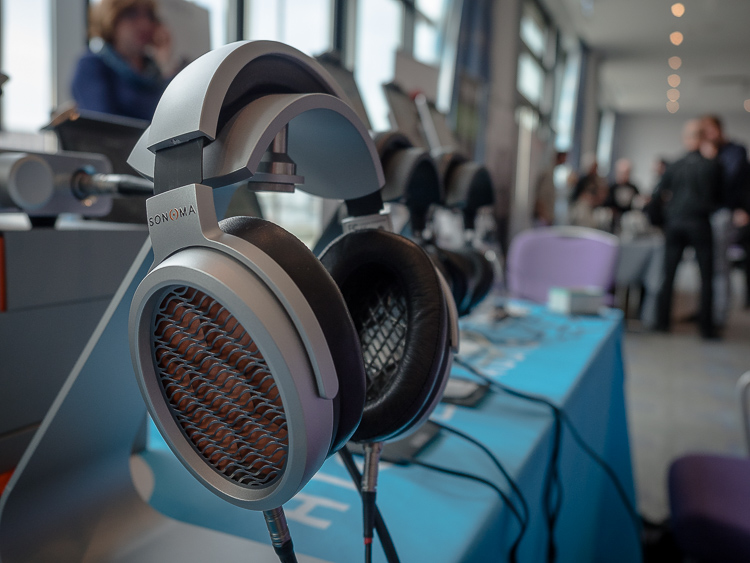 CanJam Europe 2017 Conclusion
As a true headphone aficionado, new announcements seldom fly past me. So truth be told, I had some spots on my list that I had prepared to fill out with impressions but I could not find many of the very new products.
CanJam Europe is not the single most important headphone show and unsurprisingly Asia is favored over Europe by international exhibitors. Nonetheless, there was much more shown than one could demo even in two full days.
The event is also closely connected to the headphone enthusiasts' community and they reserved several tables in a corner for visitors to meet, share impressions, and exchange gear. That is awesome even though I did not have time to stop by!
If you are interested in headphones, CanJam Europe is still the best local opportunity to compare a wide selection of gear. If you ever wanted to visit Berlin or live close by, the show continues to be worth a visit.