Today, UBSOUND of Italy just launched their new VELVET Series 'premium' high-end handmade loudspeakers worldwide with 2 models, VL42 and VL48. A launch that may well be loaded with potential in the high range of the home HiFi market.
For those who may be unaware, UBSOUND is an Italian company based in Milan. They specialize in home high-end wooden handcrafted passive loudspeakers Made in Italy and also portable audio products like IEMs and headphones.
After their steady build on worldwide brand awareness thanks to their IEMs and headphones since 2011, the company began a new challenge with a quite different audio segment: high-end passive handmade loudspeakers. This is a far more ambitious project in terms of R&D and manufacturing compared to their previous product catalog and core business.
High-Fidelity Launch
Indeed, UBSOUND previously was known for its IEMs and headphones catalog in the portable audio segment with its classic slightly V-shaped tonality implemented on most of its products. Today, with its new VELVET passive loudspeakers, the company launches its first range of high-end products in a different segment of the audio industry.
The VELVET passive loudspeaker range is Made in Italy and handmade in Milan city.
UBSOUND states both launch speakers have an 'honest natural sound, rich in acoustic detail' with an accurate bass, quite colored midrange, and treble signature that should generate a great soundstage using the most widespread standard home amplifiers with an output from 20W to 100W per channel at 8 ohms of impedance.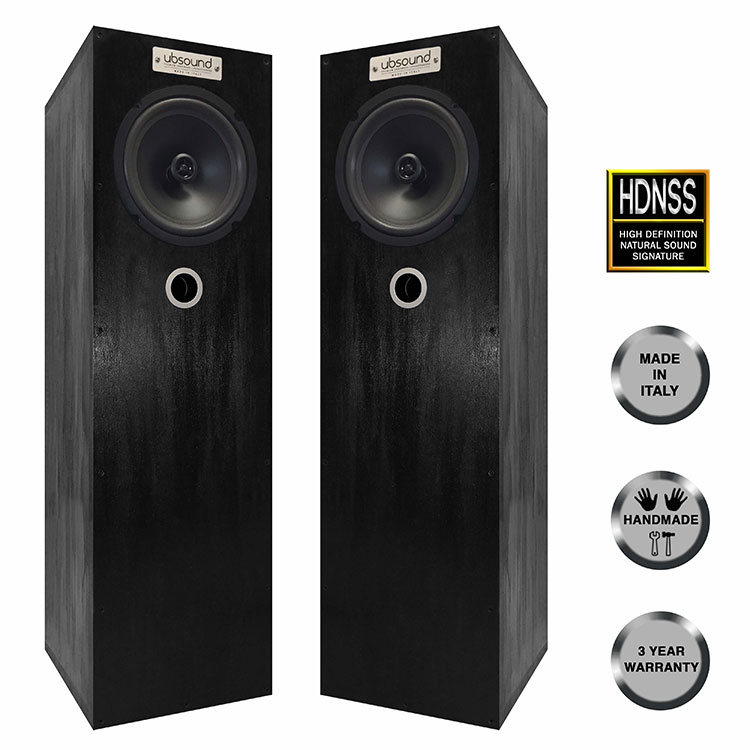 To achieve this and for the VELVET Series, UBSOUND also implemented a new exclusive audio technology, (HDNSS), invented and designed by the UBSOUND engineers in Italy.
For this new product launch, considering their huge investment, high quality of the raw materials, finest external finishing, great building quality, and many hours of competent handcrafting manpower for each loudspeaker, UBSOUND stands a fair value for money with a worldwide launch price of $3000 (pair) for the VELVET bookshelf/stand model VL42 and $4000 (pair) for the VELVET floor-standing/tower model VL48.
UBSOUND is now mostly focused on a clear upcoming roadmap of further series of high-end loudspeakers with, perhaps, a question mark concerning the R&D of new IEMs and headphones in the portable audio market.
The official manufacturer website and where to buy worldwide can be found here at the official UBSOUND website.
Ok, you could say Headfonics likes a bit of the high-end audio world and we do cover speakers and portable audio gear of all price points and sizes.
So, I brought up some important questions on the back of this launch with Marzio Gasparro, Founder, President & CEO of the UBSOUND Group, to talk about their new high-end challenge, the new company core business, and future developments.
Background
Hi Marzio, first of all, what can you tell us about UBSOUND's business and the past 8 years?
Hi Marcus. First of all, I would like to thank you for your time as usual. I can say that we are very happy with the results achieved during the past 8 years and the related international brand awareness. We are now present in 48 countries worldwide.
The excellent results in terms of revenue and units sold have encouraged us to make further investments in research & development during the last 18 months concerning this new brave challenge to enter the high-end loudspeakers world. The handmade new method and the 'Made in Italy' manufacturing process which, as you know already, it's a dream for the team and I.
Note: 'Made in Italy and handmade' only refers to the loudspeakers, whilst all our portable audio products are designed, engineered, tuned in Italy, and assembled in China so far.
Regional Channels
Which are your forecasted main sales channels around the world for this new VELVET Series loudspeakers?
Regarding the main sales channels, also looking at the emerging markets tendency and users habits, we will be focused online (E-tail) directly from our factory in Italy to the consumers worldwide via our own online-shop worldwide.

However, we think it's very important to consider that for this kind of high-end / high-value products, the audiophiles and users generally love to look, touch and listen to their real performances, which is still the common retail stores approach.

I mean positive genuine feedback, reviews, word-of-mouth and selected advertising strategies are not enough. We don't want to convince the clients about our loudspeakers quality. We'd like the clients tell us about UBSOUND loudspeakers great quality.

Therefore, in order to balance this topic, we already planned to organize several localized 'audio session events' and, moreover, to exhibit at the main worldwide high-end audio shows.

Velvet Series Features
It seems to be an interesting sales strategy and I agree concerning audiophile habits. So, Marzio, what can you briefly tell us about your new VELVET Series, their main features and the HDNSS technology?
Well, as you know Marcus I am Italian, so to me 'briefly' is a difficult word… LOL…
Italian Made
The premium Velvet loudspeakers are engineered, designed and handmade in Italy in the heart of the city of Milan. These high-end loudspeakers are designed specifically for audiophiles, professionals and discerning customers in the Hi-Fi segment. They are the aim and result of the UBSOUND deep passion for audio.

The excellent sound performance of these loudspeakers originates from the implementation of the exclusive High Definition Natural Sound Signature (HDNSS) technology (also see hdnss.com) invented, designed and developed in Italy by UBSOUND.
HDNSS Technology
The formula of HDNSS acoustic technology is based on several criteria and related algorithms, part of which are confidential and not disclosed.

In the design process, the acoustic engineering of HDNSS technology emphasizes the physics and acoustic-dynamic approach rather than an electro-acoustic approach, as other brands tend to do. UBSOUND firmly believes in a better acoustic result thanks to the help of this technology, restoring a more natural harmony and an experience which seems more analog rather than digital.

The HDNSS technology studies rely in part on the theories of the mathematical physicist Manfred Schroeder regarding the internal resonance of the loudspeaker and its soundproofing.
Soundproofing
One application of our technology is in relation to the soundproofing of the internal wooden panels of the loudspeaker, for which specific sound-absorbing coatings of different sizes, thicknesses, angles and materials have been used.

The perfect sound obviously does not exist, but with this exclusive technology UBSOUND has been able to create a pure, natural and balanced sound. A sound that succeeds in reproducing an impressive amount of sound details with high fidelity, while retaining a slightly warm tone.

This is due to the exclusive implementation of the 45° curved asymmetric bass reflex that plays a fundamental role in the homogeneity of the propagation of low frequencies below 240Hz. This generates an excellent listening soundstage.
Sound Tuning Goal
The goal of HDNSS technology is to create an excellent natural and high definition acoustic signature, hence the acronym 'High Definition Natural Sound Signature'.

Based on the principles of this technology, we define our loudspeakers as "designed by sound", that is to say the structure, design and materials of the loudspeakers are simply the result of what is really needed to achieve the desired acoustic signature, without any compromise.

Those are the real technical-acoustic, acoustic-dynamic and electro-acoustic needs for a better listening performance.

Materials Used & Warranty
The wooden external of the loudspeakers is finished with a special multi-coat paint, strictly hand applied with a paintbrush and the use of high quality paints.

Every single detail is the result of accurate processing and selection of premium materials. A unique, attractive and minimal design, an unmistakable urban-style look that adapts to any furnishings.

These are high performance passive loudspeakers compatible with all amplifiers with a maximum power of 100W per channel at 8Ω impedance. They can be used with a wide variety of classic 2-channel amps and modern digital receivers using the two Velvet loudspeakers as front monitors in the left and right channels.

They are also suitable for the 'pure direct line' system (no equalization) available on some amplifiers; also suitable for those who simply want to replace their home hi-fi system loudspeakers in order to achieve significantly better sound performances. Suitable for both professional and domestic use for the most demanding users.

Lastly, the VELVET Series loudspeakers are covered by 3 year official warranty directly by UBSOUND. I think and I hope users will be fascinated by the overall performance of these new Velvet loudspeakers.

Thank you Marcus.
UBSOUND Velvet Series Technical Specifications:
Diameter of the 2-way coaxial dynamic hybrid driver: 21 cm (8,3 in)
Maximum power input: 100W
Suggested power input: from 15W to 80W
Impedance: 8 Ω
Frequency response: 34Hz-22.360Hz [VL42] and 33Hz-22.345Hz [VL48]
Sensitivity: 88dB (2,83V/1m)
Maximum harmonic distortion: < 1%
Dimensions (HxWxD): 39 x 26 x 30 cm [VL42] and 92 x 26 x 30 cm [VL48]
Weight: 8 kg / 17,6 lb [VL42] and 15 Kg / 33 lb [VL48]
Bass-reflex: front, asymmetrical, and 45° curved.
Positioning: VL42 Bookshelf or stand and VL48 Floor-standing tower
Terminals allow for connections: stripped cables, cables with banana plugs, or spade terminals
Recommended running-in period: 100 hours of use