Disclaimer: The Campfire Audio Solaris was sent to us in exchange for our honest opinion contained in this First Contact feature and subsequent review. Many thanks to Campfire Audio for giving us this opportunity.
For further reading on our Campfire Audio reviews please click here.
You have to be living under an 'audiophile earphone rock' not to have noticed that Campfire Audio recently launched their new flagship universal monitor, the Solaris. Our local customs officer seems to have been suitably impressed also because they held onto it for about a week before releasing it hence the slight delay in bringing our initial impressions to you.
The Solaris is priced at $1499 and takes the top slot in their IEM range. It is also a hybrid monitor with 3 balanced armatures and a single 10mm dynamic driver. Those with an eagle eye may have spotted that their previous TOTL hybrid IEM, the Dorado, is no longer available on the website. In a way, the Solaris could be debated as the successor to the Dorado but on a higher level.
Technology Inside
In fact, reading the specs it seems it is a convergence of what I always considered the two trains of thoughts in the Campfire Audio design team. That is Ken's love of dynamic drivers and the fantastic work done to date on balanced armature performance in the likes of the Andromeda.
What does that all mean? It means just about every key feature in every other notable Campfire Audio IEM is crammed into the Solaris. The 10mm driver is the same A.D.L.C. diaphragm dynamic driver found in their excellent single DD Atlas monitor. The tuned acoustic expansion chamber used for maximizing the treble performance is the same T.A.E.C design found in the likes of the Andromeda and Polaris BA and hybrid IEMs.
People have already remarked that the Solaris is the best of both the Atlas and the Andromeda in one IEM and whilst I think the Solaris has its own unique signature I do have empathy for that school of thinking.
Packaging & Accessories
It's not just the tech inside that has had an upgrade. The unboxing experience was a little different than the usual Campfire Audio package. Until now, there was consistency in uniformity with Campfire Audio IEMs. Every monitor has the same box, albeit with different colored designs and largely the same accessory lineup.
Tips
This time the Solaris packaging is a little bigger with slightly more tips and even more pimpy fluffy carrying case real estate. Taking their cue from the Atlas, the Solaris now comes with the single bore Final Type E silicone tips as well as a few bags of foam tips. You will no longer find any SpinFit branded tips in the Solaris packaging. That shouldn't stop you from experimenting though and I do recommend you try some Symbio W (wide) tips just for a little variation.
If you plan to stick with the stock tips then the foams will give you a warmer sound with a thicker low-end whereas the Final E-type tips plot a more neutral course with a little bit more mids and treble presence and a less bass than the foam tips.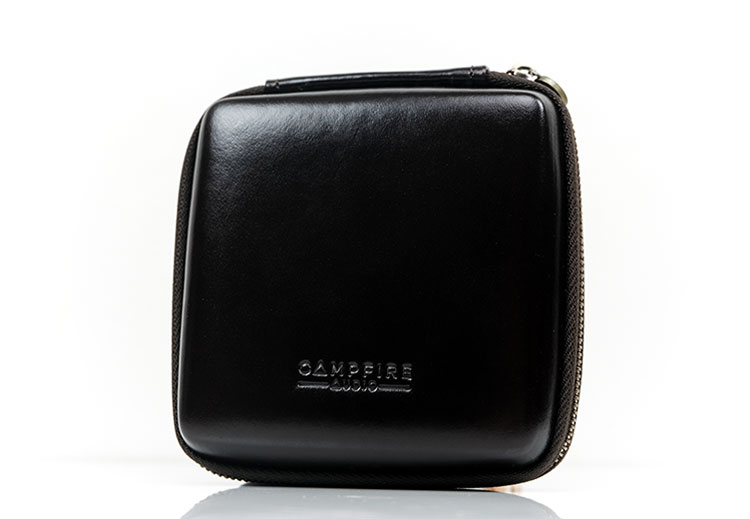 Carrying Case
The regulation carrying case has also gotten much bigger than before. It is still the same styling but they have reverted back to the beautiful dark tanned leather of the Andromeda case which was by far my favorite version. The internal "fur" lining remains the same also just you get a lot more space for the monitors, cables, and tips. You can perhaps even add an additional cable if you are into cable rolling.
Protection
Gone are the little red bags Campfire Audio previously used to protect the housing on their monitors when inside the box. Instead, we now have a variation on the padded mesh pouches they use on the ALO Audio side for their small portable amps. This is a dual pocket black netting, kind of like a bottle carrier from fast food outlets only much smaller and cuter. It is highly reusable actually and should offer plenty of protection for the Solaris's beautiful plating.
Build
The build on the Solaris is fantastic looking and perhaps their most complex machining design yet. The front plate is a 24K Gold Plated Lid and yes it looks very gold in real life though not the gaudy type you find on some Asian finishes.
The body is a PVD finished aluminum body with a very attractive external groove finish that also compliments the subtle grooves on the sides of the face plates. The nozzle is a chrome colored stainless steel material that draws from the Atlas and Comet designs with that grill finish on the top. The Beryllium / Copper MMCX Connections on the top are sunk into the body and takes up very little additional length on the Solaris.
I would say this is their largest IEM to date. Certainly, much bigger than the Andromeda and a more traditional type of design than the more radical Atlas and Comet. In a way, it draws a little from each type of design they have used before but the finish is just so much more refined and complex. Heck even left and right is in plain English and big letters on the top. Why has no one thought of this before?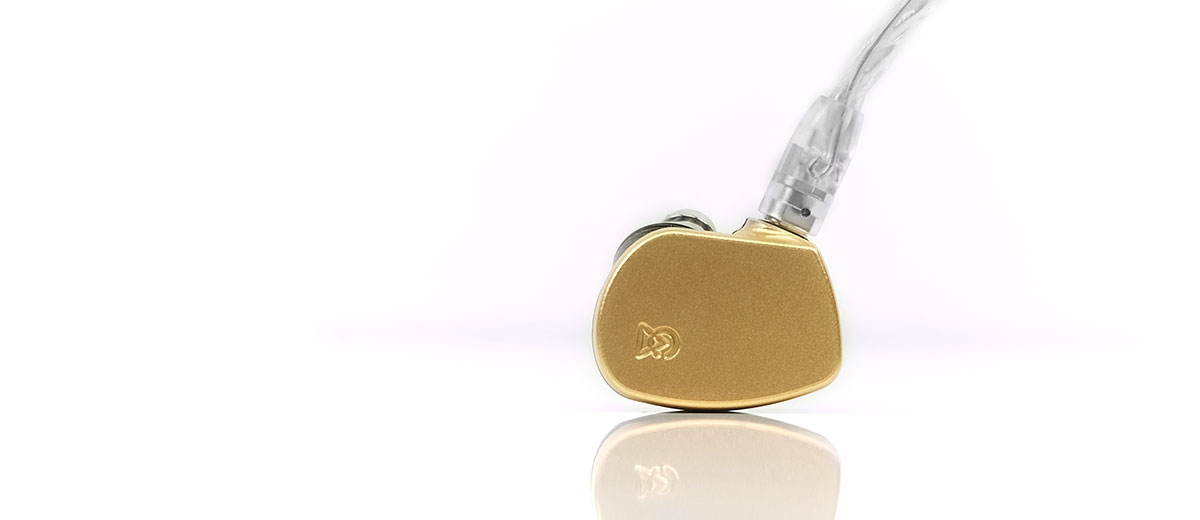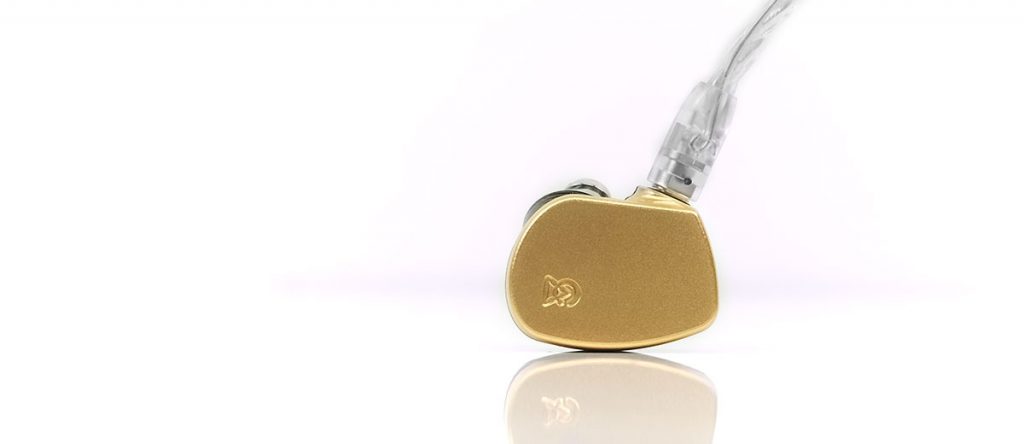 Cable
This is a new cable from Campfire Audio and is made of a Super Litz wire which is a multi-sized stranded SPC Litz wire jacketed in a very nice supple PVC jacket. My initial impressions are of a very quiet or low-noise cable, very easy to manage and perhaps their most attractive looking stock IEM cable to date. It comes in a 3.5mm single-ended jack termination with MMCX connectors and on its own, they sell it for $199, so not a cheap cable. You can order additional 4.4mm and 2.5mm versions for the same price of their website.
Initial Sound Impressions
(Using an iBasso DX120, Sony NW-WM1Z single-ended with FLAC 16BIT/44.1k tracks)
I have to be careful here because by all accounts the sound signature changes significantly after a number of hours burn in and we are not yet at our target listening time to pass any judgment on it with finality.
Tasteful
That being said after a few hours I am hearing a natural tastefully lifted low-end which has excellent pace and power but not as physical or forward sounding as the Atlas. It does have a natural dynamic driver sound with excellent depth but the sub and mid-bass response are more linear this time around and not quite as dominant.
In fact, the 1-3k range nicely balances out the low-end performance, particularly with vocals which were more recessed on the Atlas. This is where that midrange BA comes in real handy and I am glad they gave it some space to perform this time around. If you change the tips to the E-type single silicone you will get even more midrange and vocal presence which is my own personal preference at this early stage.
Timbre
The timbre is natural to slightly warm in part from that excellent low-end dynamic driver which provides a strong bass fundamental and some welcome musicality. The BA tuning brings in more speed and detail, as well as a good odd-harmonic counter on higher-pitched percussion timbre. Honestly, at this early stage, the coherence and timbre for a hybrid are excellent.
Treble presence seems to be a little more focused closer to the 7-10k range with a slightly muted 4-6k which is where I expected the T.A.E.C tuning to really shine as it does in the Andromeda. Overall the Solaris treble sounds a touch smoother with a little more body than the Andromeda and not as feisty as the Atlas but we will check this more closely in our main review.
Stay Tuned
Overall, I have to say I am very impressed by the Solaris, even at this early stage. It is beautifully built, has a superior accessory lineup than before, and sounds immensely engaging without being overblown in any one particular range. In our full review in the coming weeks, we will dive a bit more into the tech setup, the evolving sound after around 100 hours and comparisons so stay tuned!
Solaris Technical Specifications
5Hz–20 kHz Frequency Response
115 dB SPL/mW Sensitivity
10 Ohms @ 1kHz Impedance
Less than 1% Total Harmonic Distortion