The beyerdynamic Xelento Wireless earphones are the latest generation of monitors utilizing Bluetooth up to aptX-HD standard as well as wired technology. It is priced at €1,199.00.
Disclaimer: The beyerdynamic Xelento Wireless headphones were sent to us in exchange for our honest opinion. Thank you to beyerdynamic for giving us this opportunity.
You can read more about beyerdynamic product reviews on Headfonics here.
Late last year we reviewed the beyerdynamic Amiron Wireless headphones and I was impressed enough to give them the best Bluetooth Product award for 2018.
If there is one thing I took away from that review was that the sum of the parts can very often outperform another product that calls on one very important tech feature but may have nothing else to back it up.
The lack of the latest Bluetooth 5.0 and LDAC codec was very much offset by an excellent dynamic driver, a stable connection, wonderful touch controls, and a superb app for customizing your listening experience. In short, a very refined headphone experience for Bluetooth audio.
Here we are again, almost 1 year later, with the Xelento Wireless monitors. In a way, the product map for the Xelento has followed the Amiron to a tee with an initial wired option, the Xelento Remote, and now the Xelento Wireless.
It is a bit more expensive mind you at an SRP of €1,199.00 compared to Xelento Remote's €999, however, like the Amiron Wireless you do get both a wired and wireless version.
The only key difference between the two product route maps is that the Amiron Wireless was an open back compared to the Wireless closed design. The Xelento Wireless monitor design remains the exact same as the Xelento Remote, both are closed.
Unboxing
For all that you get inside, which is a lot, the retail box is fairly unassuming for a €1,199.00 audio product. The package is mid-sized to slightly small, clean printed graphics with a vinyl sleeve that slips off a plain black flip-lid box. The only distinguishing feature is the Xelento brand on the top of the lid and the beyerdynamic brand name on each side.
Do not let the understated looks of the outside deceive you though because inside is a veritable box of goodies almost on par with the excellent RHA CL2 accessory line up.
The top level simply has the two main drivers encased in a layer of protective foam with a small pullout on either side. I believe this is consistent with their marketing pitch of an "audible piece of jewelry" which is a legacy statement from the original Xelento Remote marketing campaign last year.
Accessories
Tips
The second level houses all the accessories and there is a ton here to go through. To the right top of the box, you have a tips tray with a very large selection of tips, both silicone, and foam.
Now the silicone tips look a bit strange and are not your normal-looking design, more of a mushroom shape. The shape is specifically to better shape and closes the seal on your ear for maximum isolation and comfort.
You get 2 pairs of each size ranging from a ting extra small size to a huge 3XL (extra large) version. Because there are so many there is a risk of mixing them up upon initial glance so I am glad to read in the manual, (yes you will need that initially), that there are markings underneath to make out which one is which.
Mind you, the markings are minute so if your eyesight is not great like mine, then be prepared to magnify and use a smartphone flashlight to figure out what each one says.
The foam tips come in a more standard shape with a single pair for small, medium, and large equivalent to Comply TX-500s. Even then they look a touch on the large size compared to some other foam tips I have handled though exceedingly pliant enough for large to be perfect for my ears.
The Rest
The package also includes two cables for the drivers, a regular inline mic/playback wired cable, and a Bluetooth cable with a dongle-type module.
Tucked in beside that is a small carry case and this one is a beauty because not only is it small, but it has got some clever contouring on the inside to neatly pack the cable, charger cable, and drivers with minimal space taken up.
The case itself is a finely crafted stitched black leather flip-lid case with the beyerdynamic logo on top and is just small enough to slide into a coat pocket. Inside you will find the charging cable already there which is a short USB-A to micro-USB cable. That surprised me a little as I was expecting USB-C this time around for the main connection.
Aside from the cool case, you get a small plastic packet of 2 replaceable nozzle grills, one for each driver should the ones installed come to any harm.
Tech Inside
Bluetooth
So, what can Xelento Wireless do? Well, the most obvious is the choice beyerdynamic has offered the buyer the ability to go wired or Bluetooth using either an analog or BT cable, both of which are supplied as stock.
The Xelento is capable of Bluetooth 4.2, (sadly not 5.0) with a codec ceiling of aptX-HD. Now, there is now LDAC but I said that before with the Amiron Wireless and was still blown away by the quality of the performance so I will hold fire on this point until the main review.
The Xelento Wireless also has a multi-point connection allowing it to store up to 8 different pairings at the same time.
MIY App
Much like the Amiron Wireless headphones, the Xelento Wireless monitors are compatible with beyerdynamic's excellent MIY app on both Android and iOS. This will only work when you are using the Xelento Wireless as a Bluetooth IEM and not in wired mode.
The app really opens up an additional layer of functionality for the Xelento Wireless with additional options such as the ability to fine-tune levels according to your hearing capability and, in doing so give your ears some much-needed protection.
This is not a static feature either. You can set it up to match your predicted hearing levels for your age which only the proudest would deny as being a nice touch.
Tesla Drivers
The main drivers of Xelento Wireless are also another key feature. These are miniaturized versions of their famous Tesla drivers used on their flagship full-sized headphones such as the T1.
I am expecting a distinct clean sound with an excellent bass response based on my previous experience with beyerdynamic's tesla driver headphones. I am also expecting excellent levels of resolution but how exactly will they hold up under wireless conditions, in the long run, we will find out in the main review.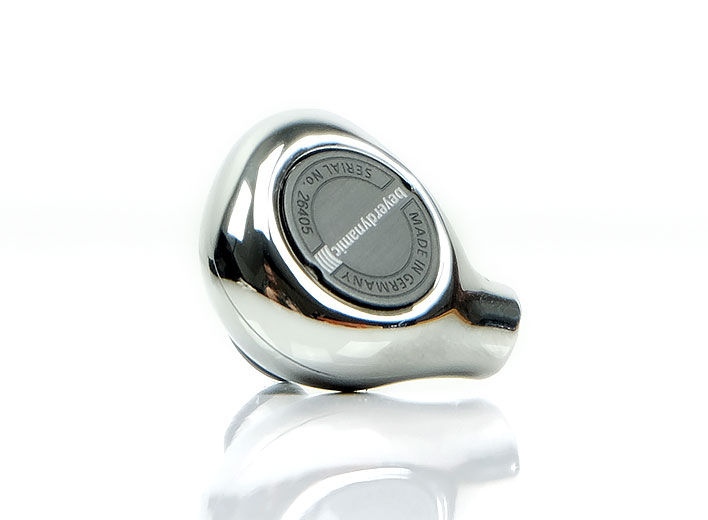 Design
The design of the Xelento Wireless is the same as the Xelento Remote since all the additional BT functionality is housed on the supplied Bluetooth cable. That means they are quite light and small with a very smooth curved finish.
The shape and materials used do remind me a little of the RHA CL2 but it is still very unique in its own right. These are apparently handcrafted in Germany from CNC aluminum and finished with a lovely shiny chrome effect.
The main housing looks to be comprised of three parts, two for the body and the nozzle. The faceplate is beautifully finished with a very precise and clean imprint of the beyerdynamic logo, a "Made in Germany' moniker engraved above, and the actual serial number engraved below the logo. It looks almost perfect when studying it up close.
Cable & BT Module
The Xelento Wireless is MMCX terminated from the main body into a short stem and designed to be worn over the ear. You get two cables in the box, the first is the regular wired version from the Xelento Remote complete with in-line remote control and the second is the BT cable.
The BT cable is terminated at the bottom with a fairly sizeable battery pack in a cylindrical aluminum casing and another chunky in-line remote control where the BT receiver is housed. The wiring itself I am not sure so I presume pure silver or SPC but will find out in the main review. Both cables do seem to be cut from the same wire and finished in a translucent PVC jacket.
Both cables have very low microphonics and whilst they are tangle-free and very lightweight they do retain a few minor waves and kinks after you unroll them. The terminations on the analog cable is a 3-pole 3.5mm TRS right-angle jack in a beyerdynamic branded chrome barrel. The splitter barrel is a touch flatter but has the same chrome finish.
In The Ear
These are super light and combined with the small smoothly curved form factor you will have zero comfort issues with the Xelento Wireless once in the ear. However, these are very tip dependent so the longer the tip and the better the seal then the better the performance.
So far, I have not explored the marshmallow-shaped silicone tips that much, at least not for this feature. Instead, I have gone straight for the foam tips with only a short comparison with the largest silicone tips for isolation properties. The foams do seal a lot better than the silicone tips as far as I can tell but early days yet.
Initial Sound Impressions
Tested with a Huawei P20 and Sony 1Z for aptX-HD performance using FLAC 44.1k/16BIT tracks. For wired, we used the Sony 1Z and the Lotoo PAW Gold Touch for our reference DACs with the same BIT and sample rate tracks.
My initial impressions are of a presentation tailor-made for modern pop, EDM, and RnB as well as female vocals. The curve lies somewhere between a vibrant U -shape or a gentle V-shape with a raised sub-bass dynamic driver natural decay response, dipped lower-mids, and a rising mids from 1k peaking around 3-4k.
Treble
For those thinking T1 treble, this doesn't feel as energetic though there is a peak around 5-6k. After that, it does seem to gently roll off with only a minor 8-10k bump for headroom and air.
The resulting treble I find smooth but still quite clean and articulate. It strikes a nice balance between sparkle and body and injects enough odd-harmonic overtone into the Xelento's harmonic balance to tease out some nice instrumental clarity, especially for synth work.
Bass
The low-end is more of an L-shaped tuning with a linear but gentle drop from 40-50Hz down to almost 1k. Having said that, it is not a huge sub-bass powerhouse, at least that is what I am hearing right now. More of a tastefully tuned solid bass performance with good body and texture. Both wired and wireless show off excellent extension with no roll-off I can detect. The wired option delivers a little more dynamic range than the aptX-HD equivalent.
Mids
Lower mids are dipped so instrumental timbre lacks a little body despite the good fundamental. Lower-pitched male vocals slip and slide among the instruments and sound a little disconnected right now if your main fare is hard rock or classic indie guitar work.
However, that 1-4k rise does tease out some cracking higher-pitched vocals, especially female vocals such as Winona Oak and Samantha James. This is where I feel Xelento Wireless really excels right now.
Stay Tuned!
So far, the Xelento Wireless tuning seems to gravitate more to modern pop and EDM rather than mid-centric classic rock. The presentation is smooth but delivers a well-extended low-end, forward upper mids as well as a clean, though slightly relaxed, treble.
I am tempted just to see how much the cable is a factor when going wired and if an aftermarket alternative will produce any significant differences.
Right now, there are plenty of wireless earphones, TWS, and LDAC-capable earphones or dongles out there. However, the Xelento Wireless, to my knowledge is probably the most high-end wireless solution I have tested yet, and to be frank, the driver sounds very spacious and impressively resolving.
I think there is plenty more to investigate with Xelento Wireless beyond these initial impressions. I am particularly keen to further test the wireless performance with a few more DAPs and compare it to the wired with an LDAC dongle just to see if I am missing a trick with the aptX-HD limit. Stay Tuned!
beyerdynamic Xelento Wireless Specifications
Frequency Response: 8-48,000 Hz
Nominal Impedance: 16 ohms
Sound Pressure Level (SPL): 110 dB
Supported BT Profiles: HSP, HFP, A2DP, AVRCP, GAVDP
Codecs: aptX™, aptX™ HD, AAC, SBC