The FiR Audio M5 is a flagship hybrid monitor consisting of a single dynamic, 3 BA, and a single electrostatic driver configuration. It is priced at $2799.
Disclaimer: The FiR Audio M5 was sent to us as a sample in exchange for our honest opinion in this review. We thank FiR Audio for this opportunity.
To learn more about FiR Audio products reviewed on Headfonics you can click here.
Note, this review follows our new scoring guidelines for 2021 which you can read up on here.
FIR Audio M5
The M5's calling card is the excellent bass tuning combined with a really nice harmonic balance and energy through the upper mids and treble. It does not try to push too hard to what I would call an extreme tuning being neither V-shaped nor a detail-orientated reference monitor.
This is my own debut FiR Audio review with Ferdinand covering the M4 a few months ago though in its universal format. This time around we have the 'full monty', or the custom version of their flagship M5 hybrid monitor. This is the monitor that FiR Audio are hanging their coats on in terms of what they are all about.
For those that are not aware FiR Audio was established in 2018 and have their roots in 64 Audio with the owner, Bogdan Belonozhko. Bogdan was a key player in their initial growth and success with nearly a decade of designing and engineering IEMs in general.
The M Series of monitors is their debut line-up ranging from the M2 at $799 up to the M5 at $2799 and including their recent universal $999 5×5 universal monitor launch. They are also known for their ATOM venting system of which the M5 uses quite heavily as well as their clever IEM vacuum cleaning tools.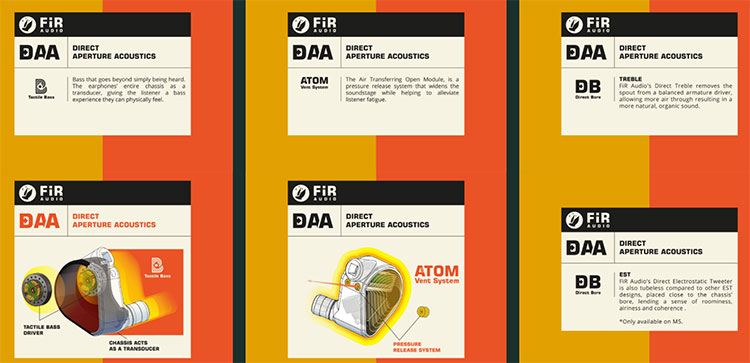 Tech Inside
Configuration
The FiR Audio M5 is a hybrid monitor consisting of three different types of drivers: a single 10mm dynamic driver, three balanced armature drivers, and a single Sonion electrostatic driver. The precise configuration is the dynamic driver for the lows and mids, the BA for the mid-highs and highs, and the electrostatic driver for the ultra-highs.
Direct Aperture Acoustics
Running handing hand with the driver configuration is FiR Audio's tubeless technology called Direct Aperture Acoustics. I believe this is the first audio company to implement a tubeless design for their electrostatic driver inside the M5 which in turn determines the positioning close to the nozzle for presence and headroom.
Their Direct Treble technology also continues the tubeless principle by removing the spout from the balanced armature drivers tuned for the highs to bring a level of coherence with the EST and aim for an overall natural or organic tone.
The final aspect of the M5 driver configuration relating to their direct aperture acoustics is the chamber design for the dynamic driver which is applied as an integral part of the transducer design itself with the aim of producing a tactile and coherent bass response.
ATOM
ATOM stands for Air Transferring Open Module and on a high level works in a similar manner to APEX from 64 Audio.
This is a pressure relief system in the form of interchangeable filter modules designed to offer a measure of protection from hearing damage as well as shape the final sound signature, for example, more bass or a wider soundstage.
The M5 comes with a total of 4 ATOM filters in various colors for quick identification and they do have an effect on the level of isolation with a range from 10dB up to 17dB as well as the perceived bass level and soundstage properties.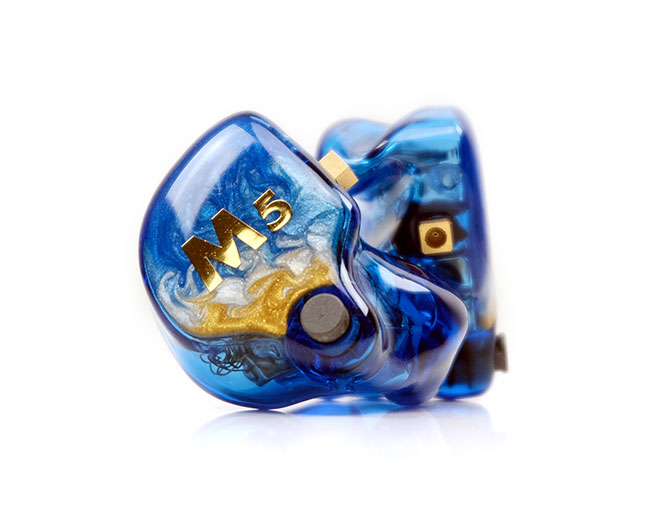 Design
Our custom design was plucked from FiR Audio's latest 'GalaXy' series and it's called the Atlantis, well, at least the faceplate is called that. The other options in that series include Siberia, which is a mix of blue and black, and Mars with a more aggressive mix of red and blue.
If you notice the translucent blue acrylic hollow body shell behind, that was my own choice as I tend to like to harmonize the entire design and not just the plate.
You are not bound by that design choice, however, so you can change the shell to whatever tone you like. FiR Audio uses 3D printing so the overall selection is slightly limiting with a total of 6 different shell colors using their online designer tool. However, the choice of faceplates is much better with up to 36 different options, including the GalaXy series.
The good news is those shell colors do match a lot of the faceplates in a complementary manner and make it easy to come up with some beautiful aesthetics.
The GalaXy Atlantis blue, cream, and gold swirl blend wonderfully well with the acrylic shell finish and gold FiR Audio branding on top. Heck, even the new RCX stems finishing seems to compliment the overall tone of the design. The only break in the overall design is the ATOM vent portal at the base of the faceplate where you change the filters.
Finishing
The finishing on the M5 is excellent, at least on this one. No bubbles and a nice dome-like acrylic application on the faceplate so it does not look terribly flat.
It also has a very clean termination stem area which can sometimes be messy on lesser creations. Importantly, the RCX stem and connector feels solid in the shell, that it is unlikely to depress or crack the shell around it.
Note, the M5 uses a gauze-protected wide single bore opening since there are no tubes and if you focus closely you can see the positioning of the drivers in the nozzle which is pretty cool and gives you some additional insight into the internal build.
Comfort & Isolation
Being a custom design, the level of comfort and isolation is going to be excellent. The M5 is no exception to this rule but more than that it is not a hugely pressure-based design.
By that, I mean physical pressure rather than air given its ATOM filter system which relieves that side of the comfort equation. The M5 is snug but unlike some wide bore nozzle designs I have, it is not that deep nor does not put a huge amount of pressure on my ear canal to get them securely fitted.
Testimony to some excellent 3D scans from the molds in part and FiR Audio's finishing skills but they are rock solid in my ear with zero movement and excellent isolation levels.
Bear in mind it does need venting due to the dynamic driver but even with the stock silver ATOM filter which is a step below the yellow one in terms of isolation, it does suppress noise to a very high level.
ATOM Isolation Shaping
The ATOM modules do play a substantial role in the amount of isolation you can achieve with the M5 custom monitor. Each module has a level of passive isolation measured in terms of dB as follows:
Yellow: 17dB
Silver: 15dB
Black: 13dB
Red: 10dB
The stock silver at 15dB is described above in our main comfort description and it is excellent, especially in drowning out our 0.5HP window box air con which is about 2M away from me at head height.
The Yellow filters do passively isolate a bit more with an additional 2dB though bear in mind they will affect the overall sound signature which you can read about in our sound impression on page 2.
Once you drop down to red and black which dip as low as 10dB you might find a little more noise creep in. However, the nature of customs being what they are you might find the overall drop in noise isolation between yellow and red to be less noticeable compared to something like a universal monitor.
The nature of the excellent fit of the M5 custom shell should be considered a major factor in its isolation performance and not just the filters. Where your main focus might be with the modules is how they change the overall sound.
Cable & Connectors
RCX
A someone who has a lot of aftermarket cables I can't say I am terribly happy having a new proprietary connector that stops me from cable rolling for this review. Thankfully, FiR Audio does provide some optional adapters to switch from RCX to 2-pin if rolling is your game.
As connectors go this one is 'snazzy' with a very secure easy to use locking system that looks like the love-child of an IPX and MMCX design. It does have a very fluid locking system, nowhere near as fiddly as MMCX, and FiR Audio rates it for up to 5000 connections which gives them some good longevity.
The main RCX stem on the shell is a solid gold-plated metal protruding block with a single snap-in socket. The male connector on the cable side uses a barrel that is finished like a sheath to cover the connector so when the cable locks onto the main shell socket it completely hides the termination from the likes of moisture and accidental knocks.
I will admit it does look much sturdier than 2-pin 0.78m connections and for a stage artist that might be a crucial factor in choosing their monitors. Now to get those adapters for cable rolling!
FiR Cable
The stock M5 cable is called the FiR cable which is a 32″ 8-wire 26AWG SPC or a newer Scorpion-C wire which is pure copper but also with the same gauge and core geometry. I do prefer cables with 8-wire over 4 for the enhanced dynamic range and 26AWG is always a sweet spot for IUEM cables in terms of girth and flexibility.
The jack termination options are excellent by the way. This sample comes with a straight jack 2.5mm TRSS termination which I find the most flexible for my sources but you can also go 3.5mm, 4.4mm pentaconn and have them finished in silver or black as well as right-angled or straight.
The barrels are fairly wide-body but the finish is a really nice matte black and if silver you get a silver carbon fiber shimmery strip towards the top for aesthetic pop.
The angular black RCX connector barrels are a little on the chunky and heavy side but understandable since they have that protective sheath-like functionality to cover your connection 100%.
The cable itself is finished with a black PVC jacket in a very tight but flexible braid and a super lightweight low-profile splitter and chin cinch made from the same black plastic materials as the RCX connectors. You will have no issues with memory retention or microphonics on this cable, it is very quiet and easy to handle.
Packaging & Accessories
FiR Audio's M5 packaging is compact and professional with some nice touches for the accessories. It makes sense not to go grandiose given their boutique status, especially in 2021 with logistics costs being ridiculously high due to Covid.
The external design is very much in keeping with their company 'bunny' branding with a black cardboard box beneath using a simple lift lid design.
Inside the M5 monitors, case, manual, and accessories are presented inside a deep-layered protective foam packaging material with the drivers and case on display and the accessories tucked away inventively inside the carry case.
The M5 case itself is a beautiful brown leather round case with the branding on the top detachable lid and if you are going customs you can also add your own moniker below. It smells wonderfully leathery by the way and nothing cheap or fake.
The case is fairly sizeable rather than pocketable but there is plenty of space for cables, accessories, and drivers. The internal walls have a soft felt material also to prevent accidental damage from moving around. Despite its leathery finish, the frame and base are quite rigid so it is also quite durable for handling.
The clever aspect of the M5 case design is where the filters and cleaning tool is held which is at the base of the actual case. Quite often, things like filters are a bit of a spare leg when it comes to packaging and you have to find somewhere to stick them.
Kudos to FiR Audio for building a foam section at the base to hold everything in such an attractive and discreet manner. And no, the accessories will not fall out that easily if you shake the case.
Click on page 2 below for sound impressions and select comparisons