The Auris Audio Euterpe is the company's latest desktop tube amp featuring a headphone, DAC/Preamp capability, and a unique enclosure that duals as a headphone stand. It retails for €1,499.00.
Disclaimer: This sample was sent to us in exchange for our honest opinion. Headfonics is an independent website with no affiliate links or services. We thank Auris Audio for their support.
You can click here to learn more about the Auris Audio gear we have previously assessed on Headfonics.
Note, that this article follows our current scoring guidelines which you can read in more detail here.
Auris Audio Euterpe Review
I love the amplifier inside the Auris Audio Euterpe. It is a relatively neutral to slightly sweet tone, very low on noise and can scale with a great source. The power is middling, not as strong as some solid-state contenders but for modern planars and dynamic headphones, it does perfectly fine. As a tube headphone amp, it has a subtle contrast to its bigger slightly richer sibling, the HA-2SE.
For those that have read our original intro First Contact feature, you will find a degree of overlap on page 1. We recommend you skip to page 2 for our in-depth sound analysis, comparisons, and matchups. For those that are coming fresh to the Euterpe please do read on.
Auris Audio's quality in tube amps is not unknown to us. Their fantastic desktop HA-2SE won the Best Tube Amp for 2018 with a near-flawless low-noise floor and a very balanced presentation. The new Euterpe is quite different in form and function but at its heart is another tube amp creation.
The launch price of €1,499.00 is somewhat lower than the HA-2SE's €2,070.00 but do not let the numbers fool you as there is plenty going on with the Euterpe and more than just a tube amp.
Tech Inside
The Euterpe encompasses 4 key functions in one reasonably compact but incredibly elegant component design.
Multi-functional
It can act as an all-in-one desktop amplifier and DAC, a pure DAC (with modern source OTG input capability), a pre-amp, and a pure tube headphone amplifier. The one additional function, that I did not include in the original 4 as it is more outside than inside, is the ability for it to also act as a headphone stand.
DAC
The DAC inside has some baseline specs including a decoding capability of up to DSD128, PCM max 32bit/384kHz with an XMOS USB stage for digital audio input. We do know the DAC inside is a Sabre DAC so I presume that it is an ES9018 and the DSD128 limit comes from the XMOS implementation.
Amplifier
The Euterpe amplification stage is multi-functional with both pre-amp functionality and dedicated headphone amp duties. The dedicated headphone side will draw either from the internal amp or you can bypass with your own external DAC as your main source.
You can also bypass the direct headphone output with a set of pre-outs in case you want to connect the Euterpe to a more powerful amplifier.
This is a single-ended or unbalanced circuit design so no balanced inputs or outputs but they do have that nice impedance selector similar in function to the more expensive HA-2SE impedance selector capability.
This does make a difference though the application is slightly different from the HA-2SE. The Euterpe has two switches at both high and low whereas the HA-SE has ohm-specific settings. The inference here is a wider range and simpler switching design at 32-80 Ohm and anything greater than 150 Ohm.
Linear PSU
The Euterpe power supply is a good one also. This is an externally regulated linear power supply with a switchable 115 / 230 VAC capable output and will keep noise to a minimum. It uses a fairly stiff but sturdy 4-pin connector 1m cable so you can place the 2 units pretty far apart.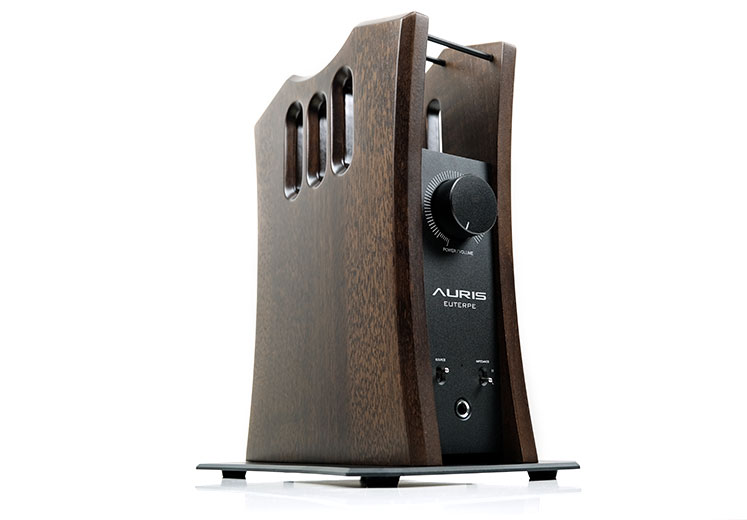 Design
Aesthetic
I find the Euterpe to be attractive, unusual, and with function as well as form. This is a tall and quite beautiful design with a mix of aluminum and walnut wood housed on a steady rubber-footed metal plinth.
It stands out for how unique it looks but I am sure Auris will want to give some credit to Valentin, the CEO of Kennerton Audio for the original inspiration behind some of the design with their Atlas amp.
The name Euterpe is also relevant here being one of the nine muses of Greek mythology and the Goddess of music.
The actual shape is intended to be in the form of a harp or lyre though Euterpe historically is more associated with a double flute. I believe it is Erato, another muse who is known to have a lyre in her hand in many classical depictions.
A Headphone Stand
I am digressing though. Suffice it to say the wood finish surrounding the much smaller aluminum amp enclosure is distinctive. Yet on top of the Euterpe, you will find another useful function provided by a small curve in the middle of the wood enclosure.
This curve is designed to also act as a headphone stand and yes, it will take a full-size headphone and no, it won't heat up and burn your precious cans. I left the Empyrean on it for 4-5 hours the first night and apart from some mild warmth on the strap, there were no side effects.
The tubes are aligned centrally at the top of the matte black aluminum housing with good separation between the top and sides of the wooden enclosure. They seem well protected from bumps, knocks, and accidental finger touching.
Footprint
What surprised me, despite the overly large packaging, was just how little space the Euterpe took up on the rack. The overall dimensions of the Euterpe are 270mm tall x 210mm wide x 230mm deep and beside the HA-2SE it is much smaller looking.
Yes, it is tall, much taller than the HA-2SE but narrow and not deep or wide save for an additional inch or two for the metal plinth base. That height will likely mean it needs plenty of open space and is unlikely to sit well in a middle tier of any regular audio rack unless it's 30cm or taller.
Also, considering it doubles as a headphone stand you will need 5-10cm more space to accommodate the additional height from a headphone headband.
The other thing to watch out for is the weight and additional large PSU block. The Euterpe is 4.1kg in weight which might surprise you considering its fairly compact size and the linear PSU is 1.1KG alone.
You also need to find somewhere to slip that block reasonably far away from the main unit as the PSU cable is reasonably long and quite stiff making it not so easy to bend.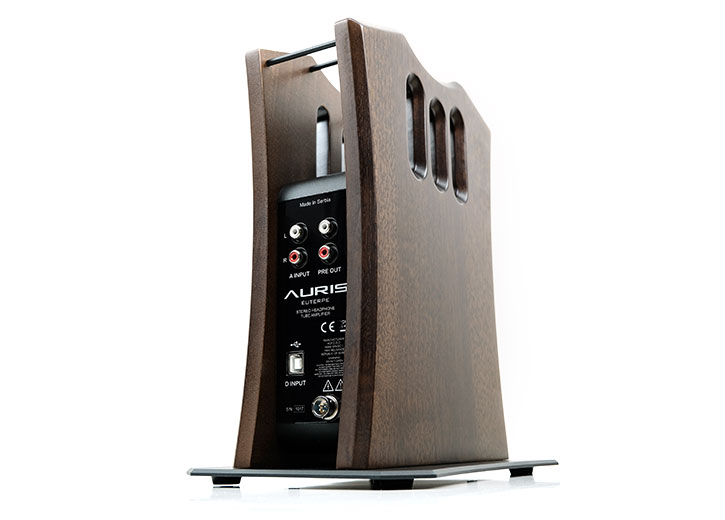 Functionality
The Euterpe impedance and source volume controls are to the front along with a single-ended 6.35mm jack output. To the rear, pre-amp, USB digital audio input, and analog Dual RCA inputs.
The PSU is also connected to the rear with a 4-pin socket towards the base of the amp. There is no balanced amplification inside the Euterpe design.
The volume pot also doubles up as a power-on resistance-based switch and you will have to wait a few seconds after turning it on for it to activate. A small safety precaution if you will.
There is no stepped attenuation design to the pot here, this is a custom Alps potentiometer design with a very smooth turn. Also, thank you so very much Auris for putting in some white markers to judge volume levels accurately.
The level of potential functionality of the Euterpe seems excellent though our primary review focus will be on the built-in DAC and amp all-in-one performance.
That being said, the pre-amp and analog inputs as a pure amp combined with a higher-end DAC such as the Qutest and even an M-Scaler behind that will be intriguing to see just how good the SET amp inside really is.
DAC
If there is one area that I am cautious about with the Euterpe it is the ES9018 DAC chipset. Now, this is not a bad chipset but it is a fairly old one with various noise and THD+N figures that would normally be higher than modern-day configurations.
With the ES9028/38 chipsets, even the Q2M mobile versions the tuning for me is very refined and remedies some of the challenges companies had in working with the ES9018.
I tended to find the 'Sabre Glare' or treble hardness quite pervasive in ES9018 solutions from years ago quite distracting. It is part of the reason why AKM chips grew in popularity simply because engineers found them fairly easy to fine-tune.
That being said, and something I will go into more detail on page 2, the ES9018 implementation here does not exhibit any unwanted glare simply because the tube amplification section is so good.
Auris has done an excellent job with the implementation and amp stage to rid the Euterpe of any unwanted glare and hardness though it is a fairly neutral sound by tube standards.
Decoding
Decoding is expansive but not top-tier. You will be able to go up to DSD128, PCM max 32bit/384kHz with an XMOS USB stage for digital audio input.
The ES9018 is not the hard stop here for DSD128 but rather the USB XMOS. In truth for 90% of my collection that will be more than enough decoding capability but I do have plenty of DSD256 that I would love to try.
The one additional benefit of the Euterpe is that you are not forced to use the internal DAC. You can feed an external DAC into the amping stage and believe me this is where the Euterpe can really shine.
Amplifier
The lineup of tubes for the amp stage in the Euterpe is classic Auris with the use of 2 7-pin Ei PL95s, which are the equivalent to 6DL5 and a single ECC81 input tube, otherwise known as a 12AT7 running in Ultra-Linear mode. The ECC81 supplied stock tube is a JJ Electronics branded version.
The output power is quite similar to the HA-2SE or just a shade lower at 0.9W into a 32Ω load. That places it at a moderate power level and should have no issues with all but the most demanding of headphones.
That means something like Hifiman's HE6 or HE6SE might struggle in terms of dynamic range but modern planars like the Empyrean will have no issues.
Dynamic driver headphones should have more than adequate power also. The rest will be more about synergy and you can read more about that on page 2 of this review.
To assist you with ensuring you get the most out of various headphones Auris has also implemented a similar impedance matching system as the HA-2SE. It is not quite as expansive with just two settings instead of four but the two settings are fairly comprehensive at 32-80 Ohm / High > 150 Ohm.
Believe me, this selector does influence how dynamic a headphone can sound with the Euterpe.
Packaging & Accessories
The box is huge, too big for some nice pics, but an attractive huge by most courier standards. This is a massive white cardboard box with plenty of foam lining separating the amp from the linear power supply. The tubes are already preinstalled so there is no additional cubby hole to protect them. The amp's design already does a good job of keeping them safe from knocks.
You will not find too much in the way of accessories outside of the linear power supply. However, there is a small manual on how to piece everything together for the various inputs and outputs. You do not get an additional USB cable or a power chord for the PSU, you will have to supply those yourself.
It should not cost too much though. I bought a fairly decent kettle-type 3-prong power cable for $3 at the local hardware store today for that very purpose.
Click on Page 2 below for Sound Impressions & Comparisons