Today, we review the Aroma Audio Jewel which is a flagship hybrid 13-driver universal in-ear monitor with no less than 6 electrostatic drivers. It is priced at $5146.
Disclaimer: This is a sample sent to us in exchange for our honest opinion. Headfonics is an independent website with no affiliate links or status. We thank the team at Aroma Audio and Audio Essence for their support.
To read more about in-ear monitor products we have previously covered on Headfonics click here.
Note, that this article follows our latest scoring guidelines which you can read up on here.
Aroma Audio Jewel
There is no doubt that the Aroma Audio Jewel is a gem. Not just because of how it looks but in relation to its ability to produce a highly resolving and coherent listening experience with precision.
Pros
Impeccable coherency
Crystal Clear Midrange
Incredible soundstage, imaging & layering
Based in Hong Kong, Aroma Audio has been lighting up the IEM scene since 2015 with its highly sophisticated IEM catalog featuring the likes of the Jewel, Ace, and Thunder.
The Jewel is Aroma Audio's flagship-level IEM designed to compete with the likes of the EE Odin and the Traillii. With a high-end price of over $5k, it sits in a separate league when it comes to ultra-high-end or luxury IEMs where only a handful of IEMs even come close to that price.
Does this new TOTL IEM sound as illustrious as it was created for and just how well does it perform against the competition? Keep on reading to find out!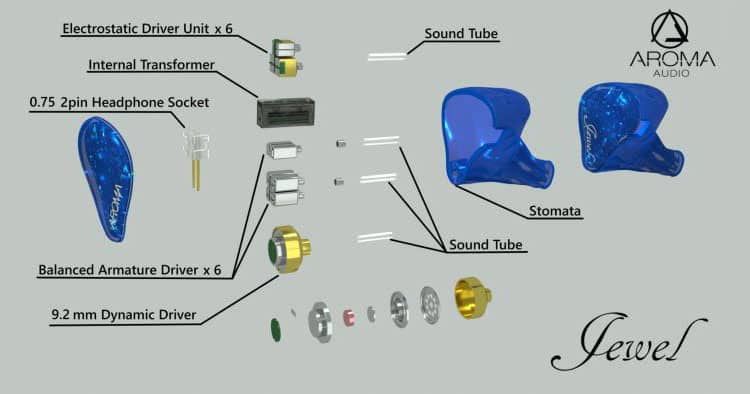 Tech Highlights
The Aroma Audio Jewel is a universal in-ear monitor that features a wide array of drivers with a total of 13 per IEM shell.
The driver composition consists of a single 9.2mm dynamic driver, 6 balanced armatures, and 6 electrostatic drivers. Both the dynamic and electrostatic drivers are independently developed by Aroma.
The dynamic driver is designed to handle the ultra-low frequencies whilst the balanced armatures deal with the mids and highs and the 6 electrostatic drivers focus on the ultra-highs.
Design
The Jewel is a beautiful and elegantly designed IEM. The IEM shell itself is made from a dark blue, translucent resin that feels solid and smooth to the touch.
Under direct light, one can admire all the components inside the IEM including the 9.2mm dynamic driver which is positioned at the top of each shell. The faceplate is gorgeous to look at and features a royal and dark blue crystal-like texture.
When rotating the faceplate under direct light, the light refracts at different angles as it hits the faceplate allowing the royal and dark blue tones to dance. In your hands, it feels almost as if you are holding a blue gemstone.
To top off the faceplates, the words "Aroma" and "Jewel" are written in gold lettering along the edge to give off a simple, yet elegant finish to the IEMs.
The Jewel's IEM shells are large but lightweight and have an ergonomic shape. Hence, they conform well to the inner part of the ear during use. The nozzle is extended and quite long however it does well to counteract the slightly large IEM shells to ensure a perfect fit.
Comfort & Isolation
The Jewel is a very comfortable IEM to use. With its ergonomic shape and lightweight, there was no discomfort during use and testing.
Although the IEM shells lean towards the larger side of things, I must say that they are quite compact and comfortable. As everyone's ears come in different shapes and sizes, I am quite confident in saying that the Jewel should suit most people's ears with ease.
From my experience, the combination of the long nozzle and stock tips provided is a crucial element in achieving a perfect seal and comfortable fit as the conical shape of the tips and long nozzle length allow an even distribution of weight.
This leads to very effective sound isolation where there were no instances of unwanted sound leaking out or coming in.
Tips
The Jewel comes with Acoustune branded stock ear tips in small, medium, and large sizes. The translucent grey stock ear tips have a soft silicone finish with a thick and flexible red core. The ear tips provided are of high quality and do a good job of providing a perfect seal.
However, at this price point, I would have expected more ear tips either in different materials or with more granular sizes (e.g., SS, ML, or LL) to compliment the Jewel and its versatile sound signature.
Stock Cable
The stock cable provided with the Jewel does a very good job of delivering the sound quality expected from a Top of the Line (TOTL) IEM however it lacks the required finish and overall quality from a cable for an IEM at this price point.
The stock cable provided is a 1.2m OCC Copper cable in an 8-wire configuration. It has a shiny, silver appearance with a thin plastic coating that acts as the cable's jacket. The wire gauging is quite thin and although it is not officially published, it definitely feels slightly thinner than a 26AWG gauge.
The cable itself is quite springy and although it bends well, it is neither soft nor supple and one may find it hard to collapse and store away easily.
In the middle of the cable, there is a small, silver cable splitter with the word "Aroma" engraved into it. The cable slider is a small plastic that does a good job of holding the cables in place however it feels more towards the flimsy side of things. Instead, a small metal cable slider akin to the cable splitter would have been more appropriate.
The stock cable has a 4.4mm plug which is finished in a gold-colored, metal case. At the top of the cable, 2-pin connectors encased in a translucent plastic case can be found. The connectors have a similar finish to the cable splitter and have a non-durable and flimsy feel to them.
Packaging & Accessories
Overall, Jewel's packaging and accessories are minimalistic yet high quality. If there were two words to describe Jewel's packaging, it's heavy duty.
The Jewel comes pre-packaged in a blue cardboard box which seems totally normal at this stage however as you open it up, you are greeted with a very heavy, metal box. It is definitely built to withstand anything which tries to destroy it.
The metal box comes in a royal blue color with smoothly finished edges. There is a premium feel to the outer and inner parts of the box which suits the overall TOTL appeal of the Jewel.
The box's lid takes some time to open up initially due to its complex hinge system. However, once you are inside, you will find an information card, an IEM case, IEMs themselves, and ear tips.
The provided IEM case is of very high quality and comes in a seaweed color. The case is a hard leather case where the lid is embossed with the Aroma Audio logo to top it off.
Sound Impressions
Note, all sound impressions and comparisons were made with stock ear tips and cable with the Cayin N8ii as a source.
Summary
The Aroma Audio Jewel has an incredibly coherent and highly resolving sound signature. It finds a near-perfect balance between bass, midrange, and treble frequencies whilst delivering outstanding detail retrieval and clarity.
The Jewel has a sub-bass that provides enough rumble with an elevated and well-textured mid-bass. The mids around 1-3k are more forward with an upper midrange around 4-5k just tucked in behind. The highs are slightly sparkly yet well extended providing support for a wide and tall soundstage and impeccable imaging and layering.
The pinnacle of the sound signature lies within the midrange which has an amazing level of quality and resolution.
Bass
Overall, the bass on the Jewel focuses on creating a unique balance between both quality and quantity to provide an elevated bass response whilst retaining a prominent level of detail and texture.
Supported by its single 9.2mm dynamic driver, Jewel's sub-bass digs deep when called upon and provides sufficient rumble. The sub-bass extends well and is cable of providing varying levels of sub-bass extension.
The mid-bass is slightly elevated and more forward-sounding than the sub-bass however it is not as far forward as the midrange. As a result, it comes off with a slight boost that provides an excellent foundation for the overall sound signature.
The mid-bass has fantastic texturing, quality, and control. The attack and decay of the notes are skillfully controlled where the Jewel effortlessly alternates between delivering a punchy yet crisp mid-bass to one which has a decent amount of slam.
Mids
The midrange on the Jewel is the highlight of the overall sound signature and is delivered with excellent clarity and resolution.
The mids up to 3k are the most forward aspect of the sound signature with the upper midrange coming in just behind it. Although the Jewel has a sparkly treble presentation, the upper midrange does not come off as harsh.
The overall detail retrieval of the midrange is extremely high, and one can easily appreciate the micro-details of the sound being presented. Instrumentals and vocals are effortlessly delivered in a smooth manner.
The sound of violins and guitars being strung and piano keys hitting their notes sound clean, detailed, and well-textured. Vocals, including high-pitched female or male vocals, sound very natural. Timbre-wise, the Jewel leans slightly to the warm side.
Treble
The treble on the Jewel is slightly sparkly with great extension and an elevated level of detail. The treble is supported by six electrostatic drivers so there is enough sparkle to allow it to provide enough energy to the overall sound signature.
Instruments such as high hats and cymbals are very articulate sounding and have enough zing to make them noticeable during energetic percussion passages.
Staging
The Jewel soundstage is very wide and tall and importantly quite immersive sounding with a holographic presentation. Just like the midrange, the soundstage presentation is impeccable and enriches the bass and midrange.
Layering and imaging from the Jewel have excellent separation and accurate positioning. Multiple layers are audibly easy to pick out with impressive spacing between instruments and vocals.
Click on page 2 below for pairings and our select comparisons