The AAW Aoraki is a new in-house IEM cable design consisting of a 24AWG monocrystalline silver/gold/palladium conductor with pure platinum core, UPOCC cast. It is priced at $699.
Disclaimer: The AAW Aoraki sent to us is a sample in exchange for our honest opinion in this review. We thank the teams at AAW for giving us this opportunity.
To read more about AAW (Advanced AcousticWerkes) products reviewed on Headfonics click here.
Note, this review follows our new scoring guidelines for 2020 which you can read up on here.
This is a cable bassheads will enjoy or those looking for more power but maybe slightly sensitive to any additional treble overload when dynamics are upped to the next level. At the same time, details are not overlooked but rather delivered in a natural smooth manner, even with reference IEMs. 
AAW and Null Audio have always had a close working relationship when it comes to cables, especially with their high-end IEM offerings. However, the Aoraki marks the second time AAW has come out with a monitor cable under its own name, the first being the Thera uses on the new Halcyon hybrid.
The Aoraki still shares a common label called the Symphonym Series which is one of Null Audio's core cable ranges. The Symphonym brand has been used on their recent offerings such as their collaboration with Shozy for the POLA and POLA39 as well as the Canary flagship.
This is a midrange cable series and typically a Symphonym cable will set you back around $169 up to $399 for their recent Thera project. The Aoraki is their flagship in the series and is a bit of a jump at $699.
Like the Thera it is a bigger 24AWG cable but with an entirely different mix of materials, one of them is palladium which, in turn, makes it the cheapest palladium plated IEM cable we have reviewed thus far.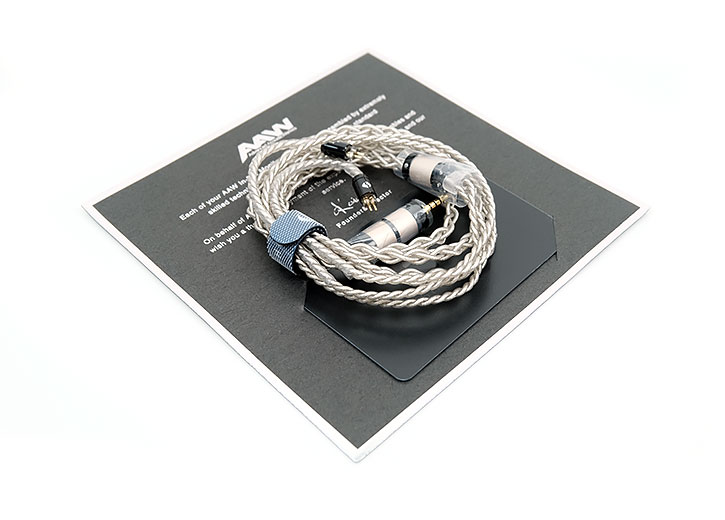 Materials & Wire
The Aoraki uses a cryogenically treated UPOCC monocrystalline silver/gold/palladium conductor with a pure platinum core. That is quite a mouthful so let us break it down a little.
The wire mix is a complex alloy rather than individual pure silver and gold stranding. AAW does not mention if the palladium is a plating application or infused as part of the alloy but typically it is often applied as a plating component on the wire.
Silver is traditional the most conductive element and gold/palladium the least. The fusion of the 3 into the wire as an alloy will be more about varying the resistance of the silver to achieve a certain type of sound signature so it is not necessarily a negative feature if the application of the 2 metals are correctly done.
A platinum core is also typically used to provide the wire with a level of oxidation-corrosion resistance with a cryogenic treatment applied to further reduce that resistance level as well as ensure the wires are stress-free. Gold is also corrosion-resistant and can further help to prevent oxidization within the wire.
Geometry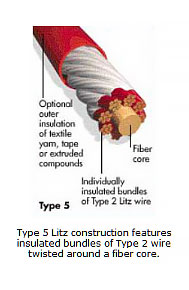 The Aoraki uses a Type 5 Litz wire geometry. A type-5 wire is a fairly advanced Litz configuration, (there are 8 in total).
The geometry is certainly a lot more complex as it features bundles of type-2 wire twisted around a fiber core. Each Type 2 wire features its own bundles of wire twisted together with optional outer insulation.
Generally speaking, Litz is an excellent wire for reducing the level of resistance, especially on lower gauge variants.
Their lack of material depth and excellent insulating properties means they do a better job than most reducing the skin and proximity effect on typical non-Litz wiring.
Wire Gauge
The sample we have here is the 4-wire version but you can also get it in an 8-wire build which AAW calls a "Herringbone 8 Braid" version. For both, AAW has also gone for a similar 24AWG wire size as the Thera and this is something I am seeing more and more with cable makers in 2020.
Up until this year, 26AWG was the norm in 4 or 8-wire which I tended to refer as the sweet spot for handling purposes. However, with EA's Code 51 and Satin Audio's Zeus this newer, larger wire size is becoming more popular.
What are the benefits of moving from 26AWG to 24AWG? A larger gauge means resistance levels in the wire are going to be a bit lower on this size of cable. There will also be a better skin depth than the smaller 26AWG wire for improved conduction.
Each of the braids in the Aoraki are individually insulated using a PVD deposited clear coating. That creates an extra layer of protection from oxidation, color change and enhances the longevity of the cable.
Design
Aesthetics
AAW has embarked on a new design ethos which started with Thera's anodized green barrel and bright silvery finish to match the accompanying Halcyon monitor. It is quite the contrast to the older chrome and carbon fiber print finish that was shared by a few competing cable companies up until that point.
This time around the aesthetic is a little more grey-gold on the wire using a PVD deposited clear coating jacket with a complimentary faded-gold anodized two-tone splitter barrel selection. Since it a 3-wire alloy it is not as golden or dark looking as something like the Tri-Copper from PLUSSOUND but it doesn't look like a classic silver cable so not as bright as the Thera.
Handling
Despite the slightly larger 24AWG, the Aoraki is very malleable for handling with a beautifully tight semi-round lower braid similar to how Effect Audio does their braiding.
Loose or long-throw braiding can be problematic in the long run from heavy use. You do not want gaps to form that can catch and rip that cable open or the braid opens up to the point where it is unworkable as a single able.
The flexible PVD deposited clear coating jacket is excellent with minimal resistance, zero tangles, or memory retention. The microphonic levels are among the lowest I have tested on an IEM cable to date both below and above the splitter with zero noise traveling up with finger taps or movement.
Finishing
Connectors
The sample Aoraki we have here uses a 0.78mm gold-plated 2-pin connection system with a low-profile or discreet black barrel enclosure and an opaque mount. It is actually one of the better connectors with clear labeling and pins that are not too resistive for the monitors we tried, (CTM Da Vinci X, VE Elysium, ItsfitsLab Fusion).
If that does not float your boat then you have up to 27 different connectors options which are a crazy amount of choices, but ONLY if you shop from the Null Audio website and not directly from AAW. AAW's direct site offer seems to only come with 2-pin.
Just to note some options on the Null website do come with a premium fee such as the JH Audio Bass Control option at an additional $80 and the QDC 2-pin legacy choice for $30 more. You will need to factor that into your budget but for the vast majority of MMCX and 2-pin users, those options have no fee.

Barrels
The splitter barrel is actually the same anodized design as the one on the Thera but uses a faded gold color design with a black cap top and bottom rather than green. The caps are punctuated with screws that give that same militarized or industrial vibe. The barrel is quite light and certainly much lighter than the previous Symphonym chrome and carbon fiber print barrels.
You also get a soft transparent silicone chin cinch on the 4-wire option that is not available on the Thera, or at least the sample Thera I have from the Halcyon pack. The website does interestingly state
It seems you may be able to opt for a few variations on the barrel color with blue and military green being the other two options. However, I cannot find any option to pick a different barrel color from the Null Audio website even though there is a picture there. If you ask me, the faded-gold is this most harmonious match between all 3 so that might not be an issue for most.
Jacks
You get 8 jack options for the Aoraki on the Null Audio website and a more focused 3 options on the AAW website. The 3 options on the AAW site are contained in the 8 on the Null Audio website.
Unbalanced 3.5mm, balanced 4.4mm, and 2.5mm are your core options. Beyond that, you get some niche options like 4-pin XLR or high-end VIABLUE™ balanced 3.5mm and 6.35mm options but these will cost you a bit more when you check out.
Apart from the premium branded and XLR variants, all the barrels are of the same faded gold-tone anodized CNC machined aluminum finish with inserted screws. That gives the entire design a fairly harmonious feel.
Comfort On-Ear
I am used to using 8-wire so a 4-wire 24AWG is very comfortable for me around the ear. Using good sealing customs like the Vision Ears' Elysium I could not pick up any external microphonics worth talking about during use either.
One thing that initially worried me was the generous memory wire coating at the connector end. Normally, I am not a fan of this. However, this is a very soft bouncy sort of memory wire material so you will hardly notice it around the ear. In fact, I would argue it is a little bit comfier than having a thicker braided cable on your ear as the material has a single smooth surface with excellent pressure displacement.
The weight is also pretty light and combined with the springy action of the memory coating you do not need to fiddle with it to get on the sweet spot. That means no irritation which is a 'God-send' in this new mask-wearing world of 2020.
Accessories & Packaging
AAW has some new lightweight packaging for their cables with more of a compact flat brightly colored retail packaging and a plainer inset for holding the cable and accessories. It does remind me a little of Effect Audio packaging and there are pros and cons to that, at least for me.
The pros for the box is that it is well protected with that recessed central velvet holder for the cable to sit in. It will not be damaged during transit for sure.
Second, AAW has doubled down on preventive measures for potential transit knocks with some film around the barrels to absorb any unwanted contact with each other. The final pro is the cable tie which is a branded Symphonym velcro strap and it is pretty good at keeping things organized, even when out of the box.
What's the missing or cons? It could do with a small pouch for personal use. Nothing fancy like pure leather but something like the Satin Audio satin pouches would be a nice touch.
Aside from that, you get a larger branded welcome sheet and business card which contains all the specs of the Aoraki.
Click on page 2 for performance impressions and select comparisons