Our review today is on the new ZMF Headphones Atrium, which is a cherry wood-finished flagship headphone using a bio-cellulose
...
The ZMF Auteur is Zach Marbachs all-new flagship headphone design. It contains a unique hybrid planar magnetic driver and is
...
The ZMF Eikon is the flagship dynamic driver wood headphone from Zach Merbach and is priced at $1399. Disclaimer: The
...
The Fostex T50RP's driver never fails to show its versatility. Years back, it showed it shone with some very simple
...
Today, we review the FiiO Q7 which is an integrated portable ES9038PRO DAC and a THX AAA 788+ amplifier with
...
In today's feature, we review the Monoprice Monolith Liquid Platinum DAC which is a compact desktop AK4499EQ decoder capable of
...
We review the new dCS Lina Network DAC, which is a high-end modular streamer and digital-to-analog converter based on the
...
In today's feature, we review the dCS Lina Headphone amplifier which is a new high-end modular balanced solid-state headphone amplifier.
...
In our review today we cover the new Cayin HA-300MK2 which is a 6W capable high-end SET tube headphone amplifier
...
Our review today covers the new Hidizs Mermaid MM2 IEM which uses a hybrid Magneto-static and dynamic driver configuration. It
...
The Little Dot MK III SE is a fully balanced hybrid tube headphone amplifier offering up to 2.5W of output
...
It is Black Friday and Cyber Weekend time again on Headfonics with our annual overview of some of the best
...
The T+A Solitaire P is a high-end full-sized open-back or circumaural headphone using a planar-magnetostatic transducer, (driver). It is priced
...
The iBasso SR1 is a limited edition full-sized open-back headphone with a silicone suspension driver and Tesla technology. It is
...
Our Top Gear of 2018 is our traditional end of year "best of the best" awards feature. Awards are dished
...
The Feliks Audio Echo is a new entry-level tube amplifier by the Polish family-owned business. It is priced at $452.
...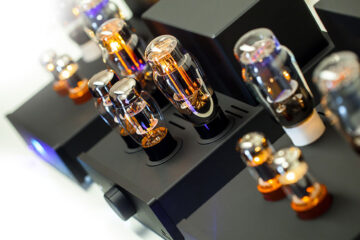 Our Business In Audio series is a set of interviews where we delve into the challenges of growing and developing
...
The Audeze LCD-MX4 is a new lighter and easier-to-drive studio version of the LCD-4 with some tonal tweaks for studio
...