The MrSpeakers Ether C Flow V1.1 upgrade kit is a modestly priced tool-free upgrade that converts your existing C Flow
...
The MrSpeakers VOCE is the debut launch of the company's first-ever electrostatic open-back headphone. It is priced at $2999. Disclaimer:
...
The MrSpeakers AEON Flow is the open back version of the closed AEON planar headphone. It is also priced at
...
MrSpeaker's latest creation, the $799 AEON is reviewed below on Headfonics. This is a smaller lighter planar magnetic closed-back headphone
...
Those of you who read our top gear for 2015 review list in December 2015 would probably have noticed me
...
The MrSpeakers Ether is the next generation open-back planar magnetic flagship headphone weighing in at just 370g. Priced at $999.99
...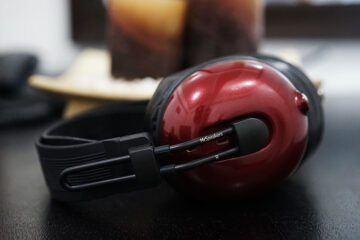 MrSpeakers, makers of our number one product of 2014, the Alpha Dogs, are back again with their latest incarnation, the
...
The Fostex T50RP has been out for years and years and in that time just about everyone I know has
...
Every once and a while, the Audiophile universe manifests something that is truly worthy of praise in the highest regard.
...
The HIFIMAN HE-R10P is the company's flagship closed-back planar magnetic headphone featuring a nanotechnology diaphragm. It is priced at $5499.
...
The Cayin N3Pro DAP is a fresh budget-friendly spin on the original flagship N8's groundbreaking use of tubes inside a
...
The Dan Clark Audio Ether 2 System is a series of specially designed protein leather and suede pads that alter
...
The Ultrasone Edition 15 Veritas is a closed-back dynamic driver flagship headphone using the company's patented S-LogicEX® technology. It is
...
The HiBy R8 is a new flagship DAP featuring Android 9, a dual AK4497 DAC implementation, MQA 16X, and up
...
The SMSL M100 MKII is a second-generation entry-level desktop DAC with an ES9018Q2C chipset supporting up to PCM768k/DSD512. It is
...
The Topping L30 is a compact 3.5W capable single-ended headphone amplifier and pre-amplifier using trickle-down technology from the flagship A90.
...
The iBasso DX220 MAX is a unique transportable media player based on the DX220 ES9028PRO chipset but with a separate
...
The Dan Clark Audio Hel Yeah! bundle consists of a revised and improved AEON FLOW RT, Schiit Audio's HEL DAC/Amp,
...
The Cayin E02 Motherboard is the 4th module released for Cayin's new N6ii DAP featuring a Class AB balanced amplifier
...