MrSpeaker's latest creation, the $799 AEON is reviewed below on Headfonics. This is a smaller lighter planar magnetic closed-back headphone
...
Those of you who read our top gear for 2015 review list in December 2015 would probably have noticed me
...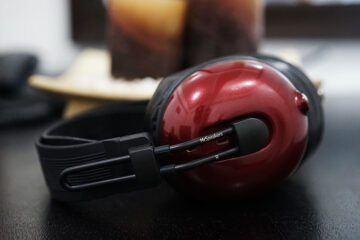 MrSpeakers, makers of our number one product of 2014, the Alpha Dogs, are back again with their latest incarnation, the
...
The Fostex T50RP has been out for years and years and in that time just about everyone I know has
...
Every once and a while, the Audiophile universe manifests something that is truly worthy of praise in the highest regard.
...
In this feature, we review the iFi Audio NEO Stream, which is a network audio streamer and integrated balanced desktop
...
In this feature, we review the EarMen Staccato which is an ultra-low jitter modular LAN, Bluetooth, and internet desktop streamer.
...
In this feature, we review the EarMen CH-Amp which is a high-end composite topology headphone amplifier paired with a dedicated
...
Today, we review the EarMen Angel which is a new portable balanced headphone amplifier with an integrated MQA-capable ES9038Q2M DAC.
...
In today's feature, we review the Dan Clark Audio EXPANSE which is a flagship open-back 4th gen planar magnetic driver
...
Today we review the new Audeze MM-500 which is an open-back planar magnetic headphone designed in collaboration with Manny Marroquin
...
Our review today is on the new ZMF Headphones Atrium, which is a cherry wood-finished flagship headphone using a bio-cellulose
...
The HIFIMAN Shangri-La Jr Amplifier is the hybrid solid-state and 6SN7 tube electrostatic companion to the Jr Headphones. It is
...
The Audeze CRBN is the debut launch of the company's first-ever 580v Pro Bias compatible flagship electrostatic headphones. It is
...
For today's review, we look at the Audeze LCD-5 flagship planar headphone featuring a new internal driver and magnet structure
...
The Dan Clark Audio Stealth is the company's new flagship closed-back planar magnetic headphone using AMTS technology. It is priced
...
The HIFIMAN Shangri-La Jr is a flagship electrostatic headphone using the company's unique nanotech driver technology. It is priced at
...
The Sendy Audio Peacock is the company's new flagship open-back circumaural headphones featuring an 88mm planar magnetic driver. It is
...
This review covers the new iBasso AMP12 balanced circuit amp card for their DX300 DAP with a maximum output of
...