In our review today we look at the new Earsonics ONYX which is a hybrid single dynamic and triple BA
...
The Earsonics AERO is the company's debut TWS featuring aptX decoding, IPX4, and up to 21 hours of listening time.
...
The Earsonics CORSA is the company's latest triple balanced armature driver universal IEM featuring a 3D full acrylic structure. It
...
The Earsonics STARK is their flagship 5 driver monitor of their new 'Hybrid' universal IEM series featuring 1 dynamic and
...
The Earsonics is a 5 balanced armature driver universal monitor featuring a unique tunable sound signature. It is the flagship
...
The Earsonics Grace is the company's latest flagship universal IEM consisting of 10 balanced armature drivers. It is priced at
...
The Earsonics Birdy is a tiny little high fidelity Bluetooth earphone adapter priced at $290 that converts any IEM into
...
The ES-5 is the new flagship universal IEM from Earsonics ES Range. It is a five balanced armature driver monitor
...
We reviewed the ES-3 in the last quarter of 2016 and I gave it a healthy 8.5. I wasn't sure
...
Despite the fact our website is chock full of Earsonics reviews this is actually the first time I have personally
...
The EM32 is a triple driver IEM from French designers, Earsonics. Nic takes a look at it in his review
...
Last year represented the rise of multi-BA iems; the years before 8 driver ciems as the 8.A and JH16 had
...
Earsonics are a relatively inconspicuous brand in the mainstream setting but have slowly earned their place within the audiophile scene
...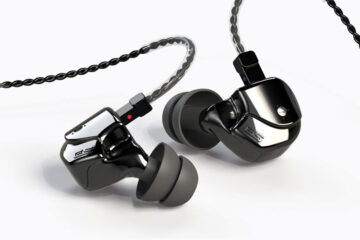 EarSonics is one company that needs no introduction and has been a major player in the audiophile world since the
...
We review the HiBy R3 II, which is a 2nd-generation pocket-sized HiBy OS digital audio player offering up to DSD256
...
We review the HiBy R6 Pro II, which is an Android 12 digital audio player featuring a new dual-mono dual
...
Today, we review the Shanling M6 Ultra which is a quad-AK4493SEQ DAC Android 10 DAP capable of up to 720mW
...
Today, we review the FiiO M11S which is an Android 10 DAP featuring a dual Sabre DAC, a snapdragon 660
...
Our review today covers the new xDuoo Poke II which is an integrated portable DAC and high output current amplifier
...