Audio Technica have been rolling out the "X" series for around a year or so which basically means old classics have been given a bit of a face lift and some tuning to keep them relevant in the face of some pretty stiff competition. No more so than the portable headphone market where the likes of Aiaiai and even Sennheiser have been hard at work trying to steal the old M50 crown as one of the major bass competent headphone and an evergreen choice for DJ's around the world. I had one, you had one, and everyone who has tried headphones has had a go at the M50. It is almost a rite of passage for the budding audiophile and honestly if it came up in my collection again I wouldn't bat an eyelid. Well the M50 now also has had the "X" treatment by Audio Technica and we managed to get one for review just in time for Xmas.
I have heard and owned quite a few Audio Technica headphones in the past ten years and have always felt that my second pair of M50s were quite amazing for the price. They were so good to me that I actually preferred them overall to some of Audio Technica's more expensive open back headphones. M50s don't always sound exactly the same though and I am not sure whether it is due to variations in performance from batch to batch or if it is just due to yours truly having different front end equipment every time I try a different pair. It is true that different DACs and amps do make a difference in how these cans will sound, however I also believe that the former is true as well based on what I have read online from several users of the product.
Build Quality and Accessories
So now what about the M50x? Are they the same headphone as the older M50 versions? Well, the main difference is that the m50X has a removable cable design unlike the fixed cable on the older versions. The M50X comes with 3 sets of cables (Coiled, Straight, and a short straight cable for portable use as well) so they are in essence like an M50S, and a coiled cable version M50 all rolled into one with an additional short cable included. The looks, comfort, and foldability factor is the same as the old M50s as well so far as I remember as well. The padding feels a bit thicker than the M50 though this could be simply just mine being worn out on the old one but other than that both the M50 and the M50X look almost identical. The packaging is a small upgrade on the plastics of 'ATH yesteryear' with a fold out cardboard box and carton shaped holder on the inside. The cables are safely wrapped up along with a spare quarter jack (gold plated).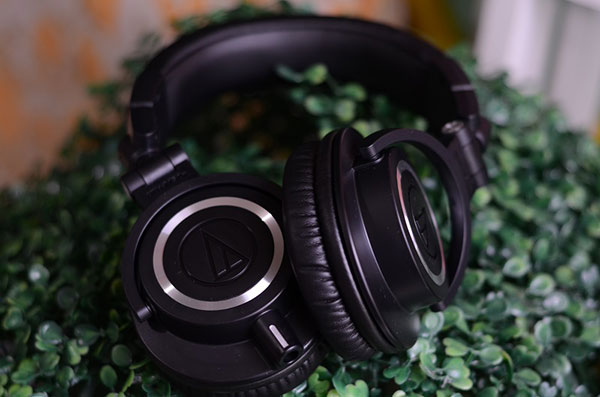 Here are some specifications for the tech geeks among us:
• Critically acclaimed sonic performance praised by top audio engineers and pro audio reviewers
• Proprietary 45 mm large-aperture drivers with rare earth magnets and copper-clad aluminum wire voice coils
• Exceptional clarity throughout an extended frequency range, with deep, accurate bass response
• Circumaural design contours around the ears for excellent sound isolation in loud environments
• 90° swiveling earcups for easy, one-ear monitoring
• Professional-grade earpad and headband material delivers more durability and comfort
• Detachable cable (3 cables included)
• Comes in 3 colors: Black, White and Limited Edition Blue.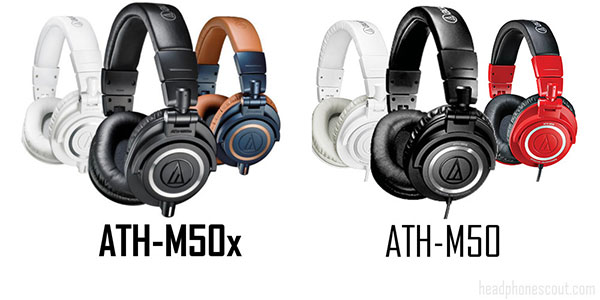 The new M50X as you can see has a choice of three colors much like the older M50, though ATH did start varying he M50 color scheme until later in the product cycle with the Limited Edition with some silver and white accents and a red version but otherwise black was the main color for a long time. Note though the limited edition Blue version will end production this year (2014) so stock will dwindle and run out eventurally during 2015. My money is still on the classic black version – still looks the business.
Page 2: Sound Impressions