The WAVAYA Octa is the company's flagship porcelain custom monitor featuring a double electrostatic array and a triple BA driver hybrid configuration. It is priced at €1,590.
Disclaimer: This is a sample in exchange for our honest opinion. We thank WAVAYA for this opportunity.
To learn more about custom monitor products that we have previously featured on Headfonics you can click here.
At the start of 2019, we have the dawn of the 'electrostatic driver' inside monitors, both custom and universal. It created quite the buzz with early market entrants such as the Trinity from Jomo Audio and Noble Audio's Khan scoring very favorably with us.
Now 9 months into the year and wow, tons of electrostatic driver monitors are out there now and all costing big bucks with various pitches.
We are spoiled for choice as a customer or buyers, but what about new entrants coming to this game? How do you present an electrostatic flagship monitor that is unique and stands out from the competition? Are we at saturation point already?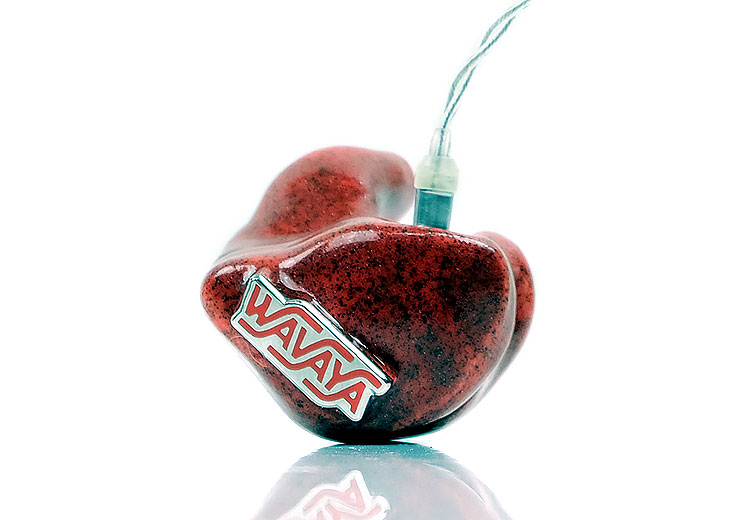 Tech Inside
Cyprus-based newcomers, WAVAYA, feel they have the answer to that with not one, or two but a total of 4 electrostatic drivers in their flagship Octa custom monitors and all neatly tucked inside a porcelain shell. Yes, correct, porcelain and not the usual acrylic, silicone, or metal build.
Porcelain
So why porcelain? WAVAYA contends that the material is not just for aesthetical purposes. In fact, the primary pitch is more for medical reasons with porcelain being used as a much mroe effective barrier to contact-related infections inside the ear due to less buildup of sweat compared to acrylic.
Ear infections such as Contact Dermatitis can impair your general hearing capability as well as cause a discomforting sensation requiring specific medication to cure. Porcelain is a naturally hypoallergenic material unlike plastics and acrylic builds so it will do a lot better at avoiding this issue.
Of course, it also looks really unique and feels a little different into your ear also so I can't discount that factor. At the time of writing, WAVAYA is the only company I know that is taking this approach so that is pretty unique right there.
Configuration
Those 4 electrostatic drivers are accompanied by 3 BA drivers, (one is a dual woofer so 8 in total), but unlike the vast majority of the competition, they have opted not to use a dynamic driver.
So, whilst the Octa is a hybrid it is not a 'tri-brid'. That will have certain connotations for the final tuning and timbre as we move forward.
The configuration is also a little different from the usual crossover designs you see in competing models. The double driver for the low-end is a full range plus woofer with its own crossover covering the sub-to-midbass range.
You then have a super double tweeter for the mid to upper mid frequencies and another full-range cover for the upper bass to lower mids. The Octa electrostatic drivers are for the highs and super highs.
Due to the particular structure of the electrostatic drivers, WAVAYA started the tuning from there and added the other bands one by one configuring each driver or set of drivers separately. So, each driver or double driver has his own crossover/band passing and WAVAYA contends that a single crossover would not suffice.
Efficiency
The Octa is rated at 19.5Ω and 100dB SPL. That is not unusual for electrostatic driver monitors currently.
The SPL is low primarily due to the amount of current required by this new Sonion system and most competitors have equally low SPL ratings. So, whilst the Octa is not going to require huge output power, it will require more than the usual current compared to all BA monitors.
Unboxing & Accessories
The Octa box is funky, the feel is more like a VANS shoebox than a traditional IEM container. I guess I am used to the 'Asian styling' a lot these days so it is refreshing to see something very different from a very different cultural background.
And goodness in case you forget, this is "WAVAYA!". You will be reminded of that with tons of branded accessories including a cleaning cloth, badges, stickers cards, and the list goes on.
It is overwhelming but in a good way. Guitar cases around the world will start showing these off pretty soon I think. Heck, there is even a set of magnets to allow the beautiful carry case to attach to microphone stands. That is very cool.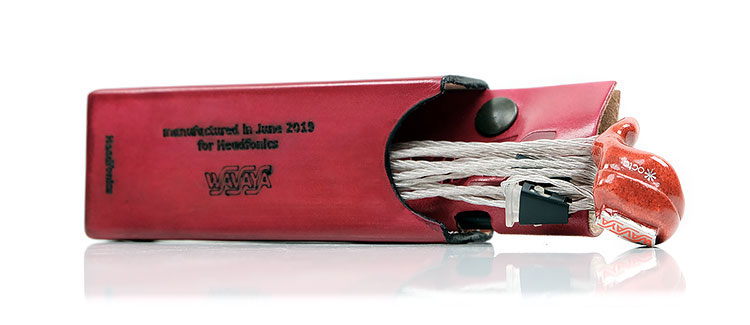 Aside from that, you get this beautifully handcrafted real Italian seamless leather case to store your Octa. Although you cannot just shove them in loose, you need to use the special matching leather binder so they do not knock and bang together when carrying them around.
Honestly, it is a pretty wicked lineup of accessories and a genuinely beautiful and unique case. Makes a refreshing change from Pelican 1010 and threaded pill cases. Just to summarize, here is what you will find inside that retail Octa box:
50″ Linum™ G2 Super BaX™ cable with T2™ connectors.
Genuine Handcrafted Italian Leather case with matching binder
2 x WAVAYA pendants
1 x WAVAYA black cleaning cloth
2 x attachable case magnets
Various assorted stickers, cards, and decals
Warranty card
Design
The use of porcelain creates a very striking visual dynamic. This is compounded by what seems to be a negation of the usual "accepted norms" in custom designs. New is good if you ask me but you do have to be forewarned that porcelain is not like acrylic and the large seam you see running around is one such consequence
The curing process, however, seems spot on and the fit is just beautiful also so it will do exactly what it is supposed to do whilst blocking out plenty of noise.
This particular design is called Regal red and it is a Mica dust-enriched finish. WAVAY have quite a few other color designs in the range and in total they have 3 categories called Glossy Flat, Mica Dust, and Luster.
I have to admit the huge knuckleduster-type raised logo on the front of the Octa combined with the almost retro color styling got me thinking of a fashionable cross between Run DMC and Boogie Nights the movie. You will not find anything as loud and proud as these designs in the market today.
Cable
Connectors
The Octa stock cable is excellent and one that I am familiar with already with the soon-to-be-reviewed UE18+ Pro (3rd Gen). This is a 50″ Linum™ G2 Super BaX™ cable with T2™ connectors.
Now I am a fan of the T2 connectors, even though I do not have a wide range of aftermarket cables with the T2. We do have Null Audio's Hakone in an 8-wire build with the T2 connectors so we do have something to compare in the main review.
The T2 connectors are super easy to work with and much less complex compared to MMCX. They simply insert and detach with a slight touch of resistance and they are good to go. They will not fall out, or bend nor will the socket come apart. Do note, you can order the same cable during the checkout process with a regular 2-pin 0.78mm connector if you prefer.
Wire
The Linum™ G2 Super BaX™ big selling point is how thin and light they are. They are one of the lightest cables on the market today and also incredibly strong despite their tiny diameter. They are also virtually microphonic-free.
The inside wire is a 168-strand silver-plated copper Litz geometry with a translucent jacket, 3.5mm TRS jack, and low-profile hard rubber splitter and barrels. The chin cinch is one of the best in the business with a release mechanism to the side and a shaping that makes it super easy to adjust.
In The Ear
One thing to note is that the Octa is a big, (and deep), custom monitor on the same level as the JH Audio Layla. That means it will stick out of your ear fairly substantially though, to be honest, I have never found that to be a buying factor for me personally.
I requested a tight fit to focus on passive isolation on a stage artist level and I got exactly that. There is some light pressure on the ear canal that nicely blocks out potential gaps and breaks in the seal in a closed or open jaw and it does feel very secure in my ear as a result.
This is not a relaxed short nozzle fitting either which I prefer. The Octa nozzle will extend fairly deep into the canal but because of the porcelain material, it does not seem to build up heat or sweat at all so that is impressive.
Initial Sound Impressions
(Tested with a Lotoo PAW Gold Touch and Cayin N6ii/A01 motherboard source & Flac 16BIT/44.1k tracks)
My initial impression of the Octa is a neutral to natural overtone with a rich and euphonic vocal emphasis and a nice weight to instrumental timbre. This is a BA low-end so not quite dynamic driver depths or power you will find on tripe driver hybrids but it does extend quite well and it has that nice BA turn of pace.
The treble is excellent with the type of effortless and slightly sweet tuning I adore. The electrostatic drivers are nothing like BA timbre. They have a slightly ethereal quality but are tremendously pure with zero harshnesses or grain.
I would shy away from saying that Octa has endless energy and sparkle. What I have picked up right away though is that Wavaya has resisted pushing the electrostatic treble presence too far into the mix. It is not a hard sound, in fact, it is fairly wet and smooth but nevertheless open sounding with outstanding articulation.
The Octa low-end is quite neutral in quantity though there is a slight mid-bass hump for lower-pitching instrumental warmth and body. You get a punchy and controlled response, nothing dry or cold sounding but at the same time not a gut-wrenching low-end level of power.
The magic here seems to be in the mids which are more on the intimate and creamy side with an intoxicating female vocal pitch and not a sibilant tone to be heard anywhere. The detail is excellent, the imaging is on point and the staging stretched from front to back with vocals to the fore and instruments just tucked in nicely behind.
Stay Tuned!
The Octa is unique. It stands out a mile from the crowd with its bold coloring and porcelain build aesthetic. You will not forget it in a hurry. It sits nicely in the ear, and comes with a quality cable and enough branded stickers to cover an entire guitar case and then some.
Right now, my initial impression of the Octa is of a vocal lover's tuning. More of an intimate and upfront singing experience with a rich, slightly euphonic yet very detailed presentation. The BA/stats driver speed is excellent and most importantly for a hybrid, I am not hearing a driver disconnect or a lack of coherency. More to come so stay tuned!
WAVAYA Octa Specifications
Shell and lid material: Fine porcelain glazed with lead-free, water-based glazes suitable for food use. May contain mica powders. Guaranteed hypoallergenic
Number of bores: 3 or 2 depending upon the client's ear canal
Passive insulation: Up to 26db (depending upon ear shape and design)
Cable: 50″ Linum™ G2 Super BaX™ cable with T2™ connectors
Connectors: T2™ (to the CIEM) and straight jack plug 2.5mm (1/8″) to the sound source
Configuration: 3 Balanced armature drivers engineered with custom crossover, band passing, and damping, 4 electrostatic tweeters separately powered
Frequency response: 5Hz to 22kHz
Input sensitivity: 100 dB @ 1 kHz, 1mW
Impedance: 19.5Ω at 1kHz