Versus Da Beats
I have asked Noontec if they wanted me to compare with the Beats and they said yes. So I ordered a pair of Beats Solo 2 from Amazon. If you expect the Noontec to beat Apple's highly priced entry level headphones on all levels, I am sorry to inform you otherwise.
The popularity of Dr. Dre's headphones have been a bitter experience for many within the head-fi community. Before the aggressive launch of Beats, our headphone hobby has been but a niche, but suddenly a fashion trend blasted into the market that completely cha ghhnged the outside perspective of our hobby. Although it raised overall competition and acceptance, many people did not want to grant Dr. Dre the success he had. The original Monster Beats by Dre Solo were known to have horrible sound quality (although marketed with the phrase "sound as the artist intended") and poor build quality, yet they sold at a very high price and were easily available.
Some of these criticisms are still true today. For one, insiders claim that the Beats are still extremely overpriced (https://medium.com/bolt-blog/how-it-s-made-series-beats-by-dre-154aae384b36) and voices about poor build quality can still be heard loudly (for example the ear pads ripping open). But of course that is expected from a headphone that sells that well. More opinions overall also allow more opinions to be negative. So let's get into a comparison between Zoro II and Solo 2.
The Solo 2 ship in a very durable carton box with a thick paper sleeve. There is no question that Apple knows how to create a premium feel and unpacking a product is a very important aspect of it. If you can sell numbers like Apple, of course even the best packaging comes at low production costs. So, yes, the Beats Solo 2 have one of the best packaging I have yet seen. I admit, it's an unfair comparison but ultimately it is one that will fool customers at the shelves in a store.
Build Vs Build
The build quality of the headphones themselves is surprisingly high. As the previous link wants to make you believe, the materials were specifically chosen to increase weight of the product. Again, a smart move because it makes the headphones feel more durable when compared to the lightweight design of Zoro. The production does seem to be quite high and in almost all regards the Solo 2 actually beat the Zoro II. For example, the headband extension snaps smoother and tighter in place and when bent outwards, the Zoro II will kink at where the headband extrudes which slightly hurts the roundness – the Solo 2 will stay better in shape in that case. The ear cushions of Beats have more and tighter stitches and seem to be more durable. Furthermore, I couldn't find any tilted lettering or other hints of falsely calibrated machines as I did with the Noontec.
However, I do prefer Noontec's flat and flexible cable over the thicker RemoteTalk cable.
Sound versus Da Beats
Now if we compare the more expensive Solo 2 and the cheaper Zoro II HD audio-wise, things get a bit more interesting. The Solo 2 performed a lot better than I expected, but the tuning is inferior to the Zoro from a hifi perspective.
Lows
Even though the 2nd version has lowered the bass quantity quite a bit, there is still a lot of thump left in the bass. The Beats live up to its name with a very fun sounding bass response. Although the bass is not overly loose it fails to impress with most bass tracks that, well… uhm, are not "beats." The Zoro prove to be far more versatile in this regard, even though the detail and texture resolution is just a wee bit better.
Due to the Beats' nature, there is some bass bleeding into the mids and vocals sound too warm across the board. As a result the Noontecs sound airier and perform better with electric guitars and most tracks come together more harmonically. Yet around 2-3 kHz the Solo 2 manage to sound crisper of which quite a few Hip-Hop tracks managed to pull some energy, like the claps in "Forget About Dre" (Dr. Dre feat. Eminem). It's a tuning that can turn out well and surprisingly it did balance out some of the strong bass with a lot of mainstream music from Calvin Harris to Rihanna.
Highs
I was also positively surprised by the performance of Solo 2's high frequencies. Just like the Zoro II HD, they were similarly flat but even more recessed. Both headphones extend further than I am used to from similar headphone designs of the past. Whereas the Beats' treble cannot always carry the weight of the bass, the Zoro II HD come across more transparent and are definitely to be preferred for Classical music.
Resolution
As for resolution, I could not decide on a winner. Zoro II's bass has a bit better texture, Solo 2's mids are a bit crisper and the highs tie on both headphones. The soundstage of Beats is deeper but imaging of Noontec more accurate.
And the Winner is?
The outcome of the battle for me would be that Zoro II HD are the much better allrounders but Beats Solo 2 can be more fun with whatever kind of music would come out of Dre's studio. The latter do cause fatigue so if you plan on wearing either headphone for a longer period of time, I'd definitely grab the Noontecs. BTW, did I even mention that the Zoro's MSRP is half of that of the Solo's?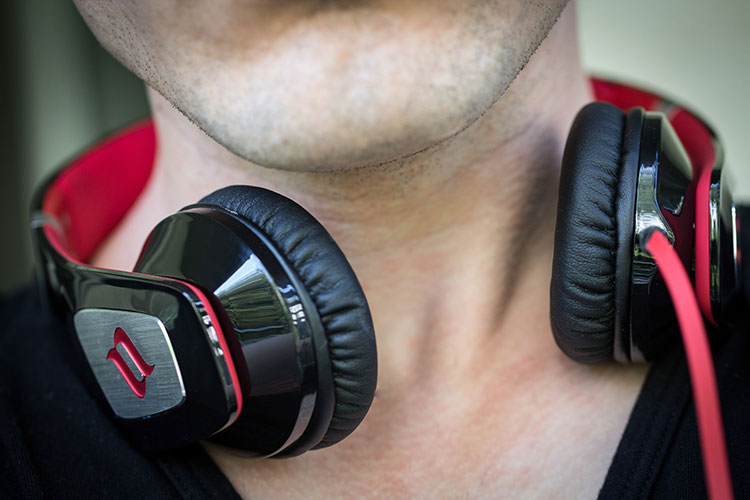 Final Thoughts
Finally, I have some mixed feelings about the Noontec Zoro II HD. I like the tuning of the driver a lot and the overall sound performance is quite good. But I feel like the Zoro II absolutely want to stand next to Beats to look better. There is a gap in build quality but that is to be expected at a 100% price difference. Overall, Noontec reminds me of Instagram girls that only upload selfies with their less attractive female friends. The range of competitors is far bigger and if you raise your budget just a little bit, you will have a much stronger pool of competitors.
Ironically the Zoro II HD perform better with sophisticated tracks in which a more hifi-orientated presentation makes sense. But those people that value this kind of sound usually not opt for glossy plastic headphones. I am very interested to see what Noontec can do if they actually try to create a new design and if they use better materials. I am putting this brand on my watch list and so should you!
Price: US$99 or 89 Euros
Links: http://www.noontec.com/
Technical Specifications
Driver Type: dynamic
Plug type: 3.5mm
Driver diameter: 40mm
Frequency response: 13~26,000 Hz
Sensitivity at 1 KHz 1mW: 108dB
Input impedance: 32Ω
Max power: 60mW
Cable: microphone yes
Audio cable length: 1.2M
Weight1: 64g
Packing Size(L x W x H): 140*195*75mm