I had a crack at the Jay's in-ear line up earlier last year and was largely impressed by what they brought to the table for their price point and pitch. Jays seem to have a firm idea of who their target market is and in the V-Jays this concept continues with this ultra-portable and discreet headphone that sits nicely beside the Aiaiai Tracks and Koss Porta Pro in terms of size and application.
The V-Jays out of the box is quite an unassuming little headphone. You would be forgiven for missing it entirely in any headphone shop when casting your eye on a long line of gaudy colored fashion cans such is it's blandness in the fashion stakes.
Coming in plain black (my sample) it is quite lightweight, perhaps even a tad fragile, can fold inwards with a dual entry short cable and has a detachable extension cable, with small on-ear cups and squarish lightweight pads of not much bigger size with a spare set in the box. All rather standard fare to be honest though the box is very nicely designed and carries a bit more lure than the sometimes messy plastic blister type packs you get at the lower end. It's not quite Aiaiai Tracks in terms of packaging but somewhat nicer than the Koss PortaPro plastic wire cutter packaging. And yes we could seriously do with a small carry case like it's bigger brother the C-Jay.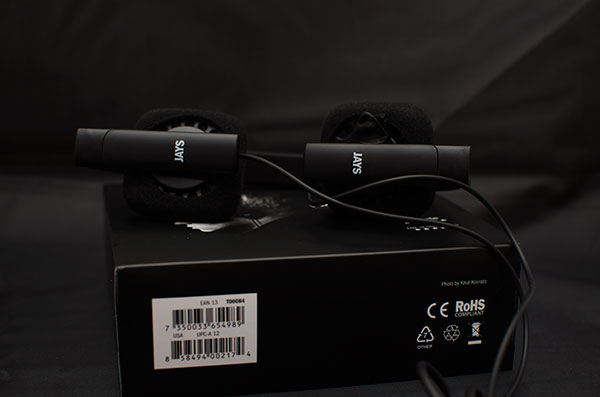 Fit wise you do have to fiddle around a bit to get a sweet spot given its small cup radius and open design so isolation is not high on the list of strong features here. It is more comfortable than the Tracks or say the PX-100 II with a fair degree of flexibility and adjustment in the headband on offer for most head shapes but I found the angle of the cup to be slightly against the contour of my own ear shape hence the fiddling for that sweet spot. The pads themselves are pretty soft and good texture not to grate or provide any level of discomfort though and I don't see any long term fatigue in wearing what after all is a very light headphone. I personally think a single entry would have aided the form factor fo the V-Jay being so light and small but the dual entry cables are pretty durable looking and I would not have any fears of them ripping to bits within seconds if I had these out and about. The extension cable for me is pretty much on always as without it the V-Jay's reach feels a tad too short.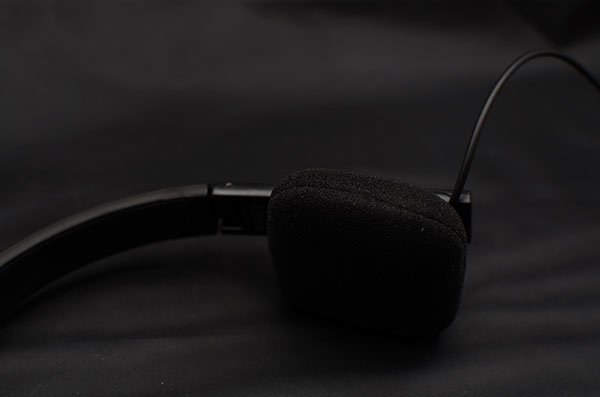 Audio wise the V-Jay's though are a bit of a revelation on par to what I experienced when I first heard the Aiaiai Tracks. If you want rich thick musicality I think I still prefer the Tracks but the more balanced articulate nature of the V-Jay's make it the perfect A/B combo with the Tracks for out an about ultra-portable solution. The V-Jay's are more for the neutral crowd who want to rock out a bit and get away from ultra-analytical cans and throw on a bit of musicality but don't want to loose that sense of accuracy and balance they usually enjoy. The Tracks and PX-100 II are darker and perhaps richer and thicker and have a huge sense of fun slapped all over them but the V-Jays have them licked a bit on clarity and detail without loosing too much fun factor.
As such the V-Jay's are a portable master for genre flexibility and perform much better than the Tracks or PX-100 II on a wider range of music. Additionally the V-Jay's do all this whilst retaining a very smooth tonality and without a hint of sharpness of irritatingly high levels of sibilance which is just magic to my ears. The open 40mm drive design does add an added dimension or sense of space that is not there on closed cans such as the Tracks which helps a lot on more intricate songs that require air to breathe and shine.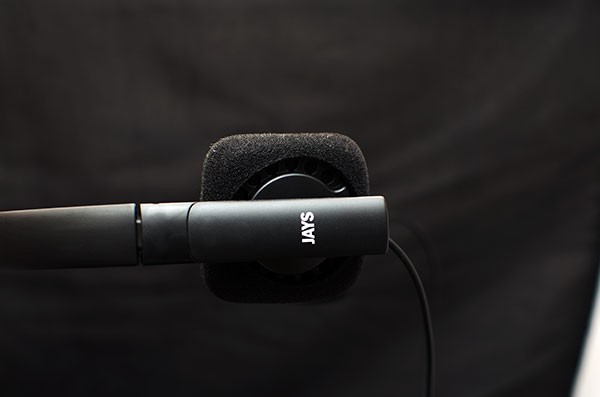 Don't expect astounding levels of accuracy and of course the sound stage is quite small and flat and doesn't convey imaging quite as good as large on ear or circumaural headphones but you are not buying the V-Jay's for this function. These are on the go headphones for quick delivery and quick listening and they do this very well indeed.
I like the fact also the V-Jay's are not bass-shy either with an ever so slight bass bias tuning but nothing that would throw you off the essentially neutral and clear tonality. It's tight, punchy without bloat and coherent. Much like the PortaPro the V-jay's display their abilities equally well with rock or dance without accusations of bass bias. Much will depend on finding that sweet spot though as one fatal move and the bass just waves goodbye in a flash.
If anything the slight mid-range thinness on heavier rock tracks can lead to me switching back to the Tracks more often than not. The warm thick delivery of the Tracks sometimes favors heavier chugging guitar work but on solos and chops the V-Jays has a speedier and more detailed delivery.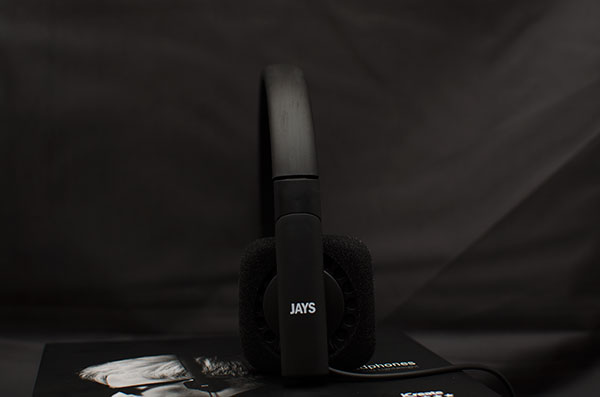 Final Thoughts
I enjoyed the V-Jay's a lot as a companion to my other favored on-ear ultraportable, the Aiaiai Tracks. I can't say the V-Jay's dominate the Tracks, that rich warm musicality tonality of the Tracks just edges out the V-Jay's for me on heavier rock and dance music but the V-Jay's is certainly a more nimble articulate performer that is more at home with music that demands a more balanced approach and a top end that can actually conveys a bit more detail than what the Tracks can offer. Its a brighter headphone than the PX-100 II but a cleaner headphone and for those looking for a nice degree of musicality without loosing detail the V-Jays is the perfect solution.