The Big Battery
That it is geared to the portable user market can be in no doubt when you consider that David and the Cypher Labs team saw fit to shove a huge 8700mah battery inside the Theorem 720 (hence its rather larger than normal looking bulk or size). If anything the one feature that is going to make the Theorem 720 stand out from the crowd it is going to be that big fat 8700mah battery. Before, with integrated devices and also Cypher Labs own SOLO product line the typical battery playback time spanned around 7-8 hours. The Fostex HP-P1 which we reviewed at the start of the year conked out far too early for my liking on some trips I had with it leading me to usually pack an extra analog IC and some small spare amp until the charging was done again. Hardly ideal.
Speaking of charging, Cypher have also very smartly adapted their CLAS Solo -DB iGadget charging capability during non playback with the Theorem 720 meaning both your iGadget and your Theorem 720 can happily chug along for an industry leading 18-20 hours and in the case of Android users even longer (over 20 hours depending on your specific Android unit). Now that is something every road warrior and long-haul flier is going to be interested in. The ability to have audiophile levels of playback have rarely gone over 10 hours except in all but a very few amplification devices. You can credit that whopping 8700mah battery for those figures and I tell you no lies guys, it really does go for that long. Honestly in my experience I do not remember, outside of maybe a few FiiO amps, any high grade portable amp reaching those kinds of time spans without some sort of need to recharge.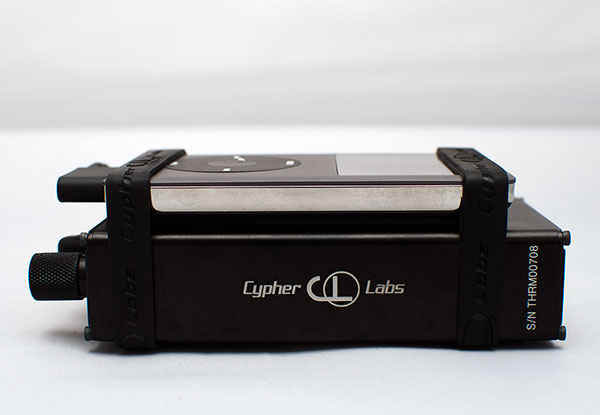 Of course a battery that size doesn't exactly give you the slimmest of builds but nevertheless the Theorem 720 is reasonably compact and slim enough to hook up an iPod or iPhone or Samsung (usb on the go) without too much effort though it is not pocket sized by any means. The solid black construct (comes in silver also) sort of reminds me of the Lisa L3, or about 60-70% of the size of the L3 and like the SOLO -DB the micro USB DAC interface for your gadget of choice is front and center. I have some issues surrounding the placement from the daily use and different headphones I have been using but more about that later.
Cables and more cables
The Theorem 720 itself comes packed with plenty of accessories. Their re-modeled AC adapter in fetching red, first seen with the revised CLAS SOLO -DB, is a god send in a sea of black adapters in my drawer but the main pulling point is the fact the Theorem 720 comes with just about every possible digital IC permeation to just plug and go right out of the box. You have both the standard 30-pin to micro-usb, the micro to micro USB for Android, the Lightening adapter for new igadget generations (iPhone 5 onwards) and a couple of micro to regular USB converters to boot. Also in there is a nice little leather mini-mat of sorts to prevent your source from slipping on the smooth Theorem surface and the obligatory Cypher Labs engraved rubber straps for holding your double patty in place in a neat single form factor.
The mini IC's are well built and carry just enough length to connect from source to DAC without looking messy but going back to that minor issue I have with the positioning of the USB in relation to the single end I did find that some jacks actually ended up getting in the way of the cable, particularly the 30 pin connector cable and my viablue 3.5mm jacks. I did have to fiddle a little to get everything sitting smoothly so whilst not a huge issue it did make me think cables could go even shorter or go a direct route much like the ALO Crickets. The Android connector for USB on the go is trickier. I know the BB Z10 doesn't have USB on the go but the positioning of their USB slot on the side of the Z10 meant the Android cable is already too short. Cables are pretty darn hard for Android given the myriad of shapes and sizes of devices out there I guess but for Apple devices things are much simpler.
The other minor suggestion is some sticky blister pads for the base of the Theorem 720. These always come in handy for me to prevent scraping on the bottom of most portable amps when sitting on desks and tables.
Click to next page for sound and performance…