Sound Impressions
Tonality & Presentation
The Sonica DAC has a neutral, balanced and very transparent tonality to its traditional DAC output. It still technically has the Sabre house sound with an ear for a slightly analytical approach and definitely an excellent level of micro-detail in the presentation.
Chip Change-Up
However, unlike the previous ES9018 implementation in the HA-1 or the equivalent ES9018 in the NuPrime DAC-10, I did not find the new ES9038PRO config to have that harder edge in the upper mids and lower treble that can provide troublesome synergies with equally cool SS analog amps or some of the cheaper DAC/Amps with the mobile ES9019K2M configuration.
That is not to say that the ES9018 has an inherent glare, but rather the general feedback from engineers was that it is much hard to work with in terms of filtering and tuning than say the AK4490 Veritas chips are. The chances of 'glare' were much higher with the previous Sabre chips in poorly implemented or cheaper designs.
Timbre
Instead, the Sonica DAC is very reminiscent of some of the qualities I have found in the ES9028 chip found in the iBasso flagship DAC, the DX200 just with better dynamics. It has a smooth almost natural character to its timbre rather than a hard-edged tonal quality. It is also very linear, perhaps even too linear at times but that is where your amp choice will come into play. There is hardly a moment in the entire frequency response you could shout out and say that's a boosted region, or that has too much sparkle, or that area seems recessed.
Clarity
Some might argue that this might bring to bear a rather "boring" presentation and true enough compared to the Hugo it is not quite as vivid or perhaps even as dynamic sounding. Nor will it inject some coloration into the low end with some additional weight and a more forward vocal such as you will find on the iDAC-6.
What it will do however is give you clarity, it will give detail, accuracy, and control making it a very versatile if somewhat revealing DAC to match with a wide range of analog amps.
Matchability
Amp Pairing
The neutral and transparent performance of the Sonica DAC really is quite versatile when it comes to amp synergy and to be frank you will want a decent amp to take advantage of the resolving qualities of the DAC analog performance as well as just give it a touch of oomph. Unlike the HA-1, the Sonica DAC proved to be a much better pairing with certain tube amps.
Tubes
The Studio 6 pairing, in particular, was excellent whereas before the HA-1 and the NuPrime DAC-10 seem to just take away some of that tube smoothness away in favor of speed and precision. The Sonica DAC still kept it reasonably neutral but it sounded a whole lot smoother and more natural sounding making it the superior match.
Smaller tube desktop setups such as the Cypher Labs Sustain84 was an excellent pairing and ideally more suited to using the Sonica DAC with more efficient headphones and even IEMs due to the Sustain84's and the SDAC's strong low noise performance.
Solid State
The iHA-6 from Cayin was an excellent solid-state pairing with plenty of power on tap. The transparency of the Sonica DAC was ideal since the Cayin iHA-6 can run via its tube buffer for a vacuum tube sound or go solid transistor and bypass the tubes with an unbalanced connection. The Sonica DAC took nothing away from the iHA-6 with its precise imaging, fast top end, and a snappy bass response.
I did find the Sonica DAC's balanced output to be just the bit more convincing with reciprocal amps such as the Cayin iHA-6. Being able to go fully balanced from 'DAC to amp' and plugging in a balanced headphone such as the HE6 or the HE1000 V2 just opened it up a bit more in terms of dynamic prowess.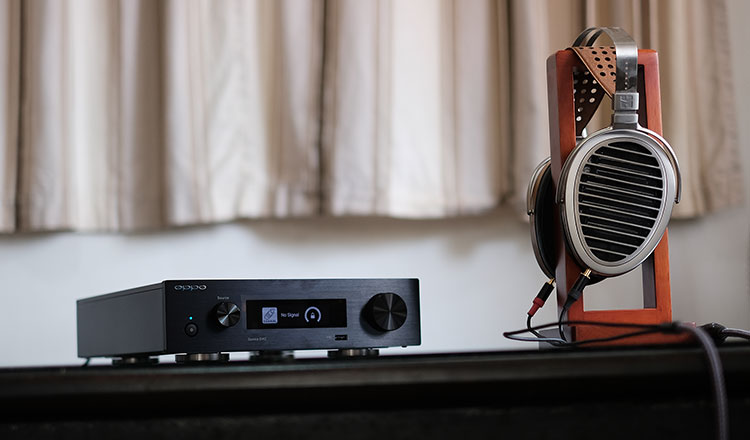 Wireless Pairing Performance
Platforms
In short, this was a painless experience using the Sonica DAC app however if you are not using one Android or Apple it might get a little more complicated to the point where network integration is next to impossible. Blackberry users can still work with the app through side-loading the apk or via the Amazon store direct download on BB10.
Bluetooth
On my smartphone using Marshmallow and my older tablet using 4.4 KitKat both had no issues installing and operating the app. Both picked up the SDAC right away in the pairing process for network and streaming, and both had no issues identifying the SDAC for a BT connection. Audio performance was good with the BT 4.1 connection but not aptX good and not quite a clear and resolving as the wired connection or even the networking connection.
Streaming
Using oShare as a DLNA server also made network streaming very straightforward. You may have your own DLNA server preferences such as JRiver Media Players built-in networking tools but for the less tech-savvy, I highly recommend oShare for its simplicity. The Sonica App will see it right away and depending on your media folder structure and size it should start listing it right away. There is a short delay of 1-2 seconds before playback begins but nothing terribly laggy.
Gapless Missing
Audio performance is excellent using the streaming capability and a step up on the BT performance though not quite as dynamic or as resolving as the balanced wired traditional connection. technically though the loss of gapless playback as a network streaming capability via USB host is disappointing. One can only hope subsequent firmware updates will resolve that as it is a glaring gap.
Video Playback
Also, network streaming for video playback is not as useful. The short delay will cause audio sync issues with video files. You can correct this somewhat using sync tools in software such as VLC on your computer but for many other sources and programs, this may not be possible so, for now, its feature suitable for audio playback only.
Select Comparisons
Cayin iDAC-6
Feature Set
The pricing points of these two are not that far off and as a traditional DAC the iDAC-6 is very competitive with balanced and single-ended outputs, USB and SPDIF inputs, a choice of bypass or variable volume control and even some timbre tweaks that the Sonica DAC does not have.
It is also smaller than the DAC though both have excellent build quality. The OLED screen on the iDAC-6 though is a bit more refined than the Sonica's OLED with smoother graphics. Neither have remote controls.
Modular
The iDAC-6 though is modular and syncs perfectly with the iHA-6 amp and the soon to be released networking module though this will incur higher costs. The Sonica DAC, on the other hand, comes complete with networking and streaming built-in so it does represent a much cheaper entry to the world of wireless networking and can offer more connectivity features than the iDAC-6 currently can.
Decoding Capability
The iDAC-6 deploys a dual-mono mode 32BIT AK4490 Verita DAC chip config as well as a vacuum tube tweak with the option to output to a quad 6N16B miniature tube config which operates as an additional buffer stage.
In comparison the ES9038Pro chip inside the Sonica DAC is just that bit newer, more expensive, can decode PCM up to 768 kHz 32-bit and up to DSD512 so it is just that bit more capable and future-proofed in comparison to the iDAC-6's current feature set.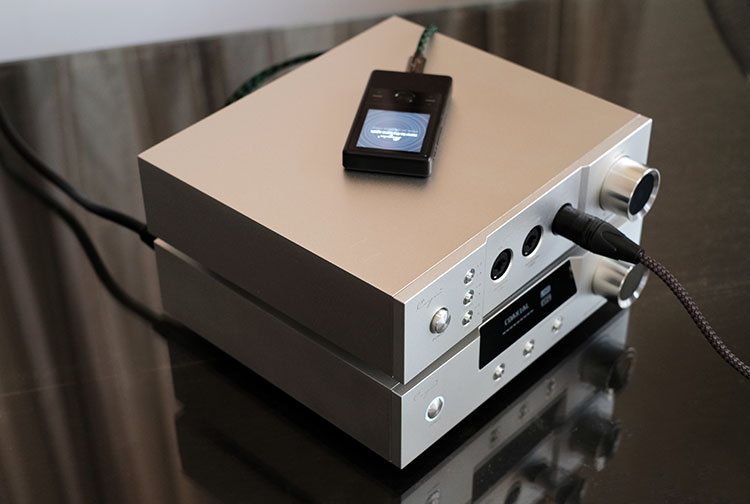 Tonal differences
Tonally the Sonica Dac is more neutral-sounding than the iDAC-6 with a more linear low end compared to the iDAC-6 which offers a little more weight and body. Sub-bass presence and power is just a bit more colored and engaging on the iDAC-6 which takes a more musical approach to its low-end signature.
Timbre
Both have excellent detail retrieval overall but the timbre is ever so slightly different. The iDAC-6 has a slightly weightier and richer tone to its notes, particularly in clarinets and oboe which tends to have a slightly greater even harmonics and lower harmonics emphasis whereas the Sonica DAC had a slightly lighter more even balance across the harmonics so it is not as thick but sounded more controlled and articulate.
Vocals
The vocal is also slightly more forward and dynamic sounding on the iDAC-6 but the Sonica DAC delivers a slightly smoother and less edgy timbre especially with vocals which sound a touch more refined.
From time to time I felt sibilance to be more of a factor on the iDAC-6 upper mids and vocal performance though it gets away with it mostly with that vivid and musical performance.
Treble
It is a similar performance for the treble response between these two DACs. Overall the Sonica has the smoother but more neutral and better-extended treble response whereas the iDAC-6 tends to have a little flurry of lower treble energy that pushes forward percussion attacks and some perceptible sparkle but lacks the micro-detail right at the top end.
Chord Hugo MK1
Hugo Advantages
The Chord Hugo MK1 is about to be replaced by the MK2 but it still carries a premium almost double that of the Sonica and should be really be considered a few levels higher in terms of pure musical reproduction. Its FMPG architecture and custom DAC design are considered by many to be class-leading and whilst its own amp is no great shakes the DAC itself is world-class. It can also transmit BT aptX.
Sonica Advantages
It cannot compete with the Sonica however on the networking and streaming capability as well as missing input formats such as optical and USB hosting. In a sense, the Sonica is much more media-savvy than the Hugo whereas the Hugo is a more focused digital audio device.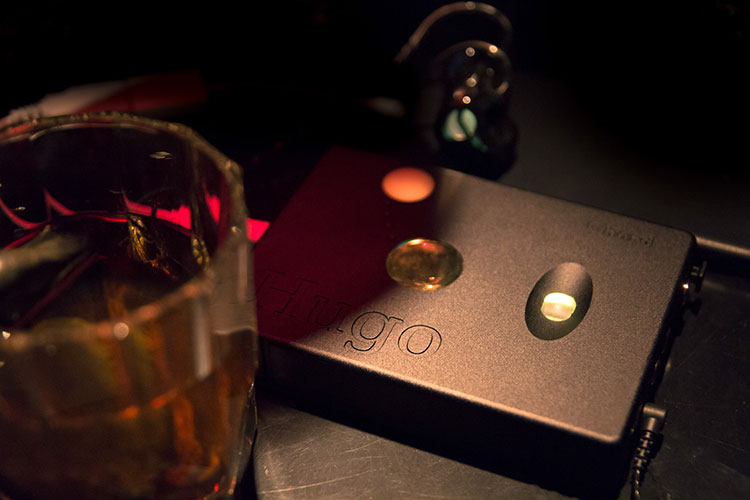 Tonal Differences
Tonally the Hugo is cleaner and brighter but also more resolving with superior dynamics. The Sonica prefers to stay linear and balanced with a slightly more withdrawn midrange that doesn't quite convey the same vivid energy as the Hugo, particularly with vocals.
Vocals
The vocal performance on the Hugo is stunning to be fair. It is more forward than the Sonica and yields a better sense of spacing between its presence and instrumental work just behind it adding some much-needed depth to the Hugo's presentation.
The Sonica does have a touch more body than the Hugo, particularly in its treble response, so whilst it might not sound as extended or energetic, it might be a smoother and more natural sounding top end better suited to synth, metal or anything with lots of treble energy.
Purposed to be Different
To be fair it is not surprising that the Hugo mk1 will come out the better pure DAC in terms of tonal performance, particularly with midrange details and vocals. I am fairly sure the Sonica was not built to take on the Hugo in that way, particularly with the multitude of features that the Hugo does not offer such as the networking and streaming capabilities. Two different machines for different markets.
Oppo HA-1 (DAC)
Technicalities
The HA-1 is an older integrated DAC/Amp from Oppo and the first release almost 3 years ago. It has the older ES9018 DAC implementation and we rated it very highly for what it could do in our review in 2014. It also sounded pretty good.
Tonal Presentation
Both are neutral and more to the analytical side and both are transparent. Both have a linear low end, a neutral mid-range and an extended and articulate top end.
However, I find the ES9038PRO implementation a touch smoother sounding than the older ES9018 chip inside the HA-1, particularly in their treble response which seems to match easier with some of my amps than the older HA-1 DAC out.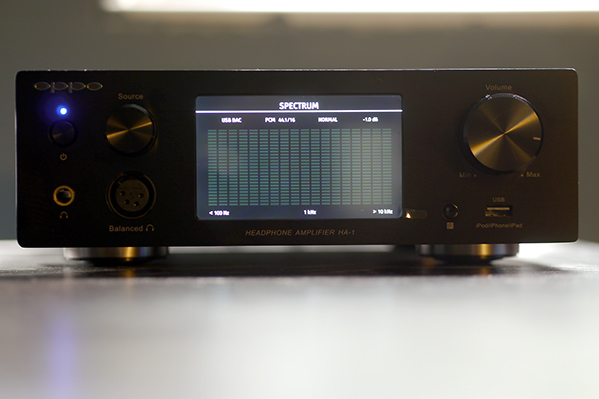 Amp Matching
Amps that didn't match so well with the HA-1, such as the Studio 6 with stock tubes matched better with the Sonica DAC. That little edge is taken off the upper mids and lower treble on the Sonica DAC makes for a smoother more natural sounding experience.
This is a subtle change-up by the way, and more of a synergy match with my existing amps but it is the first thing I have noticed with the new products coming out with the ES9028 and ES9038 chips, they do seem to be a little bit easier to engineer with in terms of top-end balance.
Stick or Twist?
Should you dump your HA-1 and get the Sonica DAC? The answer is no you should not unless you have an alternative means to amp your Sonica DAC and you wish to retain some of those networking features that the HA-1 cannot give you. This could well be a worthy complimentary device alongside the HA-1 though and if you enjoy the HA-1 amp then the Sonica DAC does add a lot of modern features sets and a more impressive DAC performance than built-in HA-1 DAC.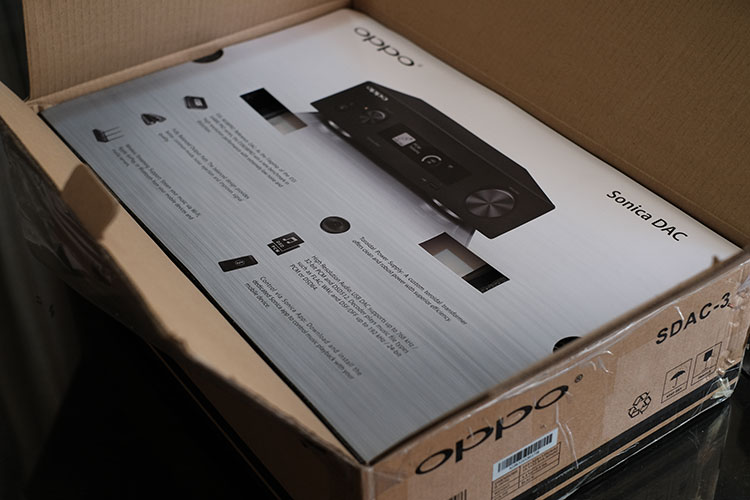 Our Verdict
Oppo has really stolen a march here on pretty much every mid-fi DAC marker out there with the launch of the Sonica DAC and using the ES9038PRO DAC inside. There is nothing really cheaper out there at the moment using this chipset and whilst things change quickly, being first to market should ensure Oppo should sell plenty of these stylish units before they have to do any substantial tweaks to keep the competition at bay.
Sound
As for the sound, I do prefer it to the older HA-1 DAC output. It's similar in terms of frequency balance, that being neutral, balanced, clean and transparent but I find tonally is a touch smoother, especially in its treble response and incredibly transparent and linear sounding. It lacks coloration but stays firmly focused on detail and that means good news in terms of amp pairing flexibility and especially tube amp synergy.
Missing
The Feature set is excellent but by no means a complete product. Some issues such as gapless playback, no aptX and the lack of MQA decoding will linger until resolved by a firmware update or the purchasing of the relevant license. One suspects the price point may not allow all of that to happen. The lack of remote control and the dependency on Android and iOS apps to deliver essential settings might be a barrier to some also who prefer a more traditional setup.
Idiot Proof
Outside of that those issues, this is a really easy device to set up and play either via Bluetooth, network streaming or through external streaming software such as Spotify. Even the most technically adverse should be able to start a streaming service on their network and pair it with the Sonica DAC it is that easy. The benefits are immense and enjoyable also. One less USB port connection and the ability to stream lossless cannot be underestimated.
Oppo Sonica DAC Technical Specifications
General
Dimensions (W x H x D)
10.0 x 3.0 x 12.2 inches, 254 x 76 x 360 mm
Weight
10.4 lbs, 4.7 kg
Power Supply
AC 110-120 V ~ / 220-240 V ~ 50/60 Hz
Power Consumption
30 W (operation), 0.5 W (standby)
Trigger Input
3.5 V – 15 V, 10 mA minimum
Trigger Output
12V, 100 mA maximum
Operating Temperature
41°F – 95°F, 5°C – 35°C
Operating Humidity
15% – 75% No condensation
USB Audio Input (USB B Type)
Input Format
Stereo PCM, Stereo DSD (DoP v1.1 or native)
PCM Sampling Frequencies
44.1 kHz, 48 kHz, 88.2 kHz, 96 kHz, 176.4 kHz, 192 kHz, 352.8 kHz, 384 kHz, 705.6 kHz, 768 kHz
PCM Word Length
16-bit, 24-bit, 32-bit
DSD Sampling Frequencies
2.8224 MHz (DSD64), 5.6448 MHz (DSD128), 11.2896 MHz (DSD256), 22.5792 MHz (DSD512, native mode only)
Profile
USB 2.0, USB Audio 2.0
Coaxial and Optical Digital Audio Inputs
Input Format
Stereo PCM, Stereo DSD (DoP v1.1 or native)
Sampling Frequencies
44.1 kHz, 48 kHz, 88.2 kHz, 96 kHz, 176.4 kHz, 192 kHz
Word Length
16-bit, 24-bit
DSD Sampling Frequencies
2.8224 MHz (DSD64)
AUX Audio Input
Input Impedance
10k Ohm
Maximum Input Level
2 Vrms
USB Ports (Type A)
Profile
USB 2.0, mass storage only
Audio Format Support
AAC, AIF, AIFC, AIFF, APE, FLAC, M4A, M4A (Apple Lossless) ALAC, OGG, WAV, WMA, DSF, DFF
Maximum Sampling Rate
PCM up to 192 kHz / 24-bit, DSD up to 2.8224 MHz (DSD64)
Wireless Standard
Wi-Fi
802.11.a/b/g/n/ac
Bluetooth
Bluetooth 4.1
DAC Performance Specifications
Specification
XLR Output
RCA Output
Output Level
4±0.4 Vrms
2±0.2 Vrms
Frequency Response
20 Hz – 160 kHz (+0/-2.4 dB)
20 Hz – 20 kHz (+0/-0.04 dB)
20.0 Hz – 160 kHz (+0/-2.4 dB)
20.0 Hz – 20 kHz (+0/-0.04 dB)
THD+N at 1 kHz (A Weight, 20 Hz- 20 kHz)
< -115 dB
< -115 dB
Channel Separation
> 120 dB
> 120 dB
Signal-to-Noise Ratio
(A Weight, 20 Hz- 20 kHz)
> 120 dB
> 120 dB
Dynamic Range
(1 kHz -60 dBFS, A Weight, 20 Hz- 20 kHz)
> 120 dB
> 120 dB