This is a review of the Noble Audio Savanna, which is the direct replacement for the previous 4 balanced armature driver Classic 4 universal IEM. It is priced at $499.
Disclaimer: This is a sample sent to us in exchange for our honest opinion. Headfonics is an independent website with no affiliate links or status. We thank Noble Audio for their support.
To read more about Noble Audio products we have previously featured on Headfonics click here.
Note, that this article follows our latest scoring guidelines which you can read up on here.
Noble Audio Savanna
The Noble Audio Savanna will be replacing the 4C in my reviewer's toolkit, be in no doubt of that. The little peakiness I found with the 4C over time has largely disappeared and the slightly weightier low end gives a bit of depth and space that perhaps the 4C could do with from time to time.
Nearly 18 months ago I reviewed the Noble 4 Classic and felt it was an excellent tool in a reviewer's arsenal of reference earphones or IEMs. It's pretty neutral and very transparent with a little treble energy, just the type of IEM I like to try when testing portable amps and DACs.
Well, fast forward to 2016, and Noble Audio has refreshed its universal lineup with a radical new design, new color schemes, and a tweak here and there on the tuning for much the same prices as before.
Now I could have grabbed the Katana, their flagship, but for me, the sweet spot had to be the 4 Classic replacement, now called the Savanna. First I get to a valid point of comparison and second if the description of linear is true then we might just have an excellent replacement of the 4C for future reference.
What Is The Pitch?
Nothing stands still and for a company renowned for its design and having the ear of the average audiophile, it stands to reason Noble would revisit their lineup and keep it fresh to stay competitive.
The IEM market nowadays is a plethora of inventions and not to be outdone Noble has put in a very new design that stands out for their new universal lineup as well as positioned each new universal IEM as answering a question of sorts to what is the best type of sound for a particular genre or preference.
The lineup feels far more focused now than before with a really strong description of what each IEM does. The Savanna, whilst not having a word-by-word reproduction of the old 4C description does have a strong nod as to where it is being pitched as being along similar lines:
As its name suggests, Savanna is a linear piece designed with acoustic music in mind. Savanna places an emphasis on accuracy and transparency while offering a gratifying listening experience with many acoustic recordings not produced to enthusiast standards.
Priced at $499 and just one up from the entry-level Trident, the Savanna is a quad BA design (4 BA drivers per side) and sports all-new precision machined aluminum faceplates as well as an enhanced efficiency capability for smartphone users (the old 4 Classic was a 30-ohm IEM).
If you are looking for something true to life, transparent, and realistic sounding then the Savanna should be it.
Design
When I first saw the new design, I wasn't sure what to make of it, to be honest. It just looked so unusual and bucking the trend of contoured semi-custom universal fits that are dominating the scene these last few months (read IT03). It was only then I realized I must have been staring at the design for a good 5 minutes. Job done then Noble design team.
Form Factor
As always specs are a touch light to go by with Noble IEMs so there is no indication of weight but a rough guess is around the 20g – 25g marker and it does feel solid in the hand with those machined aluminum faceplates.
Dimensions are roughly 22mm at their widest, and around 12mm deep or 20mm from the top of the plate to the edge of the nozzle. These are not official dimensions, but rather my trusty measuring tape.
Side by side the new Savanna is bigger than the older 4 Classic in terms of top to nozzle and girth and it weighs a bit more than the all-plastic 4 Classic.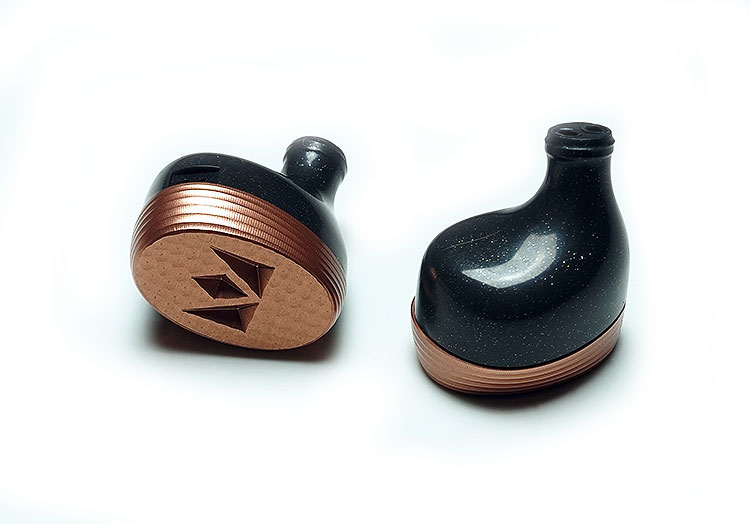 Materials
The unit itself comprises two parts, the shell, and the plate in a very contrasting color scheme. Each product line has its own specific color with the Savanna having a light bronze or rose gold kind of coloration for the aluminum faceplate and a dark-speckled hard plastic shell/nozzle.
The faceplate is really well designed with some beautiful lines and a clear step up on the previously embossed plastic logo of the old 4 Classic. It has a very attractive reflective honeycomb design with the logo cut into the design rather than as an add-on. It looks like it is built to last.
Finishing
The sealing joint is fairly noticeable due to the color toning and the gap on this unit at the back seems slightly bigger than at the front. I am not sure if that is a design flaw or a random QC but it does not feel like the joint can be wedged loose so I am not losing any sleep over it.
The nozzle finish is also a little rough with the tubes coming out a touch rather than smoothed out and flush with the surface. The use of tips though should negate the relevance of the nozzle finish but it is something for Noble to consider to see if any micro improvements can be made to an already striking design.
Comfort & Fit
For such an unusual shape the fit is actually very good indeed and on par with the Noble 4C.
Due to its slightly deeper form factor, the new Savanna does sit out a bit more in your outer ear than the older 4C but as before it is rock solid with above-average levels of passive isolation from background noise and little in the way of slippage or movement.
There is no messing around either for a sweet spot and no undue pressure on the outer ear that would provide any level of discomfort.
The included foam tips will give you an incredible seal but at the cost of some top-end performance so you might be advised to try the single bore or dual flange silicone tips for optimal performance with a slight decrease in isolation as a fair compromise.
Stock Cable
As with the 4C, the Savanna is designed to be worn with an over-ear cable that measures around 1.2m in length. The stock cable is detachable with a traditional recessed socket type 2-pin termination.
The cable is a 4-cable braided construct with individual plastic wrapping. However, unlike the old 4C finish, the new Savanna cable has a metal 'y split' tube with the Noble Audio logo engraved and a second short tube for chin locking.
The previous 4C only had two plastic y-split and chin-locking tubes which looked a bit cheap in comparison. Like the 4C cable, it is lightweight and pliant with short matching colored memory tubing for shaping around your ears to reduce microphonics to a minimum.
Accessories & Packaging
There have been some upgrades since the last time I received an IEM from Noble and these are some nice upgrades. Before the packaging was stuffed into a tiny Otterbox 100 series that frankly was an exercise in origami to fit everything in. I do wonder how it was possible with all the accessories AND the 4C in one tiny box.
Sensibly Noble has elected to switch to the Pelican 1010 hard case which is slightly larger and deeper than the Otterbox 1000. It is the same one that they use for the Wizard Savant collection. This one has space, plenty of it, in fact, to throw in a few cables, the Savanna itself, and a rather swish, perfect-fitting silver aluminum tray of tips.
In the 4 Classic boxes, the tips were stuffed into some plastic bags. It was functional but hardly a presentational delight. They are challenging to use out and about and took me ages to find the right tip.
In the Savanna package, you get a wonderful tip tray, much like RHA's excellent design only this one feels a little bit sassier and designed to show off the wide tip selection Noble have thrown into the box. It also fits the bottom of the Pelican 1010 like a glove so you can take it out and about and switch tips depending on your mood very easily.
For reference, the included tips are, as always, pretty comprehensive and one of the best to date in a universal IEM offering. They include:
Three double flange silicone in small, medium, and large fitting
Two foam tips in medium and large fitting (no silicone spine)
Three hybrid red stems in small, medium, and large fitting (slightly springy tip)
Three hybrid blue stems in small, medium, and large fitting (slightly softer tip)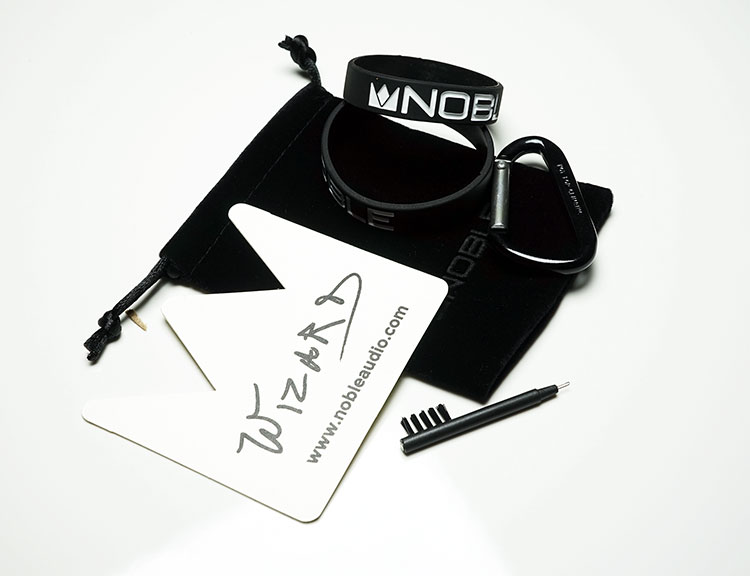 The rest of the overly stuffed and excellent-value Savannah package consists of your serial number/warranty card, a soft velvet pouch as an alternative to the larger hard case, and a cleaning brush with a magnetized tip.
You also receive a metal clip-on buckle for the hard case that allows you to attach the hard case to something like a belt or backpack loop as well as two rubber-branded straps for stacking sources and amps.
Click on page 2 below for Sound Impressions & Comparisons