Today, we review the Oriveti Primacy, which is a hybrid multi-driver universal IEM featuring a dual balanced armature and an 8.6mm dynamic driver design. It is priced at $299.
Disclaimer: This sample was sent to us in exchange for our honest opinion. Headfonics is an independent website with no affiliate links or partnerships. We thank the team at ORIVETI for giving us their support.
Click here to read more about ORIVETI products we have previously featured on Headfonics.
Note, this review follows our current scoring guidelines which you can read up on in more detail here.
ORIVETI Primacy
The Primacy is incredibly efficient, easy to drive, and built to a very high standard indeed. Isolation is excellent and there is no mucking about for a sweet spot. I rate these as more satisfying comfort-wise than the Fidue A73/83 series and the UE900S, perhaps up there with the Westone W4 for a universal light low profile fit.
Sounds like an Italian race car or a New Jersey cop, but thankfully, and for the purposes of this review, Oriveti is neither. It is, in fact, a relatively new name in the IEM manufacturing business and the Primacy is their first offering aimed at the mid-tier IEM market.
Priced at $299 it is nothing to be sniffed at and memes like "great for the price" should be thrown in the dustbin right away.
The Primacy is competing squarely at the multi-BA/quality dynamic driver crowds, the Westone fans, and the 'Shure hood' for your hard-earned crust. That is quite a challenge indeed so what makes the Primacy different?
Tech Highlights
First up the Primacy is a multi-hybrid IEM. What that means basically is a mix of balanced armature and dynamic drivers inside each shell. Now for some reason that always catches everyone's eye.
It is not a new concept anymore but it is increasingly becoming a very good vehicle for getting something a little extra that purely BA or dynamic setups cannot achieve.
In short, you get the speed, detail, and articulation of the balanced armature setup. However, you also get the benefits of a deeper and more natural bass response as well as a bigger sound stage when a dynamic driver is thrown into the mix.
Modern IEM BA bass response is getting really good these days with increasing power and impact but the more natural sounding low-end signature of a dynamic driver is hard to beat.
Although it gives up a little in speed and can sound slower in comparison to pure BA systems the norm in hybrid setups is to use the dynamic driver for bass and any number of BA combinations for mids and treble. That is pretty much how the Primacy is set up also.
Kudos also for Oriveti being wonderfully transparent from the get-go by printing a complete sectional breakdown of the Primacy on the back of their retail boxes and in an instructional sheet inside. It adds a little pop and perhaps an educational element to what the Primacy is and how it is put together.
Design
The Primacy is a smooth almost teardrop-shaped kind of IEM similar in appearance to Westone and RHA designs though decidedly lighter than the RHA T10i/20 series and more in keeping with the Westone W and Shure S weight and feel.
It is actually slightly smaller than my Westone W4 and Shure SE846. I am quite surprised at how light they are considering they are very robust and constructed from a fairly solid CNC machined aluminum so that's a big bonus.
You can barely detect the seam lines on these shells, it's a very professional job indeed. Remember this is a dual BA and a single dynamic 8mm micro driver stuffed in there so that is some tight engineering.
Comparing the size and weight to similar 3-way hybrids such as the Fidue A83 is quite the eye opener. The Primacy is much smaller and far more svelte in terms of fit and feel.
I always rated the RHA T Series and the Westone/Shure designs as supreme in terms of low profile, lightweight, and a great fit. I think I can add the Primacy to that list.
Cable
The Primacy comes fitted with an MMCX connection detachable silver plated cable that Oriveti sells separately for $30.
Left and right are clearly marked on each shell, which my aging eyes are rather thankful for given some units like the IE800 are just too small to read. R and L are less clearly marked on each cable but it's still relatively easy to make out which one is which in good light.
MMCX is my less favored of the two standards for connecting cable to IEM. My preference is for the old-school 2-pin connectors. However, I can see why Oriveti went with MMCX which gives a wider range of fitting potential due to the swivel mechanism which the 2-pin type IEMs do not have.
It's a benefit and it works but it's a pain to sometimes snap on and snap off compared to a well-fitted 2-pin.
Those looking for the bass port on the Primacy will find it when the cable is detached as it sneaks out via the MMCX connection canal. Very clever indeed and practically invisible when the cable is connected yet still works just fine for the dynamic driver to push out air confidently.
The braided cable itself is soft, pliant, and easy to work with and suffers from zero microphonics which is a big bonus and not something I was expecting.
The cable is terminated with a 3.5mm gold-plated straight stereo jack and you can convert this to a quarter jack connection with the supplied 6.5mm gold-plated adapter.
Personally, I think a right-angled jack would have been better but given my grief slotting in high-end right-angle jacks into the Chord Hugo's recessed 3.5mm socket last week I am less troubled than I normally am.
Comfort & Isolation
The ergonomics on the Primacy are spot on and lacking in any sharp edges or contours. It slides very comfortably indeed into both ears. There is no messing about for the sweet spot with the stock silicone tips (medium) the seal was excellent.
Now isolation is always a dangerous concept to give a universal thumbs up simply due to the fact everyone's ears are different but I would rate the seal to be about par with the UE900 and the Westone W4, perhaps even edging out the slightly larger Westone W4. It certainly has a superior seal to the bigger competing Fidue A83 hybrid IEM.
The Primacy does come with memory foam tips and the isolation on those is higher than the silicone tips but soundwise, I do prefer the silicone tips marginally over the foams. Foam lovers though should love the fit and isolation the Primacy can offer.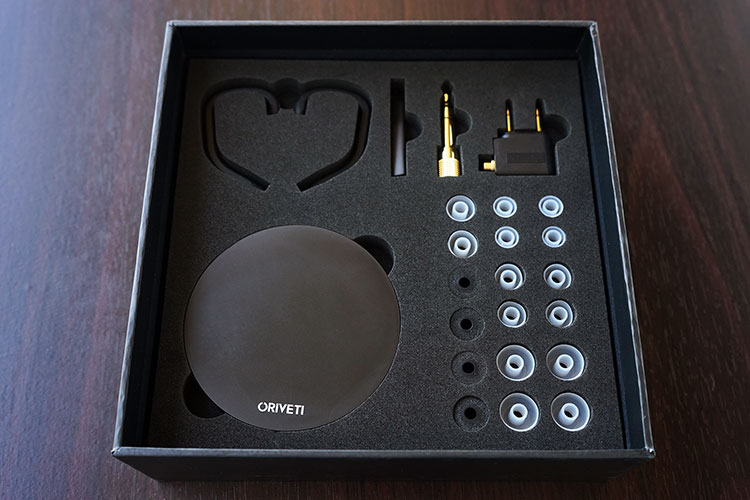 Packaging & Accessories
You get a lot of accessories with the Primacy and they are all very neatly laid out in the retail box. It is perhaps one of the best sub-$300 accessory packs I have seen bar the RHA T20 for an IEM.
This is what you get:
One flight adaptor
One earwax cleaning tool
One-quarter jack adapter (gold plated)
A pair of ear hooks
Single aluminum carrying case
Silicone tips in extra small, small, medium, and large
Two pairs of memory foam tips
Not bad right? It is unlikely I would have cause to use the ear hooks but those looking for a good jog in the morning or a workout will benefit more from those.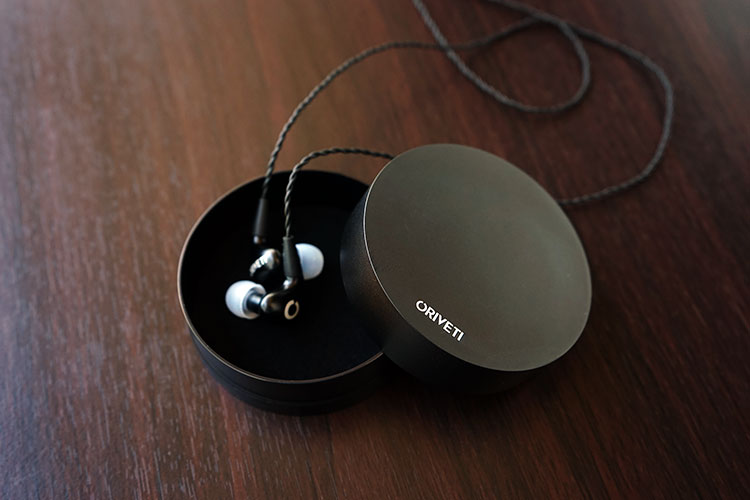 Carry Case
Special mention must be made regarding the aluminum carrying case which is circular in form and has a lid that slides right off. I have started to see these types of cases more and more and they do look very professional, sturdy, and more than good enough for storing your IEMs from dust and moisture.
The only drawback is that the hard case is a bit big and might not fit in your pocket or bag easily if space is a premium. Perhaps a soft velvet-type pouch as an accessory, (yes one more please), might have provided an option for those with limited space on the go.
Kudos also for the wax loop/brush accessory also. I have seen these before with the Westone series but otherwise, it is a bit rare to see one in a mid-tier IEM package. Not even the UE900 or the RHA T20 pack them in.
You could argue that it is a tool primarily for CIEMs given the bores are not protected by tips but regular users of IEMs will know that eventually the wax creeps down a tip or clogs up a tip and a wax loop is very handy indeed.
Click on page 2 below for sound impressions and our selected comparisons.