Ah Superlux, my finely tuned budget friendly headphone manufacturer are back again with a new update on their classic HD681, the Evo edition or HD681 Evo. The lines are sleeker, the packaging is updated and the cans now reek of consumer awesomeness with a white and black edition all for the princely sum of around $70 or local P1950.00. How a headphone can get any cheaper and not suck is beyond me so testing the HD681 Evo I had no expectations other than what I encountered before from Superlux and they were filed under the "improving bang for buck" category.
Well I did say update on the packaging, but better to just say different in an eco conscious kind of way as its mostly cardboard with a little ingenious pressure slide fold on the top that allow you to unbox it. You wont win any prizes but please be patient and try not to rip the thing because it will unpack eventually and reveal the contents which thankfully now include a pouch, a short and long cable terminated with a 3.5mm jack and a quarter adapter. The short cable is for a more mobile solution and the long is primarily for desktop usage.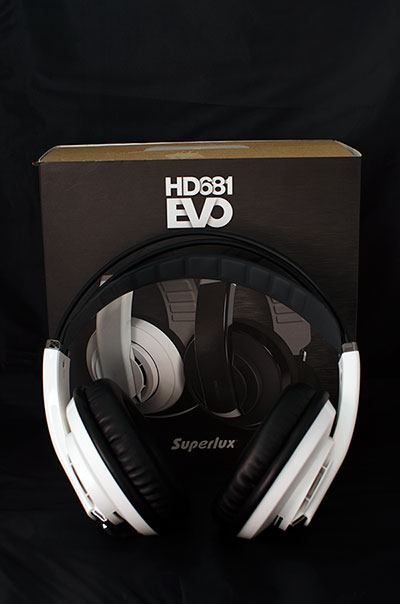 Mind you all that sort of pales in the background when you see these cans as they have had a major cosmetic overhaul looking far more consumer friendly in black and white. They seem just as big as the HD681 original but far better finish if you ask me. They don't convey quite the same anticipated gravitas as I had hoped from looking at the marketing spiel and pics but they look bang up to date in their twin color schemes. And boy are these light cans to hold and wear and I am very grateful they don't have the patented clamp of death inherited from the HD631 DJ with bigger and softer pleather pads on the cups. They are semi-open with a small amount of leakages and background noise so not the most commuter friendly given the already Princess Leia's hairdo inspired size but there is enough there for pleasant indoor isolation and long term listening without too much sweat and next to no discomfort.
Much like the Monitor's I had a look at last week these come in at 98db so stronger powered DAP's or a small amp will get the most out of the HD681 Evo and its larger than average 50mm driver even though its rated at 32ohms. My personal choice was the Cowon X7 unamped given it's tight and punchy internal amp being rather superior to the average ipod DAP internal amp. Anyone wondering what to budget for if deciding to strap an amp, well not much to be honest, a FiiO E6 should suit most or an E07K for a bit of flexibility in DAC and amping. Anything beyond that is just overkill.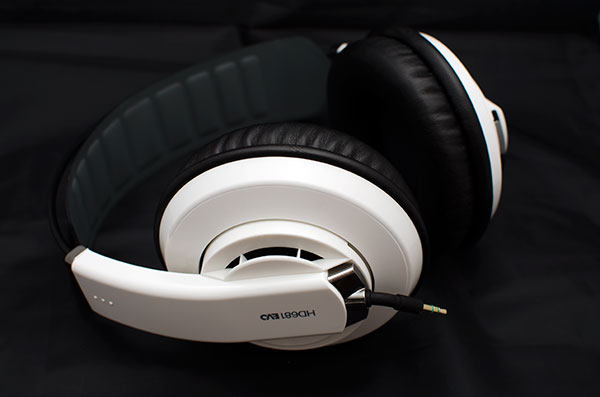 Straight off those complaints about the hot highs on the older HD681 seems to have been addressed with a much better behaved if somewhat rolled off treble reproduction on the new Evo edition. This would be a super new development if it wasn't for a huge fat muddy mid-bass hump dominating everything. A 50mm driver is going to give you acres of space to fill and Superlux filled it with a consumer profile so addicted to the old tried and tested mid-bass hump it seems rather odd to even consider rolling off the treble in the first place as it struggles for any headroom on really strong vocal tracks such as Emeli Sande's "Heaven" from her recent "Our Version of Events" album. You cannot really get past it and poor old Emeli is lost somewhere in the background when her vocals are often the strongest point of the track. Gotye's "Somebody that I used to know" has plenty of bass rumble but again the reverb is a touch high for me and the vocals a bit lost. For this size of driver and sound stage potential I would like to have seen a bit more forward mid section and vocal reproduction. There is a bit of elevation on the upper mid's but its just above the vocal performance for some of my tracks and that sadly crowds out male vocals and slightly less so on female vocals for me.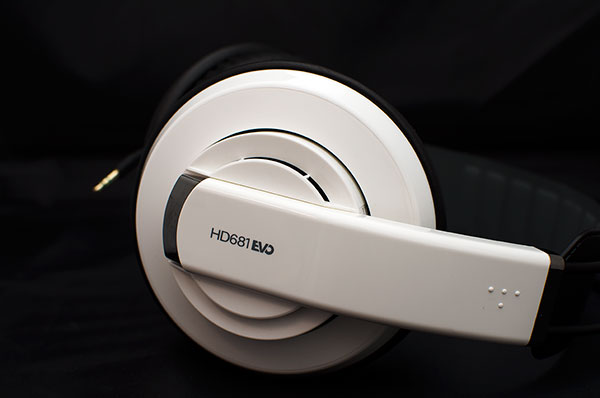 On the flip side kudos to Superlux for taming the highs which was one of my major complaints on their earlier HD661 from 2011 which I thought was super hot and aggressive and quite fatiguing to be fair. The HD681 Evo is much smoother and much easier on the ear giving you the chance for much longer listening periods. Now on some genres that is going to work out just fine such as ambient and electronica where mid-bass humps work quite well on a musical level and day to day casual listening level. They are much too colored for any serious reference listening. On soundtracks such as the King Arthur "Road to Ruin" (2004) it does fill out and gave a pretty bombastic response from the bass upwards. If just a little more balanced in its tuning it would have actually been very interesting comparing it to say the SoundMagic HP100 and HP200 but it just lacks that coherence and top end to really soar on complex recordings. The HD681 Evo really likes you to like bass and will willingly perform to your hearts content if that is your bag in a very casual way.
Final Thoughts.
For those who want the HD681 without the hot treble then the EVO is for you. It is a darn sight sexier looking, has a bass hump to rival a camels back and a consumer friendly profile that will wow the uninitiated on initial impression. For the price it is really hard to knock-it, for a first time upgrade its far more rewarding than any knock off which can be often more expensive but for those who crave a tad more detail and something to really justify those huge 50mm drivers might consider saving up some more and getting the SoundMagic HP100 or HP200 which is a far more balanced proposition.
Technical Specifications:
Type: Dynamic, Semi-Open
Driver: ø50 mm, neodymium
Sensitivity: 98 dB SPL (1mW)
Frequency Response: 10-30,000 Hz
Maximum Power: 300 mW
Rated Impedance: 32 Ω (copper-coated aluminum wire)
Earpad: Leather
Cable: 2.5-meter (8.2 ft.) straight, single-sided
Connectors: Screw-on gold plated stereo mini plug
Net Weight: 276 g (9.75 oz)
Weight (without cable): 265g (9.3oz)
Local price is P1950 and can be bought at the usual outlets – https://www.facebook.com/SuperluxPH