I hate earbuds. Probably not the most endearing start to a review for any manufacturer to read and I can tell Jason Lim, CEO of Celsus Sound, is spluttering his coffee all over his iPad as he glances over this introduction to one of two marquee products launched from his new Celsus Sound brand. But perhaps I am the very person that needs to hear it, perhaps an earbud hater, a recent IEM convert and a CIEM evangelist should be the right target because if you can convince me you can convince anyone.
Whilst it's never going to be 'selling snow to Eskimos' level of skepticism, my acceptance barriers maybe higher than most. I didn't buy into the Baldoor E100 hype, well not yet anyway, and I hated the Baby Stax fit with a passion – gen 1 and the more recent gen 2. All my iPod and spare mobile phone "premium" bud accessories are somewhere in the bin or as a re-gift to a long lost relative served with a plastic grin on their birthday or Christmas day. I have a few buddies who swear by the Yuin earbuds also, that one passed me by as well. Call me close minded but I want a great seal for on the go music and to shut out the world.
And yet… I accepted the challenge from Celsus to review their new Gramo One Earphone. Perhaps it was the price at $249 SRP. I mean anything at that price demands to be taken very seriously indeed. At least with the E100 its $20 or less low risk and I can appreciate how the bar of expectation there is so low that its so easy to get the hype train rolling. So $249 should be the next thing to some sort of an audiophile epiphany right? Well the world doesn't work that way sadly but that was what I was hoping for with the Gramo One during this review.
The Challenges of a New Brand
It can be challenging to make an earphone package look $249 without some serious irrelevant fluff thrown in or if does not have well-known names such as Westone, Sennheiser etc. printed on the front. The slight oversizing of the admittedly stylish Gramo One retail box might be a homage to the psychological pressure of justifying the price tag on the retail shelf but, note, the iTouch packaging has been getting smaller and smaller over the years and that has not done Apple any harm. Still it's a big box for what you get inside quantity wise even if quality wise the Gramo one looks the business.
It does share a lot of commonality with the Companion One DAC we reviewed a few months ago in terms of styling and that almost neo-40's swing era font styling and CS emblem. It comes with a similar style but smaller soft leather casing which I adored with the Companion One but found it slightly less functional with the Gramo One and a spare bag of triple size foam tips, (small, medium, large). That's all she wrote folks because you won't find anything else in the box except plenty of cardboard and plastic binders to keep the Gramo One in place. I was kind of hoping for a bit more like rubber tips instead of just foamies and maybe a belt clip etc. so I guess the money has gone into the earphones themselves and the leather case.
That 'Yummy' Case Again
The case is the same type as the Companion One's only slightly smaller. It worked for the Companion One but for the Gramo One it feels a bit too big. It would be a nice compliment for a hard case inside maybe or perhaps even a single leather finished hard case would have done the trick. The Gramo One feels rather lost in the case and there is a deep urge is to stuff it with a small DAP or other accessories to bring some solidity to the package but only the Nano really fits with ease and room to spare.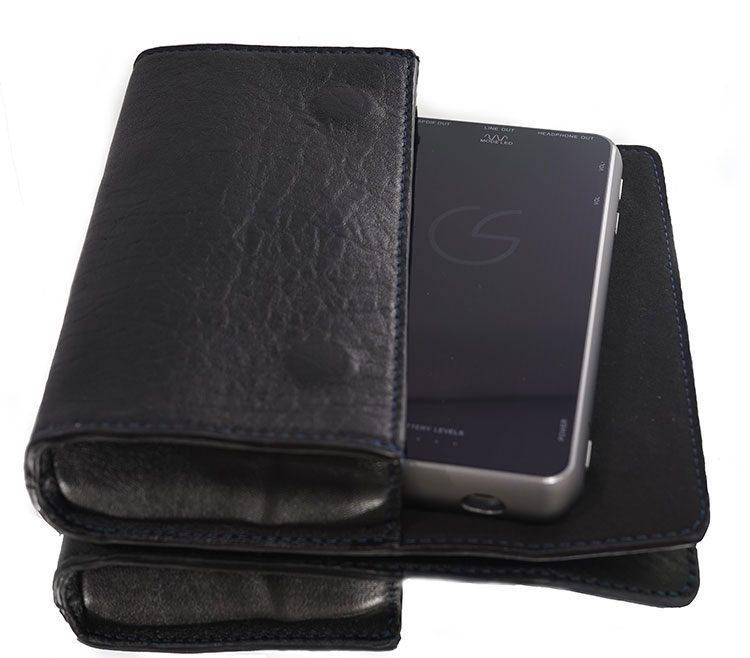 It does make a fine second case for the AK100 and AK120 but forget about stuffing the Gramo One in with it because it won't fit. It looks swish and classy but that softness is a bit risky for carrying out and about, damage could occur. Check out the Lyra case from ALO Audio's new Campfire brand for how I think swish leather cases can and should look for earphones. It takes the class of the Gramo One look and feel and adds some stiffening under the leather and a zipper to make it very durable and functional indeed.
The Unit
The earphone itself is actually quite stylish with a more mature design over some of the 'fun' type creations I have seen and it certainly does not look cheap or plasticky. You would not mix this up with a cheap throwaway earbud with its black shortened stems producing a suitably low profile form factor to aid with the multiple fit options in your ear and a clean and well-designed aluminum mesh grill at the front protecting the driver, which by the way is a fairly large 16mm transducer dynamic driver.
The Cable
The Gramo One is terminated with a 1m braided cable housed in a coated vinyl type plastic much like the standard cables you get with customs except this one is not detachable. It is quite a soft, pliant and very lightweight cable with very little if any microphonics and very easily manipulated to run over your ear or straight down depending on your preference. One thing I did note was the lack of strain relief at both end of the cable which would have been a useful bonus, however the y-split itself has a pretty sturdy strain relief and the cable looks fairly durable.
The cable is also terminated with a 3.5mm gold plated straight jack and is purely for audio with no remote or mic functionality for 'iGadget' or mobile phone users. Personally the less disruption in the signal path the better for me audio wise but I can guess a few iGadget and mobile phone fans might be a bit put out by that missing feature given the stiff competition right now in this price range. In short this one is for purely for listening to music.
The Fit & Seal
Ok so it's an earbud so to cut a long story short there is no seal with the Gramo One. Do not buy it if you want an IEM like seal experience because you will not get it, especially with the foamies which are more for comfort and fit than anything else. I am told at the time of writing that the Gramo One will soon ship with rubber versions of the foam tips but as to how much better they will lock in the flavor is anyone's guess at this point in time. In short you are going for an open back experience and if you want to pick up on every crumb of detail and truly enjoy the Gramo One experience I suggest staying indoors or at least away from background noise because you will hear that plenty if it exists. Treat it like your favorite open back headphone and you will get the idea pretty quick.
What is vitally important though with the Gramo One is the fit and more precisely the angle of the fit because it has a big impact on the sound signature. The relatively short stem does help with a few angles and you can wear it over the ear or straight down with the cable flexibility. For my taste over the ear felt more secure and facing forward also gave me the most engaging sound signature possible. Other angles either resulted in a loss of bass or soundstage and despite being able to boost the bass significantly with a bit of finger pressure this pose is largely unsustainable for more than a few seconds. Covering the rear ports will result in a loss also of clarity and detail so be warned this is one earphone were the sweet spot is absolutely vital.
Page 2: Sound Impressions