The Flare Audio Flares PRO is a wired and wireless universal monitor with balanced Bluetooth technology. It is priced at £349 and available online at the Flare Audio store.
Disclaimer: The Flare Audio Flares PRO sent to us is a sample in exchange for our honest opinion. We thank Flare Audio for this opportunity.
To read more on previous Flare Audio reviews on Headfonics you can click here.
Note, this review follows our new scoring guidelines for 2020 which you can read up on here.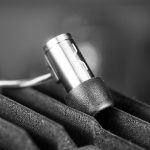 Flare Audio Flares Pro
I am very impressed with the overall capability and feature set of the Flares Pro at this price point. There is a huge amount of value in what Flare Audio are offering at £349 from wired/Bluetooth options, an impressive array of good quality tips, and a very cool retail package that speaks volumes of their Pro Audio Heritage.
This is my first time reviewing a Flare IEM, though Mike has already covered the R2A and R2 PRO a few years ago (2015) and gave it a huge score.
Well, times have moved on and 2 years in the world of personal audio seems like 10 years now such as is the rapid change in technology, so much so I suspect what was great then is standard practice now in a lot of competing products.
I would hazard a guess that Flare thought the same way. Resting on one's laurels is never a solid recipe for continued success and so it is with their new Flares Pro IEM which retails for £349 and boasts an entirely new design, new pitch, new sound, and throwing in BT to boot for roughly the same price as the first-gen Pro series.
There is a lot in this package for the money from tips to connectivity to technology.
Flare, however, is anxious to avoid pitching this as a successor to the older series, so this is an entirely new project and we will treat it as such. Note that Mike's opinions are in italic.
What Is The Pitch?
In summary, Flare Audio believe they have created an affordable IEM that recreates a very accurate and realistic experience of detailed sound through the elimination of traditional chamber resonance technology.
This is achieved through a combination of three different approaches that are unique and entirely different from current methodologies used in the manufacturing of IEMs in today's market.
Dual Jet
The first technology is called 'Dual Jet' technology. Dual Jet technology involves controlling driver movement using pressure control jets. The design is basically two opposing jets on the front/rear of FLARES PRO. These have specific jet sizes that balance sound energy overall frequencies similar to how jets in carburetors control fuel into an engine.
By precisely drilling these jets to within a tolerance of 10 microns Flare claim to have been able to achieve perfect pressure balancing over all frequencies. By doing this, painful symmetric distortions are removed which are one of the major issues in sound.
Acoustic Lens
The second is called 'Acoustic Lens'. This technology controls sound energy entering the jets and then focuses the energy onto the eardrum. This technology is also extended through the use of specific ear tips called 'Audiophile EARFOAMS' and 'Everyday EARFOAMS' which also have a similar design to inhibit unwanted reflections.
Anti-Resonance
The final element is called 'Anti-Resonance' technology and is basically a combination of the first two with the additional factor of a specific titanium driver shell with an open back "bullet" design using a tiny internal space that is designed to ensure that all particle vibrations exit uniformly through the rear acoustic lens.
This reduces/eliminates the sound energy away from being reflected at the driver. Flare Audio claims that this results in all music exhibiting increased levels of detail and that music will sound live to the listener with no sound device reverbs or audible distortion.
Bluetooth
Flares Pro not only comes wired but it also comes with Bluetooth apt-X 4.1 capable with a handy switching BT module that is built with balanced Class A/B outputs to the left and right channels of the Flare Pro IEMs via separate MMCX connectors.
The output of Flares Pro Wireless DAC is balanced meaning that there is no shared common ground, this removes crosstalk interference improving the overall sound quality. This enables a wireless sound quality that Flare claim is superior to that of a traditional cable as there is no common ground.
Target Customer
Whilst not explicit I got a feeling there were two target customer profiles here. The first is the general consumer looking for a worthy upgrade and wireless convenience on the go as well as the traditional audiophile looking for an affordable upgrade.
The second group is the studio pro who wants a very reference and accurate sound for mixing purposes. I asked Flare also whom they felt would be the target market for the Flares Pro and they stated:
"Audiophiles and all consumers seeking sonic accuracy over distortion and increased levels of detail."
Design
The Flares Pro is a 5.5mm single dynamic beryllium driver wrapped in an aerospace Grade 5 Titanium 'bullet-type" chassis with the Flare Logo professional etched into the side of each.
The nozzle is pretty short and not quite as wide as the main driver body so quite a lot of the final length and fitting will be reflected in the supplied tip choice. At the base, there is an integrated rubber panel that acts as a partial strain relief as well as a conduit for the cable to enter the housing.
There is a fairly wide single bore vent to the rear of the housing and if you stare down the nozzle you will see a similar type bore to the front also. There is no protective gauze on the nozzle either so I would take a moment or two after long sessions to make sure any dirt or wax is cleaned out to protect the Flares Pro and the tips.
This is a very light IEM and can't be more than 15-20g max which is competitive for a metal alloy. Much of the size can be attributed to the size of the driver at 5.5mm. For instance, Campfire Audio use larger 8.5mm, Beryllium drivers, on their Vega and Lyra IEMs. I did ask Flare, why the smaller 5.5mm choice, they stated as follows:
The issue came that the driver would then be on the outside of the ear, away from the ear drum, too far and it destroys detail.
Thus the overall smaller footprint compared to say the bulkier injected metal injected molds of RHA is really for the entire design to get as close as possible to prevent detail loss.
Whilst RHA's design might be the more visually attractive and I have seen plenty of bullet designs before there is really nothing to complain about with the aesthetics of the Flares Pro design. Its solid, robust, light and finished to a high standard.
Comfort & Seal
Like many "bullet" designs the level of comfort and seal you get with the Flares Pro will ultimately depend on the tips you use and Flare has supplied a ton of interesting tips. Pitch-wise this is not simply a value add but also an integral part of the Acoustic Lens technology itself.
Flare has supplied 3 different types of tips called the EARFOAMS range and each has a very specific use. Fitting wise they are equivalent to a T-200 Comply foam stem size.
Audiophile EARFOAMS
Fragile
These come in small, medium, and large and are made of an incredibly soft memory foam material with a shortened inner silicone stem. When we first received the prototype a few months back I didn't realize how soft they are and ended up ripping them in the process of getting them off so do be careful as they are very delicate.
You will find fitting instructions though in the Flare manual and do not leave a gap at the base of the nozzle as this will lead to a little bit of leakage.
Form Factor
They are also quite wide and flat at the top so you do have to push them in a touch to get a good seal. Once you do they are very comfortable indeed and have none of that scratchy feeling you can sometimes get with cheaper foams.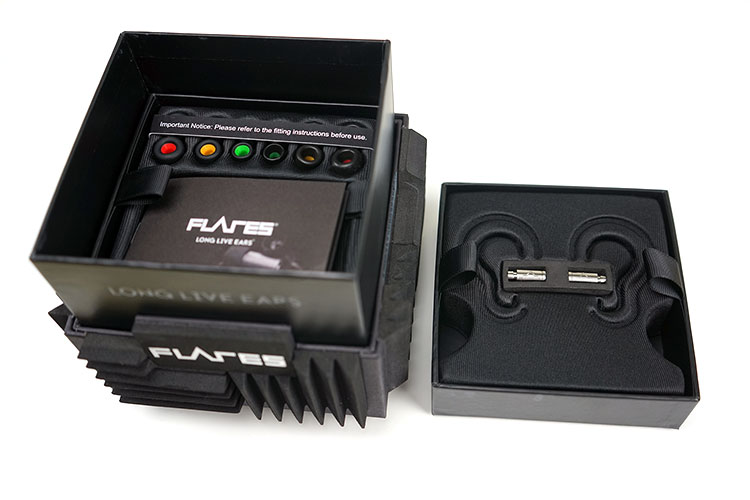 Seal
Like most bullet designs you will be moving them around a little to get the most comfortable fit and they can be worn over the ear or straight down depending on your preference. Personally, I found the best isolation and seal was wearing them over the ear.
Mike's Take
Mike also got the same impression and asked Flare why so delicate since, in the end, they do cost £19.99 for a 3 pack to replace.
I very much prefer the new tips that he has told me were designed, intentionally, to prevent as much distortion as possible. Flare has told me that they are fragile in that manner due to the precision molding processes to get the tapered down to less than 1mm to form the acoustic lens.

You can remove them if you are immensely gentle and lucky, but these are almost disposable tips that you will eventually need to replace. The bottom ends will literally snap off if you try to remove the Audiophile tips without due care. Despite that, I certainly prefer the Audiophile versions for comfort. They seem to fit my ears exceptionally well.
'Everyday' EARFOAMS
These are the silicone versions of the audiophile EARFOAMS with similar technology but a little tougher and less prone to potential damage when taking them on and off. They come in 3 sizes, small, medium, and large and mirror the stem color coding of the audiophile EARFOAMS. They sit to the left of the audiophile versions in a small tray on the second tier of the retail box.
Surprisingly they fit really nicely for a silicone tip with competitive levels of seal and isolation and excellent levels of comfort. They will change the sound signature as do most silicone versus foam tip comparisons normally do but in terms of comfort and seal they are excellent.
Universal EARFOAMs
For those who like foams (count me as one of them) and tip roll every day then Flare has included what they call 'Universal EARFOAMs' in small, medium and large size.
They are not in the main tips tray but rather in a sealed bag inside the additional small zipper carry case. I suspect that is to emphasize that these are useful but not headline tips. These are tougher than the audiophile foams with a more traditional and water-based memory foam material and are unlikely to tear when rolling.
They have a slightly longer stem than the other two and do not have the acoustic lens tech inside but they are a touch deeper and more suited to out and about use where a tight and secure fit are important. Again, they will change the sound a little from the silicone and audiophile versions and I tend to find them not quite as revealing but the comfort and seal are excellent.
Cable
The cable used is an OFC 1.2m cable and it comes in 3 parts; left and right MMCX terminated to the driver housing and a single-ended 3.5mm gold plated jack on the single-ended wired termination extending from the y-split cable. It is not detachable at the driver's housing and can be worn straight down or over the ear.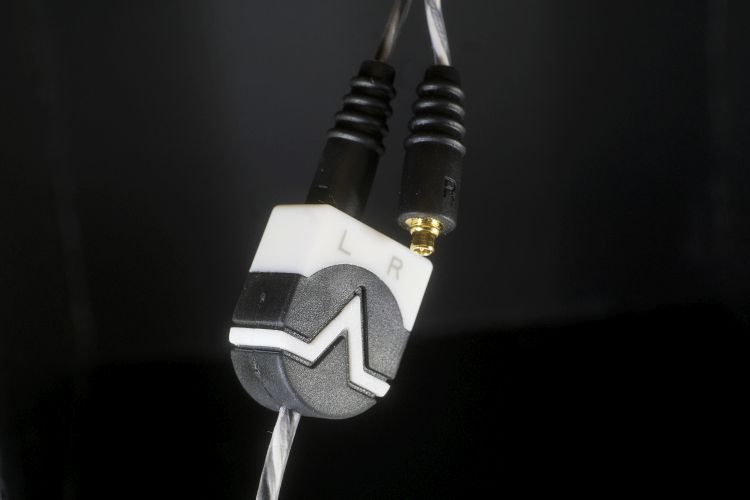 This is quite a thin cable but with a Kevlar coating, it feels pretty robust with decent length to the plastic y-split to prevent any discomfort when used with the BT module or in its wired format.
It also has zero memory retention and despite its slight rubbery feel it doesn't have any "fly-away" properties so it does stay fairly well under control in everyday use. Microphonics are low but not non-existent when worn straight down but when worn over the ear you get a very quiet experience indeed.
It is also color-coded with the left cable using a slightly darker pigment over the lighter right side so it is pretty easy to pick out which is left and which is right. Much preferable to the tiny l/r labels you normally get at the base of the chassis stem on other IEMs.
Changing from the BT module to wired and back again is a simple case of detaching the MMCX connectors at the y-split and re-attaching the left and right balanced outputs on the BT module.
Functionality
Wireless DAC
This is the value add and provides a very interesting option to the Flares Pro. The wireless protocol is a healthy Bluetooth aptX 4.1 capable of delivering up to 16BIT 48/96kHz with a rated 10 hours of playback time and 150 hours standby time. Charging time is 2 hours with a 15m unhindered range. Real-world usage during our review period got 9 plus hours so it is pretty close to spec.
Sadly, aptX-HD was not possible at the time though, to be honest, there is not a huge amount of gear out there taking advantage of aptX-HD. Far more likely to find an aptX capable DAP such as the Cayin N3 or FiiO X7 which pairs very well indeed with the Flares Pro in BT mode.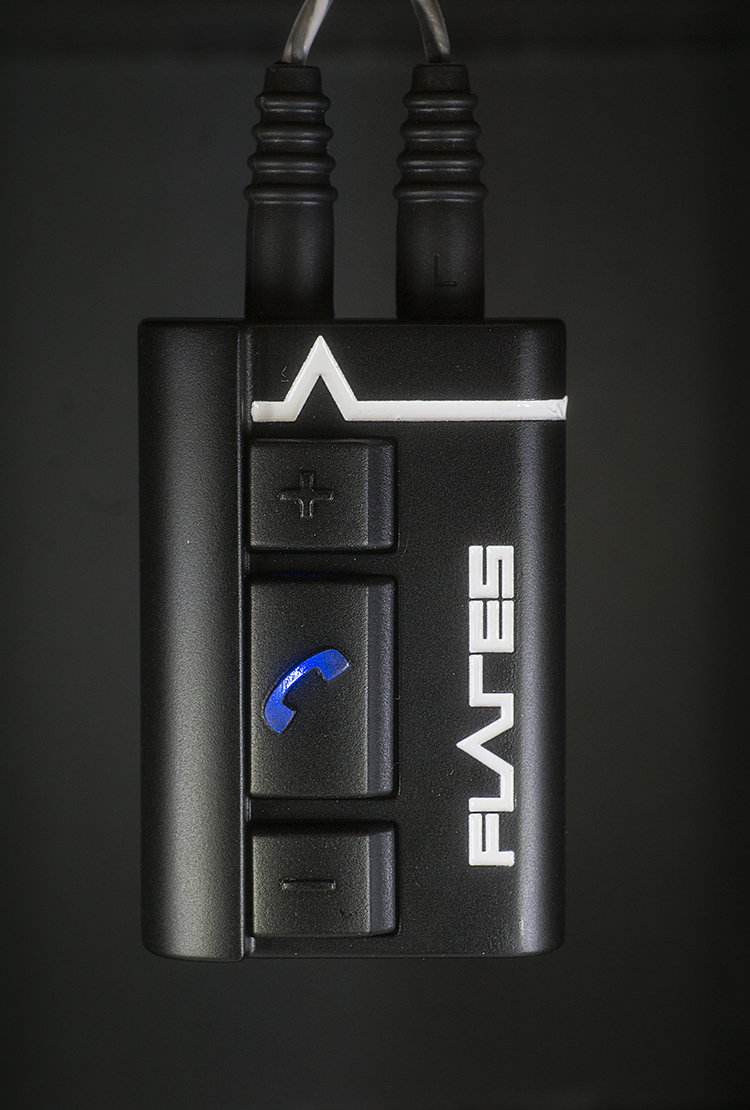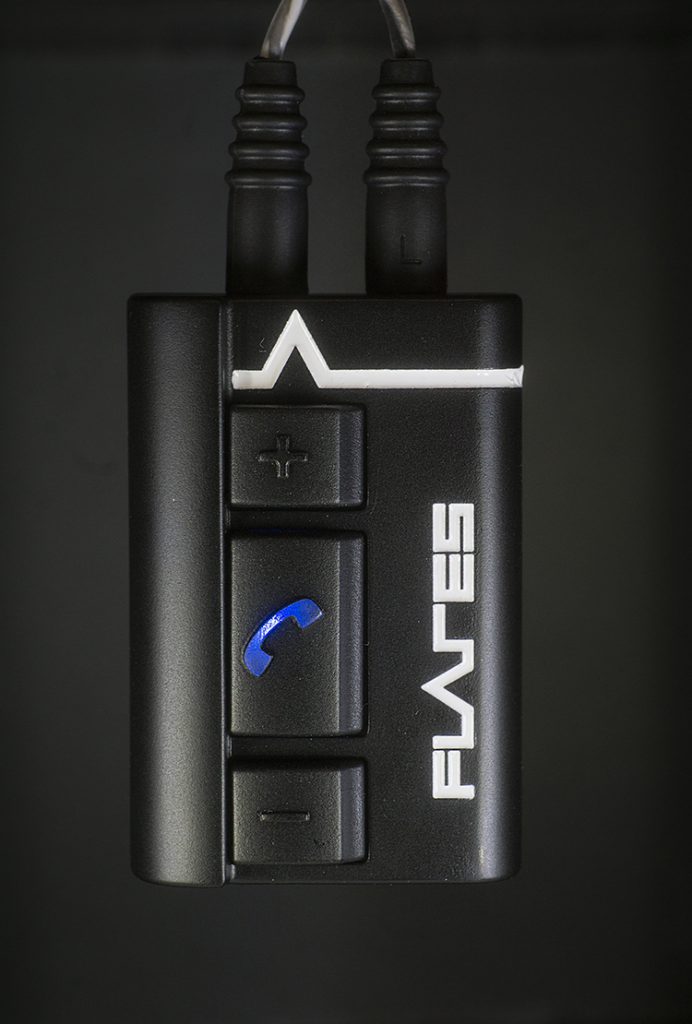 Unusually for a BT module Flare Audio has created a balanced design rather than a standard single-ended in-line module. The balanced design is terminated with individual left-right MMCX connectors at the top of the stiffened plastic module. The cable then extends from the MMCX connectors to the rubber joints just underneath the driving housing.
The concept behind the balanced design is to remove the shared common ground normally associated with 3.5mm single-ended plugs and thereby reducing the potential for crosstalk in the signal and generally improving sound quality.
Outside of the audio quality, it will provide typical communication and playback functionality including play, pause, forward and previous select as well as voice control, receiving calls, and volume adjustments.
Accessories & Packaging
The packaging is just superb and displays Flare Audio's pro-audio heritage clearly. It is both visually appealing and also rather robust. The cube-like box is covered in acoustic paneling on all sides so you could have a kick-about with it and I dare say the box will pass with flying colors.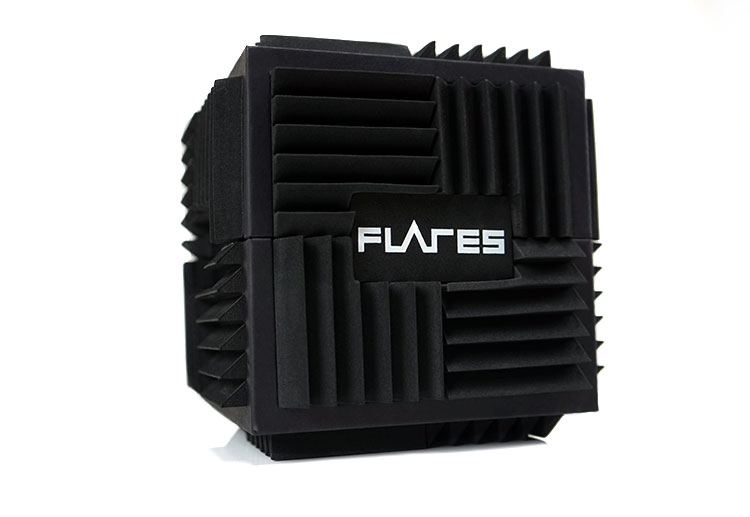 To open it you simply slide up the top half which reveals a tri-layered internal compartment design with various components of the Flares Pro in each layer. The top layer contains the Flares Pro IEMs and is centrally positioned between two contoured lines that represent a pair of ears.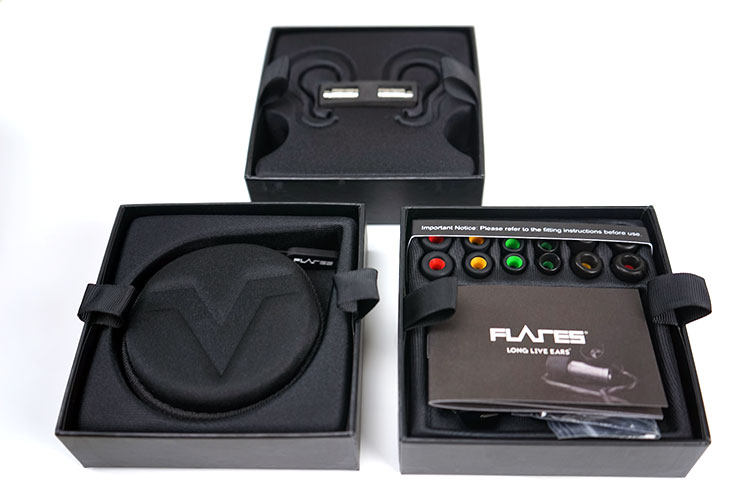 The second layer contains the Audiophile and Universal EARFOAMs selection tray plus the BT module and the associated USB cable used to charge the BT module.
The final layer contains the small zippered pill-type carrying case, as well as the Everyday EARFOAMs in a plastic sealed bag inside the carry case. Aside from that, you get a little user manual explaining how to use the tips and the BT module, and your warranty card.
Well, damn. That is the coolest IEM box I've ever seen. Davies has told me that he'd gone through painstaking procedures to get this box right. That hard work paid off, at least in my subjective opinion. I appreciate the hell out of the art involved and, hopefully, most of my subscribers will already know that about me.

The exterior of the box has a sound blocking type of material that you often see showcased in studio recording rooms or adorned on the wall of a rich persons listening room. The inside has some custom molding for the IEM and the tips included.

I am an Art buff and I get off on specific intent to create. When an artist has an idea and actually implements it into reality, I feel happy and have always struggled to highlight and showcase said artwork to the best of my literary ability. In the case of Davies' new box, I am subjectively satisfied with the exterior design of this box and then some. Not much more needs to be said here, the box is lovely and a serious eye catcher when propped on a desk or at the forefront of an audio collection.
Click on page 2 below for Sound Impressions & Comparisons