Sound Impressions
Mike
Hey, remember a while back in this review when I said the sonic quality was stellar? The DX50's internal Dac is the very same WM8740 24bit ( lol ) audio sampling rate chip inside the equally great iBasso D42 Mamba revision. I had no doubt early on that this new music player would sound fantastic based on that specification detail. I wasn't alone, a 100+ page thread appeared on the popular Audiophile internet forums months before the product was even released. Simply put, the WM8740 is highly regarded in the audio community and anyone who has ever heard it was well aware of what it is capable of. On a side note, the Fiio X3 shares the same chip yet sounds noticeably inferior to my ears than the DX50. Whatever other components are inside of this DX50, they are of a very high standard and work together wonderfully.
The stereo imaging on this little thing is fantastic and rivals the famous Hisoundaudio Studio V in many ways. While it doesn't have the angelic stereo sound-stage depth the V is known for, it does however crush it in width and height, immersion and separation qualities. Nobody expected the DX50 to sound this open and spacious. Astell and Kern, are you paying attention?
Marcus
So in front of me is another implementation of the WM8740 DAC chip. I have lost count of the audio products I have come across lately with WM8740 yet the surprising thing for me is the lack of uniformity of how it sounds. I tend to think of the WM8740 to be warm and musical with great dynamics and in the uDAC2496 from Just Audio it is just that implemented extremely well. The WM8740 in the hands of Ibasso has been tuned differently in terms of tonality, yet, again implemented very well indeed. For me, Ibasso has always been a neutral, somewhat thin but very detailed house sound. Perhaps that is the preference for the in-house team and it shines through on a lot of their amps and of course the D42 which was very expansive and worked so well with some IEM's tested. 24Bit's earlier firmware experience does remind me a little of the rather lean nature of previous Ibasso signatures so it is great to see this being tweaked with throughout successive firmwares to the point now where the bass is really nice, well controlled, good texture and reasonably tight with v1.2
Bass
The low-end quality and quantity of this product is good and more than acceptable for the price. The major downfall here is that the DX50's customized EQ functions are basically useless and offer very little bass enhancement. You can crank that baby up to 88 miles per hour and not hear a lick of difference in the bass department over a flat neutral setting. The entire EQ area acts as a radiation zone. Nothing works right and it is a place that you don't want to revisit after the first test or trial run. Summed up, the EQ area is almost totally nonresponsive. The flat neutral setting is the best. Stick with it, as the DX50 is simply not capable of pushing even nearly as much quantity on the low end as something like a Cowon J3. Don't let this downfall bother you though, the stock bass output on the DX50 is still good, but if you are a bass head and don't plan to run the DX50 through an amplifier, I would certainly avoid this product.
The experience has drastically evolved after each firmware update. On the stock 1.0 platform, the DX50 sounded lean on the bass, but snappy as well. Upon the first firmware update, the bass changed texture and became more broad and solid, clearly with an additional weightiness as well. Running on the current v1.2, the bass was again changed to yet more smooth, more solid and noticeably less snappy. This is a good thing that improved on an already good thing to begin with. All the changes were positive in my opinion, yet that EQ remained useless throughout each rendition of the firmware.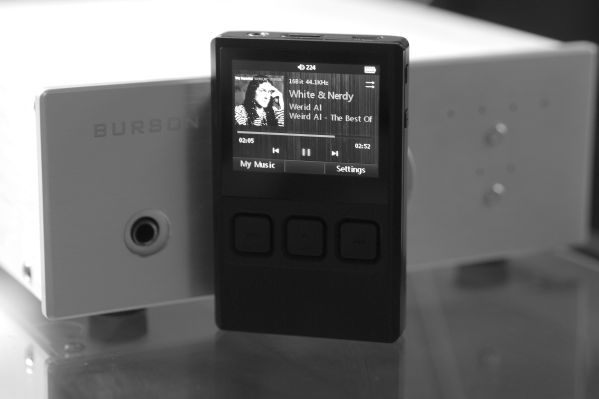 Mids
As a reviewer, I am positively puzzled beyond imagining as to how to review the mid-range of this Dap. When the unit arrived on the stock 1.0 firmware, the mid-range was extremely forward, tall and airy. Almost muffled were my first impressions with regard to clarity. Once again, similar to the bass experience evolution, the mids also evolved into a more relaxed, clear and solid feeling experience. I personally enjoy a forward mid experience, I like my vocals up close and personal. With the latest v1.2 firmware, the mids are noticeably more pushed back and in turn, the stereo image seems shorter and wider than before. I am a bit saddened by this.
Now, despite all that, the overall clarity is excellent. The player remains quiet for most of my headphones and iems even on High Gain output. With High Gain active, the upper mid-range takes a nosedive in clarity and smoothness and turns into something a bit more snappy and a bit shaky. This is a common issue with High Gain modes on most amplifiers and music players that use a similar feature. Via my JH16 custom iems, the Low Gain setting is very quiet and smooth. I dare not increase the voltage output into the Medium or High Gain mode, as the DX50 on High Gain is powerful enough to drive my Audeze LCD3 and MrSpeakers Mad Dog Planar Magnetic headphones. The medium gain seems to be the most common switch I stick to, as it is almost equally quiet as the Low Gain but has the benefit of the higher output, however, it is also not as shaky in the mids as High Gain seems to output with my LCD3 and Mad Dog. The switch from Low to Medium renders slightly more mid-bloom in the vocals, making the artist seem a bit closer to you. Stick to Medium gain mode with a higher volume number instead of High Gain mode with a lower volume number. It seems to work out the best for overall clarity to driving power ratio.
Jamie Foxx's – Why off his album titled Intuition is a highly engaging vocal experience in the mid-range as well as the low end. This is one of my go-to albums for testing ever since it was released back in 2008. It offers a wide variety of low-end bass texturing and quantities and mirrors that variety into its mid-range experiences. Jamie is an excellent vocalist and I enjoy his music very much. The DX50s more forward than relaxed mid-range is accentuated and reflected backward by most tracks off this album. They work very well together, as will any tracks that are not overly forward or too distant in the mid experience. Exceptional clarity for the price of $239. Beautiful, potent, buttery smooth and very satisfying.
Treble
Throughout each firmware update, I'd never found the upper regions to be a nuisance. Quality seemed to gently increase after each firmware upgrade and I shrug my shoulders at the overall upper region experience. While the Highs are not particularly amazing like the Hifiman HM-901 or the AK120 ( both of which are over 5x the price of the DX50 ) they are pretty much the same as the other major players in the price tier like the Fiio X3 and the HM-602. Both of which had a brighter than normal upper range with some sparkle and bite factor. It could be deemed overly snappy and forceful at times if your source track is more sibilant than flat. I wouldn't call the DX50 forgiving or smooth on the upper end, but I am on the fence about calling it aggressive. Despite getting stuck on that barbed wire gate, the Highs are still fairly clear despite being a bit potent.
Marcus
I wish I had the same amount of time as 24bit to test the various firmware sonic variations as my experience to date has only been with v1.2 so nothing to bring to the table in terms of what the other firmware sounded like. As I said before the Ibasso team seems to have produced a WM8740 variation that is neutral but very smooth and very well detailed without ever overindulging in excessive treble or showing signs of sibilance. For me that's the secret sauce of the WM8740 – that smooth sound signature present in the FiiO X3 (also WM8740) and the Just Audio uDAC2496 though not with the same degree of punch and dynamics I found in the dual WM8740 of the UDAC sadly.
I can understand if some think though this smooth tonality from the DX50 renders it a bit flat and lacking punch compared to some more dynamic presentations. If anything the DX50 doesn't have the same amount of bass tuning bias as some other DAPs like the X3 but after some lengthy listening periods, I honestly prefer the DX50 overall due to the edge in clarity and better coherence for the music I listen to on the go. Perhaps this will be the DAP for gentle genres I am not too sure, ultimately it depends on how you mate it with your headphone of choice. Certainly, I got everything I needed and more from the UM Merlins in a low-gain setting which, for me, offered the most in terms of a refined sound over the medium and high gain settings.
Our Verdict
(Mike)
The DX50 is clearly going to be an ongoing endeavor. This product is built on an Android platform, so expect Rockboxing to come along sometime in the future. Who knows how many more firmware updates will be needed to finalize the DX50 into a complete product, free of bugs and void of all quirky glitches and stress. I never expected this player to be half as great in sonic quality as it is, yet one that gives me the option of future large media storage expansion with the OTG input option via an external hard drive. USB Thumb drives increase in size much faster than MicroSD cards, right now you can land a 128gb USB Thummy for under $100, with proper driving power via a wall outlet, any compatible external drive should be fine. For the time being, we are all stuck with 64gb MicroSD cards and the internal 6GB or so hard drive space of the DX50. Dropping an extra Thumb drive capacity into the mix is mind-blowingly awesome and a very appreciated function. This will be great for those who attend meets and wish to have a large storage device and enjoy showing off their gear to others. Being stuck with a small amount of music is never a good thing.
At the end of the day, I found the DX50 to perform remarkably well. Despite the bugs in the system, the UI is slick, beautiful and simplistic. I rather enjoy it and the thought of a potential Rockbox UI swap in the future makes me overly excited. I will be recommending the player and ignoring the current list of system glitches, they are lessening with time and improving with each firmware update. A few more is needed to make the system perfect though. With great build quality, a nice LCD screen, and a simplistic, pocket-friendly powerhouse design, the DX50 scores high clarity marks across the board. It is sleek, potent, wallet-friendly and one of the best looking portable players I've ever seen. Highest overall audio quality to price ratio in the current portable music player world, no doubt about it. 9.5/10 for sound quality to price performance on the current firmware…was still a 9/10 in the dreadful v1.0 original firmware!
Current v1.2 firmware experience – 6.5/10
Original v1.0 firmware experience – 0.5 /10
(Marcus)
As a gadget, the DX50 is not yet mature in terms of it's OS. I have to disagree with 24bit thinking that Rockbox will happen, it didn't happen for the DX100 so plenty sure the DX50 will stay as it is. I think the firmware process for iBasso, much like FiiO, is a learning process though with the DX100 under the belt I do expect Ibasso to be able to roll these updates quickly given the feedback they have got to date. Small but fast FM updates usually work better than big ones for me personally to avoid any hidden nasty knock-on effects.
As a music player, the DX50 sounds fabulous. I know many will perceive it to lack a bit of bite, but that smooth tonality and big soundstage and the superior refinement just worked a treat for my own personal on the go preferences and for me a big step up on the X3 from FiiO. I know a few who will disagree on the X3 simply because of the dynamics and bass edge the X3 can offer on some genres and that is a fair comment but the DX50 is my taste in DAP's 100%.
As a complete package lets see – the jury is still out, the work is still in progress and much to be done but given the strength of the comments online the DX50 looks to be one heck of an interesting project, much more so it seems than the DX100 and much of that is down to that bargain and really inclusive $239 price.
Technical Specifications & Features
Main features:
– Bit Perfect, Support up to 24Bit/192kHz
– WM8740 24Bit DAC Chip
– Built-in 9V Voltage Swing Headphone AMP
– 2.4″ IPS Screen(320*240) with Capacitive Touch Screen, Bonded by OCA
– Up to 24Bit/192kHz Mini Coaxial Output
– 3.5mm Headphone Output, and Line Out
– Three Physical buttons (Rewind, Play/pauses, Forward) on The Top Panel.
– 256-Steps Digital Volume Control
– 8GB Onboard Flash
– Support SDXC and SDHC MicroSD card, up to 2TB
– 3-Setting Gain Switch
– Audio Formats Supported: APE, FLAC, WAV, WMA, AAC, ALAC, OGG, MP3
– User Replaceable Battery), 14hours Play Time.
Specifications:
Line out:
Frequency Response: 20Hz~20KHz +/-0.2dB
S/N: -109dB +/-3dB
THD+N: 0.003%
Output Level: 1.5V rms (1kHz 0dB)
Headphone out:
Frequency Response: 20Hz~20KHz +/-1dB
THD+N: 0.004% (32ohm load)
Output Level: 1.2V(Low gain), 1.7V(Mid gain), 3.1V(High Gain)
S/N: -103dB +/-3dB(Low gain), -106dB +/-3dB(Mid gain), -108dB +/-3dB(High Gain) (32ohm Load)
Output Impedance: <0.5ohm
Battery Life: 14hours
Battery Charge Time: 3hours with AC adapter, 5.5hours with PC USB port
Case dimension: 2.52W x 3.98L x 0.67H (inch)
64W x 100L x 17H (mm)
Weight: 146g or 5.15oz
Accessories:
USB cable, Coaxial cable, Pouch, and Screen protector