DAC-Amp combinations have been out for a while now, with AudioQuest's Dragonfly perhaps being one of the most high profile of these types of on-the-go all in one solutions. Heck even the D3 itself has now passed 12 months yet somehow this whole micro 'audiophile in a stick' revolution seems to have completely passed me by for one reason or another. I had my reasons – size, the whole iGadget fashion accessory pitch and to be frank I love my DAP's and even these have DAC outputs these days.
So here I am with a D3 kindly supplied by Audioengine and it is the first time I have tried the all-in-one "stick solution". Apologies in advance I do not have the Dragonfly, quite a lot of people I know have them but getting them for comparison was only possible if I pried it from their cold dead hands such as their untamable love for the 'stick'.
Audioengine are a US company with a ton of very interesting lifestyle products that a lot of buddies swear by for digital and wireless audio. Everything is focused on computer or digital audio from speakers, wireless audio adapters, Bluetooth, desktop DAC's, and headphone amps. The D series is Audioengine's range of 24BIT DAC's of which the D2 is wireless and the D3 and D1 are USB or USB wired. The D3 itself is the only one in the range that is pure USB stick solution (looks like a standard flash drive) and retails for $149 direct from the online Audioengine Store. It requires nothing more than to plug it into a MAC or PC and you are good to go as the drivers are plug and play.
If you visit the sales page there is a definite audiophile pitch in the product association with an LCD-2 in the far corner and the D3 connected to a Macbook so it looks like Audioengine really have a target market in mind for the D3. You also can't help but notice they are also one of the few audio companies that offer a fabulous 30 day returnable audition in your own home on their products. That is gutsy and the other one I remember doing that is Bose but feel free to throw some more names into the hat that do that in the comments section though.
What does it come with?
The D3 comes light on the accessory front but it is tastefully put together. The box is pure throwaway but inside you get a nice color matching soft pouch for carrying around in and a Grado-esque quarter to 3.5mm converter cable and a setup guide manual (again with the LCD-2 product placement with a Mac laptop).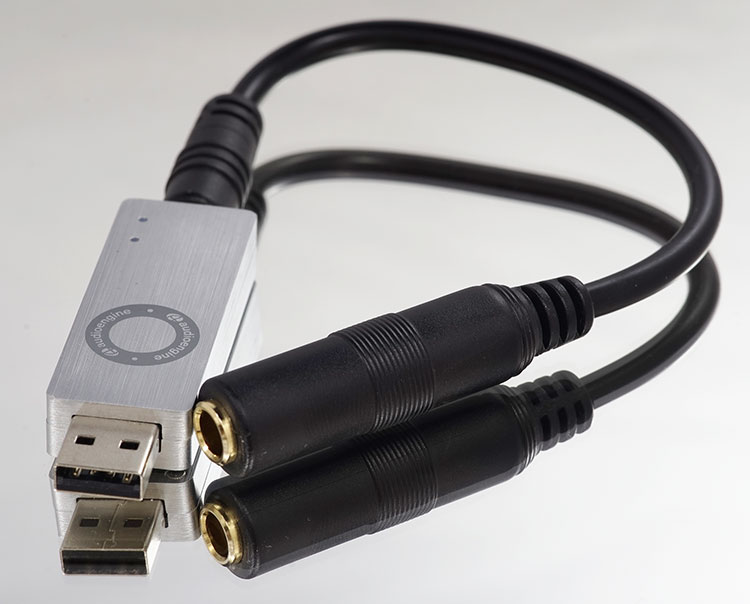 Audioengine have always had an eye for style and the D3, simplistic as it might be in form and function has more than a whiff of fashion sensibilities about it that I find more than acceptable for gazing purposes. It is simplistic and modern looking and fully fitting of the iGadget culture with a solid aluminum unibody form factor, zero dials or switches but sadly lacking in anything to house the USB interface itself once out of the pouch. Luckily I had a very old USB plastic cover I stuck on it and fitted like a charm. The top part of the D3 has the Audioengine logo engraved and to the back top left side are two LED lights for power (green) and for when resolutions steps above 48KHz during playback (blue).
At the very back plate of the D3 you can plug in your output of choice be it headphones or speakers with a 3.5mm jack. sadly no RCA or line out cables come with the packaging to assist you in getting a quick line out to speakers or external amp so you will have to sort that out yourself or order one of their own 3.5mm to 3.5mm cables which retail for $35 on their online store.
So what does it do?
The D3 is both an amplifier and a DAC rolled into one tiny USB stick form factor. It is designed to be a clear upgrade on your existing PC or MAC soundcard via USB output. It works through any powered USB interface to a PC and a MAC but Audioengine recommend plugging it straight into your onboard USB ports for best performance. Its plug and play and buttonless system means that pretty much everything about the D3 is controlled through software on your computer including volume, resolution playback and integration into your media manager of choice.
It will work with your direct onboard drivers, soundcard or otherwise, as well as ASIO and WASAPI (Foobar and WinAmp tested). Once plugged in it will decode digital audio asynchronously (dual clock) at rates of 32kHz-96kHz natively and up to 188.2kHz or 192kHz but this will be down sampled to 96kHz for playback. It will handle most compressed and uncompressed digital formats without any issue.
How does it work?
The D3's DAC is the AK4396 DAC (Asahi Kasei Microsystems) which is quite a popular and long time used DAC used by a fair few audio gadget manufacturers such as Schiit Audio (Their 'mini rocket' Modi DAC), M-Audio's Super-DAC and Centrance's Hifi-M8 which flogs for good deal more at $799. If implemented properly it should produce more than capable results with modulator-induced HF (high frequency) noise reduction or hiss as we more commonly know it.
The D3's amplification unit is a Texas Instruments LME49726 which in theory should mean the D3 should be able to output greater than 300mA using the D3's 5V USB supply as well as getting a decent grip on general noise levels. That should be more than enough to get most dynamic cans running including the HD800 as well as some planars such as Audeze and MrSpeakers. Interestingly the 10ohm output level (AE rated) should really make the D3 a bit of a struggle with sensitive earphones and whilst it not a completely noise free experience it performed a lot better than I thought with both budget and high end earphones.
Just one small note and that is the D3 does get a bit warm with continued use. Well actually a bit north of warm to verging on hot territory. The heat sinks are part of the actual metal injected molding aluminum shell so heat dissipates through the body itself. I would not advise laying anything material or flesh on it for a prolonged period of time as things might become a tad uncomfortable.
Page 2: Sound Impressions