Trinity Audio is a relatively new company that is the brainchild of Bob James, the chief designer of Rockjaw Audio. While Bob still has connections with Rockjaw, his ambitions of building new IEMs spawned a new vision that eventually materialized as Trinity Audio, an audio company with a different focus. The current collection in their line-up includes the
Trinity Audio Delta, Hyperion, Techne and most recently, Atlas IEMs.
Today, I will be putting the £149 Atlas through its paces and determine whether it actually holds a candle to the RockJaw Alfa Genus v2 IEM I have previously tested here.  The Atlas features a hybrid driver design with its 8mm neodymium dynamic drivers and custom-tuned single balanced armatures. What particularly stands out about this hybrid is that it incorporates splash-proof technology with the emphasis on sports use.
Like the RockJaw Alfa Genus v2 IEM, the Trinity Audio Atlas also comes complete with 5 different tuning filters to deliver a customizable sound. The model also comes in 6 different polished metallic colors to fit in line with Trinity Audio's option to personalize.
Box & Accessories
Borrowing traits from RockJaw Audio such as the font and color scheme, Trinity Audio does a good job with its sleek and minimalist packaging. Like DUNU's box, there is a magnetic latch which when opened reveals a foam insert that the earphones rest inside along with the filter containers. I was pleasantly surprised to see not one but three cables designed for different purposes. The 0.6m and 1.2m cables are indicated for sports use while the multi-braided is their pride cable for general out and about activity. Also included are 5 pairs of silicone tips and 2 sets of foam ones.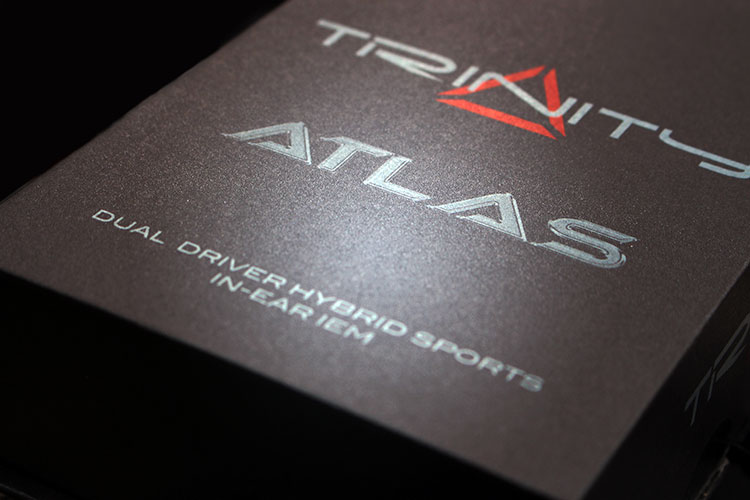 Build & Design
The Trinity Atlas is constructed from a precision engineered aluminum ergonomic shell that rivals RHA audio in terms of durability and style. I am highly impressed at how well these are built, especially at the sub £150 price point. The futuristic design features a nano-coated technology to ensure that moisture cannot break into and corrode the internal drivers. When I tested this with just a few drops of water, beads just rolled off without making the IEM damp or susceptible to damage.
The cable and body of the IEMs are all well-built with secure connections to the housings and the 3.5 mm jack. One change I would recommend, though, would be to change the straight jack to an L-shape to prevent excess stress being applied onto it.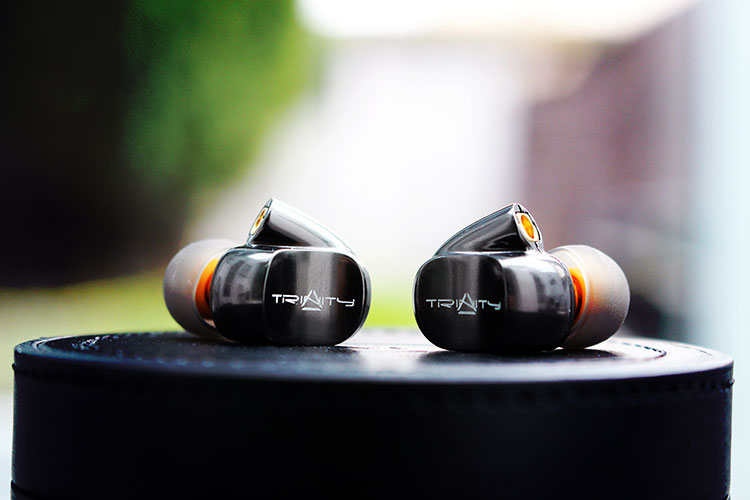 Fit & Isolation
Despite being touted as "ergonomic", the body of the IEMs often dug into my tragus preventing these from being very comfortable. Thus, I could only really tolerate the Atlas for a certain period of time before adjusting or completely taking them off. The sports cables are fiddly with the cables easily unwinding themselves from the outer portion of the ear when worn in the over-ear position. I would highly recommend that Bob implement a memory cable system in the future to prevent the wires from easily moving their position.
On the subject of isolation, the Atlas is average to below average in blocking out external sounds. This was disappointing when announcements on the train platform could easily be heard whereas other IEMs were able to attenuate this. Music, therefore, needs to be turned to very high volumes to drown about ambiance noise. Again, I would urge Bob to look into this to improve this aspect of the IEMs to truly make it an all-rounder.
Filter system
As mentioned, the Atlas IEMs incorporates a mammoth 5 filters, which can be explained through Trinity Audio's description below:
RED = Enhanced bass. Offering a V shape signature while retaining plenty of musical detail
ORANGE = V shape signature with slightly decreased bass
YELLOW = Neutral + Offering a more balanced sound signature with a very slight increase bass over neutral with a great mid and high range sparkle
PURPLE = Neutral – Offering a more balanced sound signature across the frequencies.
GUNMETAL = Treble. Offering a reduced bass signature with a focus on upper mids and treble.
I have found that the screw-in filter system was moderately easy to implement with Shure SE846's system much harder to and Earsonics Velvet IEMs being much easier also. After thorough listening tests, I have found that the purple, yellow and gunmetal filters suited my tastes best so I will focus mainly on these in the sound analysis below.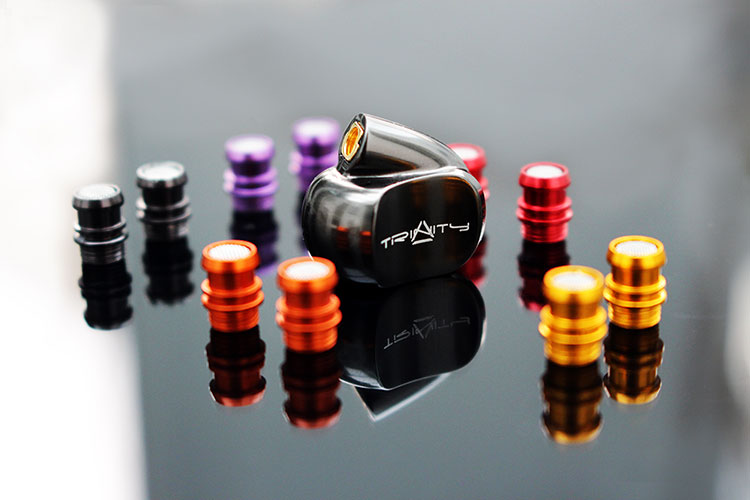 Sound impressions
Lows
With the yellow filter, the sub-bass is tastefully done with regards to its good extension and impact. In The Knife's "Silent Shout", bass presents with full-bodied impact and depth. The mid-bass boost, however, could have been dialed down somewhat to prevent detraction from the lower mids. I have also found that decay speeds are not the best with slight bleeding occurring in the lower mid frequencies. This does not happen with the purple filters which has more articulacy and control over its bass but is consequently thinner compared to the yellow ones.
Next to DUNU's DN-2000, the bass of the Atlas is relatively tauter with more of a balanced tuning. Whereas the DN-2000's bass slams can come across as more diffuse, the Atlas has more centre-focused slams that render more impactful. Comparing the DN-2000J with the Atlas, the former's bass is more technically accurate compared to the latter's more musically tuned bottom-end. Interestingly, the DUNU Titan 5 shares a similar bass to that of the Atlas yellow filters. The two distinguishing factors, though, would be the higher levels of impact on the Atlas and the greater mid-bass boost on the Titan 5s.
Mids
As with the Rockjaw Alfa Genus IEMs, the Trinity Audio Atlas demonstrates a good tonal balance in the midrange frequencies. With the yellow filters, the midrange becomes more full-bodied owing to the ample bass section with a natural and yet smooth signature. Transients are not as well defined as the RHA T20, though, with the latter showing more of upper midrange peak than the Atlas IEMS.
With the purple filters, the body of midrange loses out in size as with the bass but makes up for it in detail retrieval and higher levels of perceived clarity. A disadvantage, however, of switching from yellow to purple is that the Atlas becomes slightly less forgiving as is evidenced in sibilance-prone tracks.
With the gunmetal filters, there is more focus on the upper mids and treble resulting in more bite and attack in these regions. This really is a good combination for treble-heads and those who prefer details higher up without wanting to experience sibilance or hot treble. Though the different filters do tilt the signature towards one part of the frequency spectrum or the other, it should be noted that the underlying sound remains smooth and cohesive.
Highs
With the gunmetal filters, there is a good extension of highs amongst a smooth character. Perhaps a bit of air is lacking next to the DUNU DN-2000's treble though this is somewhat marginal as an observation. The RHA T20 with treble filters in comparison show more sparkly highs with the better extension than the Atlases. This could be one area that Trinity Audio perhaps work on to deliver more sparkle and bite without compromising its smooth tonality. Having said that, I am still impressed that the Atlas manages to portray high frequencies in a non-fatiguing and lush manner.
Soundstage & Imaging
The soundstage of the Trinity Atlas is similar to that of RHA T20. That is not to say that it is large because it isn't. Compared to the DUNU DN-2000 and the DN-2000J, vocals are more intimate but there is still a decent presentation of space. The purple and gunmetal filters have the best levels of separation with the red ones showing the least.
Final Thoughts
Overall, the Trinity Atlas is a valiant effort from the newcomer audio company whose build quality, design and innovation have decisively shone through. I am really impressed at the accessory kit which comprises of more than one cable and a plethora of silicone and foam tips. At £149, Trinity Audio have really pushed the value to the forefront which is nice to see. As for the sound, there are some things in each filter which I would like to see them improve upon to truly make these compete with the top dogs. I would also have liked to see perhaps a new combination of filters with my two favorite ones (purple and yellow) to reduce the bass of the yellows whilst instilling some body and musicality into the purple ones.
Despite this, the Atlas hybrids have a smooth and natural tonality which is more forgiving than some of my previously tested hybrids and balanced armature set-up. I also admire its tonal balance which not many IEMs tend to get right and its application in sport make it a very versatile product indeed. I very much look forward to see how this brand progresses and whether they are able to improve upon its minor shortcomings to make an instant classic.
Technical Specifications
Balanced Armature + 8mm neodymium dynamic drivers
5 x Interchangeable tuning filter system
Impedance 16Ohm
Sensitivity 110 +/- 3DB
Frequency response 19 – 21000HZ
24ct Gold plated 3.5mm Jack
1.2M & 0.6M Cable with remote & Mic/1.2M Multi-braid cable (non remote/mic)