I have had a few surprises in my time reviewing on Headfonics such as the Urbanears Zinken a few years back being a massive improvement on the rest of the range for a price point lower than some highly regarded peers. This is usually due to a lack of expectation either due to the price point or the legacy of the manufacturer. Well the same thing has happened again with Rock Jaw's Arcana v2 earphone which retails for £29.99 and well inside the budget affordable range of IEM in the market today. I wasn't expecting a whole lot, preparing myself for the usual thoughts of 'not bad for the price' kind of pitch. In reality, and much like when I first bumped into RHA in 2012, Rock Jaw might just be doing their homework on their target audience very well indeed and coming up with IEM's that punches above their price points. The Arcana V2, much like say the MA450i of RHA, may well fall under that category.
Who are they?
Launched in 2012 with a light smattering of reviews and starting off in the tablet business Rock Jaw have sort of slipped in a bit under the radar of the older bigger firms and created a bit of a ripple, especially in Japan, over their "British designed head gear" which consists of 4 earphones and 1 headphone from £29.99 up to £99.99. Headed up by ex R&B DJ, Joe Watts I decided to take some time out during the review to figure out why a tablet firm decided to switch to making headphones – seems like a bit of a jump right?
Hi Marcus, we decided that the (tablet) gear we were making needed some decent earphones as an accessory. One day my designer called me and just said we need to do this all the time and do what we really enjoyed.
After some deliberation and a lot of discussion I agreed this was the right way to go, the rest is history. And indeed I do remember the Rock Jaw tablets during my endless window shopping on Amazon for things I couldn't afford a few years back, small world eh?
The wood factor
The Arcana V2 is but one of 4 in their current product range which Joe tells me is being expanded and worked on as we speak. It is also the cheapest of the range at £29.99. The most expensive, the Kommand, will set you back £119.99 which pushes things out of the budget range just a little. All but one of them is made from a combination of wood chambers and aluminum bodies with the Arcana V2 being one such IEM. To all extents and purposes it also looks the "woodiest" in the range visually with an eye catching cherry wood chamber and clean aluminum lines for the enclosure and L/R stems. I was curious if Joe found any issues in dealing with wood at this price point given most believe it is a luxury build for earphones:
Wood just sounds so natural when tuned right. It is actually a bigger pain to work with than metals as the processes needed to get them ready to become a IEM is quite long winded, but the end result is worth it. Metal bodied IEMs can be tuned beautifully, but they just need a different approach to wood.
Now there a lot of woody earphones out there in the market right now. Some are very competitive like the Thinksound Rain/Rain 2and the MS01 which I thought was superb back in 2012 and others promise much but usually end up sounding too mushy, soft and boomy to really be of interest, mostly eSmooth variants use in one rebranding exercise or another. Glad to say though the Arcana V2 sways to the former rather than the latter.
What do you get?
As with most budget setups accessories can be a bit of a premium overhead pain in keeping that price point low enough to be competitive yet remain appealing to the market. I think Rock Jaw did a fair job here with the Arcana V2 with 4 sets of tips (3 sizes and one spare), a shirt clip and a soft grey branded pouch for the IEM's. The box itself is stiffened cardboard with a slightly awkward foam insert that if you are not careful you could end up looking rather silly at best or damaging your earphones at worst trying to get them out. Since the slide off outer cover reveals no back or fronts it is better to slide out the foam insert first and disentangle the earphones from there. The rest of the foam houses the pouch, clip, manual (tips on healthy listening) and the tips. The tips are light grey silicone tips in s/m/l and one spare which I think is large and comes pre fitted on the Arcana V2. The pouch is a soft velvet type pouch with a drawstring, nothing fancy but gets the job done and the IEMs fit snugly enough.
Something you can't see, and well I hope you don't have to use it but incredibly useful to have is the 3 year warranty on these earphones. That is RHA standard and a pretty gutsy move from a relatively small company so something to be applauded.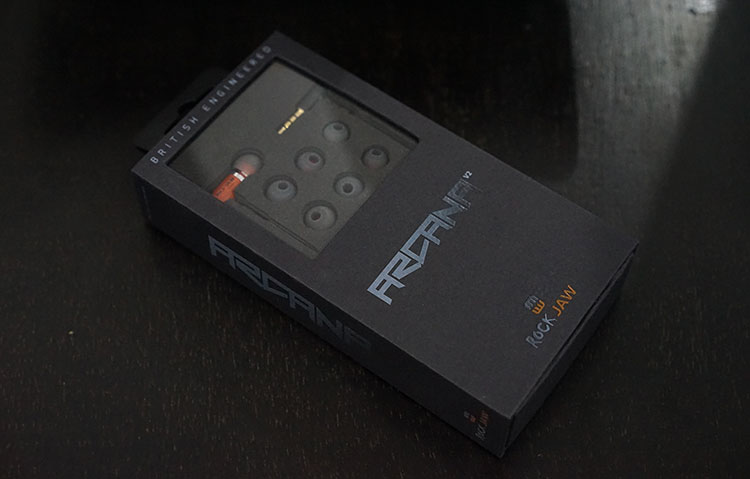 Build & Fit
The Arcana V2 is a bullet type form factor IEM with a single 8mm dynamic filter houses in a mix of wood barrel and aluminum frame with matching stem down to the strain relief. On the side of each unit you have Rock Jaw's own logo etched smartly into the wood in clean clear detail. The build is rock solid actually without a shaky or questionable joint – nothing plastic here to see. If you look carefully enough on the aluminum stem to the back you can just about make our which is left and which is right. Sure it blends in but my eyesight is not 20:20 anymore and certainly not in low light. Could have or should be a bit more raised for blind blokes like me.
The Cable
The Arcana V2 sports a 1.2m lighted braided cable in a rubber/pliable plastic sheath which is terminated in a right angle 3.5mm jack which is a fairly healthy rubberized strain relief also. It does suffer from a touch of microphonics which you can reduce with an over the ear insertion. Though designed essentially as a straight down fit the Arcana v2 is equally comfortably in the over the ear position given the rather light and pliant cable. It doesn't have any over the ear hooks as such but it stays in place pretty well. I would actually recommend this over the straight down position given the reduction in microphonics. The left cable also sports a remote control with mic for interfacing with your iGadget, android or phone of choice, (pause and play). It is a relatively simple but unobtrusive inline box that adds very little weight to the cable.
The Fit
The fit was actually excellent and way beyond what I expected. Perhaps I got lucky but out of the box with the stock tips as they gave me a cracking seal first time round without minimal effort. The driver units are not particularly heavy also which helps so there is little effort required to get the sweet spot in terms of seal and comfort. Even my dodgy crooked left ear canal didn't kick up a fuss which is a relief. I have tested quite a lot and usually the Westone Sure Fit style or customs provide the best in terms of seal and comfort and whilst the Arcana V2 is not on that level it does beat out the likes of the Fidue A83, The Superlux HD381 series and The HisoundAudio Popo's just for ease of fit and seal once secured. That is a big plus at this price point.
Page2: Sound Impressions