Sound Impressions
Tonality
The tonality of the Arcana V2 is not subtle, but neither is it coarse, brash or peaky. It has a smooth but clear tonality with a forward and pronounced bass response, an elevated upper mid range and lively upper treble response that allows the Arcana V2 to sound very dynamic without ever being considered muddy, too soft or with a muted top end.
This is good tuning for a budget IEM but it is a tonality that is very much in the bass head camp. What I like about it is that it has just enough clarity and response, particularly in the vocal presence or upper midrange to give the Arcana V2 flexibility to sound decent beyond the core EDM/Hip-Hop/R&B market. It will positively shine with EDM, that is its core market, but it is not a one genre wonder either.
Bass
You simply can't avoid the bass response on this. If you want fun over accuracy, forward over neutral and a dynamic match up for the likes of Dash Berlin, Deadmau5, Benny Benassi et al then the Arcana V2 is an excellent budget IEM for that purpose. Yet pleasingly the bass is not a sludge fest or too boomy and whilst there is an element of a longish decay it is not the slowest I have heard on an IEM or headphone at similar price point. You get decent control on the bass and the tone is not so smooth or soft that it is lacking in definition either.
Mids & Treble
Cleverly Rock Jaw have sucked out the mids a little on the lower end and the again in the lower treble, just enough to stop the bass bleeding onwards and upwards and for the lower treble to sound too peaky or distracting from a slightly forward midrange vocal presence. Whilst the vocals lack a huge amount of detail and sound quite centered, they are thankfully clear and to my surprise produced a lower than expected level of sibilance in both male and female vocal ranges. Percussion work is articulate yet smooth with a bit of upper treble sparkle making the Arcana V2 a reasonably nimble performer when the bass is not called upon. Unlike a lot of budget woody or consumer IEM's the Arcana V2 lacks any distinctive veil in the top end or an overly syrupy tuning to disguise any deficiencies in the driver.
Soundstage
The Arcana V2's soundstage was reasonable and on par with most dynamic drivers with decent separation but with the elevated vocal and bass presence this sometimes came across as a bit more forward than the rest of the presentation which tended to sit a bit further back. It is not the most coherent or linear presentation nor the most accurate in terms of imaging but then again I do not think it is really marketed or tuned for that kind of audiophile sound.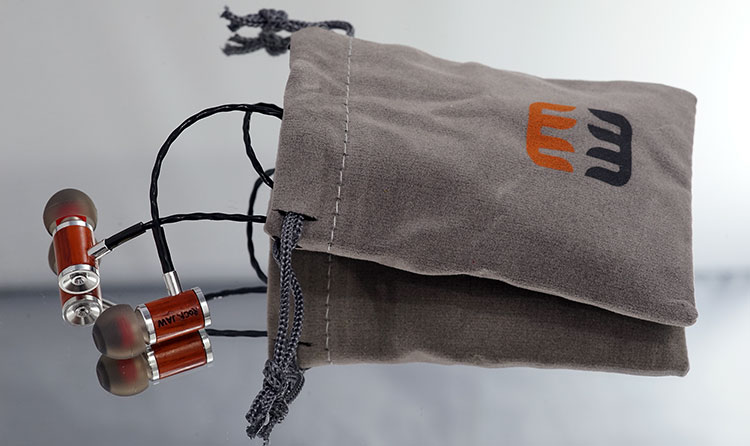 Matchability
The Arcana V2 doesn't need a huge amount of power to be driven well. It hit its stride on my BB Q10 around 2 clicks before it hit the top level, around 50-70 on the X5 depending on the quality of the track, around 45-50 on my Ak120 and 190 on the DX90. Straight out of the jack is not an issue on any of the modern hi-res DAP's. Interestingly with a simple amp like the Ibasso D Zero MK2 I found the Arcana V2 to behave a little more and become slightly more refined in the bass and vocal presence. Instead of a hard-hitting response I got a deeper more extended bass response that felt a touch more composed and detailed. It is still a bass dominant signature, but contextually, just felt a little more neutral than straight out of say the DX90 which really emphasized the dynamic range of the Arcana V2. Things got bit richer and lusher with the Piccolo DAC/AMP on OTG mode also with the Arcana V2, but again a little less lively and a bit more composed with a decent amp. Even with EDM tracks such as Tesla Boy's Stars, which had a plenty of impact out of the jack of all of my DAP's, just felt a bit more liquid and richer with these two amps, particularly the Piccolo.
Final Thoughts
Rock Jaw remind me of how RHA kicked off in the market with the MA450i a few years back with everything put together pretty well, a good warranty and a proper idea of where they want to go with each IEM they released on the market. Can I listen to dance with the V2? Yup that's the top match, but can I enjoy Katie Melua and Dave Lee Roth same time? Actually yes I can. Tuning on the V2 is primarily for the bass heads but there is just enough clarity and articulation with a decent vocal presence to allow those looking for something a bit more to get good value. They look and feel superior to the Superlux range, perform that bit better than the entry range of the SoundMagic IEM's and importantly do not make a complete mess of the top end in favor of bass and not much else.
Right then what can we say about the £29.99 Arcana V2? Personally, if I am upgrading from a set of buds or included earphones or looking for a quick pick and go set of woodies and like my music slamming and fun then I think could do a lot worse than these little IEM's. I wasn't expecting to say that in all honesty given the plethora of budget woodies that have failed to impress me in the last few years so color me slightly surprised and in a good way.
Price: £29.99
Links: http://www.rockjawaudio.com/product/rock-jaw-arcana-dual-driver-ear/
Technical Specifications
• Drivers: 8mm dynamic
• Impedance: 16Ω
• Sensitivity: 108+/-3db
• Frequency response: 20 – 20000Hz
• Cord Length: 1.2M
• Jack type: Gold plated 3.5mm
• MIC with pause/play button – (iOS & Android compatible)