The Stoner Acoustics UDX is a brand new desktop DAC priced at $330. It uses both single-ended and balanced outputs and also USB-OTG Support.
Disclaimer: The Stoner Acoustics UDX was sent to us in exchange for our honest opinion in this review. Many thanks to Stoner Acoustics for giving us this opportunity.
You can read about previous Stoner Acoustics products reviewed on Headfonics here.
I've never heard a Stoner Acoustics product before, so when my inbox was primed with a sample of their UDX DAC coming my way, sufficed to say, I was very excited. I've heard some good things about this model lately from other audiophiles and from a desktop space needy point of view, I can say that I am very happy with that I received.
Build Quality
The UDX appears to be crafted in an aluminum chassis and a glossy black acrylic face-plate. For the size, I would expect it would be very dense and weighted. But, it turns out that the unit is very light feeling at 500grams. That is a good thing, in my opinion. I honestly don't want things to be ultra-dense at this price point.
This is well suited for transportation and clearly as such with the included carrying case. I don't want to tote something very heavy and also have it lumber on my office desk. I'd like to be able to swipe it gently to the side when not needed. It is the little things like this, that really make me happy.
They could have easily weighted the unit with something extra but opted not to. In this rare case, and also again, due to the portable nature of the device, lighter is better. We are at a point in this build quality with this model that a lightweight metal frame is all that is needed. I can name a few much smaller amps and DAC's that feel significantly denser and needlessly hefty.
Features – Outputs
The UDX offers a quick installation via a PC through a B-style USB cable. You'll be needing to download the USB Driver files off their website. Installation was quick and painless, thankfully, no errors. Within a few seconds, I was off to Foobar2000 to begin listening.
The UDX offers balanced XLR 3pin as well as RCA output. This is great news, a low end of the middle tier DAC with a fully balanced XLR output? Yes, please! For the price, this is a steal. True, I'd really like a 3.5mm output as well, because there are times when I want to connect directly to a speaker that has power already that accepts a 3.5mm input. Just a gripe there, for the price I am really not complaining. Just wishing.
The UAC Switch
Stoner Acoustics has implemented a cool switch on the rear that lets you swap manually for usage with higher bitrate files. The UAC-1 mode supports PCM 24bit/96kHz. The UAC-2 mode supports 32/384kHz and also DSD64.
Ok, true that DSD64/128 is relatively low, as more and more portable players are offering 128 and up. But also true, that I have one album in DSD above 64. This really doesn't matter. There are some free converters out there if you have files that exceed this output.
It really isn't a big deal for me personally, however, I can see how that would affect others who paid for much higher bitrate in DSD files. That could pose a problem. Again, this is a $330USD DAC with a balanced option too, so I won't be complaining about this at all and DSD 64/128 is perfectly fine. Seems more than fair to say the majority of consumers don't own files that intense anyway.
Front Panel Manual Switches
The UDX is imposing, to say the very least and you won't get anywhere without reading the instructions that come with it, or what is listed on their website on how to use the product. You'll see three buttons marked A, B, and C. Each one operates a different function and it can get a little confusing if you don't know what you are doing.
Holding the C button will let you switch between line out mode and preamp mode.
While in preamp mode, the A and B buttons will toggle volume up and down.
Tapping the C button regulates 7 different decay modes:
A sharp roll off
A slow roll off
A short delay with a sharp roll off
A short delay with a slow roll off
A very slow roll off
A massive slow roll off
Low dispersion.
Beyond that, the Mode light will turn on when you are at the highest or lowest volume setting but will stay yellow if you are anywhere between the half-step attenuation's that are dialed in. This is done this way to allow for specific volumes that will be saved and remembered for when you turn the unit back on again next time.
This is great news if you want to hook up to a speaker and have it start out volume at a specific place, or connect to a better amplifier. In that case, you'd likely not have much of a scare with potential loudness issues. So long as you don't set it high, I don't see any issues with a pre-saving function for volume.
Most of us are going to run through a much better amplifier and use the UDX as a pure DAC anyway, so odds are good that our speaker or headphone will be running mostly out of the amplifier in the chain which likely will be already set to a specific area on the dial that you are comfortable with.
The DAC
I am not fond of the AK44xx series and this is the first time I have heard the 4497EQ version of it. After a little digging, I was only really able to spot some Asian market brands that also use this DAC, such as SMSL and Gustard.
In all honesty, one of the newer generation 90xx would have been a wiser choice for this model. We have enough neutral sounding DAC's on the market and I personally want something warmer. But, that is subjective and won't be factored into the review objectively at all. It is just important to note that anyone who wants a warm, fun and vivid heft to the sonic signature will not be receiving that. This DAC sounds neutral from top to bottom.
Sound Impressions
Bass
The UDX reminds me a lot of the O2, which is regarded for its amazing neutrality factor in tonality. So too, this UDX sounds very similar to my older O2, with regard to tone only. I think overall fidelity and purity feels more broad and detailed though on this UDX.
The older generation O2 feels thinner with a flat and absent EQ through the same gear and the same song. It isn't bloom or a slow decay. It is just more of a broad and large sense of low end that seems to extend a little deeper. But, not much.
For what is there in terms of quantity, I am severely unhappy as a bass head. However, purists will love it as they tend to enjoy pure sounding equipment. I prefer musicality and exaggeration. Others prefer flatness and a crystalline type of experience.
Midrange
Oddly, the UDX feels moderately placed in physical presentation. It isn't forward and it isn't recessed, which can be a good or bad thing depending on how you look at it. In my subjective opinion, I need something for my ears to latch onto and a totally flat experience top to bottom, along with a moderately distant feel to space and vocals, is something I do not enjoy. However, a lot of users again out there love a relaxed appeal and certainly some tracks a well-tailored for that type of sound.
In the way of overall fidelity, the UDX is, again, hyper-pure feeling and meshes very well with my Audeze LCD4 with that Euphoria in the mix. And also again, not as nice with the Heron 5 in the mix where vocals seem a bit wonky and out of place with such a pure sound coming through a vivid amplifier.
Rig pairing
It is all about rig pairing and matching the right way. The pure rig sounds fantastic and even my custom monitors from Empire Ears sound blazing fast with a very quick decay in the lower mids area. Male vocals sound sharp and razor-like in the best way. It doesn't hit hard, by sharp I mean very, very detailed and quick to decay. This is an excellent sounding midrange DAC.
Treble
This seems to be a common trend with the AK 44xx DAC options of the last few years. The top end of this DAC sounds noticeably more prominent than the rest of the spectrum as a whole. In a not so negative way, the shift sounds unbalanced in terms of quantity. A little lopsided in that regard but thankfully with some EQ you can tone the top end down if that is an issue for you.
Brightness is not the issue, it is more the treble can get hot sometimes and that is not a fault of the DAC, it is the fault of the track. At normal volumes and with very pure gear, painful is a word I would use and that is exactly what purists want. So, do not take that as a bad quality.
Just like the O2, the UDX also has a tendency to be extremely accurate to the track. Bad recordings sound terrible. However, lovely recordings with exceptionally fantastic fidelity will sound exceptionally fantastic. In purist gear, that is what you want as a consumer who has never purchased one before, or that may not understand tonality quite yet.
Do you enjoy true to the track sound? This is for you. The UDX will give you that so long as you pair with an amplifier that is also pure sounding.
Treble Dynamics
As mentioned, the top end can sound a bit slamming at times but that is again due to the track. It sounds pretty much exactly the same as the older O2 that I have and I couldn't think of a higher compliment. Physical and dynamic kick factor, or wince factor, is something that purist gear is unforgiving with and that is the point entirely.
If you want a softer impact, then you need to search specifically for a pure tone up top, but also one with a physically lessened dynamic slam. They are out there, don't worry. As far as the UDX goes, it plays well with elegant sounding tracks in Jazz, for example. Piano key striking and very well recorded guitars are eye-popping at times, but that sizzle factor is not the most physical slamming I've ever heard in a DAC, so don't worry.
Things will be fine if you own a great neutral amplifier and set of headphones to pair with it. Just make sure not to pair this with a warm sounding rig unless you need a stepping stone…or if you require your warm rig to sound less warm. If that is the case, then the UDX is a great option.
Imaging
Side by side with my Oppo 205, that uses a 9038 chipset from a newer generation, the UDX sounds equally deep sounding. Despite that Oppo costing 4x the price. In terms of width and height, the UDX brandishes an acceptable quantity. I've heard better, but I have also heard much worse. This doesn't image well in left to right, but the depth of field and coherency is a strong point.
Realism factor is very nice and the image itself feels intimate in that regard, however, that is an odd contrast due to the fact that the midrange is a bit relaxed and not intimate. If the void of the image is relatively moderate and not expansive, then I think it needs to sound forward in the midrange to compensate for that lack of expansive sound.
The UDX doesn't offer that but the image itself is not really lacking objectively. It might be a thing that occurs with purist sounding components in this tier, but I can't be sure. Meaning, the moderate tier of neutral sounding DAC's tend to utilize components that favor depth of field and coherency over an expansive sound.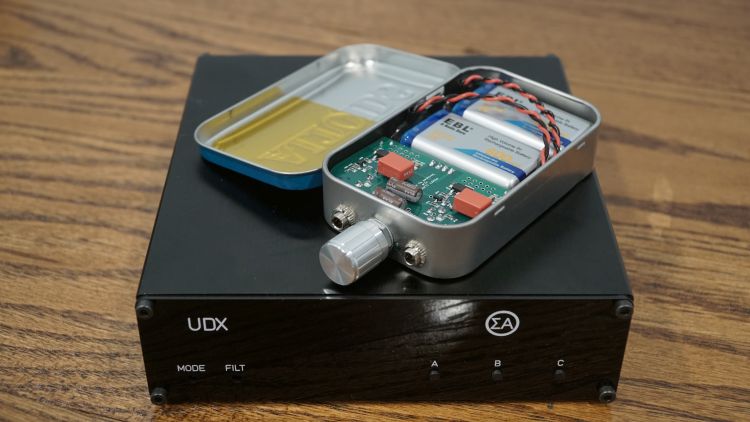 Matchability
Synergy
The UDX does not mesh with my Heron 5 Solid State amplifier from Airist Audio. That amp is just too warm and vivid for usage with a pure type of sound. However, it sounds fantastic with my Feliks Audio Euphoria tube amp and is the DAC I've kept connected to it for that specific fantastic meshing of parts. A happy marriage of parts and components is what we drive and strive for in this hobby and sometimes you end up finding a good one for you.
Yes, it is true I really don't enjoy hyper-pure sound and tone. But, as an objective reviewer, I do need to keep them around for comparisons and review critiques in the future. Also, there are certainly a few albums I love that sound better with a totally pure vibe than they do with an exaggerated and warm sounding tonality. For those instances, I revert to the Euphoria and UDX combination.
Our Verdict
Stoner Acoustics is really taking this purity factor to the next level. Outside of the O2, this is probably the most neutral sounding DAC I've ever tested. So, purists, this is definitely a model you need to adhere to. The unit is mobile friendly and can be powered just off the USB, or through the included wall adapter. It supports DSD and has a few manual selection modes for decay and roll off potentials. That is a lovely thing, indeed. Beyond that, the imaging has a very intimate feeling.
The UDX is the type of DAC that you connect to your speakers through another amplifier and you forget it is there for years. You forget it is there because it just works so well. It likely won't require updates or upgrades to a more neutral DAC. The DAC itself will remain more than sufficient to be paired with the lower end of Hifi amplifiers, perhaps, $700+ in pricing and even more.
As mentioned, my Euphoria tube amp is almost $2000usd and it sounds fantastic with the UDX. If you have a pure sounding set of speakers that need to be connected to a PC, look no further, especially so if they are powered-speakers. You won't need an amp if they have XLR or RCA inputs on the speaker that can directly connect to the UDX.
UDX Technical Specifications
Savitech SA9227 USB Audio Processor
AKM AK4497EQ High-Performance DAC
Fully Regulated Digital and Analog Sections
Texas Instruments OPA1611, OPA1612, OPA1632 Output Stage
Texas Instruments ISO1540, ISO7640 Digital Isolation
USB Audio Class 1.0 PCM 24 Bit/96KHz
USB Audio Class 2.0 PCM 32 Bit/384KHz, DSD-64/128
0.5 dB/Step Digital Attenuation
Select-able Digital filters (7 settings)
One Pair of RCA (SINGLE ENDED) and XLR (Balanced) Outputs
High Voltage Output 4Vrms (Balanced) 2Vrms (Single Ended) Line Output
THD(%): <0.001% 20Hz-20KHz
Package Includes:
Stoner Acoustics UDX
1x USB 2.0 Cable
Carrying Pouch
1x 1 Year Limited Warranty
Optional Items:
1x Mean Well GS18U05-P1J High-Performance 5V DC Adapter (Input 100-240V, Output 5V 3.00A)
Weight and Dimensions:
152mm(Width) x 150mm(Length) x 44mm(Height)
0.5kg (UDX Only)