On August 9th, 2018 at the Grand Hyatt in Hong Kong, Sony launched an expanded line up of their One Signature Sound Series and entered the In-Ear Stage Monitoring market for the first time officially.
Unless you have been living under a rock these last few years you may have been aware of Sony's big push of their integrated audiophile product vision with the launch of the MDR-WM1Z and 1A DAPs, the MDR-Z1R flagship headphones, and the excellent TA-ZH1ES desktop DAC/Amp.
The launch event this year expands that collection but with even more focus on portability with an expanded IEM range, a new headphone in the shape of the MDR-Z7M2, and possibly the biggest talking point of the entire show, the lavish and very unique DMP-Z1.
DMP-Z1
Let's start with the big kahuna and the most ambitious offering in the new expanded One Signature Sound Series, the DMP-Z1. This one is due out in November in the SEA market.
Integrated
At first glance, it looks like a desktop amp or at least a DAC/Amp but it is so much more than that. This is a transportable battery-powered all-in-one media system. Sony is calling it a digital media player but I think that is downplaying just how disruptive this device could be.
I said 'could be' because the estimated SRP has been pitched in Hong Kong for HKD61,880 meaning this is not a mass-market or even a typical audiophile purchase. To be honest I am struggling to think of anything like it before.
Imagine a TEAC HA-P90SD only much bigger, better built, and stuffed with some of the latest amplification and decoding technology and you might get a rough idea of the DMP-Z1.
Build Quality
First things first, it looks beautiful as most Sony gear does. There is a slight nod to pro-racking with the large handlebars at the front but those of us coming from the PHA-1 and 2 portable amps have seen a variation of that before.
The build is a rock-solid h-shaped aluminum monocoque chassis and frame for enhanced rigidity and better isolation for it's unique "double-decker" circuit topology design. The internal layout is loaded with plenty of earth points connected to this chassis to ensure it is deathly silent on playback. I tested it with both headphones and IEMs and yes, it is pretty good with both.
DAC
One of the more interesting features of the DMP-Z1 is the topology. I mentioned "double-decker" because Sony has split the digital and the analog into two distinct layers with the digital at the top and the analog at the bottom.
Going analog surprised me since digital amping has been Sony's stock in trade. The fact they have deployed 3rd party delta-sigma chipsets is also a break from the norm.
Inside the DMP-Z1 Sony has used a top-of-the-line dual AK4497EQ chipset implementation linked to a new optimized clock consisting of two new super-low phase noise crystal oscillators for 44.1kHZ and 48kHz.
It also comes complete with Bluetooth 4.2 with aptX and aptX HD as well as LDAC offering 24BIT/96kHz decoding capability.
Media Player/Storage
Sitting physically above the digital board is a 3.1″ Touch Panel LCD screen which pretty much operates like any of the latest Sony DAPs with the same OS.
The media player can tap into 256GB of available built-in memory with a further 2 micro-SD slots available should you wish to expand that a bit further. Decoding capability is up to DSD 11.2MHz and PCM384 and includes a DSD remastering engine that converts PCM into DSD 5.6MHz.
Power
Underneath the media touch panel, you have a beautiful glass window showing off the huge gold-plated aluminum volume dial and just to the left two status indicators, muting and charge.
The charge indicator is important because lo and behold the DMP-Z1 is battery powered. That is right, the big fell is a portable device, of sorts. It even has its own black leather-bound carry case to whisk it from one location to another.
The battery pack is a 5-cell pack and is independently chargeable meaning it is not housed inside the DMP-Z1. The carry case has a small section to stick it in so it is not awkwardly hanging around when you are on the go. Just in case, Sony has supplied the DMP-Z1 with an AC adaptor and a power chord should you wish to hook it up to a wall socket.
Sony claims that a full charge should be enough for around ten hours of playback using lossy tracks and approximately nine hours with a sample rate of around 24bit/96kHz.
Amplification
The bottom half of the internal topology is the analog amplification circuit with both single-ended and balanced outputs. Balanced is a 4.4mm output and single-ended is a 6.35mm jack, both are gold-plated. The analog rotary volume control is also gold-plated. The DMP-Z1 also uses 4 EDL capacitors inside the analog circuit with one also for the digital circuit for noise suppression. All the internal wiring is Kimber cable such as you would find in their TOTL DAP, the NW-WM1Z. It is opamp driven with a TI TPA6120 setup.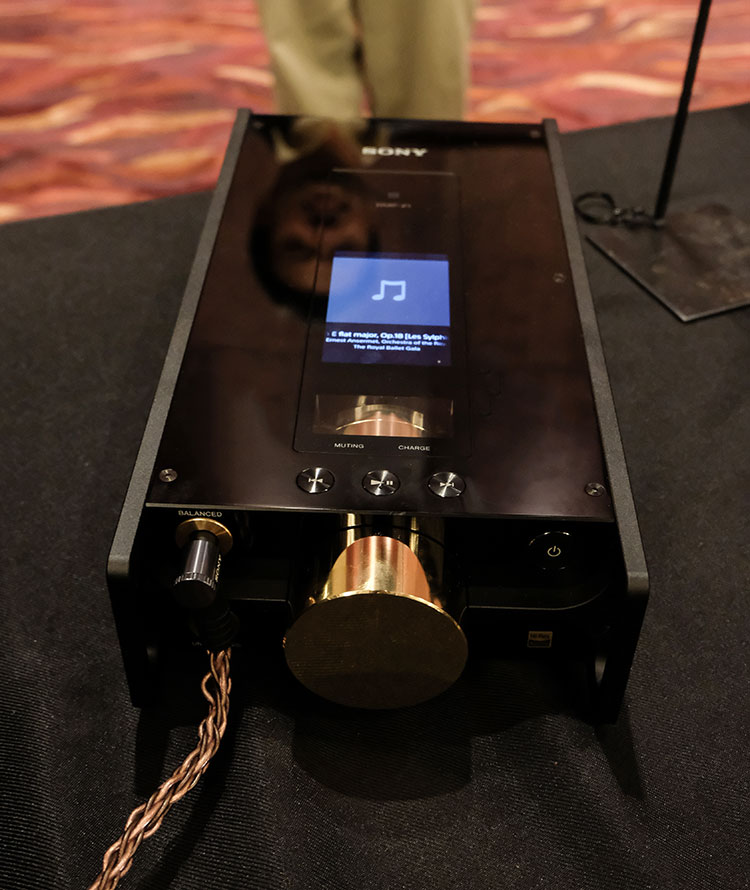 Output power is rated at 1.5mW balanced into 16Ω though no information yet on single-ended specs but a wild guess I would say around 800-1mW.
Note you cannot use the amp alone, this cannot be used as a pre-amp or a pure analog amp. It can act as a transport or a USB-DAC with a USB-C input/output socket at the rear but there are no analog inputs or outputs except for the headphone jacks. It is a fairly sealed and integrated media player, DAC, and amp.
Brief Impressions
This is very brief as I managed maybe 2-3 songs before we had to move along. I do wish we got a bit more time but understanding that there were a lot of hacks in the room who wanted to hear it, such is life.
What I did hear was relatively clean, clear, and easily powered their flagship MDR-1Z. The touchscreen operation was as quick as any of their DAPs with no lag in any song selection and the LCD panel had a good wide viewing angle.
What I am interested to know and explore further is how truly powerful it can be with planar headphones that are less efficient as well as super-sensitive IEMs. We were informed that there should be no issues playing a wide range of IEMs on the DMP-Z1 and that the noise floor should be very quiet.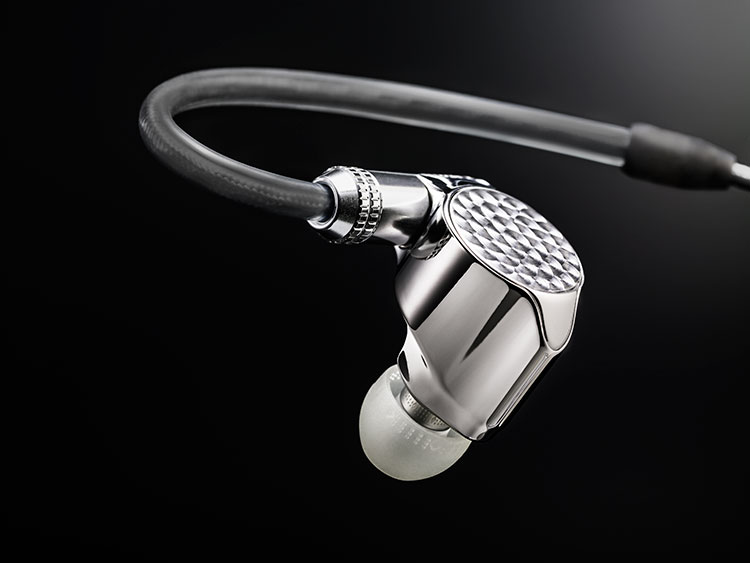 IER-Z1R
Hybrid Design
There were 3 IEMs in total making their debut at the show but the top of the line was the new dual dynamic single BA IER-Z1R. The driver combination for this hybrid caught me by surprise. About 2-3 years ago doubling up on dynamic drivers was a "thing" but I thought it had passed away. Not so with Sony.
Drivers
This is a universal zirconium alloy build with a very attractive Perlage pattern front plate. Inside the IER-Z1R Sony has packed in 2 dynamic drivers, a 5mm, and a much larger 12mm.
The single magnesium alloy balanced armature is Sony made and not 3rd party. The 12mm dynamic driver is also a magnesium alloy for the dome with an aluminum-coated LCP edge. The 5mm dynamic driver is made from an aluminum-coated Liquid Crystal Polymer diaphragm and uses an external magnetic circuit.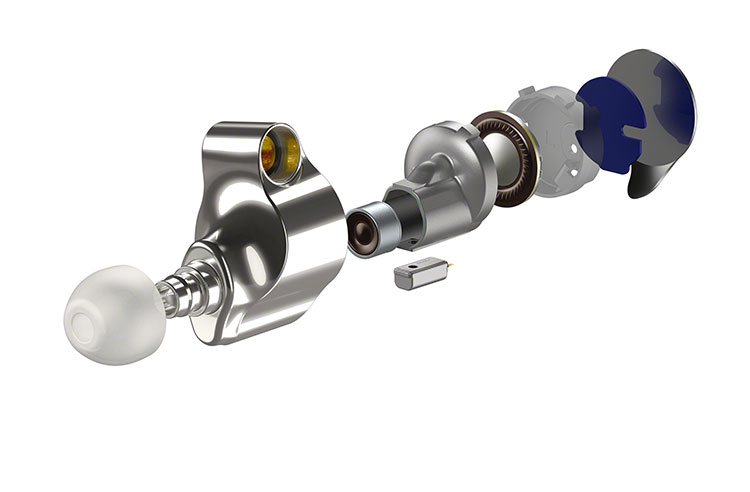 Frequency Range
The split seems to be the 12mm for the lows and mids, the single BA for the highs, and the 5mm dynamic operating as a super tweeter up to a claimed 100kHz. Yup, my hearing probably taps out at 17k so this is more about air and headroom than anything else.
Build
It is a beautiful design, to be honest. A bit on the large side but the fit is excellent for my ears and Sony seems to be supplying a very wide range of tips including their own hybrids which do a nice job with the seal.
In total Sony are supplying 13 pairs of tips with the Z1R including hybrid silicone and a brand called Triple Comfort. It will come packed with a carry case, a magnetic cable organizer strap, a cleaning cloth, and a cable clip.
Cable(s)
The Z1R uses an MMCX connection and comes supplied with two cables. The first is a regular 3.5mm stereo jack termination and the second is a 4.4mm balanced jack termination. The 4.4mm balanced uses KIMBER KABLE and I managed to grab a pic during the show.
Looks beautiful so credit to Ray and the team at KIMBER for this one. The regular 3.5mm terminated cable is a silver-coated OFC with a silk thread insulation for noise reduction.
Both have pre-formed ear hooks rather than retentive designs so they snap back into their normal shape after use. They look and feel fairly sturdy when I used them and none of them suffered from any memory retention or tangling.
Brief Impressions
The Z1R is not massively efficient, certainly needs more power than IEMs like the Andromeda and SE846. I presume that will be largely down to the big 12mm dynamic driver. On my own NW-WM1Z, I was hitting about 80 in low gain, possibly even higher. I suspect it can scale a bit more with even more output power from a small portable amp.
What I did hear was smooth, clear, and very natural sounding. A small amount of mid-bass emphasis but otherwise quite controlled low-end, good vocal presence, and a smooth but not overly forward top-end. There is nothing brash or bright about this signature, it sounded very nicely balanced with plenty of detail.
Click on Page 2 for details on the new Sony IEMs: the IER-M9, and the IER-M7