The Lear Kaleido is a new hybrid IEM with a single dynamic driver and two balanced armatures priced at HK$1,699.
Disclaimer: The Lear Kaleido sent to us for the purposes of this review is a sample and does not have to be returned. Thank you to Lear for giving us this opportunity.
Note, this review follows our new scoring guidelines for 2020 which you can read up on here.
It has been a few years since we last covered a Lear IEM. Back in Summer and Xmas 2016, we reviewed their custom BD4.2 and the Natrosound NS-U1 V2. Two IEM's at the opposite ends of the market but with one thing in common, a willingness to do something a little bit different.
In the case of the BD4.2 it was hybrid combined with bass adjustment and in the case of the Natrosound an attempt to mimic the presentation of a speaker within an IEM. Lear always had a strong affinity with hybrid IEM designs with much of their line-up having multiple variations of dynamic and balanced armature drivers.
That is not to say that do not do all BA IEMs, they do have a few such as their LCM range from 1 to 4 drivers. However, with the announcement of the insane 5 dynamic-driver BAMDAS™ 5, it is clear, at least to me, where the fun in the Lear workshop is right now. With the launch of the hybrid Kaleido (or short for Kaleidoscope), the trend continues but at a much more affordable level of just over $200.
Technology
The Kaleido is a hybrid single dynamic driver and dual balanced armature universal (can be custom if you prefer) priced at $HK$1,699, or approximately $220. It uses a three-way electronic crossover with an acoustic low-pass filter to smoothly phase and integrate the driver output.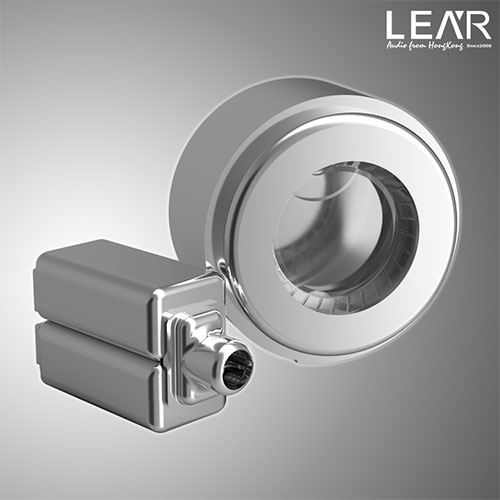 The dynamic driver is a 7mm micro DD using a fairly pricey neodymium magnet for increased magnetic field strength, a copper coil, and a PET diaphragm. The dynamic driver will cover everything up to around 3-4k in the Kaleido frequency response. The dual armature range will pretty much cover everything else in the mids and the highs with one driver dedicated to each.
Company Pitch
The pitch of the Kaleido is pretty much a value-conscious hybrid IEM with an emphasis on a musical tuning, strong but not overpowering bass, and a natural sounding mid to treble response. Lear feel that it is difficult to achieve that balance by using a pure dynamic driver alone, hence hybrid designs are more flexible and capable.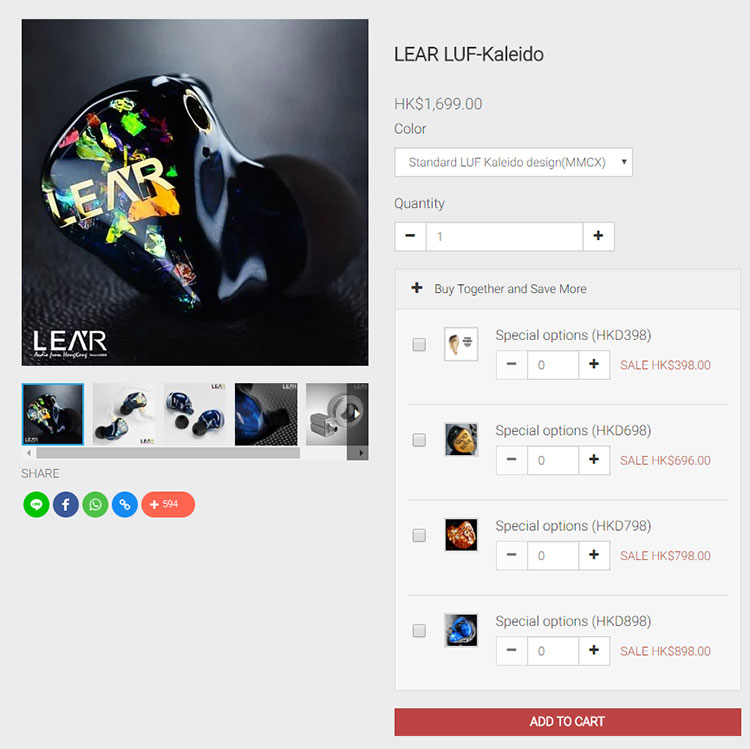 On the build side of things, you can buy it right away as a universal or you can opt to request a custom build with a base price of $HK$1,999. However, even if you choose to go universal, Lear will give you the opportunity to customize it a little before you check out on their online store. Options are mostly around the coloring and the faceplates.
Build Quality
Form Factor
Give the fairly small dynamic driver inside the Kaleido it is no surprise that the IEM itself is actually quite small. It is about half the size of the IT03 though of similar depth. The form factor is a "custom universal" which is a phrase beginning to take momentum in audiophile circles recently.
Basically, custom universal uses shell contours that are derived from the 'mean shape' of the typical human ear so that its fit is closer and better than typical bullet-type or even Westone SureFit type shapes.
You will note in the picture below a sharp indentation in the left shell base which is designed to ride the Crus of the Helix, (a cartilage ridge), to get a tight fit and seal on the concha basin without any uncomfortable pressure. It also places less emphasis on the nozzle and tips doing the majority of the securing work. Companies known to use this formula include iBasso, InEar, Jomo Audio, qdc, and of course Lear.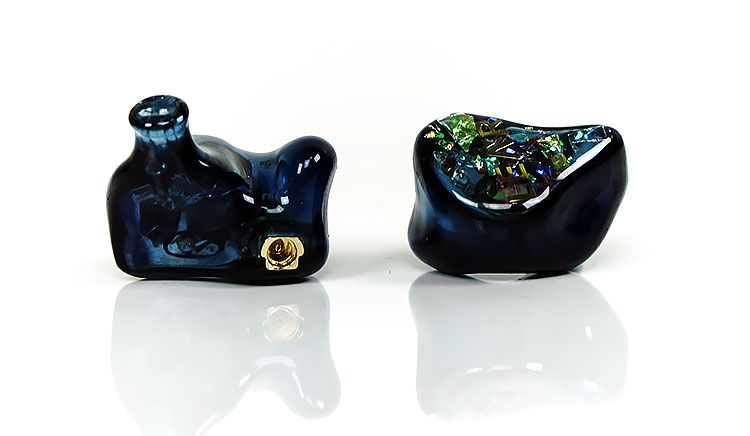 Faceplate
The faceplate combines a bright and bold collage of colored petals behind a translucent plate. There is a mix of amber, gold, green and of course, blue and produce an attractive looking design nestled on top of a translucent blue shell. The entire shell plus faceplate is also covered in a lacquer finish for a little sparkle and shine.
Cable & Connectors
The Kaleido is fitted with a set of brass plated MMCX connectors rather than 2-pin. They will give you a little more adjustability in terms of wire direction but they will wear out a little quicker than 2-pin if you are into a lot of cable rolling.
SPC
The cable itself is a 4 core SPC in a tight twist inside what seems to be a tubular PET jacket. It measures approximately 1.2m in length and is terminated with a right angle gold-plated 3.5mm TRRS jack. The y-splitter is made of the same stiffened rubber materials as the jack barrel and comes complete with a detachable low-profile cinch chin adjuster. Strain relief is good on both connectors and jack.
I am glad Tatco and Lear did not opt for anything copper for the cable. SPC will give it a little more sparkle and clarity without loss of low-end impact. Personally, I upgraded to the 8-wire Ares II form Effect Audio and PW Audio's silver wire "The Flash". It is entirely uneconomical so I would not recommend doing that if your budget is tight. However, if you happen to have some cables already then go right ahead because there are some sonic improvements in the Kaleido's performance with lower resistance higher core wires.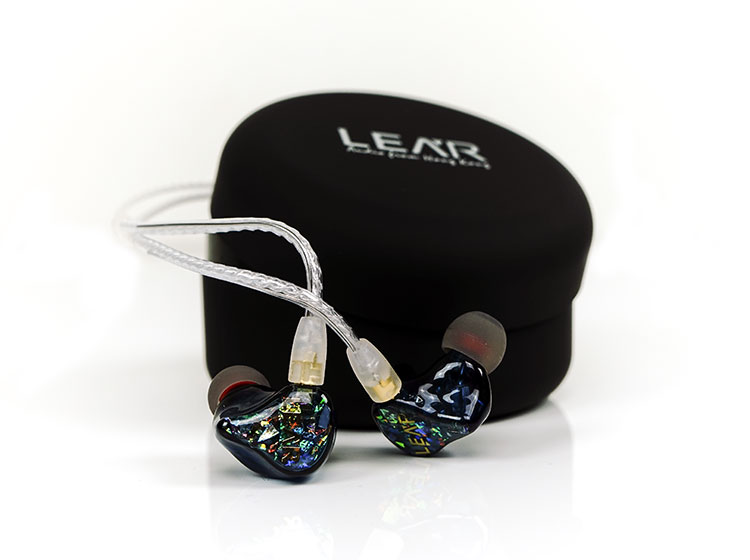 Handling
Aesthetically it looks bright, silvery but it is a little stiff and carries a fair bit of physical noise (microphonics to some) up the wire. It does have fairly long memory hooks which do need to be shaped as the stiffness of the cable can sometimes act as a counterweight to the very light Kaleido shells getting a secure fit.
Comfort & Fit
The small size of the Kaleido combined with the custom universal fit makes for a very comfortable experience. It does have the feel of a custom fit for sure though not quite as complete in terms of isolation. There is also virtually no pressure anywhere in my ear's concha basin, the fit feels very secure. It is just a shame the cable is so noisy or else it is superb.
Tips
Lear supplies both foam and single bore silicone tips with the Kaleido. You do only get one set of foam tips, a medium size. but on average it should work with most people's ears. The silicone tips come in small, medium, and large.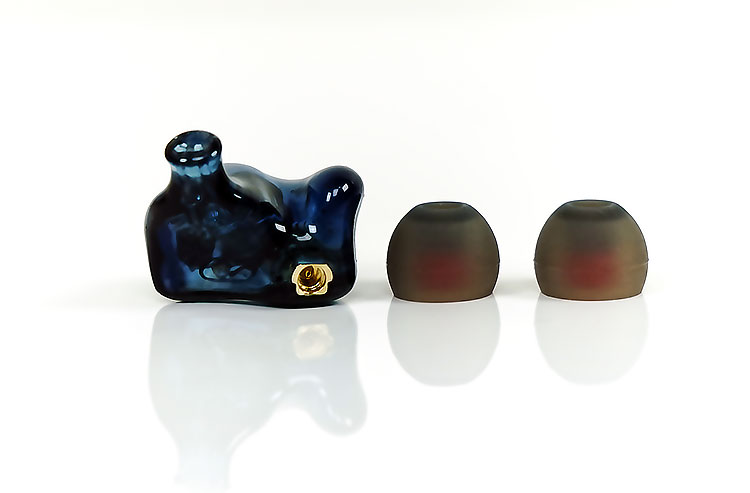 There is also one additional grey/translucent set of tips with a red stem which is fitted on the Kaleido out of the box. These tips have a longer stem and smaller bore opening. They seal and isolate a bit better than the black silicone tips but deliver more bass emphasis. The black silicone tips have a wider bore and are a little more open sounding. Those looking for a little less low-end response would be best advised to use the black tips.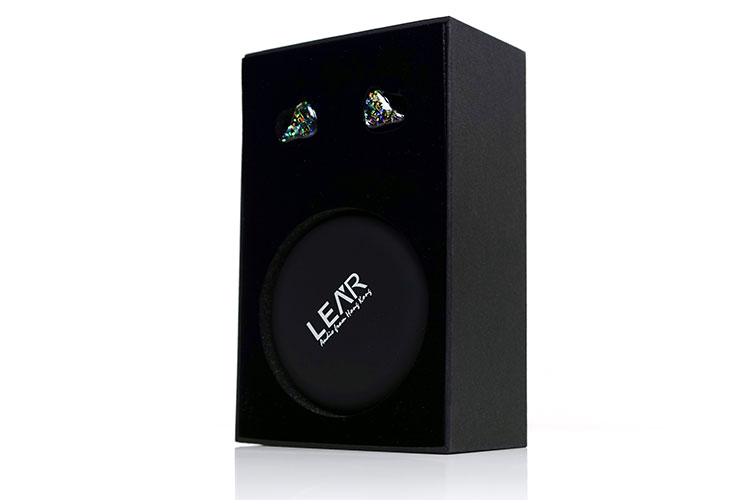 Accessories & Packaging
Lear's packaging is tidy and consistent with a lot of their IEMs at this price point. You get a black branded cardboard box with a contoured foam layering on the inside for the carry case and IEMs.
The summarized list of accessories inside the box is as follows
Pair of Foam tips
Three pairs of Black Silicone tips
One pair of Gray Silicone tips (Pre-installed)
Microfiber Cleaning Cloth
Carry Case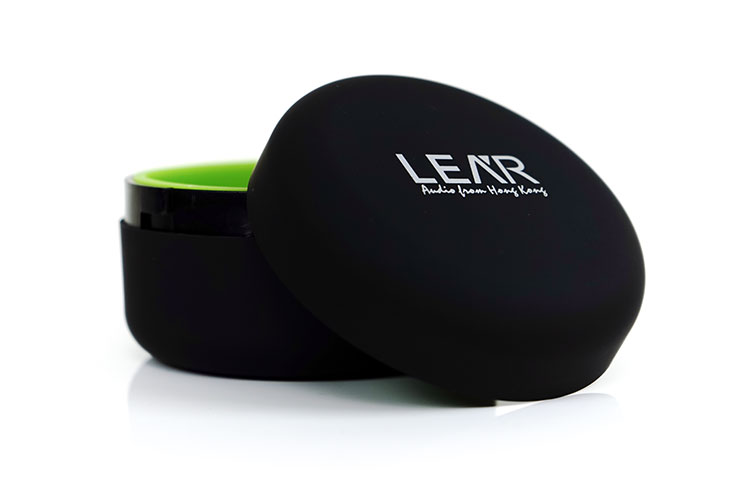 The Lear carry case is one I have seen before with their NS-U1 and it is actually quite nice. This is a branded stiff black round case with a detachable top lid and a rubberized green internal layering. The actual case material is plastics but has a rubber coating to protect is from damage. There is plenty of room inside also for IEM, cables, tips etc.
You also receive a small microfiber cleaning cloth though no cleaning brush. I think a small cleaning brush would be useful to prevent clogging in the small bores on the Kaleido. Especially with the black tips' wide bore openings.
Click on Page 2 for Sound Impressions & Comparisons