Synergy
The SGA1 balanced and SE output is tranquil and free from interference with a fairly black background. With a low output impedance and sophisticated digital volume control, it also works with sensitive earphones and headphones without throwing out any channel imbalance issues on low volume.
Testing with a mix of headphones and IEMs with different specs I can quite confirm that there is plenty of raw power from the output.
The amping methodology seems to be tilted to multiple stages of voltage amping than outputting a strong current. That 300Ω peak output curve will give some bias to headphones that are hard to tame like the HD800. This is a pairing that sounded extremely smooth, impactful, and strong using the balanced output.
Pairings
So we know that the SGA1 partners well with less sensitive dynamic driver-based headphone designs for example the HD650/HD800 on balanced output.
The HD800 pairing was airy and extended with some nice imaging. The bass also delivered a solid punch with the power from the amp helping to decompress both instrumental space and detail within the note texture, rendering the stage full and complete.
Putting the TH900 on SE connection there is also some good headroom with instruments sounding accurately positioned. The synergy is excellent with this combo if you like your midrange smooth and sweet midrange, with an elegantly refined treble performance.
The SE connection loses a bit of bass impact and fullness compared to the balanced output that is more powerful. This allows more of a mid-treble bias to work its way into the tonal character of the SGA1 that in turn, sweetens but also comparatively thins out the vocal notes a bit more.
Sensitive headphones like the Grado SR80x and Meze 99 Classics sound a bit flat on this powerful amp but you can make use of an attenuator like the IEMatch to leverage the experience, at the expense of some treble openness.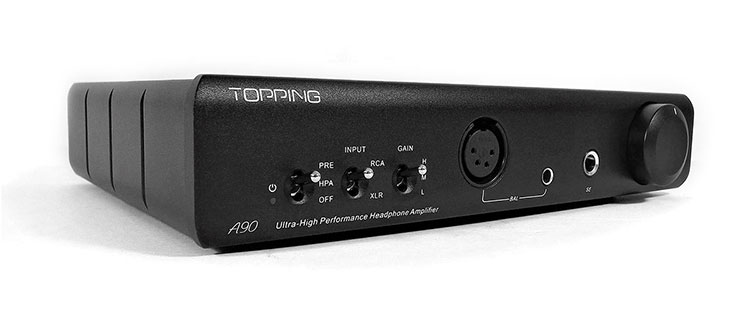 Select Comparisons
Topping A90
Technical
The Topping A90 is a compact balanced desktop headphone amplifier with a high current hybrid feedback architecture module. Their set of features are quite similar, both come with 4-pin-XLR output, 4.4 Bal, 6.35 SE output, and doubles as a preamp.
The A90 delivers up to a 145dB dynamic range with extremely low noise measured and <0.00006% THD+N. On paper, the A90 looks superior to the SGA1 in terms of specs in quite a few domains, but the numbers have little to do with the actual performance.
Design
The SGA1 is way more mature in terms of design and aesthetics, cutting a far more engaging aesthetic than the blander A90. Superior build quality and attention to detail make the SGA1 stand out immediately.
While some may argue the A90 is more straightforward in terms of design, features such as setting volume and gain are a lot more precise with the SGA1. You don't need to be afraid of changing the volume when you use sensitive gears.
One thing to note is the A90's on/off toggle which is on the front compared to the SGA1 rear-mounted power switch. I don't mind reaching to the backside of the device and it keeps the front panel clean, but if you are racking it up make sure you can reach the on/off button at the back.
Performance
The two amps display different characters in tuning. The A90 has a cooler tone with a sharper imaging performance, whereas the SGA1 has more coloration towards the low end and the edges more rounded and polished.
While both amplifiers are very powerful, the SGA1's mids are meatier and more naturally rendered, contrasting the A90's unembellished tuning and slightly laid back mids that keep it clean and unaltered in tone.
The SGA1's tuning has more of an analog vibe, meaning slightly warm but very coherent with ample power in the bass. The A90 scores higher in terms of dynamic range, of which I am not sure if the digital volume drags down the measured performance on the SGA1.
Overall, the two come quite close in resolution but the contrasting coloration of the two amps requires different gears to be paired with them for the best performance.
In practice, the SGA1 has more headroom and a more vividly colored midrange. It sounds more complete in terms of staging with the deeper and more powerful sub-bass presence with high load gear.
The A90, on the other hand, performs better with planars and more sensitive gears than the SGA1, sounding crispier in the higher registers and faster in the attack.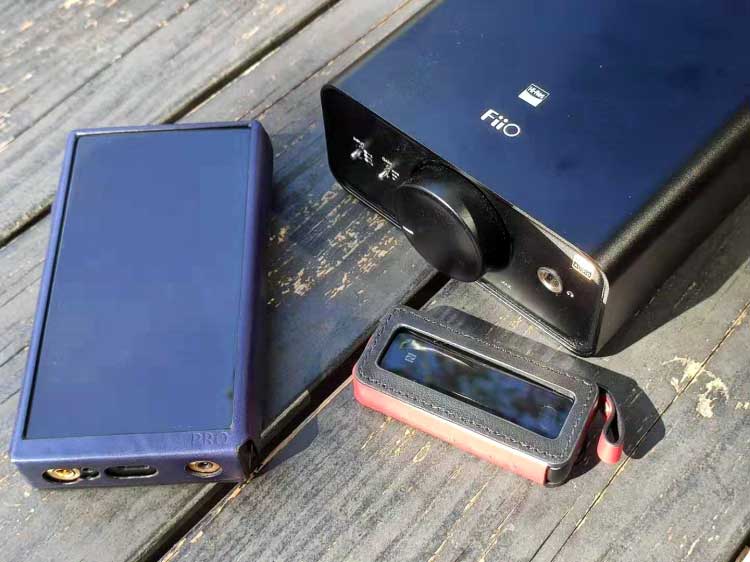 FiiO K5 Pro
Technical
Those looking for an upgrade path from the venerable K5 Pro's amping capability might want to take a look at the SGA1.
On paper, the K5 Pro has a <1.2ohm output impedance, -115dB SNR, and <8uV noise floor. It pairs well with IEMs and small headphones between 16-32Ω offering a decent boost to the output volume and adequate dynamics. The K5 Pro can pump out more power at lower load levels at 1.65W(16Ω) or 1.5W(32Ω) which allows it to sound really loud.
The SGA1 offers much stronger noise control, as well as a balanced output with a much lower output impedance. Its performance bias is more suited to very high loads making it more suitable to high impedance rated headphones such as the HD800 and HD600.
Design
The K5 Pro has a simple design and a smaller profile while the SGA1 looks much more premium and techier but also a bit bigger.
While the K5 Pro relies on physical toggle switches, the SGA1 looks a lot cooler with its huge display and muscular heat dissipation holes drilled on the sides. One thing, in particular, I do like about the K5 Pro is its external power supply, which helps keep the amp unit itself comparatively smaller.
Performance
On smaller loads, the K5 Pro does a great job adding more punching power to our tested pairings. It does not mess up the resolution, helps paint a bigger picture, and remains firm in imaging the midrange even at very high volumes.
Switching to the SGA1 you can feel the output immediately being more refined, the bass is a lot more energized and reaches much deeper. The mids are smoother, the vocal imaging more 3-dimensional, and the treble is much more polished and effortlessly extended.
The sense of stereo imaging and staging completeness is much stronger especially with higher loads, of which the K5 Pro pairing struggles to sound stereophonic.
The K5 Pro can go loud and it works very well to boost entry-level headphones, but when more power demanding gears are paired you will feel the resolution, dynamics, and power somewhat being limited.
At its price, the K5 Pro is a strong performer but if budget allows then stronger amps like the SGA1 do pull away in all respects especially with larger loads.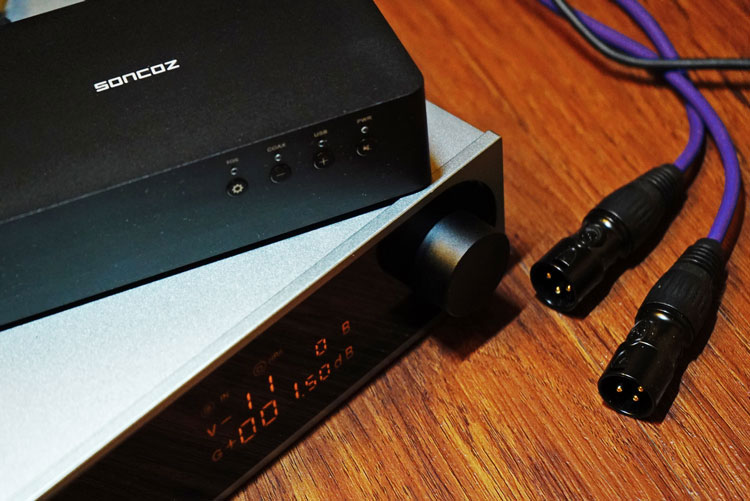 Our Verdict
The very modern-looking SONCOZ SGA1 headphone amplifier delivers an impressive amount of high-load balanced power while having the ability to capture fine details and demonstrate buttery smoothness in presentation.
Going balanced with the SGA1 is preferred however to really drive those high impedance headphones with authority with its single-ended output far weaker in terms of voltage.
The fine volume control makes it a great amp for controlling sensitive gear without picking up channel imbalance. The sound output is free from distortion or being veiled but it really comes alive with high impedance load headphones, rendering excellent headroom and musicality with a touch of warmth in the mids.
At this price point, there is little competition for the excellent build quality and visual appeals offered by the SGA1's intricate panel design.
If you are looking for a distinctively designed amp that will feed your higher impedance headphones with all the juice it needs, or if you have sensitive ears that need extreme channel balance listening at low volume, the SGA1 should be on your demo list.
SONCOZ SGA1 Specifications
Single-End connection
THD+N: <117dB
Frequency Response Range: 20Hz-20kHz
Dynamic Range: <124dB
Signal To Noise Ratio: <92dB
Crosstalk: <118dB
Output Voltage: 4 0Vrms
Output Impedance: 0.1 ohm
Noise: 1.8uVrms
Output Power: Up to 420mW @33 ohm, up to 210mW @300 ohm, up to 105mW @600ohm
Balanced Output
THD+N: <118dB
Frequency: 20Hz-20kHz
Dynamic Range: <126dB
Signal To Noise Ratio: <91dB
Crosstalk: <120dB
Output Voltage: 7.8Vrms
Output Impedance: 0.05 ohm
Noise: 3.6uVrms
Output Power: Up to 420mW @33 ohm, up to 840mW @300ohm, up to 420mW @600ohm
Pre-Output Parameters(RCA):
THD+N: <117dB.
Frequency Response Range: 20Hz-20kHz.
Dynamic Range: <126dB.
Signal To Noise Ratio: <95dB.
Crosstalk: <132dB.
Output Voltage: 2.0Vrms.
Output Impedance: 100ohm.
Noise: 1.5uVrms.
Pre-Output Parameters(XLR):-
THD+N: <118dB.
Frequency Response Range: 20Hz-20kHz.
>Dynamic Range: <126dB.
Signal To Noise Ratio: <94dB.
Crosstalk: <136dB.
Output Voltage: 4.0Vrms.
Output Impedance: 200ohm.
Noise: 3.0uVrms.