The Shanling MTW100 is the company's first TWS system and it comes in two flavors, a single dynamic, and a single BA version. They are priced at $79 and $89 each.
Disclaimer: The Shanling MTW100 sent to us is a sample in exchange for our honest opinion. We thank the team at Shanling for giving us this opportunity.
To read more about Shanling products we have reviewed on Headfonics click here.
Note, this review follows our new scoring guidelines for 2020 which you can read up on here.
Shanling MTW100
In 2020, ANC is a thing now, even at the low $100 marker we are seeing it pop up in new TWS products. Given the MTW100's lack of software upgradeability, this is a weak point. The V2 was a good move for direct connection compatibility but otherwise, the likes of no aptX and ANC might leave it in a tight spot.
Road Map
Like Noble, Sennheiser, and Fostex, Shanling are primarily known as a major audiophile brand rather than a consumer lifestyle company. However, like the aforementioned names, Shanling has also decided to dip their toes into the True Wireless market with the launch of their first, and only TWS to date, the MTW100.
Now, technically, the MTW100 is not one but two different products. They are distinguished primarily by the driver inside of each version and to a lesser extent their color-coding.
The first is a dynamic driver TWS, (in white) and is priced at $79. The second version of the MTW100 is a first for me, a single balanced armature version priced at $89. I have reviewed two hybrid versions to date and loads of dynamic driver variants, but never a single BA option.
Of course, the additional $10 will catch people's eye so just to assure you it is not just a driver difference. There are some isolated features in the BA version that are not in the dynamic driver version such as wireless charging that go some way to explaining the higher price.
Tech Inside
Tale of 2 drivers
So, lets set out the differing drivers. The MTW100 Dynamic driver uses a single 6mm graphene driver which is about par for the course in terms of TWS driver sizes.
You do get some outliers like the Freebuds 3 14mm and the 13mm beryllium driver inside the Edifier TWS NB but 90% of the bunch seem to gravitate to a 6mm size. Graphene drivers are known to be more power-friendly and efficient so inside a TWS makes sense given the demands on the SoC from other features.
The second MTW100 uses a single Knowles balanced armature driver. To be specific this is a full-range BA driver and not a sub-woofer or tweeter type commonly used in multi-BA configurations. Sadly, no specific mention of what model or if proprietary or not. My normal expectation for these is to be clean, fast but slightly mid-centric. We shall see.
Shared Features
Both of these TWS are milled from the same technical framework so they have a lot of features in common. Features such as an impressive IPX7 water resistance rating, Bluetooth 5.0, touch controls, and environmental noise and call quality DSP filtering.
Neither of the MTW100 units has aptX level codec decoding, however. Both only go up to AAC and SBC as well as covering A2DP, AVRCP, HSP, and HFP.
Mind you, this perceived limitation can often be mitigated by the implementation of the onboard SoC for decoding and amplification tuning as well as the quality of the driver. Sony's masterful WF-1000XM3 TWS is an excellent example of good sound quality from an SBC/AAC SoC chipset implementation.
Differing features
There are also a number of different features on the two MTW100 systems that may persuade you to make a decision either way beyond the driver's performance.
For instance, the battery life of the dynamic driver is slightly shorter at 6 hours for a single charge with 21 hours in the case. the BA version will get you a more competitive 7 hours per charge and a higher 24 hours in the case.
The BA version also has a wireless Qi charging option as well as wired whereas the dynamic driver version offered only a wired version. If you buy both, however, the dynamic drivers will charge in the MTW100 BA case wirelessly so this is a case feature rather than a driver feature.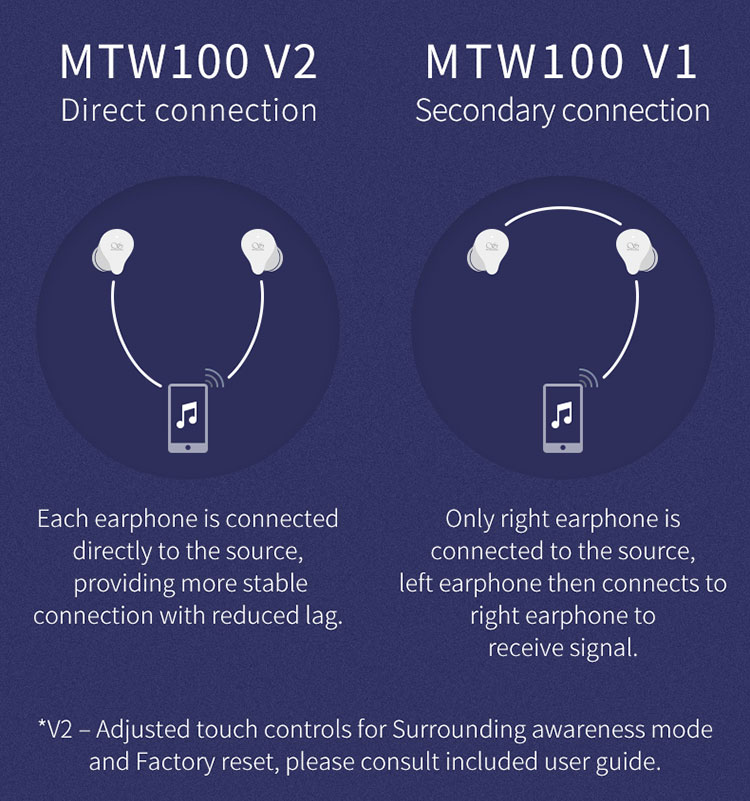 V2.0 – Direct Connection
One new feature that applies to both is a hardware upgrade on the SoC of the MTW100. So yes, there is a V1 and a V2 out there and you need to be mindful of that when thinking of buying one. I am pretty sure dealers will point that out to you but for distance selling, you could end up with new old stock V1's by accident. This is not a firmware upgradeable feature, this is hardware-based.
The SoC inside the MTW100's is a Realtek BT implementation rather than the popular Qualcomm route most TWS providers adopt. So, the technology here is the same as TrueWireless Stereo Plus but not actually called that.
The Direct connection technology dictates how the two drivers pair, both to the source and each other. You can find the Qualcomm TrueWireless Stereo Plus version in TWS such as the Lypertek TEVI, Freebuds 3, and Noble Audio's Falcon.
In the V1 MTW100, there is a master and slave relationship whereby one driver pairs with the source and in turn creates a secondary connection with the other driver.
The V2 version allows each driver to connect directly to the source "in stereo" and do away with that master-slave connection between each other. The software inside the Realtek optimized chipset then syncs them both as a single pair of earphones.
The master designation thus becomes more flexible. For example, if you run out of battery life on one side, the other side becomes the master so you do not lose a connection.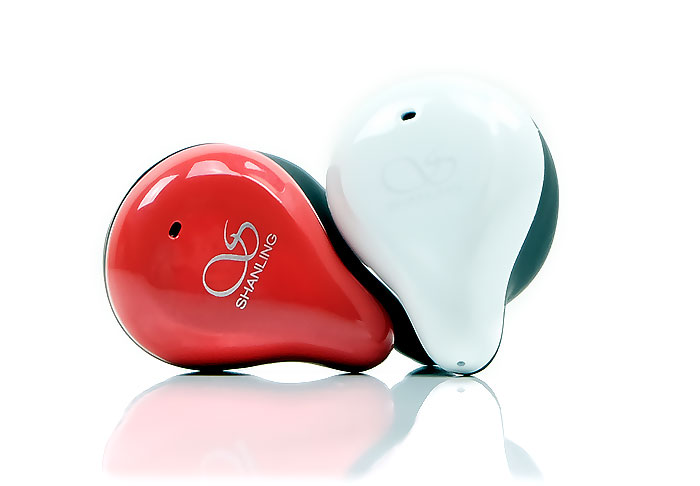 Design
Oh, these are small drivers in a very small case. Kind of reminds me of a clamshell and pearl experience only there are two of them inside rather than one. Because they are a wholly plastic design they are also fairly light for a TWS at under 50g. You are unlikely to feel these in your ears compared to something like the HELM TW5.0 or Astrotec's S80.
The design is a classic audiophile teardrop design with a 3-piece shell, faceplate, body, and nozzle. The finish is a mix of glossy white, red, or black on the faceplate and matte black on the main housing.
The body shape is elongated to the front and gradually attenuates into a relatively short nozzle. The nozzle has to be short because the charging case is rather shallow. This will give you a few issues regarding tip choices as not that many 3rd party tips will work when trying to fit the drivers into the case.
The only differentiation between the dynamic driver version and the BA version in terms of design is the color and the nozzle gauze protector. Everything else on both of these versions are exactly the same. The nozzle on the BA is a silver gauze to the front whereas the dynamic driver uses a black gauze and is a little more discreet looking.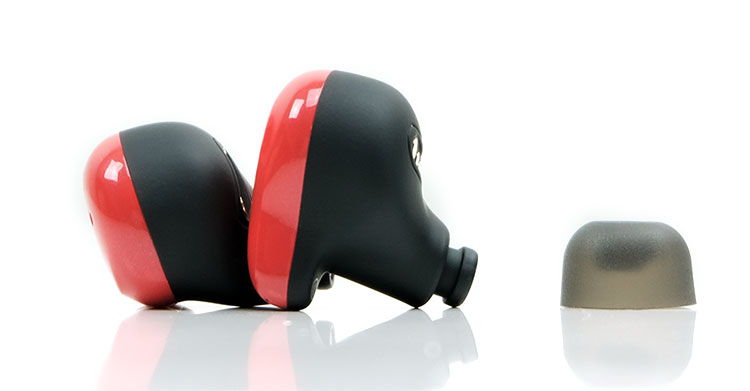 Comfort & Isolation
The MTW100's are supremely comfortable in the ear with that rounded smooth form factor. The combined low-weight, ergonomic form factor and decent insertion depth (for my ears) make them relatively steady also. Could a set of hooks work even better? Perhaps, with gym work in mind but after a 10km run (shocker!), I actually felt they held up pretty well.
Note, there is no venting port on either design. A 6mm DD does not really need one if the chamber is big enough. That means isolation, even with the single bore silicone tips is not too shabby.
Tips
Could this be better? Yes, and no. The stock tips are short and fairly thin and porous. They do allow for a decent seal but pretty much any decent silicone or foam tip will outperform it. You owe it to yourself to roll the tips because the MTW100's are very good for isolation when you get the right set of tips.
I found both Final E and generic foams to perform very well indeed with the Final E tips being the better performer. It does not overly warm up the DD version of the MTW100 like the foams do but still offer excellent low-end performance.
So, why the no then for tip rolling? Well, these tips have longer stems than the stock tips. That allows more penetration and a better seal but also increases the length of the driver dramatically. The enhanced length means you simply cannot fit them back into the shallow carry cradle nor will the driver contacts reach the cradle contacts to charge or reset.
If you need an alternative I might suggest 1MORE's mushroom tips from their True Wireless ANC which do fit and allow the MTW100 to charge but I don't rate them for isolation.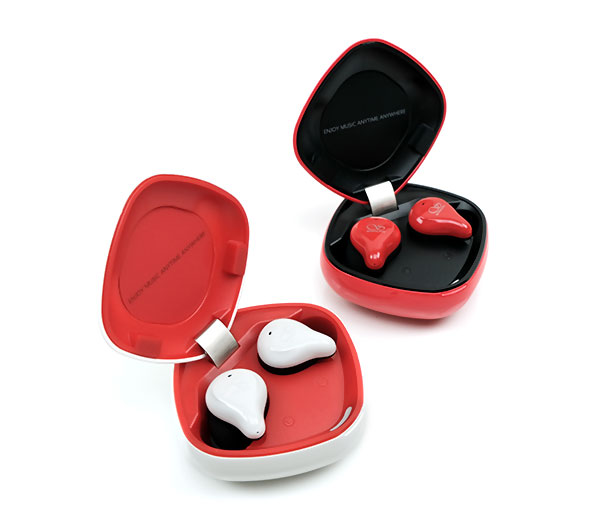 Charging & Case
The charging cases are small, cute but also very light and modernistic. The cases come in 3 finishes, two of which are in the pictures. A white and red for the dynamic driver variant, red, and black/orange for the BA options.
Granted, these plastic clamshells are not 'grade A' aluminum constructs that you find with the likes of Edifiers' new TWS NB or the 1MORE True Wireless ANC. However, at this price point, they are fairly stylish with more than a hint of retro. I suspect these were perfected by the same design as the Q1 DAP as they share some similarities.
The one concern is the thin aluminum sheet hinge mechanism that feels a little on the free and easy side and could possibly crack with abuse. Otherwise, the smooth cornering and low height make this very pocketable.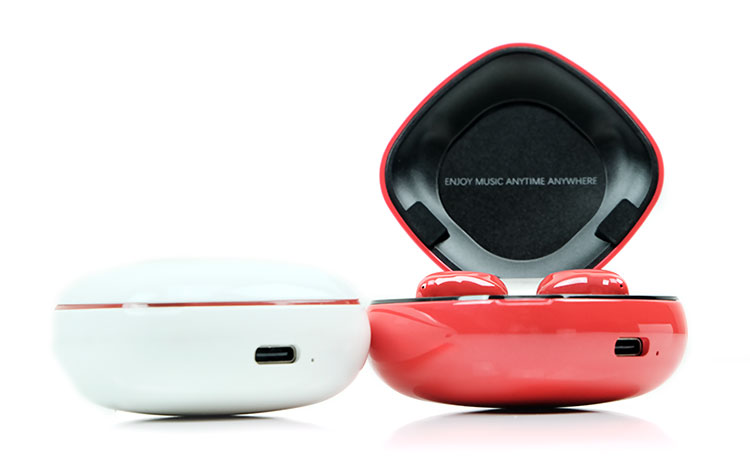 All 3 charging cases are equipped with USB-C charging ports with relatively short charging cycles of 1.5 hours each from 0 to 100%. For the additional $10 for the BA you also get wireless Qi charging which some might find a welcome bonus. Sadly, there is no mention of any quick charging capability on the MTW100 cases.
Battery Life
I would place the MTW100 in the middle-tier in terms of battery life. The dynamic driver version has a reasonable 6-hour battery life whereas the BA version, with its lower power requirements, does better at 7 hours. Both use the same internal battery. These are normally tested at 50% volume and given the top decoding is SBC and AAC it is a fair performance without being spectacular.
The cradles are not too bad for their size in terms of additional battery capacity. With the additional power requirements of the dynamic driver, you get around 21 hours capacity from its case and an improved 24-hour capacity for the BA version.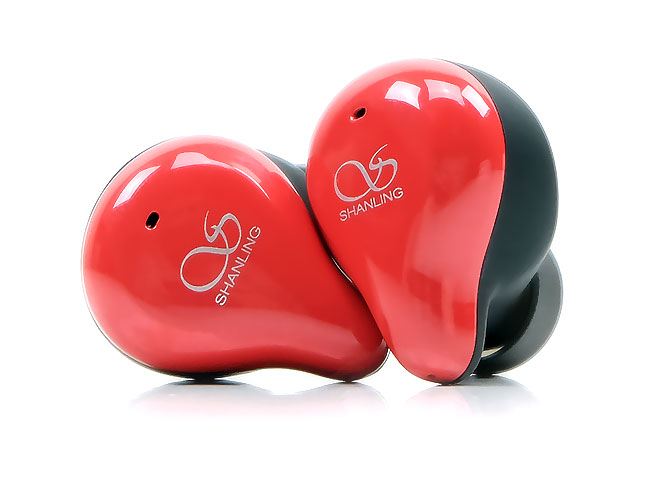 Controls
Touch
The MTW100 uses a touch control system housed under the faceplates for both variants. There is no apps integration to tweak the controls or upgrade the firmware so what you get is unlikely to change nor can you change it yourself.
Which is a shame because it is missing one of the most important controls a TWS needs to be truly wireless, volume control. You can only control volume via your source device which means any hard yards you want to do around the house etc will have to include taking your source with you.
Aside from that, there are some positives. The pressure for activation is just right, not too sensitive nor like 1MORE's jackhammer requirements on their True Wireless ANC. The faceplate size is just right for accurate touch activation and the lag time is very low for execution.
Control Set
The control set is fairly routine for a TWS and well laid out in the manual. Sensibly, nothing is activated on a single click. That is important for touch control systems after never-ending activations on other systems that use a single click.
Double clicks in the left side pause and play music whereas triple clicks on the right and left go to the previous and next track. Call handling is catered for all but I do not think these provide for Voice Assistant support, at least none that I could find. That means no Siri or Google Assistant.
There is one major feature that deviates from V1 to V2 and that is their Surrounding Awareness Mode. On the V1 the touch control activates this feature with a soft press for 3 seconds. On the V2 it is 4 taps. Personally, I much prefer the 3-second touch option. Honestly, I find rapid taps to be jarring on my eardrums.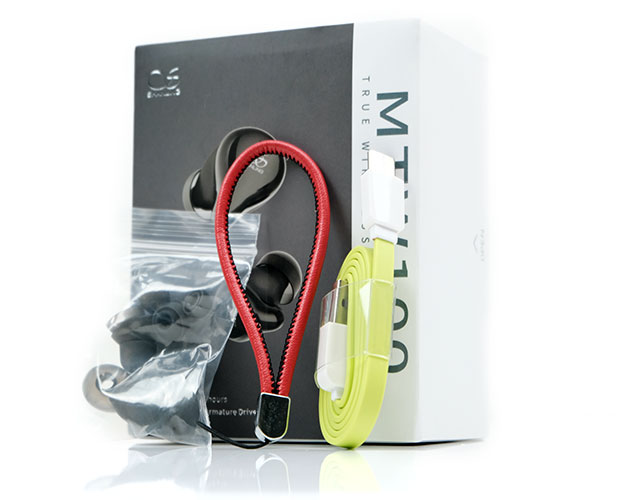 Accessories & Packaging
Tidy and bright a'la Colors of Benneton. Each MTW100 box is relatively small, professionally printed with a slight color deviation for each unit. If you are unsure which one is which they do have it marked down the side in plain English (or relevant language).
Inside, you get a wonderfully bright yellowish short USB-C to USB-A charging cable, a good quality leather lanyard, and a large set of tips going from extremely small to very large (6 variations in total). You also get a user manual and warranty information included.
Do note, the lanyard comes in different colors depending on the MTW100 variation you buy. In this case, white for the DD version and red for the BA red case option.
Click on page 2 below for sound impressions and comparisons.