Introduction
The first ever headphone I used was PMX 60. I had it for more than 2 years before purchasing the PMX 100. Since then, PMX was the headphone for me. After a couple of years, I decided to make an upgrade and bought HD 485. I was blown away by the sound quality this headphone can deliver – clarity and highs are the front suit of these cans. I was just using a discman before purchasing Sony NWZ-S616F. I find it nice and a very handy device. This little player delivers top notch sound quality. Then it came to a point that 4GB of storage was not enough for my music collection, so I get myself a new DAP – Sony NWZ S739F (16GB), together with the iBasso T2.
For the last 3 months, I was looking for a good set of HP/IEM as an upgrade from my PMX. Some of the options were; UE TF10, MF220, IE8 and PX 100-II. I am not onto IEMs yet, so PX was the one. A bit hesitant at first because I wasn't sure how much of an improvement this cans have over the PMX. So I did some auditioning. Finally, I decided and get one last Monday, February 21, 2011 to be exact. Damage was P2,899.00. I mainly listen to this kind of music – Rock, Hard Rock, Jazz, New Wave, Metal, Alternative, Hardcore, Metalcore, Glam Rock, and Alternative Rock.
Source and portable amp
Sony NWZ-S739F together with my iBasso T2 will be used for the evaluation of these headphones. I find the bass lacking for my taste out of the source that's why an AMP will be used.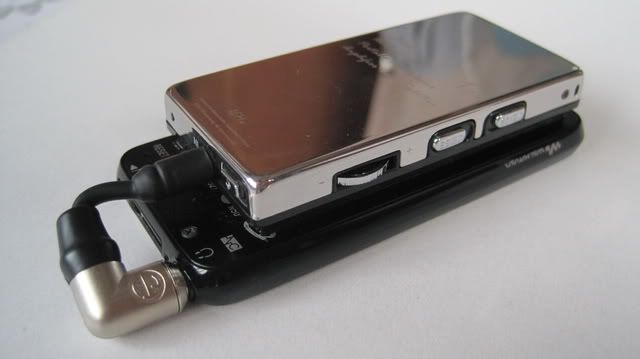 Settings
Sony NWZ-S739F
• Clear Bass = ON
• 0.4KHz = 0
• 1.0KHz = -3
• 2.5KHz = 0
• 6.3KHz = +2
• 16KHz = +3
iBasso T2
• Bass = ON
• WSS = OFF
List of songs that will be used for the said evaluation: Better Days by Dianne Reeves, Stay (With Me), Love Moves in Mysterious Ways and Through the Fire by Nina, Everybody Wants to Rule the World by Tears for Fears, Enter Sandman by Metallica, Flat Tire, Anyone, and Radiance by Athenaeum, Thief and Blister by Our Lady Peace, As Long As It Matters by Gin Blossoms, Until You Suffer Some (Fire And Ice) by Poison, Push and Back 2 Good by Matchbox 20, A Lifetime by Better Than Ezra, Hunger Strike by Temple Of The Dog, Jeremy, Alive, Daughter, and Dissident by Pearl Jam, Smells Like Teen Spirit and In Bloom by Nirvana, Counting Blue Cars by Dishwalla, Patience by Guns N' Roses, Don't Know Why by Norah Jones, and Domination by Pantera.
PMX 100
Ok, let's start with the PMX 100. These are mid-sized, behind the neck design headphones. Got it for P2,700.00, and features some noteworthy characteristics. The headband is steel-reinforced to ensure maximum durability, has a four-foot oxygen-free copper single sided cable that is fitted with a standard 3.5mm straight plug. Pads are replaceable. This is one of the best sounding cans for its price range. It has the same driver and technical aspect of the ever popular PX 100. By the way, my PMX is already recabled.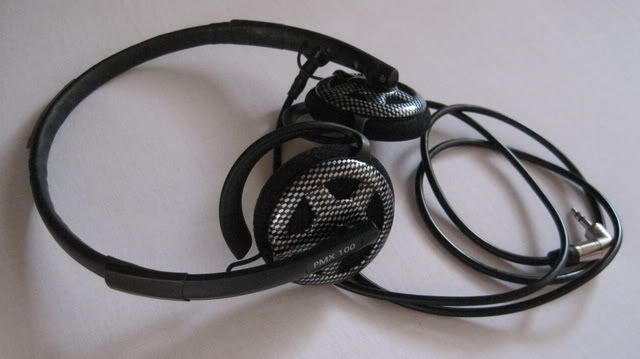 Listening to Better Days, right away you will notice the tight bass, but the highs, vocals and mids are somewhat muffled – maybe the tightness of the 'phones on my ears are causing this. So, I decided to stretch the band. There, bass are not that tight anymore, it becomes a bit boomy, but still dark sounding. It tends to overpower the highs, vocals and mids. There was a small degree of improvement on the highs, vocals and mids.
Now for Nina's rendition of Stay (With Me), Love Moves in Mysterious Ways, and Through the Fire. Bass is tight and still overpowers the highs, mids and vocals. I also find Nina's voice to be a bit hollow. Same goes after listening to Everybody Wants to Rule the World. I am telling you, PMX is way off for this kind of music.
Metallica's Enter Sandman and Pantera's Domination, sound like hollow, with muddy bass and a bit congested. Tracks from Athenaeum, Our Lady Peace, Gin Blossoms, Poison, Matchbox 20, Temple of the Dog, Pearl Jam, Nirvana, Dishwalla and Better Than Ezra; bass is tight and tends to be muddy sometime. Vocals and mids are OK, but a bit lacking for my taste. Highs are a bit muffled. For Patience and Don't Know Why, it's like a dull moment. This kind of music was supposed to be relaxing; sadly not for the PMX. In terms of Sound staging, if I were to rate it from 1 to 10, and 10 being the highest… it's only at 4. Be warned. These set of cans are not comfortable to wear. For the first 40 minutes, it's ok. But wearing this for a longer period of time, it will really hurt your ear.
PX 100-II
Now it's time for the PX100-II to show what it has to offer. As you hold on to these cans, you can say without a doubt that it has a sturdy built. Way much better than the PMX. It also employs the steel-reinforced band with soft pleather padding, single sided cable, and with an over-the-head design. My main concern was the cable. If only Sennheiser made the cable thicker, together with an angled plug, this could have been more top notch – built wise. This comes handy because it is collapsible, meaning you can fold them. Pads are replaceable as well. All I can say is that this are well constructed and it will definitely withstand daily wear and tear. Note: Original pads were replaced with Plantronics foam pads (the one with a hole in the middle).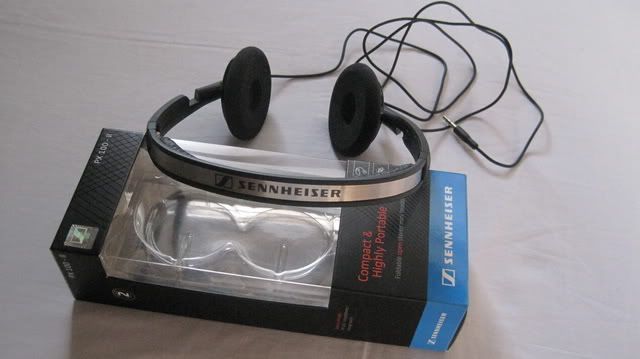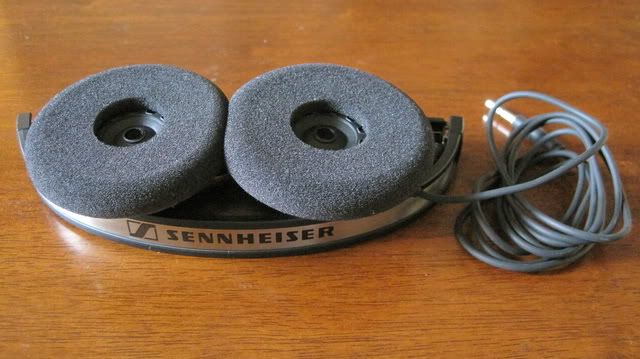 No band stretching was done – it fits me perfectly and holds on very well. I find these cans to be very comfortable to wear even for long hours of listening.
Now Dianne Reeves is singing. Bass being delivered is tight and punchy without over-accentuation. Mids are well balanced, and the treble extensions are clearer without brashness. Sound staging is way far from the PMX. Listening to Nina, overall sound quality is awesome! This reminds me when I watched Nina performed at the Hard Rock Café in Makati – she has a very nice voice, and after singing Love Moves… almost all of us were shouting "more Nina, more!". Did I mention tight and punchy bass? Yeah, that's right! Even for Metallica's Enter Sandman and Pantera's Domination, PX Rocks! It also has a good treble extension, and well-balanced mids.
Listening to Our Lady Peace, Gin Blossoms, Poison, Matchbox 20, Temple of the Dog, Pearl Jam, Nirvana, Dishwalla and Better Than Ezra's tracks, Bass is rich and warm, highs, vocals and mids are smooth and delicate. I can say these cans are very good for this kind of music. Bass is punchy and sometimes boomy on Norah Jones' Don't Know Why, and her voice is so relaxing. Listening now to Patience, it also sounds relaxing. Highs, mids and vocals are well balanced. But some people might find it a bit dark sounding for this kind of music because of the bass. If I find it dark sounding, I just simply turn off the BASS Boost on my AMP. Now, I can also say that this set of cans turn the PMX into a toy. Sound staging is rated at 7.
HD 485
Let us now give way to HD 485. These are large headphones, but awfully light. The single sided cable is nice and thick, and is also detachable, a bit long though – 10 feet to exact. It is also fitted with a 3.5mm straight plug, and an adapter is included (for home stereo use). When worn, I find them to be more comfortable and have a more secure fit – thanks to their padded earcups and headband. Given its bulky size and long cable, portability is really an issue here. Don't under estimate the build quality of this can. Given that it is mainly made of plastic – it can take a lot of abuse, trust me on this. As you can see on the image below, the plug was already replaced with Neutrik angled plug.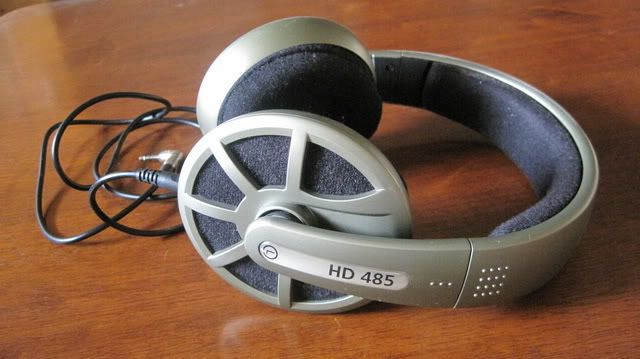 Whoa! All I can say is that this has best sound quality amongst the two headphones mentioned above. Bass is very clean, well controlled, and man I am telling you… it goes deep and very smooth – ample enough for most demanding type of music. It extends pretty low in lower frequencies. Mids are so clear, and it has plenty of sparkly treble without a hint of harshness. The sound these cans deliver is warm and relaxing that you want to listen to it over and over again. Overall sound is beautifully defined and very impressive.
Sound staging is very good. You can really pick out where most of the sounds are coming from. It's at 9 for me. Compared to PX, these cans are more on the laidback side. PX delivers boomy, punchy and tight bass, while this one has a very clean, well controlled, very smooth, and punchy approach. Over all, HD 485 is the sure winner for me… though they are not on the same price range.
By the way, PX was worth the upgrade over the PMX. I use it most of the time because I am always on the go, and the HD when I am home. I guess, for now, I don't have any use for my PMX. I will probably use it as my backup headphone, in case the PX gets damage or it malfunctioned.
Ok, I will listen to all the songs first… just give me some time.
In addition, all of these cans tend to distort on high volume especially on bassy tracks. Default setting on the volume of my player is at 17/30, AMP is at 60%. Volume is only adjusted on the AMP. PMX will eventually distort when the AMPs volume reaches 70%, HD distorts at around 75-80%, and PX can handle as high as 85-90%, beyond that distortion starts to appear.
There. I hope you enjoy it! Oh, before I forget, no matter how good your headphones are, be sure to get a good DAP/PMP as your source. Remember, COMPATIBILITY plays a very important role, and when purchasing a new set of HP/IEM, be sure to audition if first.