The Satin Audio Athena is the company's new flagship IEM cable from their Olympus Series and comes in both 4 and 8-wire options. The Athena is priced from $415.
Disclaimer: The Satin Audio Athena sent to us is a sample in exchange for our honest opinion. We thank the team at Satin Audio for giving us this opportunity.
To read more about Satin Audio products we reviewed on Headfonics, click here.
Note, this review follows our new scoring guidelines for 2022 which you can read up on here.
Satin Audio Athena
The quality of the Athena build, combined with this type of riveting sound signature is a serious market disruptor to the current thinking about what a palladium silver hybrid cable should cost or simply what kind of performance you can expect from any cable at this price point.
Satin Audio of Vietnam surprised me a few months ago with our recent review of their 4-wire Medusa pure silver cable. Priced at just over $200 it was almost as good as some similar silver cables priced over double the Medusa SRP.
Bang for buck came to mind, not just on the build quality and good looks but also on performance. A smooth even sounding cable ideal for neutral monitors with good staging qualities.
Now here comes their flagship cable, the Athena and this time, we have their 8-wire edition because we really felt that a solid comparison against competing 8-wire cables might be in order this time.
Positioning
Why so specific on 8-wire? The Olympus Series Athena is a palladium silver mix, which, at a high-level places it up against alternatives such as the Leonidas II Octa from Effect Audio and PLUSSOUND's Tri-Silver X8. These are premium 8-wire cables costing $1600 and $1888 respectively. Both of these cables use Palladium and silver wire in their builds.
The cost of the Athena 8-wire? $799, or half the price or more of those cables I just mentioned. That has got to be worth checking out for cable rollers who feel the current 8-wire silver-palladium options in the market are beyond their budget.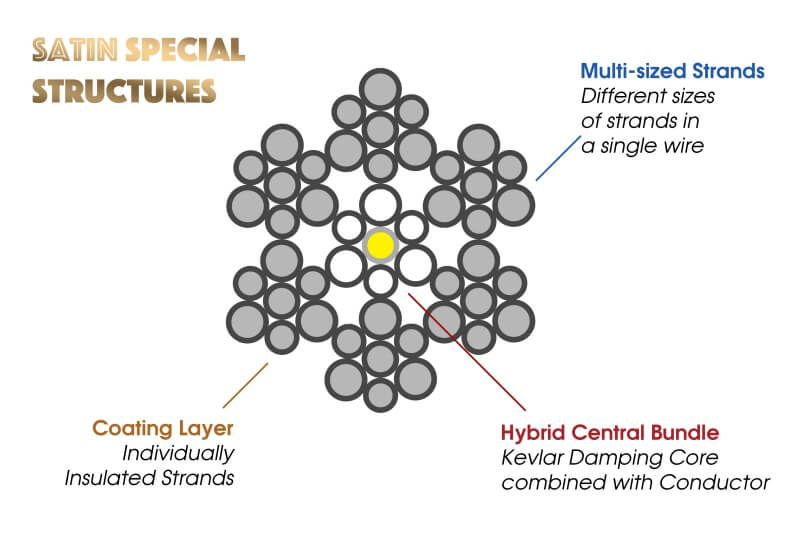 Materials & Wire
The Athena comes in both a 4-wire and 8-wire build but in both cables, the gauge of the wire is the same 26AWG. You can get bigger such as the EA Thor II+ 8-wire which uses a 22AWG UPOCC pure silver Litz design but for most 26AWG is going to be the sweet spot for good handling and comfort without performance detracting resistance once you hit 28-30AWG.
The Athena wire itself is a hybrid SP-OCC palladium-plated silver mixed with SP-OCC pure silver in a multi-size strand type 4 Litz geometry. Like EA's Cleopatra, the Athena also has a woven Kevlar damping for additional strength and stabilization.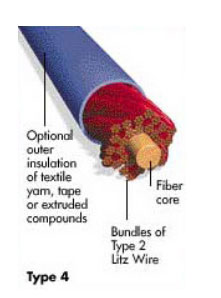 Type 4 Litz
A type 4 Litz construction features bundles of twisted wire twisted around a central fiber core, in this case, Kevlar. There are numerous advantages to working with Litz materials.
The first is the ability for Satin Audio to deliver a multi-stranded cable which has better high-frequency properties due to what is known as the "skin effect" where electrons travel along the skin of the wire.
A Litz cable has a higher surface area than regular builds and for that reason should deliver a better high-frequency performance. It will also be more durable and quieter than other cables when flexed, especially with that Kevler damping.
Multi-sized means that the Athena is a Type-4 Litz cable that uses different sized individual insulated strands in its wiring.
So, it is not just thinner ones for high-frequency performance but also thicker ones for better lower frequency delivery. The coating will prevent that potential 'green' oxidization also.
Design
The Athena's striking design is very different on a micro-level from the likes of Cleopatra and Tri-Silver. First, Satin Audio has brought in a substantial jacket upgrade from what they called SA Insulation on the Medusa to SA Insulation II.
This changes both the visual aesthetic with a highly reflective overtone as well as the physical mechanics and by that I mean how soft it feels in the hand. It is much 'deader' now in handling which is how I like my cable. Less of that flyaway or inflexible nature that stiffer braids tend can produce.
The jacket shimmer is underpinned by an off-white wire color sitting just under the translucent SA II jacket. It is not unlike EA's Leonidas II Octa's more organic hue but perhaps a shade darker overall. Satin Audio has stuck with the beautiful silver carbon fiber printed barrels from the Medusa range which I was very impressed with the first time I saw them.
I would love to have seen some woody barrel options at the Athena checkout for weight purposes and something more organic to complement that off-white cable tone but otherwise, the splitter and jack barrel quality is exceedingly high.
Braiding
The cable can be bought in either 1.2m or 1.5m (this one is 1.2m) depending on your preference and budget. What is noticeable, regardless of length is that Satin Audio does have a different braiding technique compared to the likes of Effect Audio and PLUSSOUND.
I suspect the slight softer nature of the new SA Insulation II jacket does require a slightly different technique. So, whilst it is much tighter and more intricate than the Medusa braid it is still slightly looser compared to EA and PLUSSOUND braiding finish on their respective 8-wire cables.
Terminations
Satin Audio terminations are as wide and varied as the competition and the pricing for some of the more premium terminations are pretty low also.
Just watch if you go from 4 to 6 or 8-braid on the Athena in your original build order as this will add $192 and $384 on the $415 4-wire list price before you start on the connectors. Changing the cable length from the stock 1.2m to 1.5m will also add around $150 to the final price.
Connectors
As for the connectors you have up to 13 different options with the base 2-pin and MMCX/Fitear chrome barrels free of charge. These barrels in a 2-pin finish came on our review sample and are a little similar in finish to the EA barrels though just a little wider.
They are also come with small red and white rings at the base of the terminations to determine left and right easily which I quite like. Strain relief is very low-profile and mostly internal to the barrel with only the tiniest hint of rubber extending outwards.
The remaining connectors cover a wide base including Sony, Fitear, ATH, Etymotic, and even JH audio with a bass module included for an additional $57.
Barrels
Satin offers 14 types of jack terminations and 2 different splitter barrels for the Athena. All splitter barrels are finished in chrome silver which I really like in terms of visuals.
The Carbon fiber barrel is fairly hefty but due to this being an 8-wire and not 4 you do not have the option to switch to the lighter micro splitter carbon fiber silver barrel. That's why I would love to see those woody barrels come in to shave off some weight.
The final splitter option for the Athena 8-wire is a 2.5mm extender with a female socket to receive a 2.5mm male socket. This type of splitter termination is useful for those who like to use piggy tail adapters. This will set you back an additional $19.95 though.
Jacks
The range of jacks is excellent with the 3.5mm and 2.5mm straight at no extra charge. Our cable comes with the 2.5mm TRRS gold plated straight jack and carbon fiber printed barrel. It is actually pretty light but quite wide so be careful of that if you are ordering for DAPs and sockets with very narrow jack port panels.
You can opt for a mini 2.5mm TRRS though to render width on the barrel fairly moot and this is a zero-cost option also. Other options include right angle, rhodium plating, 4.4mm and 3.5mm balanced as well as 6.3mm, XLR, and RSA type terminations.
Comfort & Noise
Of course, with an 8-wire there is a little more weight than a 4-wire. However, the Athena is very supple with that new SA Insulation II jacket, softer than the Leonidas II Octa even. Simply tapping below the splitter will reveal a very low physical noise level so microphonics on this 8-wire edition is well controlled.
Like the Medusa, the Athena 8-wire does not use any memory wire out of the connector. I am a fan of that approach, especially with 8-wire since the additional weight and deadened type insulation allows it to naturally curve around your ear. It makes for a more comfortable experience than using memory materials.
Accessories & Packaging
The packaging on the Athena is eye-catching for an aftermarket cable. Maybe it is just me but I love the funky floral styling of the retail box sleeve and such a refreshing change from the regular subdued black.
The unboxing has shades of qdc with its slide-off floral sleeve and split black display box. Inside you get pretty much everything you need including a very stylish button-hole leather organizer strap which I think every aftermarket IEM company should include in their cable accessory line-up.
Aside from an organize you also get a black sheepskin finished leather round carry case which just begs to be sniffed. It is just so leathery smelling that any question of it being PU synthetic goes out the door right away. It is a little on the neat side for an 8-wire so you won't get much more than the cable and a single set of monitors in there unless your IEMs are tiny.
Aside from that, you get some warranty and product information cards and stickers as well as a small silica container to prevent humidity damage.
Click on Page 2 below for Sound Impressions & Comparisons