The Rupert Neve Designs RNHP Precision Headphone Amplifier is the debut launch of the company's first-ever dedicated desktop headphone amplifier. It is priced at $499.
Disclaimer: This is a sample sent in exchange for our honest opinion. Headfonics is an independent website with no affiliate links or status. We thank Rupert Neve Designs for this opportunity.
To learn more about solid-state headphone amplifier reviews on Headfonics you can click here.
Note, that this article follows our current scoring guidelines which you can read up on here.
Rupert Neve RNHP Review
At $499 the RNHP could well be the bargain portable desktop amp of the year. So many good headphones and monitors sound great already going unbalanced and I have yet to even try the line-in and XLR inputs with a wider range of sources.
With the recent announcement of the new Fidelice line of precision amps, DACs, and preamps you would be forgiven for thinking the original RNHP amplifier from Rupert Neve Designs was put out to pastures.
That is not the case. A quick check-in with the Rupert Neve Designs team and the feedback was that the RNHP will continue to be sold through their existing "Pro Channels".
Launched in 2016, the RNHP precision headphone amplifier at just $499 was, (and still is) a critical hit among many audiophiles and picked up a fair few awards from those who reviewed it at the time.
My subsequent visit to CanJam Singapore in 2019 was also the first time I managed to sit down and test drive one to hear what everyone was raving about. I was not disappointed.
So now, finally, the RNHP makes an appearance at the Headfonics office and I am pleased to give our initial impressions of this instant classic.
Fair to say, I think 'instant classic' is a fair phrase to use here because, to be honest, it is one of the best-sounding midrange desktop amps I have heard in a long while.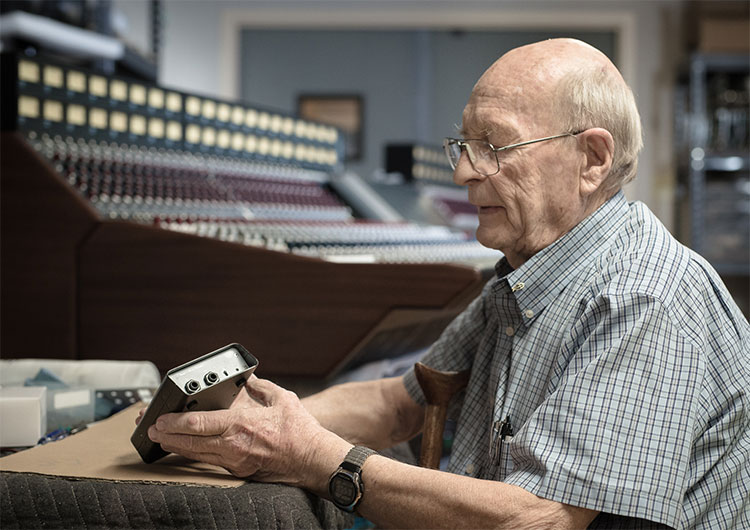 Rupert Neve
For those who do not know who Rupert Neve is then this seems the most appropriate point to first pick up on when discussing the RNHP.
Rupert Neve has a long and very illustrious career in the pro-recoding and studio business stretching back almost 70 years to the 1950s with the likes of Rediffusion, and Ferguson Radio before starting his manufacturing line under the brand name, CQ Audio.
During the CQ Audio years, he had some moderate success with a small line of bookshelf speakers, HiFi amplifiers, and a stereo recording tape system.
However, it was not until the 1960's that The Rupert Neve Company was founded and the thrust into the studio and mixing environment took shape with the advent of the first wave of British pop. On the back of some excellent equalizer decks commissioned by Phillips Records Ltd.
During the '70s the range of studio, components grew as did the size of the company worldwide and Rupert's reputation for quality engineering. We are talking Grammy Awards and decks used by the likes of AC/DC and the Rolling Stones.
By the mid-2000s however, Rupert had moved to the US and launched "Rupert Neve Designs" in Texas, this is the company that we know today and the team that designed the RNHP.
Tech Inside
The RNHP mixes a lot of pro-audio know-how into a headphone amplifier that targets both the pro-audio and consumer audio customer.
There was, however, an overriding goal at the heart of the RNHP design concerning the challenges of impedance, efficiency, and related distortion which is much more unpredictable for the headphone market than it can often be in the pro-audio domain.
Thus, the RNHP is designed with a very low output impedance from its single-ended unbalanced output at just .08 Ω from various loads from 16Ω up to 150Ω a.
With an mW rating of around 172mW to 300mW within that load range, I would classify the RNHP as a medium-powered desktop amp but surprisingly in our initial tests, one that can punch above that spec output rating.
Unboxing & Accessories
Whilst the packaging is nothing to write home about it is adequately protected on the inside with some solid foam layering. In short, it will get to you without falling to bits. Ours took a slight battering on its long route to the office but inside it was pristine and untouched.
You do get a minimal accessory line-up with the RNHP with a manual and AC power supply with no additional analog cables. However, the 24V AC power supply is not an afterthought despite it being switching as opposed to a linear.
The team at Rupert Neve has been on record explaining that off-the-shelf switching AC plugs performed demonstrably worse than the supplied design by up to 15-20 dB.
A linear supply was considered originally but the usage conditions seemed too narrow for the RNHP, i.e. a grounded connection for the unbalanced outputs, (RNHP operates with a floating ground). That is not to say you cannot, and please feel free to try if you have a 24V block and a minimum 0.5A available current.
Design
If you have ever clapped your eyes on the 5060 Centerpiece Desktop Mixer from Rupert Neve. then you will notice the inspiration behind the RNHP design. Not just externally but internally with the headphone circuit of the RNHP based on the 5060.
Aesthetically, the RNHP colors, red volume knob, and plates all pull from the 5060's playbook, and build-wise there is more than a hint of tough pro-audio to the materials being used. It is also relatively small and compact for a desktop amplifier.
Those using a Burson Fun or Play will be used for the discreet sizing of the RNHP. You can squeeze this into an office desk setup with no issues and it feels steady with 4 very grippy rubber feet at the base.
The chassis is built from steel and feels incredibly tough. I dare say you could stack a fair few things on top of the RNHP without issue or drop it once or twice and get away with it.
The chassis also has a slight overhang to further reduce potential damage on the dials from accidental knocks. This design is also VESA-mountable for pro-audio users who need a flat display mounting interface.
The 6.35mm jack output is also rock solid and designed to handle a lot of insertions with a steel bolt finish rather than the flush rubbery socket stages you find on other headphone amps. The analog potentiometer is to die for, to be frank.
It is resistance-based but very smooth, wonderfully weighted, and with negligible channel imbalance at low volume. Marvelous.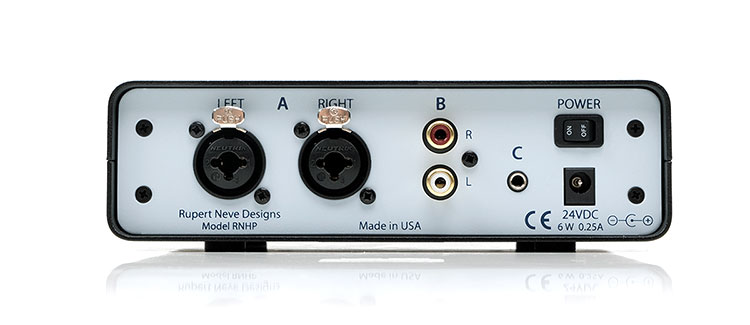 Functionality
The RNHP is an analog headphone amp with multiple line inputs that seem to cater to the pro, audiophile, and casual listener. It does not have any auxiliary outputs so there is no pre-amping capability.
Instead, on the rear panel, you have 3 different inputs, dual 3-pin XLR or balanced, dual RCA unbalanced, and a 3.5mm line input.
All 3 inputs are calibrated for a wide range of input impedance demands from different types of sources. I am presuming the XLR inputs will be set up with the pro audio consumer in mind, however, most audiophiles might elect to use that if their DACs have a balanced output.
Bear in mind the RNHP is a single-ended design, however, the range of inputs will handle varying levels of dBu inputs to prevent unintended distortion from weaker source signal levels, for example, a DAP line-in.
All of the inputs are selectable from the front panel using a triple switch selector (A, B, C), and the channel you select is denoted by a fairly strong green LED light behind the switch that is "live".
Sound Impressions
My impressions are that of an analog amp that is punchy, vibrant sounding with outstanding dynamic range yet with a very nice natural tone and timbre. It is not a 'cool cucumber' or a sterile-sounding solid-state amp.
Tonally, this is a more intimate and full-bodied sound than even my own flagship Xi Audio Formula S. The resolution and dynamic range are excellent but just a shade behind the superb black background and spacious sounding Formula S. I would say a little closer to the Auris Audio HA-2SE tube amp with its slight even harmonic bias.
The RNHP staging can be a little more intimate sounding with an enhanced vocal presence and a punchier more forward low-end compared to those flagship amps but so far, I do not find this little amp to be lacking in headroom.
There are some unexpected pairings with the RNHP I enjoyed immensely despite the relatively muted output numbers. The excellent Abyss Diana Phi, for instance, shone with the RNHP and a Qutest DAC as a source with blues vocalists such as Joanna Connor and Seasick Steve who often grab the center stage with nothing but a single acoustic guitar for accompaniment.
The Formula S did deliver a touch more treble extension compared to the RNHP but given the price difference, it is hardly a quibble and to be frank, it just serves to enhance the outstanding value of the RNHP performance.
Sources
The RNHP loves a resolving DAC and I dare say it will be fairly faithful to that DAC's capability or signature tuning. So far, I have the RNHP hooked up to a Chord M Scaler/Qutest/PC path as well as a small Pro-Ject Audio Pre Box S2 Digital RCA output and running most things unbalanced for this initial feature.
We also did some light A/B testing with the Yulong DA10 headphone output (using the Yulong DAC for both amps) and found the Yulong amp to be maybe a bit too lean and lacking in punch. The Yulong DAC fed both amps but it was the RNHP that sounded the punchier and more vibrant of the two.
Noise
We also used the SendyAudio Aiva, the Diana Phi, and Audeze's LCDi4 for some initial testing and found the low-noise floor to be low on all 3 as expected. The Phi might need more power to be optimal but the timbral synergy was excellent.
What I did not expect was the low-noise floor using the likes of the Campfire Audio Solaris and Andromeda. I was expecting it to be a lot higher. That low noise floor turns into a pitch-black background with the likes of the Noble Audio Khan and 64 Audio's tia Trio. This is a solid amp for a wide range of monitors.
Our Verdict
So far, I am incredibly impressed with the Rupert Neve RNHP and I am personally glad they have decided not to stop selling this due to the arrival of the new Fidelice line.
At $499 this could well be the bargain portable desktop amp of the year. So many good headphones and monitors sound great already going unbalanced and I have yet to even try the line-in and XLR inputs with a wider range of sources.
I am especially happy that monitors work with the RNHP and the noise floor is low, even with fussy IEMs such as the Solaris. A small iFi Audio iEMatch cable might even deliver a completely black background with the Solaris, something I will have a look at in the main review.
Do not pass this amp by anytime you see it at a trade show, sit down and listen to it.
Rupert Neve RNHP Specifications
Maximum Input Levels
"A" XLR I/P: +22.8 dBu @1kHz
"B" RCA I/P: +14.7dBu @1kHz,
"C" 3.5mm I/P: +3.3dBu @1kHz
Output Power
As measured with typical headphones, Z=44 Ω:
3.617 VAC RMS @1kHz = 300mW RMS
16 Ω typical Load: 1.933 VAC RMS @1kHz = 230mW RMS
150 Ω typical Load: 5.108 VAC RMS @1kHz = 175mW RMS
Output Impedance: .08 Ω @ 1KHz, 16-150 Ω load, 0dBu input
Frequency Response: +/- .2dB from 10Hz to 120KHz
Noise
Measured with typical headphones, Z=44 Ω, BW 22Hz – 22kHz
"A" XLR Input: -101.9dBV,
"B" RCA Input: -100.9dBV
"C" 3.5mm Input: -88.8dBV
Dimensions: 6.5" wide x 4.6" deep and 1.9" tall
Power Supply Requirements
24VDC @ 0.25Amp (6 watts) minimum. May be used with a properly configured 24V battery as well.