Synergy
Power
Specifications aside, the Quloos QLS MC01 seems powerful enough to drive considerably inefficient headphones in real-world testing, particularly on that balanced 4.4mm output. But in direct comparison, both jacks seem similar in output with a small increase in the dynamic response of the balanced side.
Although the QLS MC01 can muster up some serious driving power it also seems to be easy on battery life. It seems more so than most of the dongle DACs I've tested. This can be considered a good selling point for many concerned about draining their daily mobile device's battery.
One other positive aspect I found about the QLS MC01 in particular is how cool it runs which only gets warm when pushed hard and for extended periods. The QLS MC01 has got to be one of the coolest running dongles I've tested to date so it seems highly efficient overall.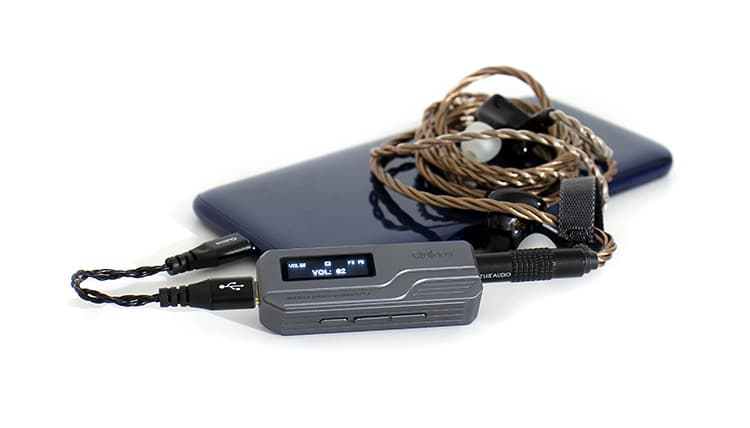 Pairing
I would consider the Quloos QLS MC01 a mobile-exclusive device although it plays well with anything that has a USB port. The reason is that on a Windows system for example the volume control is rendered inoperable.
On an Android phone, both volume controls are functional and independent of each other giving the user a very wide range of volume control that combines the 100-step onboard volume control with the source volume control steps.
Speaking of volume control, I would verify the volume level before hitting the play button because this dongle can get rather loud. Although there's a 2-step gain control the volume level can get out of hand with some IEMs.
Select Comparisons
Shanling UA5
$249.00
Technical
The Shanling UA5 is one of my favorite dongles for a few reasons. The fact that it has a hybrid 220mah battery makes this dongle stand out plus it has many other features that are similar to what's available on the QLS MC01.
There's a similar amount of DAC filters to choose from, five to be exact. There's also a two-stage gain feature, a hybrid mode that switches the internal battery on or off, Equivalent to the QLS MC01 's power filter feature. There's also a display dimmer, UAC 1.0 mode, and a couple of other features.
I also like the fact that it has a cool rotary knob on the side of the shell that acts as a multifunction controller and is used to access all the features within the menu. The UA5 rotary control is somewhat unique within the dongle DAC market.
One feature I found rather odd was the optical output capability of the UA5. I thought the feature was useless until I ran into a friend who needed to convert a mobile phone USB port to an optical output to feed a fancy mobile DSP.
Design
The Shanling UA5 styling looks refined and has a curvy body that is pocket friendly since it has no sharp edges anywhere. The black and gold color scheme combined with the OLED screen would probably stand the test of time trend-wise.
There is one curious aspect about both these two dongles far as dimensions and weight. Although the QLS MC01 seems bulkier, when you compare their specifications they tell a different story. The UA5 is around 5mm taller and wider plus puts on another 3.6 grams to the total weight so the larger unit is the UA5.
I guess that's the tradeoff for implementing the internal hybrid battery but the UA5 just seems smaller if you go by perception alone. Other than that the QLS MC01 seems to be a more visually impressive-looking device while the UA5 seems more streamlined in design.
There is one quirk I found with the QLS MC01 that was easily resolved by Shanling by simply including a screen rotation feature. If you look at the QLS MC01 screen face-on the volume buttons will be at the bottom and the left button raises the volume which is rather unintuitive. It's always right to raise but not in this case.
Performance
I must admit, the performance level of these dongle DACs seems very close and it's rather hard to even distinguish these two although they use different chipsets.
If we go to the power output specs, the QLS MC01 has more power on paper and does seem to have a higher capacity and it can reach higher volume levels more effortlessly but that could just be a higher internal gain set at the factory.
The QLS MC01 has a 100-step onboard volume control that helps out a bunch when you have to fine-tune the volume. Both these dongles use a similar setup far as internal parts.
For example, they both use two DAC chips and two headphone amplifier chips, but the MC01 manages to output an extra 50mW.
They do differ far as an overall sound signature in that the UA5 seems slightly warmer while the QLS MC01 seems the more linear of the two. Their staging capability is also slightly contrasting due to the UA5 having a smaller-sized stage and a more personal-sized space that it creates around the listener.
Either can drive full-sized cans but it seems the QLS MC01 wins by a nose. I would say the amount is under 10%. Both these models are hiss free and have a very dark background.
iFi Audio GO Bar
$329.00
Technical
If the UA5 is one of my favorites then I guess the iFi Audio GO Bar is at the top of that list. It also earned the flagship title within the iFi lineup which has lately grown into a two-model deep lineup. Of course, that title comes at a premium cost since it is the more costly unit within this comparison at checkout time.
The only lacking aspect the GO Bar has against other models in this comparison would be the hybrid battery which is found on the UA5. Also, the GO Bar only has four selectable DAC filters but it's the only dongle within this comparison to have some form of DSP sound coloring implementation.
The two unique DSP implementations come in the form of the iFi XBass and XSpace exciter which adds color to the sound overall panorama. No other dongle DAC in this comparison, or actually that I know of has either a bass boost feature or 3D exciter features onboard which I find to be rather odd.
You get some other goodies like MQA rendering, IEMatch, a two-position gain feature, and even get a heavy-duty leather belt holster.
Design
The iFi Audio GO Bar has a similar appearance to their big boy black series model but in miniature form. It perceivably seems the largest and heaviest of the bunch but in actuality, it's in a second-place position far as weight is concerned registering 28.5 grams versus the UA5 which is at 29 grams.
The GO Bar wears a rather simple skin but I do not remember a dongle DAC that can claim a 9 LED array that indicates the bitrate, digital format plus Xbass or XSpace activation. Input and output connectivity is identical within all the models in this comparison so there's no need to go in too deep on the subject.
Performance
Certainly, the iFi GO Bar has a more visceral character and a more impressive impact in presentation since the power output is considerably higher. We're taking a 300mW output off the single-ended side and 475mW off the balanced 4.4mm connection.
However, power consumption is also higher which is the price one pays for all the extra driving power so I would consider the GO bar particularly if you need a high amount of driving ability.
The overall presentation also seems larger in scope with lots of depth. The iFi GO Bar is one of the best staging dongles far as size and accuracy but in a small marginal war, the QLS MC01 would win by a nose in placement accuracy and has more precise micro staging control.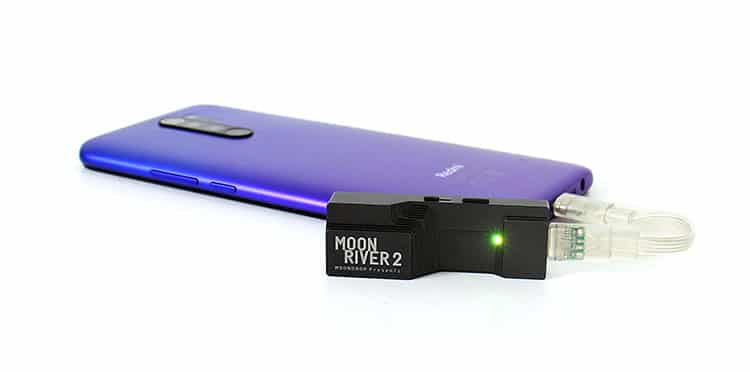 Moondrop MoonRiver 2
$189.99
Technical
The MoonRiver 2 is not a second iteration. The number two denotes a dual mono design which consists of two Cirrus Logic CS43198 DACs and a dual mono OP amplifier stage.
You don't get OLED screens or DAC filters, just good hardware. So the general concept here is a no-frills product with good sound quality competitive and comparative with some more expensive models.
The MoonRiver 2 is another model that caters to the common digital formats but omits MQA which comparatively puts it on par with the others in this comparison except for the GO Bar which is capable of hardware rendering MQA.
One specification that is kept obscure by Moondrop is power output in numbers and is not listed by Moondrop. But if my ears are correct, power output seems to be on par with the other dongles within this comparison and I would say it reaches 200mW per side or more.
Design
The design aspect would make many consider this dongle the oddball in this group. To be honest, I'm not sure what look they were going for. I would call it Lunar Architect. It sure does look futuristic and resembles an object left behind by alien critters.
The shell is a CNC-shaped piece of aluminum. The shell is a two-piece design similar to the QLS MC01 but unlike the QLS design, there are no screws visible. The shell has a black anodized finish. On one side, a diagram of the internal circuitry is proudly illustrated which is a nice touch but I would prefer a clear window so we could look at the real deal.
Connectivity is identical. There are some onboard volume buttons on one side of the shell that are offset in size to give them a touch of ergonomic function.
Performance
The Moonriver 2 sonically has a brighter presence and a more dynamic character overall. Far as SNR they both hit very similar numbers and list a 131db rating.
There is one particular aspect of sound quality that hasn't been spoken about in this article but is of high importance and that is the amount of perceivable hiss these dongles produce. It seems that dongle manufacturers nowadays have a rulebook and that's on the top of the list.
One area that receives a high level of attention nowadays is the reduction of hissing or the elimination of it. I'm happy to report that with all these modern dongles hiss is not an issue unless you have a highly prone to hissing set of IEMs. You could remedy this by adjusting the gain on each model except for the MoonRiver 2 which has no such feature.
So if you analyze the four dongles in this comparison and point to each model's strong points it will boil down to visual appeal and overall sound signature.
So the Shanling tends to be warm, the MoonRiver 2 a bargain no frills dynamic sounding model and the GO Bar is the more capable and potent fun toy. The QLS MC01 is the smooth-sounding and resolving model of the bunch. Choose wisely.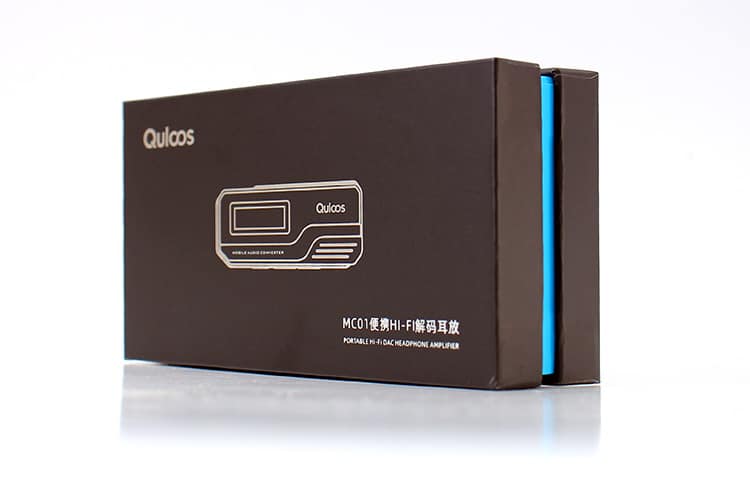 Our Verdict
The Quloos QLS MC01 will appeal to portable device owners and audio junkies who are looking for a relaxed and resolute sound signature dongle with a high level of out-of-box compatibility, and a dongle that looks different from the rest.
If I was to give the Quloos QLS MC01 a nickname that would be Lion tamer. I could mention dozens of IEMs in particular that will work well because it can take an aggressive-sounding set and tame it.
It's rather bulky but it doesn't own the top spot in that category. It sure comes close to being the top dog overall but that spot is taken by a costlier model.
So the Quloos QLS MC01 sits in a comfortable spot that serves up a good level of balance far as price, build, and sound quality. I would put it in the top five list for sure.
Quloos QLS MC01 Technical Specifications
AMP chips: high-power AMP chips x 2
DAC chips: dual flagship CS43131, QFN package
USB OS: UAC2.0 / UAC1.0, Windows, Mac OS, Android, iOS, iPad OS
PCM decoding: 16 / 24 / 32Bit, 44.1kHz, 48kHz, 88.2kHz, 96kHz, 176.4kHz, 192kHz, 352.8kHz, 384kHz
DSD decoding: 2.8224MHz (DSD64), 5.6448MHz (DSD128), 11.2896MHz (DSD256), native or DoP
USB port: Type-C USB audio input
Dimension: 62.0(L) x 22.0(W) x 13.5(H)mm, Net weight: 25.4g
SE Output Specifications
THD+N(Unweighted, no load): 0.00012%
SNR(A-Weighted): 131dB
Dynamic range(A-Weighted) : 131dB
Lineout level(±0.1V)(Vol:100): 4.0Vrms (High), 1.4Vrms (Low)
Max output: [email protected]Ω [email protected]Ω
Balanced Output Specifications
Frequency response: 20Hz – 20kHz ±0.5dB
THD+N(Unweighted, no load): 0.0002%
SNR(A-Weighted): 118dB
Dynamic range(A-Weighted) : 131dB
Lineout level(±0.1V)(Vol:100): 2.0Vrms (High), 0.7Vrms (Low)
Max output: [email protected]Ω