In this article, we review the Tin HiFi Tin Buds 3 which is a single 6mm beryllium diaphragm driver TWS with Bluetooth 5.2 and aptX support. It is priced at $89.52.
Disclaimer: This sample was sent to us in exchange for our honest opinion. Headfonics is an independent website with no affiliate links or status. We thank the teams at Linsoul and Tin Hifi for their support.
To read more about our reviews of Tin Hifi products on Headfonics click here.
Note, this article follows our latest scoring guidelines which you can read up on here.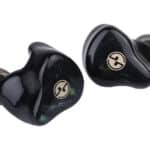 Tin HiFi Tin Buds 3
The Tin HiFi Tin Buds 3 is good enough to compete with some wired options at this price range and is a suitable alternative for audiophiles dipping their toes into TWS products for the first time.
Pros
Clear midrange region
Ergonomic shell
Cons
No ANC
Poor case design (opens in the bags / pocket)
Tin HiFi is known for its focus on designing good quality earphones while still maintaining to achieve an affordable price such as the T1 and T4.
This stays true with the Tin Buds 3, which is the newest TWS offering from Tin HiFi. It's not necessarily a refresh of their older offering but rather a totally new product in their lineup.
Initial impressions show that this is a product that transforms the traditional IEM design into a TWS format – ergonomic shape, resin shell, and no ANC. With lots of competition having far more features, can the Tin Buds 3 hold up with its competitive pricing of $89?
Tech Highlights
The Tin Buds 3's wired IEM form factor packs a lot inside. It uses the latest QC 3040 chip from Qualcomm. This chip uses Bluetooth 5.2 and Qualcomm aptX to deliver the best listening experience possible.
In addition, it also has a low delay of 65ms with audio picture synchronization – which also makes it good for gaming. These are low-power BT SoC that is designed for high-performance audio.
There is no declared Sweat and Resistance rating, but Tin HiFi mentioned that it's good for both traveling and exercising – perfect when using earbuds on a daily commute or workout.
Of course, these buds also consider quality in mind. With a 6mm moving coil beryllium plating diaphragm. It stays true to a typical dynamic driver size for TWS of 6mm.
The battery life is also pretty impressive. It has 6.5 hours of playing time and an additional 30hrs (5x charge) with the carry case. It also has a total of 90 days of standby time. The charging case carries a 400mAh battery which can fully charge the buds in 1 hour.
Design
The Tin Buds 3 comes in two colors – blue and gun color. The gun color has a gunmetal finish case with a primarily black resin shell. It is marbled with a green accent, which Tin HiFi says is hand painted. The minimal Tin HiFi logo is also centered on the faceplate.
The shell also has a resin ergonomic shell – usually found in wired IEMs. I was initially skeptical about the fit but these are very comfortable for my use without falling off even when working out.
The earbuds also have a small vent at the bottom, where the mic is positioned and LED lights can be seen. I suppose these are intentionally hidden and do not cause any unwanted attention.
Controls
Its very IEM-like design does have responsive touch controls. The controls are also very intuitive – tap to pause or play, double tap to skip or reverse tracks, and long press to increase or decrease volumes.
To turn off the buds, you just return them to the cradle or also do manual control by long pressing. Once the buds are paired to your device, it will automatically pair the next time you use it.
Comfort & Isolation
The Tin Buds 3 doesn't have any isolation or ANC features. Although, this is not much of an issue at this price point. I'd rather have excellent sounding monitor than a half-baked ANC feature, which is too common in entry-level TWS.
Isolation in the Tin Buds 3 primarily depends on the silicone tips to create the seal. The stock silicone tips are ok to use, they do not fall out even when I'm out running.
These buds are very comfortable to use. Its ergonomic shape makes it feel like a common wired IEM that has taken into a TWS form. It is on the larger side but the ergonomic shell conforms to the shape of the ears, making it feel invisible when worn for long periods.
Cradle & Battery Life
The Cradle holds a 400mAh battery, allowing it to have 30 hours of charge through the case. It comes in a sleek gunmetal color, which honestly looks like a tin can, maybe like a sleek portable speaker.
The cradle is quite interesting as it does not conform to a clamshell design. It is cylindrical in shape and has a sliding door, which opens on the side. I dislike this design as it opens in my pocket and bag at times but personal experiences and preferences might differ.
A familiar 4 green LEDs can be found on the side of the cradle, indicating the battery life of the cradle. On the opposite side, the USB-C charging port can be found.
Packaging & Accessories
The Tin Buds 3 came in a pretty standard square box. The packaging is pretty standard, not too loud, with just the model's name and Tin HiFi logo splattered in front.
The unboxing is pretty straightforward. The TWS Buds and Cradle are both found inside, with a small box containing the extra accessories. Inside, there are 3 sets of silicone tips (S, M, L), a USB-A to USB-C charging wire, and the product manual.
Sound Impressions
Bass
Beryllium dynamic drivers usually deliver good bass slams, with a deep thump and impactful low-ends. However, the bass is not impactful as expected in the Tin Buds 3. The sub-bass is there, with a respectable amount of deep rumble. However, the mid-bass does have more heft and thickness in it.
The good thing about the amount of bass in the Tin Buds 3 is that it does not bleed to the upper frequencies. Neither does it feel fatiguing to the point that it gives headaches to continuous rumbles.
Mids
Tin Buds 3 has a pleasant midrange replication. Vocals are emphasized on the Tin Buds 3, with impressive clarity. I must say that the midrange region is where the Tin Buds 3 shine. Male and female vocals are presented well, where it actually floats and have clear diction. Even with busy tracks, the vocals are not carried away.
Although, instrumentals do suffer a little bit from the midrange tuning. They are not sharp but instead sound rounded and thin at times, especially with busy tracks. However, it does have an accurate replication of different instruments.
Treble
You may say Tin Buds 3 is leaning on the bright side as it also has an emphasis on the upper frequencies. It is quite energetic so people who are sensitive to bright IEMs might find the highs too fatiguing. However, it does extend well and has a good sense of control.
It's impressive how cymbals and hi-hats are well separated as if it has a reserved space for their own. Even minute details in the upper frequencies are clearly picked up. It has a good amount of airiness and sparkle at the top, with room to breathe.
Staging
The soundstage of the Tin Buds 3 is average, especially for TWS in this price range. There is enough dynamic range to feel the highs and lows. It has respectable depths and heights, which makes listening enjoyable.
Imaging is also fairly average. It tends to be monodirectional at times but certain tracks with good layering do help the buds to project sound better.
Wireless Performance
Stability and Range
In terms of packet drops, this rarely happens on the Tin Buds 3. As long as I'm not in another room, it performs pretty well, even when I'm walking or going to the gym. It's stable and ok to use on the go.
Latency
The Tin Buds 3 is equipped with Bluetooth 5.2 technology, minimizing latency. There was no noticeable delay, even when used while playing games. Music also rarely drops, which makes the experience much more enjoyable. It is good to use on a day-to-day basis.
Select Comparisons
Zorloo Zophia Wireless
$209
Technical
Compared to the Zophia Wireless's 5hr + 2hrs listening time, the Tin Buds 3 have a longer 6.5 + 30 hrs listening time. Both do support Bluetooth 5.2. Both have a single 6mm Dynamic driver, with the Zophia having a Neodymium magnet while the Tin Buds 3 has a beryllium-plated driver.
Design
The cradles of the two are very different. The Zophia has a black clamshell-type case while the Tin Buds 3 has a cylindrical sliding hinge-type case.
The buds themselves are both quite light but have a few key differences. The Zophia has a primarily black translucent shell with a bud shape while the Tin Buds 3 have a primarily opaque black shell with green marble accents with an ergonomic shape.
The shape of the two is also similar but with a bud-type design but a completely different shell shape – with the Tin Buds 3 having a more ergonomic design.
Performance
The amount of bass of the two is pretty similar. Both don't have a boomy bass. However, the Zophia does have a heavier bottom, which contributes to some muddiness in the upper region.
Compared to the Zophia, the Tin Buds 3 has a clearer midrange region. Although the Zophia has a decent midrange, it does sound veiled when compared to the Tin Buds 3. The Tin Buds 3 does bring out better vocal diction and clearer vocal layering.
However, the Zophia has better richness and thickness of instrument replication, specifically wind instruments. Trumpets and flutes have a more accurate timbre in the Zophia than the Tin Buds 3.
Both buds extend the treble well. Higher frequencies are clearly heard with enough headroom. Neither feels harsh or reaches treble peaks. However, the Tin Buds do have a more energetic high wherein cymbal crashes are more impactful and have more shimmer.
The soundstage of the two is similar. However, the Tin Buds 3 do have better imaging, especially with vocal and instrumental layering. The Zophia at times sound more clumped together than the Tin Buds 3. The Tin Buds 3 does better in terms of spacing different elements which makes it have a more 3D effect.
Earfun Free Pro 2
$79.99
Technical
In terms of connectivity, both devices support the recent Bluetooth technology which is the BT 5.2. However, Tin Buds 3 does not have ANC support. On the other hand, the Earfun Free Pro 2 has a QuietSmart 2.0 Hybrid ANC tech, blocking out outside noise.
Both have a 6mm dynamic driver, with the Earfun Free Pro 2 having a dual composite while the Tin Buds 3 have a beryllium-plated driver. The battery life of the two is also similar, with around 30 hours including the carry case.
Design
Starting from the carry case, the Earfun Free Pro 2 has a small black clamshell case while the Tin Buds 3 has a cylindrical case with a side hinge. Between the two, the Earfun Free Pro 2 has a small footprint and will be easier to put in a pocket.
The two also are very different in terms of the shape of the bud. The Tin Buds 3 have an ergonomic shell which is commonly seen in wired IEMs while the Earfun Free Pro 2 looks like a small black pill. The Earfun Free Pro is marginally smaller than the Tin Buds 3.
Performance
The bass is more elevated on the Earfun Free Pro 2 compared to the Tin Buds 3. The Earfun Free Pro 2 delivers a deeper and more impactful rumble. The Tin Buds 3 has a sufficient bass response but when compared side by side, it does sound flat in comparison.
The Earfun Free Pro 2 is a V-shaped TWS, which explains why it takes a dip in the midrange region. This is totally opposite from the Tin Buds 3. The Tin Buds 3 elevates both vocals and midrange instrumentals whereas the Earfun Free Pro 2 sounded more distant and veiled.
Both monitors do extend well on the highs. The Tin Buds 3 does a better job of capturing the crashes and energetic treble whereas Earfun Free Pro 2 has little to no emphasis on the cymbal crashes.
The soundstage of the two is similar. There is no noticeable difference between the two. However, with imaging, the Tin Buds 3 has a better projection, especially for the vocal and higher frequency layering.
Our Verdict
The Tin Buds 3 is an interesting offering from Tin HiFi as it targets audiophiles who are familiar with its products and might want to switch to TWS, or general consumers looking for a cheaper and bang for the back alternative from the sub-$100 market.
I must say, with how the Tin Buds 3 is tuned, it does well in giving an option to people who are using wired IEMs that want to add or transition to a wireless alternative. The Tin Buds 3 captures this market with its ergonomic-shaped shell and well-tuned monitor with good articulation.
The lack of features might disappoint people who want an all-in-one solution as other TWS have ANC at this price range.
However, Tin Buds 3 is good enough to compete with wired options at this price range and is a good alternative for audiophiles dipping their toes into a TWS travel companion.
Tin HiFi Tin Buds 3 Specifications
Charging case battery400mAh
Earbud Playtime 5 hours
Bluetooth version 2
Driver 6mm beryllium plated diaphragm driver
Codecs: SBC, AAC, aptX, and aptX LL